Next Match
Leicester City
Premier League
King Power Stadium
Sunday 12th December
Kick-off 2.00pm
Live on Sky Sports
Last Match
Newcastle 1
Burnley 0
Premier League
St. James' Park
Saturday 4th December
Match report to follow

The Never-Ending Tour

Number of Newcastle
games attended by
NUFC.com in 2021/22:

46

Books - last chance to buy

Final author-signed copies available for £15.99 including UK p&p online here

Leicester (a) SOLD OUT
Liverpool (a) SOLD OUT
Man City (h) Public sale now (online)
Man United (h) SOLD OUT
Everton (a) SOLD OUT
Southampton (a) STH sale now (0pts)
Premier League:

Cal we fix it?
yes we can!
Newcastle
1 Burnley 0



At the 15th time of asking and a mere 195 days after they last collected maximum points, Newcastle finally ended their winless league run on Saturday.

The Magpies hero was Callum Wilson, who coolly collected a loose ball in the box before firing high into the unguarded Leazes goal on 40 minutes - spurious claims that Burnley goalkeeper Nick Pope had been impeded when losing possession rightly disproved by VAR.

1-0 up and with the finishing line in sight as it was against Norwich on Tuesday, the visitors looked to have claimed a point on 81 minutes when substitute Jay Rodriquez beat Martin Dubravka - only to be correctly ruled offside to almost audible relief.

The eruption of emotion at full time was truly memorable; home fans remaining in situ to salute the players who had finally taken a lead and retained it.

Anyone walking into St.James' Park at that point would assume that the celebrations were in honour of a team having qualified for a cup final rather than fighting for Premier League survival. Incredible.

And in the middle of them was Eddie Howe, getting his Magpies career off to a winning start against one of his old clubs - and punching the air in sheer delight.

Whatever else happens in the coming weeks and months, the relief at this result should be celebrated by owners, coaches, players and fans alike. Lord knows, some potentially terrifying games will be here soon enough.

It's not just this season though; Gallowgate hasn't witnessed similar scenes since Isaac Hayden's winner against Chelsea in January 2020 - a lifetime ago.

Whether the barrier was mental or physical is of less consequence than the fact that it's now finally consigned to the dustbin of history. Despite the seemingly endless blows suffered, a genuine collective spirit remains here; it was good to be reminded of that today.

The ongoing frustration of the opening months of this season was our failure to beat thoroughly ordinary sides like Watford, Wolves, Brighton and Norwich. Burnley were equally shabby today, but for once left empty-handed. Something changed.

More to follow....

Team: Dubravka, Manquillo, Lewis, Lascelles, Schar, Willock, Shelvey, Almiron (Fernandez 85), Joelinton, Saint-Maximin (Murphy 90+1), Wilson.
Subs n/u: Darlow, Ritchie, Hayden, Hendrick, Krafth, Gayle, S.Longstaff.

Booked: Manquillo

Goal: Wilson 40

BFC: Pope, Lowton (Roberts 75), Taylor, Collins, Tarkowski, Gudmundsson (Rodriguez 81), Westwood, Brownhill, McNeil, Wood, Cornet (Vydra 32).
Subs n/u: Cork, Hennessey, Lennon, Pieters, Long, Thomas.

Booked: Collins

Crowd: 51,948

Eddie Howe:

"Absolutely delighted for everyone connected with the club. It was a massive game for us, and I thought the lads responded.

"After the first 20 minutes, we were great today. Very nervy towards the end, as we were desperate for the win. The players managed that part really well. The spirit in the group has shown, and the atmosphere was exceptional. I can't praise the supporters enough.

"For sure we can stay up. We've come from a difficult position and there is a long road ahead, but I believe in what we are doing.

"We have tried to bring our philosophy to the team, to be front-foot and more aggressive. Confidence is key in any sport and we have lacked that, but today goes a long way to rebuilding that.

"Historically we have said you need to take points off the top teams and that will be the task in December.

"(The transfer window) will be important, but the players we have here we like and we need to maximise them first.

"The market changes so much and quickly. People are planning for that, but my sole focus is coaching the team. I love working with this group. They are hungry and want to achieve.

On the goalscorer:

"It was a delicate one this week, with three games in a week, and keeping him (Callum Wilson) fit, but he was excellent today.

"His finish for the goal was high class. He will be vital for us. We will need him between now and the end of the season."

Referee: Paul Tierney - third outing of the season for the Lancastrian whistler, following on from the 2-2 home draw and Chelsea's 3-0 victory on Tyneside.

VAR: Lee Mason

Latest PL results/fixtures:

Sat 04.12.2021:
West Ham 3-2 Chelsea
Newcastle 1-0 Burnley
Southampton 1-1 Brighton
Wolves 0-1 Liverpool
Watford 1-3 Manchester City

Sun 05.12.2021:
Leeds United v Brentford (2pm)
Manchester United v Crystal Palace (2pm)
Spurs v Norwich City (2pm)
Aston Villa v Leicester City (4.30pm) Sky

Mon 06.12.2021:
Everton v Arsenal (8pm) Sky

Stats:

Callum Wilson has six goals this season from 11 appearances. Last season saw him register 12 from 26 games (23 starts).

Clarets @ SJP - last 10:

2021/22 Won 1-0 Wilson
2021/22 Drew 0-0 (lost 3-4 pens) LC
2020/21 won 3-1 Saint-Maximin, Wilson 2
2019/20 drew 0-0
2018/19 won 2-0 Schar, S.Longstaff
2017/18 drew 1-1 Lascelles
2014/15 drew 3-3 S.Taylor, Colback, Sissoko
1982/83 won 3-0 Waddle, Varadi, Keegan
1979/80 drew 1-1 Davies
1978/79 won 3-1 Withe, Shoulder, Cassidy

Magpin

:
First dates




The latest release from NUFC badge Maestro Magpin is a 2022 desk calendar, illustrated with a mix of present and former players plus a new-drawn Eddie Howe caricature.

Calendars are £8 and orders are live now online here


Giveaway:
There's only one....
Now is the time for cool heads - thankfully Football Bobbles are on the case, providing bespoke headwear including one honouring a certain Colombian.

Made in England the "Tino" is available now - one size fits most order online here

To be in with a chance of winning one, we require you to tell us which club Asprilla joined after exiting SJP.

Answer to comps@nufc.com by Noon on Friday December 10th. Subject: Hat. No age limit, open to anyone on the planet but delivery must be to a UK address. One entry each please.

U18s:
Lead lost late on

Liverpool U18s 3 Newcastle U18s 1

It's now seven league games without victory for United's U18 side, after they conceded a trio of late goals to Liverpool at their Kirkby home on Saturday.

The black and whites led at half time thanks to a 26th minute effort by striker Michael Ndiweni, before the Reds levelled through Oakley Cannonieri on 69 minutes.

Luke Chambers fired the hosts ahead from the penalty spot just seven minutes later, before Cannonieri struck his second and Liverpool's third with six minutes to play.

Former Magpie midfielder Bobby Clark (son of Lee) featured for the home side and was dismissed in the first minute of added time after being shown a second yellow card of the game.

Team: M.Thompson, Stewart, Beresford, C.Thompson, Barclay, Stanton (Donaldson 77), Huntley, Turner-Cooke, Crossley, J.Miley, Ndiweni.
Subs n/u: Bessent, Robertson, L.Miley, Mavididi.

Booked: Barclay, J.Miley

U23s:
Second string etc.

United's U23 side go in search of a PL2 derby double on Monday night, hosting their mackem counterparts at Whitley Park in a 7pm start.

We've confirmed that the usual entry arrangements will apply for home fans: free admission for current ST holders and members or else £3 adults and £1 concessions at the gate.

Moving on to this Friday (10th) at Whitley Park, the U23s face Watford in the Premier League Cup - and that's now kicking off at 4pm, not 6pm as previously advertised.

Normal entry arrangements will apply.

Meanwhile, one U23 fixture involving Newcastle has been rescheduled:

Mon 31.01.2022 Aston Villa U23s (h)
7pm @ Whitley Park. PL2.

And there's a new date for the U18s:

Tue 11.01.2022 Southampton U18s (h)
11am @ Little Benton, U18 PL Cup.

FA Cup:
FAC3 details

Newcastle will learn the identity of their FA Cup Third Round opponents on Monday evening, when the draw is made live on ITV4.

The draw is scheduled to be on ITV4 at 7pm, ahead of their live coverage of the Second Round tie between Boreham Wood and St.Albans City (7.45pm KO).

The Magpies are ball number 29.

Third Round ties are scheduled to be played over the weekend of January 8th 2022.

NUFC last 10 FAC3 ties:
2020/21 Arsenal (a) lost 0-2
2019/20 Rochdale (a) drew 1-1 (won replay)
2018/19 Blackburn Rovers (h) drew 1-1 (won replay)
2017/18 Luton Town (h) won 3-1
2016/17 Birmingham City (a) drew 1-1 (won replay)
2015/16 Watford (a) lost 0-1
2014/15 Leicester City (a) lost 0-1
2013/14 Cardiff City (h) lost 1-2
2012/13 Brighton and Hove Albion (a) lost 0-2
2011/12 Blackburn Rovers (h) won 2-1

FAC:
Familiar face

Following Monday's FA Cup Third Round draw on ITV, the Second Round tie between non-league neighbours Boreham Wood and St. Alban's City will be beamed out live - giving the home side's expected debutant a high-profile introduction.

That's none other than Nile Ranger, who has been training with Boreham Wood in recent weeks. Now 30, the former Magpie striker was last spotted making a brief return to Southend United in February - managing just 11 minutes before having to go off with a groin strain.
Premier League:
Still winless,
still brainless

Newcastle 1 Norwich City 1

Match report

Borrowers:
Loan lads

Updates on Newcastle's loan contingent:

Matty Longstaff (Aberdeen)
St. Mirren (h) Scottish Premiership, Saturday.

Tom Allan, Oisin McEntee (Morton)
Ayr United (h) Scottish Championship, Saturday.

Lewis Cass (Port Vale)
Burton Albion (a) FA Cup, Saturday.

Rodrigo Vilca (Doncaster Rovers)
Mansfield Town (h) FA Cup, Saturday.

Jake Turner (Colchester United)
Wigan Athletic (h) FA Cup, Sunday.

Kelland Watts (Wigan Athletic)
Colchester United (a) FA Cup, Sunday.

Premier League:
The agony goes on

Arsenal 2 Newcastle 0

Match report


Book offer/compo:
Heart breaker


"Newcastle United Stole My Heart" is an account of author Michael Chaplin's life and times cheering on The Magpies since first visiting St. James' Park back in 1963.

Selecting 11 Toon games with a personal significance, Chaplin speaks to players who were involved, weaving his own life story around United's fortunes - or lack of them.

Thanks to everyone who has purchased books, our last remaining stocks of author-signed copies are available now online here for £15.99.

We had one up for grabs and asked which two future Magpies played for Wimbledon in an FA Cup victory at SJP in 1988.

Dave Beasant was the one we named - the incident after that game when Mirandinha hoofed him up the backside mentioned in this book. The other? Andy Thorn.

The winning entry came from Scott Lohnes - thanks to all who entered.


Carabao clash possibility
:
Bees update

For anyone looking ahead to visiting Brentford's new ground later this season with Newcastle, keep one eye on the Carabao Cup ties later this month.

The Bees have made it through to the last eight of the competition and host Chelsea on Wednesday December 22nd.

Were Thomas Frank to win that and guide his side past two-legged Semi-Final in January, then Brentford would be in Carabao Cup Final action at Wembley on February 27th - and a new date would be required for the scheduled PL visit of Newcastle that same weekend.

Retro:
Chronicled

The latest episode of a free NUFC history Podcast series hosted by the Chronicle is now available online here

WC date:
2022/23

Depending on our fate at the end of this season, here's how the next one will pan out:

Premier League:

Season starts 06.08.2022
Season halts 14.11.2022 (Round 16)
Season restarts 26.12.2022 (Round 17)
Season ends 28.05.2023

Championship:

Season starts 30.07.2022
Season halts 14.11.2022 (Round 16)
Season restarts 10.12.2022 (Round 17)
Season ends 06.05.2023
(Playoff finals 27.05-29.05.2023)


Tickets/Fixtures
Season 2021/22

2021/22 match tickets shown as being on public sale require registration on the NUFC ticket website - this can be done in advance of the ticket sale.

Mon 06.12.2021 7pm FA Cup Third Round draw involves Newcastle United. Live on ITV4.

Mon 06.12.2021 U23s v mackem U23s (h) @ Whitley Park, 7pm. Premier League 2.

Fri 10.12.2021 U23s v Watford U23s (h) @ Whitley Park, 4pm. Premier League Cup. Note new kick-off time.

Fri 10.12.2021 U18s v West Ham U18s (a) @ Rush Green, 7pm. FA Youth Cup Third Round. Behind Closed Doors.

Sun 12.12.2021 Leicester City (a) @ King Power Stadium, 2pm. Premier League. SOLD OUT. Allocation: 3,300. Live on Sky Sports.

Tue 14.12.2021 U23s v Ashington (a) @ Woodhorn Lane, 7.30pm. Northumberland Senior Cup. Advance tickets bookable online here £6 adults (£7 on gate). £2 Students/OAPs, £1 U16s.

Thu 16.12.2021 Liverpool (a) @ Anfield, 8pm. Premier League. SOLD OUT. Allocation: 3,000. Live on BT Sport.

Sat 18.12.2021 U18s v Nottingham Forest U18s (a) @ Nigel Doughty Academy, 11am. U18 Premier League.

Sun 19.12.2021 Manchester City (h) @ SJP, 2.15pm. Premier League. Public sale now (online), Mon 06.12.2021 (all). Live on Sky Sports.

Mon 20.12.2021 U23s v Wolves U23s (a) @ Aggborough, 7pm. Premier League 2.

Mon 27.12.2021 Manchester United (h) @ SJP, 8pm. Premier League. SOLD OUT. Live on Sky Sports.

Thu 30.12.2021 Everton (a) @ Goodison Park, 7.30pm. Premier League. SOLD OUT. Allocation: 3,000. Live on Amazon Prime.

Sun 02.01.2022 Southampton (a) @ St. Mary's Stadium, 2pm. Premier League. ST holder sale now (0 points). £30 adults, £27 seniors/18-25s, £25 U18s, £20 U11s. Allocation: tbc.

2021/22 PL season:
Season ends Sun 22.05.2022
Live TV confirmation dates:

NB: all "approximate dates"

Tue 14.12.2021 Feb 2022
Mon 24.01.2022 Mar 2022
Mon 21.02.2022 Apr 2022
Mon 04.04.2022 May 2022

NUFC Live on TV:

Sun 12.12.2021 Leicester City (a) 2pm Sky
Thu 16.12.2021 Liverpool (a) 8pm BT
Sun 19.12.2021 Manchester City (h) 2.15pm Sky
Mon 27.12.2021 Manchester United (h) 8pm Sky
Thu 30.12.2021 Everton (a) 7.30pm Am
Sun 02.01.2022 Southampton (a) 2pm (no TV)

(TV picks to Sun 23.01.2022 made).

FA Cup Round dates:
(NUFC enter in Round 3).

R3: Sat 08.01.2022
R4: Sat 05.02.2022
R5: Wed 02.03.2022
QF: Sat 19.03.2022
SF: Sat 16.04.2022
F: Sat 14.05.2022

Northumberland Senior Cup:

Second Round:

14.12.2021 Ashington v Newcastle United U23s
Date tbc Bedlington Terriers v Newcastle University
Date tbc Morpeth Town v Blyth Spartans
Date tbc North Shields v Heaton Stannington

(Ties to be played by 22.12.2021)

FA Youth Cup:
(NUFC U18s away to West Ham in Round Three, ties to be played on or before 11.12.2021)

U23 PL Cup:
(NUFC U23s in Group G with Birmingham City, Huddersfield Town and Watford)

U18 PL Cup:
(NUFC U18s in Group A with Leicester City, Nottingham Forest and Southampton)

U17 PL Cup:
(NUFC U17s in Group B with Leeds United, mackems and Boro)

Other events @ SJP:

Rugby League Magic Weekend:

Sat 09.07.2021:
Wakefield v Toulouse (2.30pm)
St Helens v Wigan (4.45pm)
Leeds v Castleford Tigers (7pm)

Sun 10.07.2021:
Huddersfield v Salford (1pm)
Catalans v Warrington (3.15pm)
Hull FC v Hull KR (5.30pm)

Rugby League WC Finals:

Sat 15.10.2022:
England v Samoa (2.30pm)

International Magpies
National Service

International breaks:

2021/22:
24.01.2022-02.02.2022 tbc
21.03.2022-29.03.2022

2022/23:
09.01.2022-06.02.2022 (AFCONF)
21.03.2022-29.03.2022
19.09.2022-27.09.2022
21.11.2022-18.12.2022 (WCF)
20.03.2023-28.03.2023

Coxy's Corner
Whoops, He did it Again...

What's this all about then? Click here for a rambling explanation of sorts....

On This Day in History
4th December

Born Or Died:
1899 Charles William Spencer born, Washington, County Durham (1921-28)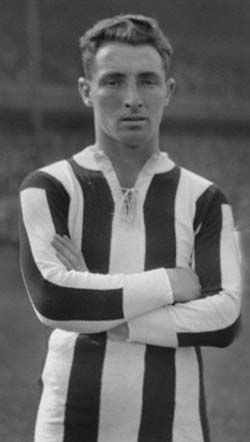 Signed by United from local league football, half back Charlie was converted to a centre back at Gallowgate (although he'd actually begun his career as a goalkeeper).

Making his debut in a 2-1 home victory over Bolton in March 1922, the only goal of his Magpies career arrived against Stoke City at SJP just over a year later.

Capped twice by England in 1924 and 1925, Spencer made 34 league appearances in United's 1926/27 championship-winning season but exited the club in the summer of 1928, joining Manchester United for £3,250.

After departing Old Trafford in in 1930, Spencer later served as player/manager of both Tunbridge Wells Rangers and Wigan Athletic, before taking charge of Grimsby Town between 1937 and 1951.

After a brief spell with Hastings United, Charlie took over at York City in November 1953. However he passed away barely three months into his tenure at the Minstermen.

1900 Christopher Swan born, Byker.
(1919-23)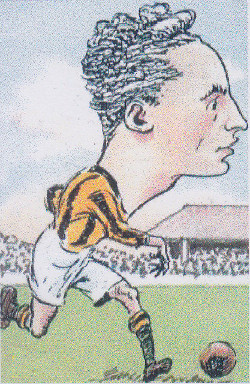 Inside forward who joined United following World War 1, but struggled to hold down a first team place following his debut in a 0-1 reverse at Burnley in April 1920.

Departing for Stockport County on a free transfer, Chris later appeared for Hull City and Crystal Palace before ending his playing days with Scarborough in 1932.

Swan's death was recorded in Bournemouth during 1979.

1943 Les O'Neill born, East Hartford.
(1961-65)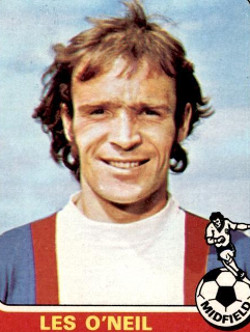 Former pitman who began his playing career with New Hartley Juniors and joined United from Blyth Spartans.

Midfielder Les was a regular in the Magpies reserve side but made just one first senior appearance - a 5-2 loss at Portsmouth in October 1963.

Suffering a career-threatening injury that sidelined him for almost a year, Les left for Darlington in search of first team football and later joined Bradford City.

However it was a five year spell with Carlisle United that brought O'Neill to prominence, his goals helping the Cumbrians gain promotion to Division One in 1973/74.

Les then scored at Stamford Bridge and Ayresome Park (twice) in Carlisle's opening two top-flight fixtures the following season.

A knee injury curtailed his career although he later turned out for Queen of the South.

Following his retirement from playing, Les became a milkman in Carlisle, returning to Brunton Park as a coach and also enjoying spells in charge of Penrith and Workington.

In 1991 former Carlisle team mate John Gorman recruited Les to his backroom staff at Swindon and he remained there until sacked in 1998 from the post of chief scout.

Les then scouted for Blackpool before linking up once again with John Gorman to oversee scouting duties for Wycombe Wanderers.

He later frequented the pro-celebrity golf circuit in Spain, along with fellow former Magpies Chris Waddle and Billy Rafferty - plus Stan Boardman. Calm down.

1962 Kevin Richardson born, Newcastle
(coach, 2011-present)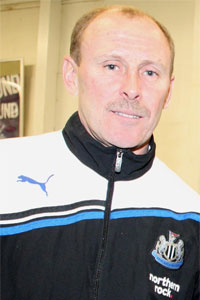 As a youngster, Kevin played for Montagu Boys Club in the West end of Newcastle but left as a teenager to join Everton.

The midfielder would enjoy a twenty year career with the Toffees, Watford, Arsenal, Real Sociedad (Spain), Aston Villa, Coventry City, Southampton, Barnsley and Blackpool - and also won a single senior England cap.

Backroom roles at the mackems (twice), Stockport County and Darlington followed before Kevin joined the Newcastle Academy coaching staff on a full time basis in 2011 - having worked with younger age groups since 2009.

Overseeing the U16 side, Richardson moved up to coach the U18s in early 2015 - after Dave Watson was promoted into the first team setup under Head Coach John Carver.

Watson subsequently returned to his U18 role, with Kevin assisting him - doubling up under Ben Dawson for the U23s, after Peter Beardsley was placed on gardening leave.

2019 then found Richardson working with U18 Coach Neil Winskill and he remained at the club as a number of U23 coaches came and left, now working under Elliott Dickman.

What Else?
1897 Gainsborough Trinity (a)
3-1 (2-0)
Division Two
Campbell(10), Harvey(2-0), Ostler(3-0)
Wigmore(3-1)
700
One of only two visits to The Northolme for United, as Gainsborough enjoyed a two season spell in league football.
1909 Liverpool (a)
5-6 (5-2)
Division One
Howie(1), Shepherd (2,20,40,43),
Stewart(2), Parkinson(28,48), Orr(63,70), Goddard(80)
22,000
"The lively followers of the Geordies gave them a rousing welcome" reported the Liverpool Echo and had two goals to cheer in as many minutes from the first whistle - although the hosts netted in between.

5-2 ahead at the interval, an astonishing turnaround saw United leave Anfield empty handed; former Magpie Ronald Orr grabbing a brace and home captain Arnold Goddard heading a late winner for the home side.
1920 Aston Villa (h)
2-1 (1-1)
Division One
Smailes(37), Seymour(53)
Kirton(11)
25,000
One of only two runouts for reserve outside right, Andrew Gray.
1926 West Ham United (h)
2-0 (1-0)
Division One
Gallacher(22), Seymour(55)
36,000
1937 Sheffield Wednesday (h)
1-0 (0-0)
Division Two
Mooney(52)
9,500

1943 Middlesbrough (a)
1-1 (0-0)
Wartime
Stubbins(85)
Parlane(0-1)
3,500
Boro goalkeeper David Cumming was between the posts for United, while the hosts fielded Plymouth Argyle's County Durham-born custodian Matt Middleton.

Parlane opened the scoring for Boro after having missed a first half penalty kick.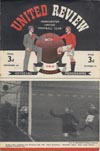 1948 Manchester United (a) 1-1 (0-0)
Division One
Stobbart(81)
Mitten(88)
70,787
With Old Trafford unable to host games due to wartime bomb damage, this fixture was played at Maine Road.

The crowd for this game remained a record high for a league fixture involving Newcastle until 2006, when 75,664 fans saw the same two teams do battle - at Old Trafford.
1954 Sheffield Wednesday (a)
3-0 (1-0)
Division One
Broadis(20), White(52), R.Mitchell(60)
15,000



1971 Chelsea (h)
0-0

(0-0)


Division One
37,586

1974 Chester (h)
0-0

(0-0)


League Cup 5th Round
31,656
Debut at right back for Peter Kelly.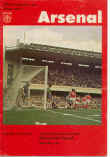 1976 Arsenal (a)
3-5 (1-3)
Division One
Burns(15,70), Gowling(69),
Ross(24), Macdonald(28,63,88), Stapleton(45+3)
35,000
A hat trick for Supermac against his former side on a frosty Highbury pitch.

The highlight was a much-repeated power header to finally kill the game off at 5-3, after a Magpie comeback was underway.
Youtube footage is online here

1982 Charlton Athletic (a) 0-2 (0-1)
Division Two
McAllister(40), Simonsen(49)
10,381
Without both Kevin Keegan and Imre Varadi (who had scored 16 of United's 25 league goals to date), Arthur Cox's side struggled at The Valley.

Liverpool loanee Howard Gayle moved out of midfield and into the number nine shirt, while there was a first outing of the season for winger Paul Ferris.

The Addicks were inspired by big money signing Allan Simonsen, who scored a fine second goal.
Youtube footage is online here
1988 At last a new manager, as Jim Smith agreed to leave QPR for Tyneside - ending a three month search for a successor to the sacked Willie McFaul.

The Bald Eagle took charge for the first time six days later, against Wimbledon at SJP.

1993 Tottenham Hotspur (a) 2-1 (0-0)
Premier League
Beardsley(55,90)
Barmby(61pen)
30,780
A league debut for Mike Jeffrey, as two pieces of Beardsley genius won it at White Hart Lane.

After being pegged back by a Nicky Barmby penalty, Mike Hooper made a crucial stop and Beardsley then jinked past three defenders to wallop home a memorable winner in the last seconds.
Youtube footage is online here

1999 Aston Villa (a)
1-0 (0-0)
Premiership
Ferguson(65)
34,531
Wind, rain, snow and hail made for miserable afternoon at Villa Park, with the onfield fare doing little to raise the temperature among fans.

Duncan Ferguson was to change all that however, getting on the end of a cross from Temuri Ketsbaia and out-muscling future Toon assistant boss Colin Calderwood to head in.

Completing a trio of future Magpie coaches, Alan Thompson appeared as a home sub and was then replaced himself, while Steve Stone remained on the bench.
NUFC.com match report
2000 A desperate 1-2 home defeat at Kingston Park by Bradford City's Reserves.

United led through Shola Ameobi's header but Giuseppe Lo Piccolo equalised before Robbie Blake's late winner courtesy of Ryan McGuffie's suicidal back pass.
NUFC.com match report
2003 Newcastle's Pontins league reserve side recorded their largest win of the season and a fourth consecutive victory, as a young Lincoln City were efficiently disposed of 6-0 at Whitley Park.
Goals came from Lewis Guy (2), Andy Ferrell (2), Robbie Elliott and an own goal.
NUFC.com match report

2004 Chelsea (a)
0-4 (0-0)
Premiership
Lampard(63), Drogba(69), Robben(89), Kezman(90pen)
42,328
Four second half goals made it a miserable day in South West London as defensive frailties once again undermined a promising first half display from Graeme Souness's side.

Defensive clangers from Laurent Robert, Ronny Johnsen, Titus Bramble and Shay Given made a difficult job mission impossible, leaving United with just four points from their last six games.
NUFC.com match report

2005 The draw for the Third Round of the FA Cup handed The Magpies a home tie against League Two strugglers Mansfield Town.

Ball number 27 was selected from the pot by Chelsea old boy Peter Osgood, while ex-mackem 'keeper (and Magpies coach) Jimmy Montgomery selected the Stags.

2006 Playing their final home league game of the year, Newcastle reserves were beaten 3-1 at Kingston Park by Middlesbrough -their first home defeat since April 2005.

After ten wins and eight draws, the table- topping Teessiders finally ended Lee Clark's side's run, despite United scoring first - thanks to a Carl Finnigan penalty.


NUFC.com match report

2011 United were handed their first FA Cup Third Round home tie since since 2006 when paired with fellow Premier League side Blackburn Rovers in the draw.

The two sides had already met in cup competition, Blackburn winning a Carling Cup tie 4-3 at Ewood Park two months earlier.



2013 Swansea City (a)
0-3 (0-1)
Premier League
(Dyer(45+1), og(Debuchy)(66), Shelvey(81)
20,457
Our four-match winning run came to an abrupt halt, as just about everything went wrong in front of the BT Sport cameras.

The three-goal deficit was harsh on United as a combination of non-decisions from referee, Howard Webb and some bad luck undid the Magpies but form also deserted the visitors.

Webb avoided penalising future Magpie Jonjo Shelvey for an intended head butt on Mathieu Debuchy and also overlooked three spot kick claims, but it was also a night to forget for Tim Krul - culpable for all the goals.
NUFC.com match report

2017 Newcastle U23s debuted at the Weston Homes Community Stadium of League Two side Colchester United, triumphing 2-1 in the Premier League Cup.

A goal in each half from Luke Charman won it.
NUFC.com match report

2018 United's U21s qualified for the last 16 of the Checkatrade Trophy on penalty kicks against Macclesfield Town at SJP.

Elias Sorensen had given the Magpies a first half lead before Sol Campbell's Macclesfield Town side equalised five minutes from time.

That meant penalties which United won 5-3, Mo Sangare hitting the winning spot-kick.
NUFC.com match report

2020 Newcastle's Premier League visit to Aston Villa was postponed following an outbreak of COVID-19 among the Magpies squad.

Following consultation with Public Health England, the club's Darsley Park training facility was closed until further notice.

Three squad members had tested positive before United's previous game at Crystal Palace and a further round of testing then added considerably to that tally.

Those players confirmed as having tested positive included Emile Krafth, Jamaal Lascelles, Isaac Hayden, Fabian Schar, Federico Fernandez and Allan Saint-Maximin.