Date: Wednesday 14th January 2020, 7.45pm

Venue: St. James' Park

Conditions: Helpful

Tickets: £10 adults, £5 concessions
(£20 and £10 on match day)



Newcastle

Rochdale

4 - 1

Teams
17 mins Matt Ritchie's cross from the left was prodded into his own net from six yards out at the Leazes End by visiting defender Eoghan O'Connell, Joelinton hovering behind him. 1-0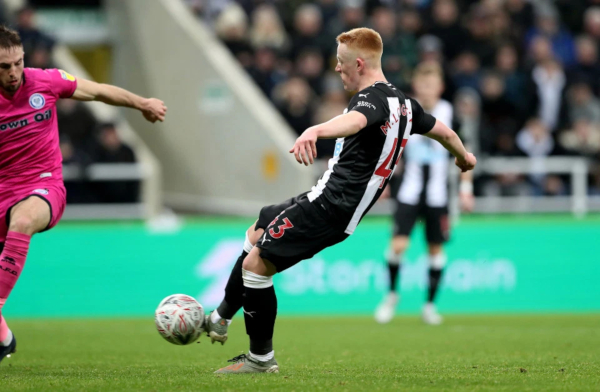 20 mins Another Ritchie cross from left found Matty Longstaff in front of goal and he had to time to take it down and dispatch it past Sanchez. 2-0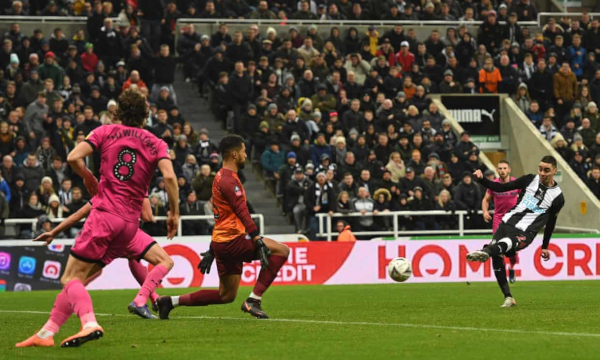 26 mins Another gift from the visitors; goalkeeper Sanchez trying to start a forward move from inside his own box, but passing to Miguel Almiron who picked his spot and drove home. 3-0
Half time: Magpies 3 The Dale 0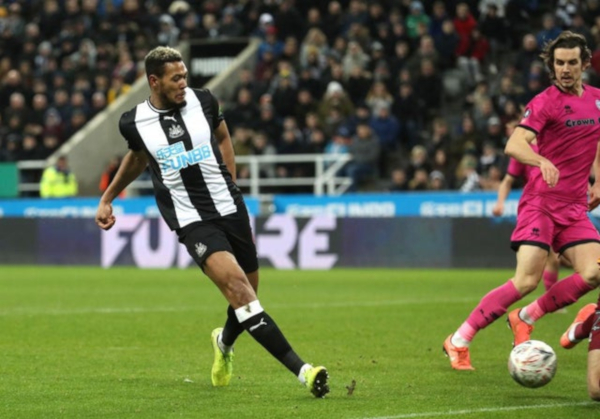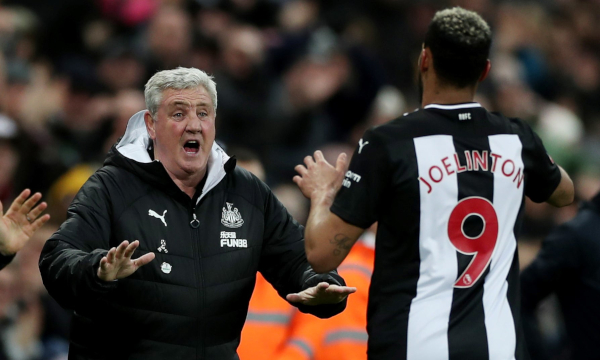 82 mins A neat pass from Andy Carroll released Tom Allan down the right and his measured low cross was touched in by Joelinton from six yards out. 4-0
86 mins A short corner was swung over and played back by Aaron Wilbraham for Jordan Williams hit a low shot from the edge of the box that beat Karl Darlow via a post. 4-1

Full time: Magpies 4 The Dale 1
Steve Bruce said:
"We put the game to bed very early, which was good, and it enabled us to bring on Andy (Carroll) and Jonjo (Shelvey) for 20, 25 minutes. We came off a little bit in the second half, which is normal.

"We can't ask for more than a home draw in the next round. If we treat Oxford with the same respect we showed Rochdale in the first half we've got a chance.
"Everybody is OK tonight. First time Iíve been able to say that for weeks!"

On Joelinton:

"We all know what itís like to have the number nine shirt here. To be fair to the young lad, heís found it a struggle. Youíve got to keep working at it.

"The reason we kept him was could there be a moment where he can get a goal? You could see what it meant to him.

"I never worried because I could watch Joelinton in training and you can see what he's got.
"There's an expectation on you and if you've got a big transfer fee and you're young, sometimes it becomes difficult.
"The difference in the last five minutes and the first five minutes was evident. Letís hope itís another Almiron - we had to wait a while for him but heís now got four in the last few games.Ē

On Tom Allan:

"He's been training with us for a few weeks now, and he's grabbed his chance. Great for him. A fellow Geordie, and from Cramlington. He'll enjoy the moment."

On Matt Ritchie:

"We have missed him. "We have been without some big players but Matt is loud and effervescent. He wants to play and is a great pro and a great lad to have around."

On Mike Ashley:

"He's here for a day or two so we'll meet up. He's been supportive since I walked in the door. If there's someone there who can improve us, we'll act.

"I think there's been three deals so far in the Premier League so it's difficult."

Brian Barry-Murphy said:

"We've had amazing backing from our supporters. The players were desperate to give them something to shout about in the second half.

"We went to Manchester United earlier in the season in the Carabao Cup and we were lauded for everything that we did there. But there were moments in the first half there when Manchester United had gilt-edged chances and we just managed to defend them.

"Tonight, we weren't able to do that and things went against us in the first half.

"It was really important to see how we reacted in that situation and whether we were able to maintain our way of playing and display our personality.

"We did that in the second half and it was very, very encouraging for us all moving forward."



This
was Rochdale's

first official competitive fixture a
t Gallowgate,

the only previous meeting
the first leg of
a

two-legged War Cup tie

during the 1940/41 season. United lost that game 1-2 on Tyneside but went on to win 3-1 in Lancashire.


Newcastle scored four goals in an FA Cup tie at SJP for the first time since a 4-1 Third Round replay victory over Stoke City in January 2008.

There was a competitive senior debut for 20 year-old Tynesider Tom Allan from the bench.

It's now three goals in three games for Miguel Almiron in all competitions and four this season.

Matty Longstaff netted his third goal of the season in all competitions, following efforts in both Premier League meetings with Manchester United.

Having scored his first competitive Magpies goal in his third appearance (away at Spurs in the Premier League last August), Joelinton doubled his tally tonight in his 24th appearance.


Jamaal Lascelles returned to the side following injury and made his 150th appearance in all competitions for Newcastle (136 starts).

NUFC FAC KOs since 2006:

2005/06
QF Chelsea (a) lost 0-1
2006/07 3R Birmingham City (h) lost 1-5
2007/08 4 Arsenal (a) lost 0-3
2008/09 3R Hull City (h) lost 0-1
2009/10 4 West Brom (a) lost 2-4
2010/11 3 Stevenage (a) lost 1-3
2011/12 4 Brighton (a) lost 0-1
2012/13 3 Brighton (a) lost 0-1
2013/14 3 Cardiff City (h) lost 1-2
2014/15 3 Leicester City (a) lost 0-1
2015/16 3 Watford (a) lost 0-1
2016/17 4 Oxford United (a) lost 0-3
2017/18 4 Chelsea (a) lost 0-3
2018/19 4 Watford (h) lost 0-2
2019/20 ? ??


Waffle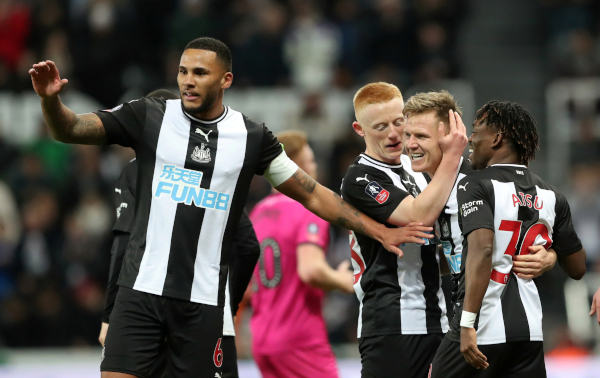 Having failed to make their dominance count in the first meeting with Rochdale, Newcastle made no mistake in their replay, coasting into the Fourth Round of the FA Cup at St. James' Park on Tuesday.

That outcome was hardly unexpected given the strong starting lineup and bench named, but there were some uncommon events for almost 30,000 fans to witness.

Mike Ashley made a rare visit to Gallowgate as United avoided adding to their sick list for once - and saw record signing Joelinton finally break his scoring duck with a first competitive home goal.

On a night of positives, there was a successful return for Jamaal Lascelles, valuable pitch time for Matt Ritchie, a runout for Jonjo Shelvey and an assist on his senior debut for youngster Tom Allan.

Generous defending by their League One guests allowed the Magpies to rack up an unassailable early lead by the half hour mark, after Miguel Almiron had struck a post from close range early on.

Enjoying total domination, United profited from an OG and a suicidal clearance by Dale goalkeeper Robert Sanchez that gifted Almiron a goal, those gifts either side of Matty Longstaff's strike

At that point a sizeable final total looked more than possible and we'd mentally began to formulate our listing of Rochdale folk to name-check in the match report ("Cyril Smith, Lisa Stansfield, Gracie Fields, your boys got a hell of a beating" etc).

However the landslide never came to pass and a sloppy passage of play allowed the visitors two shooting chances in the first five minutes of the second half - although neither were on target.

A low-key half settled down into a bloodless training match, albeit one with neither 'keeper involved - Rochdale's half time replacement custodian Jay Lynch barely getting his gloves dirty until late on.

At the other end meanwhile, Isaac Hayden returned to the central defensive berth he occupied in the first meeting after Saturday's outing at full back. With Federico Fernandez given the night off, he partnered Florian Lejuene and the returning Lascelles - the latter benefiting from Dale's decision to include 40 year-old Aaron Wilbraham in their lineup. He's not exactly built for speed.

The half was belatedly illuminated when Joelinton shook off his torpor and slipped the ball past Lynch, rounding off his side's first victory since December 21st; an evidently relieved number 9 ran to embrace Bruce before being mobbed by his team mates.

Dale's goal arrived in the 86th minute when Jordan Williams hit a low shot from the edge of the box that beat Karl Darlow via a post, but nobody really seemed to mind that the fuschia-clad visitors had marked their first competitive game at Gallowgate by getting on the scoresheet.

A fifth home goal almost followed in the closing seconds after Joelinton gained possession in the Dale box and set up Andy Carroll, whose rising effort was tipped onto the angle of post and bar.

Newcastle now face another League One side in the shape of Oxford United in the Fourth Round at Gallowgate on Saturday week. Victory over the U's would then see the Magpies appear in the Fifth Round for the first time since Ashley bought the club in May 2007.

The outcome of Saturday's league meeting with Chelsea - and our performance levels in that game - may cause some to alter their view about the wisdom of playing a strong XI here. For now though, Bruce's approval rating is benefiting from his decision to do that, even if it's now falsely lodged in people's memories that his predecessor habitually picked under-strength cup teams.

Biffa