Date: Monday 25th November 2019, 8.00pm
Live on Sky Sports

Venue: Villa Park

Conditions: Mild, moist and miserable

Programme: £3.50






Aston Villa

Newcastle

2 - 0

Teams
32 mins DeAndre Yedlin's poor positional play saw Jack Grealish burst towards the box at the North End and his pace couldn't save him, so he tripped the Villa man right on the edge of the area.

A training ground routine involving Grealish saw Conor Hourihane clip the ball around the near side of the wall inside the post with both Martin Dubravka and the defensive wall at fault. 0-1

36 mins Another free-kick needlessly given away for a foul on Grealish - this time by Federico Fernandez - allowed Hourihane to swing over a cross into the six yard box that our just defence stood and admired.

Meanwhile two home players were on hand to tuck it home from close range, Anwar El Ghazi the one to make contact. 0-2

Half time: Villans 2 Magpies 0

Full time: Villans 2 Magpies 0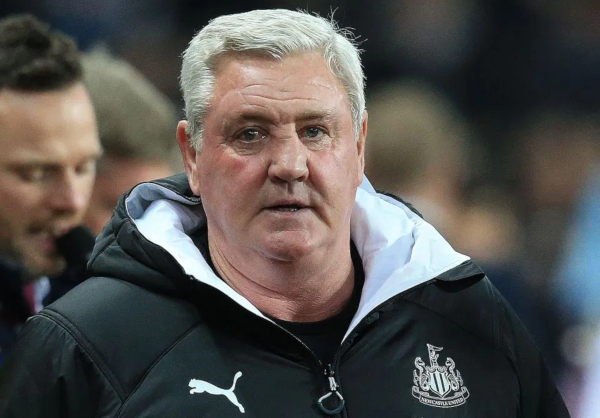 No cabbages tonight, but plenty of leaks (sic)
Steve Bruce said:

"We tried hard but we weren't good enough.

"First half in particular we were too passive and didn't do enough with and without the ball.

"The big turning point is a couple of free kicks - the first one, I've seen (Conor) Hourihane do that many times and it's difficult to defend against. He has the accuracy and power to score. The second one, our defenders have to defend better, too many stood and watched it.

"Just before half time Fede's had a header and the 'keeper's made a great save. Second half is all about can we score? We've had one big chance that we (Alain Saint-Maximin) didn't take.

"We should have started the first half like the second. When you're 0-2 down in the Premier League and you're chasing it, it can become difficult and we left big holes everywhere.

"Villa were better than us on the night.

"Jamaal Lascelles is our captain and has been playing very well. Last week (actually two weeks ago) the defenders were excellent but you are always going to miss your best players."

On his misfiring forward trio:

"We can see they're a threat but of course the one thing you need to remain confident as a forward is to score. We have to keep persevering with it and see where we get to."


Dean Smith said:

"I said at the start of the season that Villa Park is going to be big for us in terms of how we do. I was only looking at the table yesterday and everyone outside of the top four and Burnley has won four games maximum.
"That shows how competitive this league is. If you win three games, youíll be in the top ten and if you lose three, youíll be in the bottom five. Thatís just how the league seems to be this season.
"This is a really tough league and we have just gone through a period of playing Manchester City and Liverpool, which were games I thought we actually played well in.

"The table is so tight but you need to put a run together, be tough to beat and keep a clean sheet. I'm really pleased with the clean sheet tonight as we haven't had too many of those this season.

"Our form has been good but we knew it would be hard, but I think we've been competitive. It takes time to gel defensively but I think we achieved that against Newcastle.

"It was a good performance, especially in the first half. I thought we controlled the ball really well and dominated possession. We were relentless with the ball, but also patient because we knew we had to be as they banked in and made it difficult.
"They came and pressed us a bit higher in the second half and we were a bit loose with the ball, but I thought we saw it out really well after that."
On Conor Hourihane:

"I explained to Conor why I left him out against Manchester City. He has scored goals in every league he's played in and I always had him earmarked to come back in and he showed us what he was about."

Villa finally managed to record a victory over Newcastle at the thirteenth time of asking, since a 1-0 success at Villa Park back in April 2011. In between then and this game, there have been six Magpie successes and half a dozen draws, all in the league (10 in PL, two in Championship).

This was Newcastle's fourteenth successive Monday night game in the Premier League away from St. James' Park. A pathetic four points from a possible 42 have been won during that sequence; winning at Burnley almost exactly a year ago and drawing at Wolves back in February.

Dec 2012 Wigan Athletic (h) won 3-0
Dec 2012 Fulham (a) lost 1-2
Aug 2013 Manchester City (a) lost 0-4
Sep 2013 Everton (a) lost 2-3
Apr 2014 Arsenal (a) lost 0-3
Sep 2014 Stoke City (a) lost 0-1
Apr 2015 Liverpool (a) lost 0-2
Sep 2015 West Ham (a) lost 0-2
Mar 2016 Leicester City (a) lost 0-1
Oct 2017 Burnley (a) lost 0-1
Apr 2018 Everton (a) lost 0-1
Nov 2018 Burnley (a) won 2-1
Feb 2019 Wolves (a) drew 1-1
Apr 2019 Arsenal (a) lost 0-2
Nov 2019 Aston Villa (a) lost 0-2

NUFC last ten PL seasons after thirteen games:
2019/20: 15 points, 14th (scored 11, conceded 20)
2018/19: 12 points, 13th (scored 11, conceded 16)
2017/18: 12 points, 13th (scored 11, conceded 16)
2015/16: 10 points, 17th (scored 13, conceded 25)
2014/15: 19 points, 8th (scored 14, conceded 16)
2013/14: 23 points, 6th (scored 19, conceded 18)
2012/13: 14 points, 14th (scored 13, conceded 19)
2011/12: 26 points, 4th (scored 19, conceded 12)
2010/11: 18 points, 7th (scored 21, conceded 16)
2008/09: 13 points, 17th (scored 17, conceded 22)

Toon @ Villa Park - PL era:
2019/20 lost 0-2
2016/17 drew 1-1 og(Elphick) (Ch)
2015/16 drew 0-0
2014/15 drew 0-0
2013/14 won 2-1 Ben Arfa, Gouffran
2012/13 won 2-1 Cisse, Cabaye
2011/12 drew 1-1 Best
2010/11 lost 0-1
2008/09 lost 0-1
2007/08 lost 1-4 Owen
2006/07 lost 0-2
2005/06 won 2-1 Ameobi, N'Zogbia
2004/05 lost 2-4 Kluivert, O'Brien
2003/04 drew 0-0
2002/03 won 1-0 Shearer
2001/02 drew 1-1 Shearer
2000/01 drew 1-1 Solano
2000/01 lost 1-0 (FAC)
1999/00 won 1-0 Ferguson
1998/99 lost 0-1
1997/98 won 1-0 Batty
1996/97 drew 2-2 Shearer, Clark
1995/96 drew 1-1 Ferdinand
1994/95 won 2-0 Lee, Cole
1993/94 won 2-0 Allen (pen), Cole
Waffle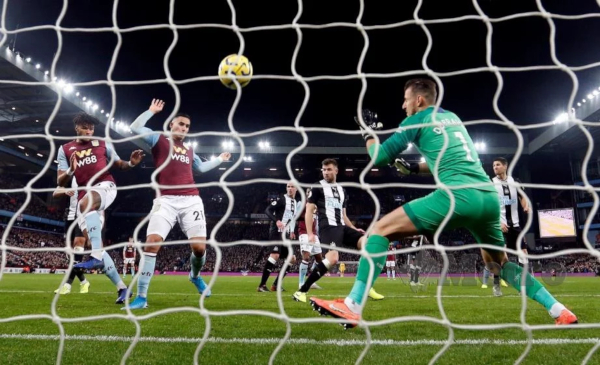 Steve Bruce endured a miserable first return to the club that sacked him in 2018 on Monday night, his current side conceding goals twice from free kicks within five first half minutes and never seriously threatening a response.

Aside from the enforced replacement of Jamaal Lascelles by Paul Dummett, United were unchanged as they went in search of what would have been their third successive Premier League victory.

Any optimism that we'd rise above the mundanity of most of our miserable Mondays soon washed away however, as we reprised some of the worst elements of our away displays this season.

The forward trio of Joelinton, Miguel Almiron and Alain Saint-Maximin singularly failed to sparkle, with our record signing once again continually isolated and out-numbered. And after having weighed in with more than their share of goals lately, the Newcastle defenders were too fully occupied at the other end of the park to form a scoring threat.

Two early forays from Miggy promised much, but his first attempt on goal ended up high in the Holte End and he was unable to profit after a breakaway from Saint-Maximin ended with a mis-control.

Beaten in their previous three league games, Villa began to threaten Martin Dubravka's goal and the visiting goalkeeper tipped a Douglas Luiz effort over his crossbar just before the half hour mark.

Their next attack was more profitable, DeAndre Yedlin clearly upending Jack Grealish and a free kick routine ending with Conor Hourihane beating a flat-footed Dubravka at his near post.

Within five minutes the hosts had doubled their advantage from a similar position, Hourihane opting this time to sweep his free kick into United's six yard box for Anwar El Ghazi to touch the ball in.

That prompted shouts of "Brucie, Brucie what's the score?" from jubilant home followers but United's only reaction before the break was a close range header from Federico Fernandez that was blocked by Tom Heaton - back between the sticks after returning to fitness.

Unchanged for the second half, the Magpies enjoyed their best spell of the game and Saint-Maximin was denied by a fingertip stop before Joelinton saw his shot deflected away and Isaac Hayden fired straight at Heaton.

At that point in proceedings, United were able to retain the ball for the first time in the game, but sadly they fell away from that point and only Dubravka's intervention prevented the Villans from adding a third and fourth goal, despite taking a "what we have we hold" type of approach.

The arrival of Andy Carroll and Dwight Gayle (the latter booed by Villans for his Baggies loan stint) from the bench failed to improve our fortunes - although Carroll at least belatedly provided a focal point for our unscientific forward punts, chested one ball down and volleying fiercely at Heaton.

In the vital centre midfield area we just didn't compete; Hayden over-run and the team dropping deeper and deeper to defend. And sadly the lack of a supply line meant that changing the front players made little or no difference.

In those circumstances, set pieces are vital - as the home side showed and Bournemouth and West Ham also benefited from against us - but United's were lamentably bad and woefully inaccurate.

Whatever momentum and cohesion that had developed during the victories over West Ham and Bournemouth had evaporated during the international break and tonight we looked lax, disjointed and generally unprepared. Villa weren't great but were streets ahead of us right across the field.

Never mind sob on the Tyne, had that Villa bloke with the bedsheet done any daubing tonight, slob on the Tyne would have covered our ineptness nicely. We just looked hapless: content to pin our hopes on maverick interventions at the expense of solid graft.

Next up? Manchester City.

Biffa