Date: Saturday 2nd February 2019, 12.30pm.
Live on Sky Sports

Venue: Wembley Stadium

Conditions: Familiar

Admission: £30

Programme: £3.50


Tottenham

Newcastle United

1 - 0

.

Teams
Half time: Cockerels 0 Magpies 0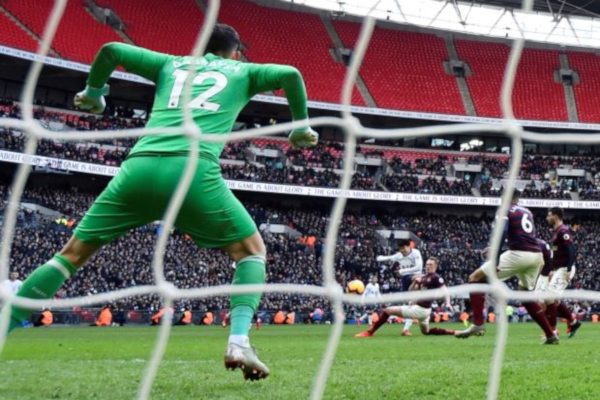 83 mins Spurs substitute Fernando Llorente seemingly used a combination of his chest and arm to bring down a forward ball that he laid off to the lurking Son. The South Korean cut inside along the edge of the box at the end where our fans were, hitting a firm shot straight at Martin Dubravka who inexplicably let the ball squirm through him as he failed to get his body in line. 0-1

Full time: Cockerels 1 Magpies 0
Rafa Benitez:
"I think (Martin) Dubravka knows he maybe could do something more (to prevent the goal) but he has also been so good for us that it's something we have to forget, quickly.

"We did well for a while in the first half, we had the chances in the beginning of the second half. We defended well, but the problem for us is conceding this kind of goal. You could concede another one, but this one we could avoid.
"You have to give credit to Son because the shot is a good one, but we could do better. But it's not just one mistake we have to analyse, it's overall.
"The performance was fine, if you analyse the chances we had in the first half, hit the post in the second.

"I was pleased when we had the chances from (Salomon) Rondon and Ayoze (Perez).

"I could see that in the first half we got in very good areas. It doesn't matter if your game plan is good - if you lose, you have to do something more to get points. You have to give credit to Tottenham, they are a very good team.

"When we talk about the players they don't have due to injury, I have to laugh a little bit, because they have some of the best players in England, everybody is international, and you could see anyone can make the difference.
"You have to give credit to Tottenham because they have injuries. It was not easy for us."

On the conclusion to the transfer window:

"As I said before, to bring new faces, and the characteristics of these players, will be something that I think will be positive for the future.

"We needed that, and hopefully we see what happens next. When you have competition it is always positive for the team."
Mauricio Pochettino commented:

"Our squad deserve massive, massive credit.

"We are disappointed because of the semi-final of the Carabao Cup, out of the FA Cup to Palace, we arrive at the worst moment for us as it was difficult to rotate and keep the same level in all of the different decisive games

"It was difficult to find space. We created some chances in the first and second half but the most important thing in the end is to keep pushing and it was a massive effort again in the second game consecutively. Once again I need to praise my players.
"Llorente, after Harry Kane's injury, plays four games in a row and with three days' recovery the normal thing is to rotate. It upsets me a little bit because the debate in England is difficult to understand. You have 24 players you need to use.
"Sonny is like a battery that you have - you work, work, work until the battery is gone. He is like this. He gives you everything and when he is exhausted he says he needs to rest. On the pitch he is always 100 per cent in every action.
"He works so hard, he pushes and never gives up - he tries, tries, tries, tries."
Magpies @ Wembley - all time:
1924 Aston Villa won 2-0 (FACF)
1932 Arsenal won 2-1 (FACF)
1951 Blackpool won 2-0 (FACF)
1952 Arsenal won 1-0 (FACF)
1955 Manchester City won 3-1 (FACF)
1974 Liverpool lost 0-3 (FACF)
1976 Manchester City lost 1-2 (LCF)
1988 Liverpool drew 0-0 (won 1-0 pens) (MCT)
1988 Tranmere Rovers lost 0-2 (MCT)
1996 Manchester United lost 0-4 (CS)
1998 Arsenal lost 0-2 (FACF)
1999 Manchester United lost 0-2 (FACF)
2000 Chelsea lost 1-2 (FACSF)
2019 Spurs lost 0-1 (PL)
2018 Spurs lost 0-1 (PL)

Antonio Barreca became the 230th player to represent Newcastle in the Premier League - and the third born in Italy, following on from Alessandro Pistone and Davide Santon.

Matt Ritchie completed a century of league appearances for the club (94 starts).

Tottenham became the third side this season to complete a PL double over Newcastle, following in the boot steps of Chelsea and Manchester United.

Newcastle suffered their fourth successive defeat to Spurs - their worst run of form since losing four on the bounce between January 1959 and October 1960. We've never lost five in a row.
Magpies @ Cockerels - Premier League era:
2018/19: Lost 0-1
2017/18: Lost 0-1
2015/16: Won 2-1 Mitrovic, Perez
2014/15: Lost 0-4 (LC)
2014/15: Won 2-1 Ameobi, Perez
2013/14: Won 1-0 Remy
2012/13: Lost 1-2 Gouffran
2011/12: Lost 0-5
2010/11: Lost 0-2
2008/09: Lost 0-1
2007/08: Won 4-1 Butt, Geremi, Owen, Martins
2006/07: Won 3-2 Huntington, Martins, Butt
2005/06: Lost 0-2
2004/05: Lost 0-1
2003/04: Lost 0-1
2002/03: Won 1-0 Jenas
2001/02: Won 3-1 Acuna, Shearer, Bellamy
2000/01: Lost 2-4 Solano, Dyer
1999/00: Drew 1-1 Speed (FAC)
1999/00: Lost 1-3 Solano
1998/99: Lost 0-2
1997/98: Lost 0-2
1996/97: Won 2-1 Ferdinand 2
1995/96: Drew 1-1 Ginola
1995/96: Won 2-0 Sellars, Ferdinand (FR)
1994/95: Lost 2-4 Fox 2
1993/94: Won 2-1 Beardsley 2
Waffle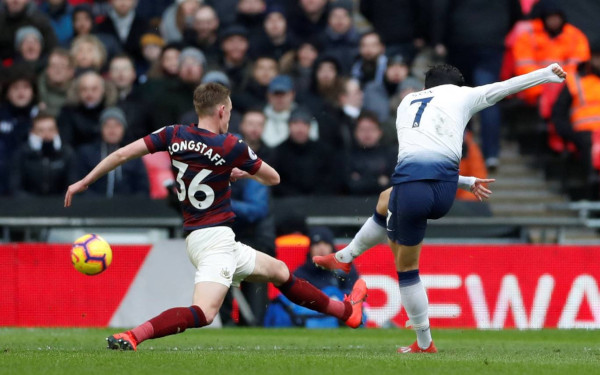 Newcastle left Wembley Stadium empty-handed as usual on Saturday lunchtime, but for once could count themselves slightly unfortunate to have done so.

A battling display looked like being rewarded with a valuable point, until Martin Dubravka allowed an unremarkable shot from Heung-Min Son through his hands just seven minutes from full time.

Both sides struck the goal frame (Lamela's header on 24 minutes, Rondon's header on 51 minutes) and missed chances to open the scoring, although the hosts inevitably had the lion's share of opportunities and twice denied by goal-line clearances during the second half.
Wearing their maroon and blue change kit and sticking with the same side that defeated Champions Manchester City on Tuesday, Newcastle left Antonio Barreca on the bench while fellow new arrival Miguel Almiron was waiting for his work permit application to be processed.

Salomon Rondon ploughed a lone furrow up front with Ayoze Perez in support, but most of the action came at the other end - our back five struggling to cope with crosses that a home side lacking injured duo Harry Kane and Deli Alli failed to convert.

All that changed with seven minutes of normal time remaining, Spurs substitute Fernando Llorente seeming using a combination of chest and arm to bring down a forward ball that he laid off to Son.

The South Korean returned from Asian Cup duty to play 90 minutes against Watford in midweek and was full of running again today, driving his side on and providing a threat in and around the area.

Son's shot was straight at Dubravka, but he could only awkwardly and agonisingly help it into the net. It was a poor way to concede and although United pressed forward in the final minutes, a late equaliser didn't really look likely and Hugo Lloris collected his clean sheet with relative ease.

Results elsewhere left United down one place in fifteenth, level with Burnley and Southampton following their draw but with a superior goal difference. The bottom two Fulham and Huddersfield Town both lost, but third-bottom Cardiff City beat Bournemouth to close the gap to two points.

Despite the outcome, neither the Newcastle fans or players seemed particularly despondent at full time - after what remaining a positive week when we improved our points total by three and squad size by two. That neither event was expected says a lot about the austere times we inhabit.

The primary task of staying in this division will be greatly aided by positive results in the home double header against Burnley and Huddersfield later this month, but a sequence of tricky away games will require more defensive-minded displays like today's to stay ahead of those beneath us.

Whether that's quite the Premier League dream that's been sold to Almiron remains to be seen, but our cynical streak can't help but recall the Graham Carr era blueprint of bringing players into the top flight, proving their quality and then selling them to a proper PL club by in a future window.

Rafa may have ambitions to mix it with the big lads, but the owner doesn't, unless there's genuine and sustained investment in the squad - not just spending a chunk of the Mitro money and haggling on another try before you buy deal (although given Kenedy's demise that might be a prudent move).

For any pride taken from the honest endeavour on show here today by the likes of Longstaff, in all probability our next chance of Wembley "glory" will come in a Championship playoff final.
Biffa