Date: Saturday 25th November 2017, 3.00pm

Venue: St. James' Park

Conditions: Waspish - unfortunately...






Newcastle

Watford

0 - 3

Teams
19 mins A swift break down the Watford left saw Marvin Zeegelaar (wearing an eye mask following "contact" with Andy Carroll in a previous game) pull a ball back for Will Hughes to find the corner of the Gallowgate goal, with question marks over the positioning of both Newcastle full backs 0-1

45+1 mins Once again the visitors found acres of space in front of the East Stand and Zeegalaar's low cross was sadly deflected between Rob Elliot and his near post by DeAndre Yedlin.

The move that led to the goal originated deep in the Watford half, where Mo Diame looked to have been illegally impeded as he lost possession. 0-2

Half time: Magpies 0 Hornets 2
62 mins Richarlison surged forward down the left wing before swinging a ball to the far post where Andre Gray found the Leazes End net with a close range volley. Again there were concerns over the failure of both full backs to track back, while Ciaran Clark stood helplessly in the middle 0-3

Full time: Magpies 0 Hornets 3
Rafa Benitez:
"It was a classic game of the Premier League. You make mistakes and you pay for that.

"We can work harder, work better and that's it. We have to realise that this is the Premier League and you have to be strong as a unit... We have to stick together like we did in a lot of games and improve that.
"It was important (Watford's second goal). We knew we had made a mistake but we were on top of them in the first half and then when we conceded the second goal, it was quite different.
"You have to take more risks in the second half. We were a little bit more open and then we lose the control. Especially after the third goal, we lost control of the game.
"I was telling them that we have to realise where we are and what we have to do for the future. We still have a few points to go to get 20 points in the first half of the season and we have to keep working harder.
"I see West Brom as the next challenge and we will try to put things right in this game.

"Coming back from the Championship, every game will be tougher so it will be difficult for us. Not just the next one, that will be the most difficult for now, and then after, we have a lot of them.

"If my target for the first half of the season is 20 points and we have 14, we have to be sure we use these next six games to get those points.
"We then have to try to improve in the second half of the season. We have to learn in the Premier League what happens if you make one mistake.

"It will be tough, but I still think we are in a good position. Itís important in any team, especially a young team. When you are winning it gets easier. The only way is to stick together.
"I think the fans have been really good all season, but maybe after today a lot of them will realise itís not a question of players or what system we play, it is about sticking together and we will have more problems.

"This is what we have. We have a team of young players and they are working hard but we are playing against good teams who are organised.
"After the game I just said to them what we did wrong.

"If you lose a game through lack of character or passion, but here we made mistakes. This team has the passion and character to come through this.Ē

Marco Silva said:

"I don't want to compare and it is not my job to compare with last season, but of course, I know what Watford did last season but it is a new year and I think my players are working very well.

"They work well during the week and they played very well again today. They understood what we had planned for the match. I'm really pleased, it is very important for us.

"Our philosophy is to always play to score but I really like my team to always have good balance and to keep very good defensive organisation. With this in our team, we can attack well. If we don't defend well, then we can't attack well.

"We could do it today because we kept our good organisation today and like normal, we created chances and usually you score in the match.

"I think we achieved good things during the match and we deserved the win, congratulations to everyone. Now is the moment to rest and prepare for the next game.

"I'm happy in this moment but my job is to prepare the team for the next match, prepare well for the next session. I don't usually change a lot when we win or don't win.

"I am happy because we won this match. We performed really well again, to have a clean sheet is really important for us as a team as well."


Newcastle lost four successive league games for the first time since March 2016 (Chelsea away, Stoke City away, Bournemouth home, Leicester City away).

Watford beat the Magpies for the fourth time in a row (League and Cup)- their best-ever form since the two clubs first met back in 1924.

An OG from DeAndre Yedlin was the first by a Newcastle player since Ciaran Clark at home to QPR back in February - which was one of four we registered in 2016/17 (Lascelles at PNE, Lascelles at Forest and Mbemba at home to Wolves - the latter the last one in the Leazes net before today).

Hornets in Toon - all time:
2017/18 lost 0-3
2015/16 lost 1-2 Janmaat
2009/10 won 2-0 Lovenkrands, Pancrate
2006/07 won 2-1 Martins (2)
1999/00 won 1-0 Gallacher
1992/93 won 2-0 Peacock, Lee
1991/92 drew 2-2 Hunt, Clark
1990/91 won 1-0 Quinn(pen)
1989/90 won 2-1 Quinn, Gallacher
1988/89 drew 0-0 (FACR)
1988/89 drew 0-0 (FAC)
1987/88 won 3-0 O'Neill, Wharton, Tinnion
1986/87 drew 2-2 Anderson, McDonald
1985/86 drew 1-1 Gascoigne
1984/85 won 3-1 Megson, Cunningham, Reilly
1981/82 lost 0-1
1980/81 won 2-1 Hibbitt, Shinton
1979/80 lost 0-2
1931/32 won 5-0 Allen 3, Boyd, Richardson (FAC)
Full record v Watford:
| | | | | | | |
| --- | --- | --- | --- | --- | --- | --- |
| | P | W | D | L | F | A |
| SJP | 16 | 9 | 3 | 4 | 24 | 17 |
| VR | 15 | 3 | 7 | 5 | 17 | 22 |
| League | 31 | 12 | 10 | 9 | 41 | 39 |
| SJP(FA) | 3 | 1 | 2 | 0 | 5 | 0 |
| VR | 4 | 1 | 1 | 2 | 3 | 4 |
| SJP(LC) | 0 | 0 | 0 | 0 | 0 | 0 |
| VR | 2 | 0 | 1 | 1 | 3 | 4 |
| Cup | 9 | 2 | 4 | 3 | 11 | 8 |
| Tot | 40 | 14 | 14 | 12 | 52 | 47 |
Waffle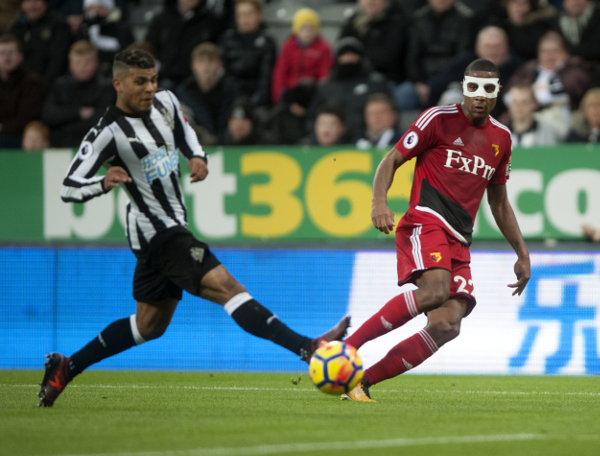 Stand and deliver
It's now four defeats in a row for Newcastle as Rafa's side crumbled to their worst defeat of the season at St. James' Park on a bitterly cold Saturday afternoon.

Two first half goals, the second an own goal in time added on, gave United a mountain to climb after the break and they never even made it to base camp before the visitors added a decisive third.

Although inferior to Watford all over the park, the black and whites created enough scoring chances to have got something from the game, albeit with the Hornets wasting various opportunities of their own. It could have been 3-7.

With Mikel Merino fit enough only for bench duty and Isaac Hayden suspended, Rafa Benitez made only one change to the side beaten at Old Trafford - Mo Diame coming into central midfield for his second Premier League start of the season. That's two too many...

Watford looked confident from the start and led in the 19th minute after a swift break down the left saw mask-wearing Marvin Zeegelaar pull a ball back for Will Hughes to find the corner of the Gallowgate goal in similar fashion to Gayle against Manchester United.

Midfielder Hughes was of course scouted on countless occasions by Newcastle while a Derby County player, but we opted to "invest" in more exotic signings.

The visitors then missed a glaring chance to double the lead almost instantly, as the home defence went AWOL once again: the Watford gap was down our right.....

Our forward combination of Joselu and Gayle weren't causing many problems but both had the ball at their feet in the box without testing the goalkeeper, while Jonjo Shelvey fired over from a decent position.

As had been the case last week though, United went in at the interval having crucially conceded a second goal in time added on - this time a low left wing cross deflected in by Yedlin for an OG.

United's delivery into the box had been poor and it didn't really improve as the second half began but the destination of the points wasn't quite decided then, Watford having taken and then lost leads in their last two away games - turning 2-1 into 2-4 at Chelsea and 2-0 into 2-3 at Everton.

Richarlison however showed how it was done just after the hour mark, swinging the ball from the left to the far post where Andre Gray found the net with a close range volley to remove any doubt that United would be beaten on home territory for the third time this season.

That brought Merino and Aleksandar Mitrovic from the bench - Joselu's final act in an inept display being to slide in to meet Jacob Murphy's through ball, but manage only to tap the ball back to the goalkeeper.

Mitrovic made a nuisance of himself, but was just as profligate as his team mates and emulated Joselu in shooting meekly at Gomes when Shelvey played him in.

At the other end, Gray continued to miss chances that could have earned him a hat-trick but there was the nagging feeling that like Manchester United last week, had they needed to score further goals then they'd probably have got them.

It's perhaps unfortunate that our recent favouring of 4-4-2 has coincided with the loss of Jamaal Lascelles, but of equal concern is the absence of a goalscoring threat - something that is just as glaring at U23 and U18 level, where both sides sit on or near the foot of their leagues and are regularly outgunned by their counterparts from Championship clubs.

Even making allowances for the level of opponent the first team were facing though, trying to play a more expansive game hasn't resulted in any improvement in the goals for column - but has certainly had a negative effect in the goals conceded.

Defeat dropped Newcastle two places into thirteenth and Southampton's 4-1 victory over Everton on Sunday then pushed us down another spot.

Tuesday's game at West Bromwich Albion assumes an even greater level of importance, ahead of what could be a very uncomfortable December with three of the current top six lying in wait.

Whether the smug grin of Alan Pardew greets United at the Hawthorns remains to be seen - our former boss confirming that he's had a "conversation" with Albion. Like talk of a Toon takeover though, that's nothing more than a sideshow to the main business happening on the pitch.

Some audible booing at the end of both halves received a swift response from the manager in his post-match quotes, seeking to underline just who and what we are - a freshly-promoted squad suffering from a lack of meaningful investment and lacking genuine cover across the park.

Niall/Biffa