Date: Saturday 21st October 2017, 3.00pm

Venue: St. James' Park

Conditions: Timely






Newcastle

Crystal Palace

1 - 0

Teams
Half time: Magpies 0 Eagles 0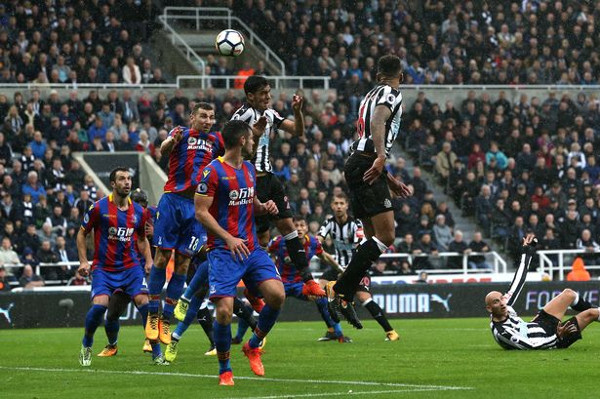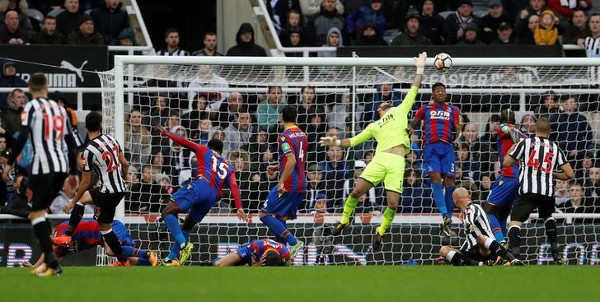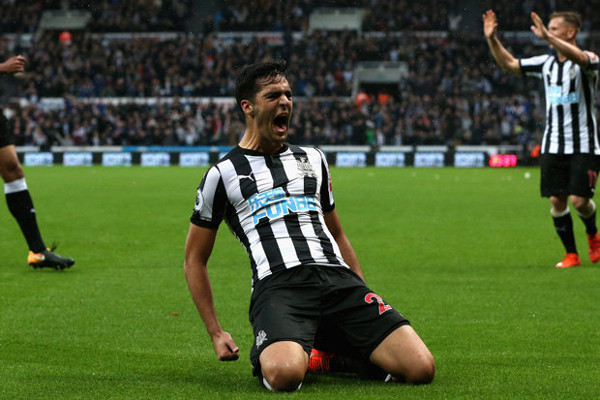 86 mins Matt Ritchie swung over a corner from the North West side of the ground that reached James McArthur ahead of Mikel Merino. However, the Palace defender succeeded only in diverting the ball on to the back of the Newcastle man's head and high into the Leazes End net.

Amid widespread jubilation, Jonjo Shelvey took time out to sympathise with Yohan Cabaye - in the form of a double clenched fist salute in his face. Zut Alors! 1-0
Full time: Magpies 1 Eagles 0

Rafa said:
"It is important now to get three points in a difficult game. They had confidence and were working hard. We thought that we had to win this game, and they had confidence and were well organised, so we knew it could be tough. The main thing is we keep pushing and winning games.

"I was not very happy with some of the things we were doing but I said at half time we had to improve on the ball and we did it. It is important to get three points in a difficult game....it is another step forward."

On Cabaye's challenge:

"We cannot change what the referee decides and (we) move forward."

On the goal:

"We need to put the ball there (for Mikel Merino) he went with determination and that was the key.

"We have a very clear idea and have to take one game at a time. At the moment we are in a good position. Merino likes to go forward so is not a proper holding midfielder. In this case, the main thing was his determination."

Roy Hodgson slipped off his groovy puffa jacket to reflect:

"The quality of our play was very good.

"We need more than a goal to take one point and set plays are always a problem. It was unfortunate as our player got his head to the ball but headed it against the Newcastle bloke.
"I cannot criticise our performance. From the first minute to the last it was everything I expected and under normal circumstances would have got us a result.
"I don't know about no shots on target. Loftus-Cheek's drive across the box was almost turned in at the far post.

"It might not have been a shot on target but if I was in the opposing dugout I would have been very concerned about that. Some shots on target can just be catching practice.

"But we are missing Christian Benteke of course, who is a classic centre-forward and a goalscorer. Hopefully it won't be too long before he comes back and maybe that will help us.

"I must say that Zaha and Townsend did a sterling job up front, they might not have scored but they came pretty close on a number of occasions.

"The defending positions were fine. We got to the ball first but unfortunately the header hits Merino and ricochets at some speed past the goalkeeper.

"Sometimes in football you are unfortunate, luck does play a part and I don't think we had any today. The last two weeks we have at least put in good performances, so it gives us optimism that we will get results in the future.

"They (the fans) saw us play well last week. If they're fair-minded they'll say they saw us play well this week. They'll be optimistic that if we continue playing this way, the future does look a lot brighter.

"Days like today are a body blow when you do well enough to get something from the game. But football does that but we have to take those blows and learn from them."


14 points from their opening nine games is United's best start to a top-flight season since 2011/12, when they had amassed 19 points under Alan Pardew by that point.

Mikel Merino netted his first Newcastle goal to become our 130th Premier League scorer.

Newcastle have now scored ten Premier League goals so far this season and Matt Ritchie has provided assists for six of them - including three from corner kicks. this is uncharted territory.

Stuart Attwell's decision not to dismiss Yohan Cabaye meant that Newcastle have gone 100 Premier League games without an opponent being shown a red card.

The last early bath recipient was Norwich City's Bradley Johnson at Carrow Road back in January 2014. United's Loic Remy was sent off at the same time - and has been followed by 15 more Magpies* in the subsequent century of top-flight matches.

* no account has been taken of subsequently rescinded reds

Rafa Benitez has lost just one of his first ten Premier League home games as Magpies boss:

2015/16 mackems drew 1-1
2015/16 Swansea City won 3-0
2015/16 Manchester City drew 1-1
2015/16 Crystal Palace won 1-0
2015/16 Spurs won 5-1
2017/18 Spurs lost 0-2
2017/18 West Ham won 3-0
2017/18 Stoke City won 2-1
2017/18 Liverpool drew 1-1
2017/18 Crystal Palace won 1-0

Eagles @ Magpies - all time:

2017/18 Won 1-0 Merino
2015/16 Won 1-0 Townsend
2014/15 Drew 3-3 Janmaat, Aarons, Williamson
2013/14 Won 1-0 Cisse
2009/10 Won 2-0 OG(Derry), Ranger
2004/05 Drew 0-0
2001/02 Won 2-0 Shearer, Acuna (FAC)
1998/99 Won 2-1 Speed, Shearer (FAC)
1997/98 Lost 1-2 Shearer
1994/95 Won 3-2 Fox, Lee, Gillespie
1987/88 Won 1-0 Gascoigne (FAC)
1983/84 Won 3-1 Waddle, Keegan, Ryan
1982/83 Won 1-0 Waddle
1981/82 Drew 0-0
1978/79 Won 1-0 Shoulder
1972/73 Won 2-0 Hibbitt, Nattrass
1971/72 Lost 1-2 Dyson
1970/71 Won 2-0 Robson 2
1969/70 Drew 0-0
1964/65 Won 2-0 Suddick, McGarry
1946/47 Won 6-2 Bentley, Pearson, Shackleton 2, Stobbart, Wayman (FAC)
1919/20 Won 2-0 Dixon, Hall (FAC)
1906/07 Lost 0-1 (FAC)


Full record v Palace:
| | | | | | | |
| --- | --- | --- | --- | --- | --- | --- |
| | P | W | D | L | F | A |
| SJP | 17 | 11 | 4 | 2 | 24 | 10 |
| SP | 16 | 8 | 2 | 6 | 22 | 18 |
| League | 33 | 19 | 6 | 8 | 46 | 28 |
| SJP(FA) | 6 | 5 | 0 | 1 | 13 | 4 |
| SP | 0 | 0 | 0 | 0 | 0 | 0 |
| SJP(LC) | 0 | 0 | 0 | 0 | 0 | 0 |
| SP | 1 | 1 | 0 | 0 | 3 | 2 |
| Cup | 7 | 6 | 0 | 1 | 16 | 6 |
| Tot | 40 | 25 | 6 | 9 | 62 | 34 |
Hodgson @ SJP as a manager:

1997/98 Newcastle 1-1 Blackburn Rovers
1998/99 Newcastle 1-1 Blackburn (Lost on pens)
2007/08 Newcastle 2-0 Fulham
2008/09 Newcastle 0-1 Fulham
2010/11 Newcastle 3-1 Liverpool
2010/11 Newcastle 3-3 West Bromwich Albion
2011/12 Newcastle 2-3 West Bromwich Albion
2017/18 Newcastle 1-0 Crystal Palace


Waffle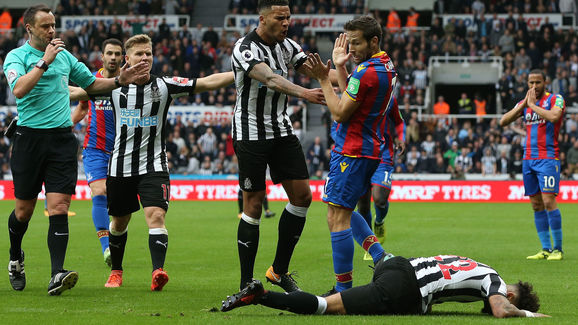 #prayforYedlin
Following draws against Liverpool and Southampton, Newcastle seemed set for a third successive stalemate - only for a late Mikel Merino header to see off the Premier League's basement side at a distinctly damp Gallowgate on Saturday afternoon.

An unchanged Magpies lineup had managed just one worthwhile goal attempt in the opening 45, when Christian Atsu put his shot into the side netting. Palace hardly threatened either, although Wilfried Zaha should have done better when heading Andros Townsend's cross wide of the target.

Townsend was one of three ex-Magpies in the Eagles side and both he and Yohan Cabaye received a frosty reception - while former Toon loanee Patrick van Aanholt was largely ignored - despite his mackem connections.

Cabaye was at the centre of the most noteworthy action of the first half, inadvisably diving in with a two-footed scissor challenge on DeAndre Yedlin on 28 minutes.

However match referee Stuart Attwell inexplicably opted only to book him, van Aanholt and Jamaal Lascelles also seeing yellow in the aftermath of an incident that stirred home fans for a time, but failed to prompt any great onfield reaction from the black and whites.

That uplift would belatedly come some time after the arrival of Merino to add midfield creativity - Jonjo Shelvey's elongated passes having failed to cut open the visitors. Neither Matt Ritchie nor Atsu were on their game, making less tangible contributions than predecessor Townsend (who shouldered striking responsibilities with Zaha in the absence of any other options for Roy Hodgson).

It took the introduction of Mo Diame for Julian Speroni to finally get his gloves dirty, 72 minutes having passed before the substitute tried a shot from distance - closely followed by Shelvey.

With former Eagle Dwight Gayle ruled out through injury, Aleksandar Mitrovic returned to the squad following a five game absence and duly appeared as Rafa's final throw of the dice - a risky move given that Javier Manquillo was visibly struggling by then and Jesus Gamez had been warming up.

Palace though came worryingly close to scoring, substitute Ruben Loftus-Cheek ball sliding a pass to the far post that van Aanholt just failed to connect with. That was the signal for United to up their efforts and force Palace back.

Noise levels were raised when Newcastle won a corner that came to nothing, but with four minutes of normal time remaining Townsend diverted Manquillo's attempted pass for a further flag kick.

Ritchie took it and the ball ended up in Leazes End net via Merino to send St. James' into raptures.

There was an element of fortune to the goal, as was the case when the ball was deflected on to Joselu at the same end against Liverpool last month. This time round Palace's James McArthur got there ahead of Merino, only to divert the ball on to the back of the Newcastle man's head.

The visitors had failed to score away from home for over 10 hours and couldn't threaten Rob Elliot's goal in four additional minutes before Attwell blew for time and home supporters celebrated a very welcome victory lifting the Magpies above Burnley, Liverpool and Arsenal to sixth.

That became seventh on Sunday as the Gunners won at Everton but Liverpool's defeat by Spurs ensured that Newcastle ended the weekend in a very healthy seventh place - a point ahead of Liverpool and just two behind Arsenal and Chelsea after nine games, not bad for a promoted side.

With some tricky tests ahead, this was always a "must win" game and although doubts persist over the attitude of Shelvey (leaving his foot in on an early challenge) and the space that both full backs allow their opponents, we got there. Just.

A first clean sheet for the Jamaal Lascelles/Florian Lejeune partnership was gratefully received after last week's calamity, but Ciaran Clark hasn't done much wrong so far this season - and remains an option at full back (as does Chancel Mbemba to a lesser extent).

The inability of Ayoze Perez to stay standing (get some proper boots man) combined with Rafa's comments about Merino preferring to play further forward raises the prospect meanwhile of today's goalscorer pushing forward with Joselu while Hayden and Shelvey remain in the centre.

Never at their best, that United kept grafting and took the three points says a lot about both side and manager. Former Magpie Jermaine Jenas said on Match of the Day that, "In games like this.... there's only going to be one winner when you've got Rafa looking after you." He was dead right.

Biffa/Niall