Date: Sunday 6th May 2012, 1.30pm
Live on Sky Sports

Venue: St. James' Park

Conditions: Proud






Newcastle United

Manchester City

0 - 2




Teams
Half time: United 0 City 0

70 mins Gael Clichy began the move that led to the opener with a punt infield from the left hand touchline. Yaya Toure reached the ball ahead of Tiote and headed back to the lurking De Jong. His first time wall pass to Edin Dzeko was enough to take Cabaye out of the game and De Jong retook possession and strode towards the Newcastle area.

With Gareth Barry striding beyond him down the left, he instead played a short pass inside to Toure, who flicked it forward into the path of Sergio Aguero, just as Cabaye arrived again. Ageuro took a touch to control the ball and then laid it off into the path of Toure, who curled a right footed effort from 25 yards beyond Tim Krul into the Leazes goal. The more you study it, the better it looks 0-1

89 mins Kompany was back on the edge of his own six yard line to clear a corner upfield with a thumping header. Yohan Cabaye miscontrolled the ball as it bounced and it fell into the path of Aguero, midway inside his own half. He pushed the ball out wide to the right and evaded a challenge from the recovering Cabaye, breaking over halfway with Gutierrez in his path, Santon protecting the middle and Coloccini still up with the attack.

The Italian full back could only watch as the ball was pinged across to De Jong and across to Clichy on the left side of the box. He casually slotted the ball through Santon's legs and to the lurking Yaya Toure, who took a touch and cracked it beyond Krul from six yards as Gutierrez lunged in. 0-2

Full time: United 0 City 2
Alan Pardew commented:

"The most important thing was we've brought some respect back to this club. We have tradition and history and some clubs have not got the fabric we've got. We unveiled the Sir Bobby Robson statue today.

"Now we're back competing up there it must feel good to the supporters. I really hope next year we have the same sort of season and we're competing for a Champions League position again.
"It's simple for us, if we don't win our game we can't make it anyway. The other two have nervy games. Arsenal are at West Brom and Tottenham are at home to Fulham needing to beat them in case we win. They will all be looking at us and we just have to win and see what happens.
"If someone had said to me at the start of the season that we would go to Everton looking for a Champions League place I would have laughed at them. But we have had a great season. I am proud of the players, even their performance today. Our fans were brilliant to us at the end - it's not often you lose 2-0 at home and the stadium stays behind to clap you off.
"It is just nice to see Newcastle United getting respect again. This is a club bathed in history and tradition and when it's not at the top of the division it is not right. They are where they are, they belong there. It is my job to make sure we stay there. It's not easy, but we will give it another good go in the summer and hopefully we will be stronger next year.
"Our fans are realistic, they know we have come a long, long way this year. The task now is to stay there. The fabric of this club, the history, the tradition it has, it should be at the top of the Premier League every year.
"That's the job in hand for me now, to make sure these players come back and put in the same dedication they have this year because they have earned big reputations now and now they need to fulfil them.
"Our fans have been absolutely brilliant, make no mistake. There's no way we would be in this position if it wasn't for them. We would be seventh, eighth, maybe. They make a big, big difference. We need them back next year and we need to give them something to come back for.
"There's a lot of criticism about the Premier League, but I thought the conduct of the players on the pitch, the two staffs, was exemplary. They conducted themselves in a great manner, we applauded them off, quite rightly, and the whole day was a great advert for the Premier League.

"The best team won - and I don't like to say that because my team wasn't the best team - but I thought it was a good day."

Roberto Mancini said:

"It was an important game, without this victory it wasn't important we beat Manchester United last week. This was always going to be difficult. Newcastle United are a good team, they've had a fantastic season. To win here you have to play very well and we did.
"It doesn't depend on Man United any more, it depends on us, but we have another game. It won't be easy because QPR are fighting against relegation. The players need to relax after this game, we have six days and then we have another game. It's not finished yet.
"It was difficult because Newcastle are a good team but I thought we deserved to win. We had a lot of chances but because we could not score in the first half we made it hard for ourselves.
"We deserved a goal in the first half, but they defended well. In the second half it was the same, and after Yaya's goals they still had chances so if you want to win these games you have to play well. It will be the same next Sunday.
"I thought about that (switch of Yaya Toure to a more offensive role) before the game, I thought he was an important player in that position so I decided to make that change after 10 minutes (of the second half). It's better to score quickly but Newcastle played very well and made it difficult, but it was important that we finished the game well.

"Yaya is fantastic because he has everything – he is strong, quick, has good technique, and can play in different positions. He is like Gullit for me – a player of that kind. But he can't play alone – he needs another 10 players.
"It is clear he has class – if he didn't we wouldn't have bought him. He also has big experience as he has played for Barça and has that winning mentality. But he is also a good guy, which is another important asset. When you are a top player you can play in every position, and for me Yaya is one of the best players in Europe."


Newcastle were beaten at home for the first time this year - ending a run of ten games in all competitions, of which eight were won and the other two drawn.

The Magpies ended the season with 38 points from their 19 home matches, thanks to 11 wins, 5 draws and 3 losses. That's their best home form since the 2005/06 campaign when they achieved the same stats, but scored one goal less (28 in 2005/06, 29 in 2011/12).

And in terms of our defensive prowess, conceding just 17 goals in those 19 home games is also our best record in the Premier League since 2005/06, when we let in 15.

Manchester City became the only team to do the double over us this season, while Toure's opener was the first goal that we've conceded at home since a Nicklas Bentdner penalty for the mackems - a run of 496 minutes.

It's now eleven games since we beat City at home or away, with nine defeats and two draws since a Michael Owen strike separated the two sides at SJP in September 2005. City were managed by ex- Mag Stuart Pearce and including future Toon trio Joey Barton, Antoine Sibierski & Stephen Ireland.

United have now won just one of the last nine games that closed off their home league seasons:

2011/12 Man City lost 0-2
2010/11 West Brom drew 3-3
2009/10 Ipswich drew 2-2
2008/09 Fulham lost 0-1
2007/08 Chelsea lost 0-2
2006/07 Blackburn lost 0-2
2005/06 Chelsea won 1-0
2004/05 Chelsea drew 1-1
2003/04 Wolves drew 1-1
2002/03 Birmingham City won 1-0
2001/02 West Ham won 3-1
2000/01 Aston Villa won 3-0
1999/00 Arsenal won 4-2
1998/99 Blackburn drew 1-1
1997/98 Chelsea won 3-1
1996/97 Nottingham Forest won 5-0
1995/96 Spurs drew 1-1
1994/95 Crystal Palace won 3-2
1993/94 Arsenal won 2-0
1992/93 Leicester City won 7-1
1991/92 Portsmouth won 1-0

Magpies v City @ SJP - Premier League Years

2011/12 Lost 0-2
2010/11 Lost 1-3 Carroll
2008/09 Drew 2-2 Ameobi, og(Dunne)
2007/08 Lost 0-2
2006/07 Lost 0-1
2005/06 Won 1-0 Owen
2004/05 Won 4-3 Robert, Shearer, Elliott, Bellamy.
2003/04 Won 3-0 Shearer 2, Ameobi
2002/03 Won 2-0 Shearer, Bellamy
2001/02 Won 1-0 Solano (FAC)
2000/01 Lost 0-1
1995/96 Won 3-1 Ferdinand 2, Beardsley
1994/95 Drew 0-0
1994/95 Won 3-1 Gillespie 2, Beresford (FAC)
1994/95 Lost 0-2 (LC)
1993/94 Won 2-0 Cole 2



Total record against Manchester City:



| | | | | | | |
| --- | --- | --- | --- | --- | --- | --- |
| | P | W | D | L | F | A |
| SJP | 76 | 48 | 15 | 13 | 148 | 76 |
| MR/CoM | 76 | 16 | 20 | 40 | 79 | 136 |
| League | 152 | 64 | 35 | 53 | 227 | 212 |
| SJP(FA) | 6 | 3 | 2 | 1 | 8 | 5 |
| MR/W | 4 | 3 | 0 | 1 | 10 | 7 |
| SJP(LC) | 1 | 0 | 0 | 1 | 0 | 2 |
| MR/W | 2 | 0 | 1 | 1 | 2 | 3 |
| Cup | 13 | 6 | 3 | 4 | 20 | 17 |
| Tot | 165 | 70 | 38 | 57 | 247 | 229 |
Waffle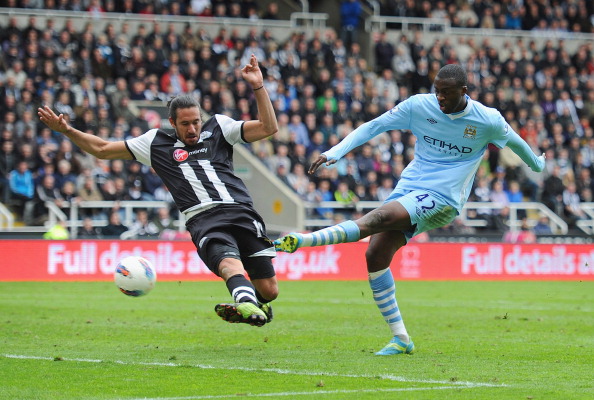 Having produced remarkable results, performances and goals on various occasions this season, the visit of the champions-elect to Tyneside unfortunately found Alan Pardew and his players slightly short-handed on the miracles front at the umpteenth time of asking.

And on a day when a piece of individual brilliance looked like the only thing that would separate the two sides, it was the long-sleeved tugging, African Nations Cup underachieving, teetotaler belonging to City rather than our own scoring superstar who ultimately decided the destination of the points.

Nigel De Jong's 61st minute arrival was greeted with a tirade of booing prompted by the substitute's leg-breaking challenge on Hatem Ben Arfa back in October 2010. However the Dutchman's crucial contribution today was to step in to Yaya Toure's holding midfield role and allow Cheick Tiote's international team mate to push forward - with devastating consequences.....

And once ahead, City went in search of a clinching second goal - while Newcastle redoubled their attacking efforts and replaced Ben Arfa with Shola Ameobi, the Frenchman having come closest to netting for his side with efforts in each half but otherwise struggled to make his mark on the game.

In a further attempt to force an equaliser, Pardew introduced Shane Ferguson on the left, moved Jonas Gutierrez at left back and relocated Davide Santon to the opposite flank. Tiote was then also dispensed with - before a likely second yellow - and Ryan Taylor appeared, tasked with dropping the ball on the edge of the City box whenever possible.

It was to no avail though and from a lightning counter-attack, Toure netted his second goal - with Hart then denying Demba Ba what would have been a prized strike to end his lengthening barren spell.

The final whistle then brought gleeful celebrations from the visiting bench, who poured on to the pitch to greet their players. Meanwhile, an obviously downcast home crowd quickly began to applaud both the victors and the vanquished, most staying in their places to give Newcastle an ovation as they embarked upon a lap of the stadium.

We may have broken our winless league sequence against Chelsea in midweek, but dreams of ending a similar streak against City never really looked like becoming a reality and coach Willie Donachie was en route from the Directors Box after barely 10 minutes to deliver observations on his former side.

That's not to say that this was in any way one-sided and an element of nerves was evident in the City ranks, with a few over-hit passes and dialogue between players and coaching staff as to who was marking who. The trademark "Poznan" celebrations meanwhile were missing from the away end - perhaps realising that it's unwise to take your eyes off the pitch when Cisse & Co. are around....

However, more of the heart-stopping moments came in the home box and our inability to make the ball stick up front made the pressure on us almost constant. It does seem slightly disloyal to be saying that when our front pair have spent much of the season sticking the ball in the goal, but it does remain the principal reason for Shola's substitute cameos and arguably one of the root causes of the rapid sequences of conceding goals on occasion.

With Arsenal and Spurs both drawing this weekend, the race for Champions League places won't be resolved until the final day but Newcastle now need to win at Goodison and rely on positive outcomes in the Spurs versus Fulham and West Bromwich Albion against Arsenal games.

To be even looking at permutations like that at this point of the season is both refreshing and unexpected and although United lost this game, a vague mood of disappointment was the over-riding feeling rather than the "glad it's all over" mindset we've experienced far too often.

That "we're not really here" cobblers City come out with has seemed appropriate when looking at our place in the league table recently, but a look at where we got our points from this season reinforces the fact that we're here on merit. There's a certain satisfaction in knowing that the only team to do the double over us is the one reaching out to collect the Premier League trophy and assembled at unprecedented expense.

And regardless of what the official result will be, picking our goal of the season from the highlights DVD promises to be a thankless task - we've barely scored a rotten goal since a certain man's over the wall effort at the dark place got us up and running last August.

Alan Pardew may talk of the fans driving on the players, but if today didn't whet the owner's appetite for more of this then we're all knackered. Adding cut price season ticket deals to his previous portfolio of cheap sportswear has gone down well, but the rising satisfaction levels (and diminishing grief levels) will always depend on what is served up on the pitch - something worth remembering when things aren't going quite as swimmingly.

As ever, the experience of watching this lot leads inevitably to thoughts of whatever disaster and misfortune awaits us and whether we receive more "once in a lifetime" offers of the Carroll variety.

Even curmudgeonly buggers like us though remain mildly astonished by what has unfolded before our eyes, from signing two separate striking saviours to having a defence that can defend and justifying the conviction of Chris Hughton that James Perch was indeed a Premier League footballer.

The glass is half-full, on a table outside a bar somewhere in Europe - and it's your round. Cheers!

Biffa