Date: Wednesday 2nd May 2012, 7.45pm

Venue: Stamford Bridge

Conditions: gleeful/hysterical

Admission: £50 Upstairs / £47 downstairs

Programme: £3

Chelsea

Newcastle United

0 - 2

Teams
19 mins Davide Santon progressed down the left flank and touched the ball infield as Jose Bosingwa tried to close him down. A short pass found Papiss Cisse on the edge of the area and he flicked the ball up with his right before arrowing home a dipping eft-footed volley. Goal of the month 1-0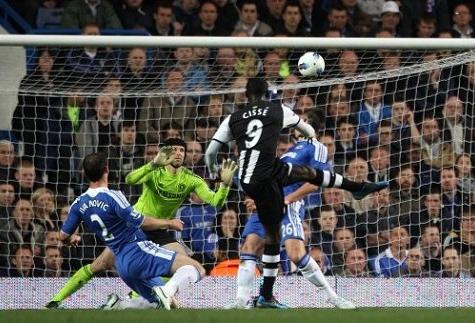 Half time: Chelsea 0 Magpies 1

90+4 mins Ryan Taylor's throw in down the United left was chested back back by Shola Ameobi into the path of Papiss Cisse. He promptly took aim and crashed him a dazzling and unstoppable 26 yard banana shot that flew off the outside of his right boot and beyond the befuddled Cech into the Shed End net. Goal of the decade 2-0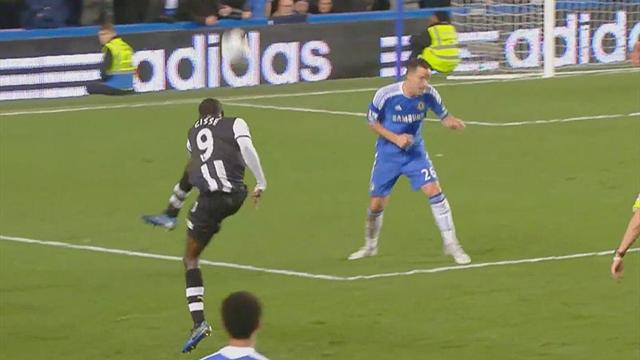 Full time: Chelsea 0 Magpies 2

Alan Pardew said:

"It was just an astonishing goal, something really special. I thought we were going to get home with that 1-0 lead but Papiss has taken a chance. You could see he meant it and he caught it absolutely true.
"It was a great moment in the game and a great moment for us after 18 games here without a win. It is a great achievement. I'm very proud of the players and they should be very proud of themselves.
"We are looking forward to Manchester City coming to Newcastle on Sunday. It's going to be a special day for us and our club. The team going for the title is playing a team trying to get into the top four and if somebody had told you that before the start of the season you wouldn't have believed them.
"It's not often in a professional career that you get an opportunity to actually break into the top four in this country. We've been in and around it all year, we've touched fourth placed and touched third a couple of times. We're going to give it everything.
"If we miss out, it'll still have been a phenomenal season and I'm looking forward to the highlights video because some of the goals have been unbelievable, they really have.
"We've got 15 clean sheets here. That has gone unnoticed. Nobody else has done that at Newcastle. You need the base and then you can have a special moment like Cisse gave us.
"I thought we should have been 2-0 at half-time. We hit the bar with a good chance from Ba and Cech had to make a great save. But this was a great team effort from everybody.
"We have got an absolutely brilliant game now- if we work as hard we did at Stamford Bridge we have every chance."


After suffering the second loss of his 17 game reign (Man City away was the first) RdM commented:

"It's going to be difficult now for us to reach fourth spot. We'll keep pushing though until it's impossible. We won't give up. We've lost many points during this season. Looking back over the whole season, that's why we're in the position we are. We've been pushing the players for the last two months and they've responded extremely well.

"Tonight, we have to give credit to Newcastle. They did well and played a very good game against us. They have a player in their team at the moment that, whatever he touches, it goes in.

"But my players have given everything, we've been asking them to push and push and push and they've done well. We'll regroup and pick them up. We've got a big game, a great final, on Saturday and we'll go again. We'll look forward to the FA Cup final. It's a great event and the motivation is going to be there."

United recorded their first Premier League win over Chelsea in ten attempts, having not taken maximum points against them since a 1-0 win at SJP in May 2006.

Titus Bramble's goal that day that propelled Glenn Roeder's side into Europe via for the Intertoto Cup as a result of our seventh place finish. Shola Ameobi featured in both the 2006 & 2012 wins.

Demba Ba has now gone 1,083 minutes since most recent Newcastle goal - at home to Aston Villa three months ago. He has still scored a noteworthy 16 goals in 32 PL games (30 starts).



No such problems for Papiss Cisse though, who has now notched a remarkable 13 goals in 12 PL games (11 starts).

Sylvain Marveaux returned to the bench for the first time since November 2011 - although he got no further than warming up. Substituted during our Bonfire Night home win over Everton, the winger later underwent hip surgery at the Colorado clinic of Doctor Richard Steadman - where former Magpies Craig Bellamy, Alan Shearer and Michael Owen were all successfully treated.

Toon @ Stamford Bridge: Since our last victory:

2011/12: Won 2-0 Cisse 2
2010/11: Drew 2-2 Gutierrez, S.Taylor
2010/11: Won 4-3 Ranger, R.Taylor, Ameobi 2 (LC)
2008/09: Drew 0-0
2007/08: Lost 1-2 Butt
2006/07: Lost 0-1
2005/06: Lost 0-1 (FAC)
2005/06: Lost 0-3
2004/05: Lost 0-4
2003/04: Lost 0-5
2002/03: Lost 0-3
2001/02: Lost 0-1 (LC)
2001/02: Drew 1-1 Acuna
2000/01: Lost 1-3 Bassedas
1999/00: Lost 0-1
1998/99: Drew 1-1 Andersson
1997/98: Lost 0-1
1996/97: Drew 1-1 Shearer
1995/96: Drew 1-1 Ferdinand (FAC)
1995/96: Lost 0-1
1994/95: Drew 1-1 Hottiger
1993/94: Lost 0-1
1992/93: Lost 1-2 Lee (LC)
1987/88: drew 2-2 Goddard, Wharton
1986/87: won 3-1 Thomas 2, Beardsley

Full record v Chelsea:
P
W
D
L
F
A
SJP
67
34
17
16
99
71
SB
67
11
19
37
72
127
League
134
45
36
53
171
198
SJP(FA)
5
1
1
3
5
9
SB
6
2
2
2
7
7
SJP(LC)
2
0
0
2
0
3
SB
3
1
0
2
5
6

Cup

16

4

3

9

17

25

SB(CS)
1
0
0
1
0
3
Tot
150
49
39
62
188
223
Any talk of a London hoodoo has thankfully been stifled by this victory - our first in the capital since the 1-0 win at Arsenal in October 2010 and therefore the first under the stewardship of Wimbledon-born Alan Pardew. We lost five and drew two of the intervening games.
United registered their eighth away victory in the Premier League this season, having played out three draws and lost the other seven games. With one game still to play, we have the chance of equaling the nine wins on the road we managed in the 1993/94 and 2001/02 seasons - our best ever return in the Premier League (and 1993/94 was from 21 matches, not 18).

In order to register a victory in a Premier League game at every ground they've played on, United now need to win at the homes of the two Manchester clubs - having knocked off Molineux, The Britannia Stadium and the Liberty Stadium this season (and the Emirates and DW in 2010/11).



Waffle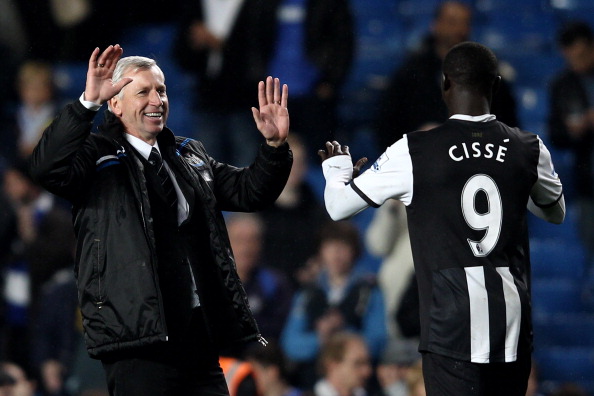 Players and managers may come and go, but the capacity of this football team to surprise, delight, bewilder and frustrate its followers remains undimmed by the passage of time.

It's nearing half a century since United followed up an infamous loss at Hereford with a glorious win at Old Trafford days later. Now for 1972, read 2012 - recast with the DW Stadium and Stamford Bridge.

This part of London has transformed itself from a doom-laden pointless certainty on our fixture list to something of a happy hunting ground, with no defeat here in four visits and our last reverse in 2007 achieved only thanks a late winner from the blatantly offside Salomon Kalou.

But if scraping gallant draws and winning League Cup ties were appetisers, then tonight truly was the main course - a sumptuous feast served up on the Kings Road. Of goat curry, of course.

Earning a point here last season was celebrated like a victory but this conquest triggered scenes of glee and astonishment in equal measure, reminiscent of our improbable Champions League success in Feyenoord.

And like Bellamy's winner in Rotterdam almost a decade ago, the moment of impact was greeted with silent incredulity in the away corner, rapidly replaced by unbridled ecstasy. From across the planet meanwhile, came reports of bars going bananas, hugs from total strangers and much split beer (twenty German lagers in the air perhaps?)

So, a (Geordie) nation breathes a sigh of relief, grateful that like Uncle Albert's "during the war" monologues on "Only Fools and Horses", they'll no longer have to tolerate mentions of that November day in 1986 when we last won a league game here from those present. God knows it's been long enough coming and there have been enough disconsolate trudges back to the tube for several lifetimes.

Willie McFaul was the manager, "Take My Breath Away" by Berlin was at number one, your fresh-faced correspondent had hair, going online meant hanging your washing out and Ken Livingstone was promising a fair deal for London. Nice to see some things haven't changed.

Less than 15,000 bothered to show up to see a United victory thanks to the goalscoring prowess of Peter Beardsley and Andy Thomas (for whom six goals in three games was more of a crimson tide than a purple patch, before he reverted to type again). And the defence that day was anchored by another "outstanding" performance from 2012 radio pundit John Anderson - so he reckons anyway.

To dwell on the end of our winless run here though is to overlook a fabulous team performance - coherent, committed, creative and controlled. Don't be misled by Chelsea's other commitments or team selection - in the same way that we failed to turn up at Wigan on Saturday and were duly punished, the home team were absent here tonight.

And at the heart of it all were two simply breathtaking strikes from Papiss Cisse which were beamed around the globe, provoking coverage, comment and column inches from Sydney to New York - no doubt to Dickie's delight (that's Branson, not Attenborough).

A game which ran ten minutes over time after a lengthy second half delay to allow treatment for Cheick Tiote was settled by a goal in each half from our number 9. And if his opener wasn't good enough, then the second in added time was just outrageous.

That sent disconsolate home fans scurrying for the exits and while the plaudits will rightly go to the goalscorer, strike partner Demba Ba came close to ending his barren run when striking the crossbar and again took numerous knocks for cause.

James Perch meanwhile gave another outstanding performance, this time replacing Danny Simpson, who may have been injured or may have been dropped - but wasn't missed. And in addition to playing a part in our opener, Davide Santon was in the right place to clear a goalbound effort from John Terry on 87 minutes. For the first time when he broke forward and defended, his contribution in both situations was reminiscent of predecessor Jose Enrique. That's some compliment.

In the wake of that Wigan defeat, Alan Pardew spoke of bringing a proper away game mentality hereand posting a performance to make the supporters proud. To say that he achieved that is an understatement - in a remarkable season including a clutch of noteworthy results and performances, this just about tops the lot....including beating Manchester United at Gallowgate.

TV pictures confirmed that Tiote had been caught by an elbow from Jon Obi Mikel and the United midfielder was stretchered from the field with an oxygen mask in place. Thankfully though he quickly recovered and was glimpsed on the touchine after having had stitches inserted in a head wound.

Regardless of the result and performance on Sunday, this team deserve to be carried shoulder high around the pitch at full time. That might get us into bother with the authorities though, so let's settle for every last man, woman and child cheering them to the rafters when they walk round the pitch. It's rare enough that we have the odd win to celebrate, never mind a season to savour and to be in that position just three years after enduring relegation is something to be grateful for.

For the first time in living memory, the over-riding feeling at getting a season over and done isn't one of relief in either the dressing room or the stands. To confidence and organisation, stamina can be added as another quality not always been evident round these parts by this time of the year. We've won 11 games since January 1st - one more than in 1996 when we finished second. Wow.

Talk of Europe has got pulses racing, but let's not forget what has been done in our name at grounds across this nation since last August. For all the high points though, this was a genuine score settled, a long-standing wrong finally righted. As we wrote after losing here in 2006:

"One day the necessary elements of form, fortune and f*ck knows what else will align and we'll walk out of here with something more tangible than a dented bank balance and a sore throat."

Well, tonight's the night.

PS: Within 48 hours of this victory, Chelsea announced plans to relocate to a new stadium at Battersea Power Station - a slight over-reaction finally having lost at home to us surely?
Biffa