Date: Friday 6th April 2012, 4.30pm
Live on Sky Sports

Venue: Liberty Stadium

Conditions: ground-breaking

Admission: £35

Programme: £3

Swansea City

Newcastle United

0 - 2

Teams
5 mins A loose ball forward was chested down by Jonas Gutierrez on the halfway line and pinged to the lurking Yohan Cabaye. His incisive first-time pass set Papiss Cisse away between the idling Williams and Caulker and he ispatched a low right footer from 12 yards past Michel Vorm - the 'keeper unable to get enough of a hand to stop it bulging the net in front of the South Stand. 1-0

Half time: Swans 0 Magpies 1

69 mins Hatem Ben Arfa pushed forward down the United right and clipped a pass infield to Cabaye, who turned away from Britton and laid through a slide rule pass for Papiss Cisse, who had begun to pull away from Williams towards the back post.

Maintaining forward momentum but turning back to meet the ball and taking one touch with his right foot, the striker somehow managed to conjure up a stupendous chip in front of the away fans. If his second against Liverpool was reminiscent of Andy Cole, this one was from the Tino Asprilla archive.

If there was one vaguely jarring image of the post-goal celebrations captured by TV though, it was the sight of an impassive Demba Ba sitting behind the triumphant Pardew, looking thoroughly hacked off. Having left the field just three minutes earlier, hopefully that expression can just be put down to fatigue mixed in with some personal disappointment 2-0

Full time: Swans 0 Magpies 2

Alan Pardew said:

"We were flat today - some of our flair players looked like they needed some energy.
"He (Cisse) was our best player today. Of all our flair players he looked like the one most on it. We are lucky to have him, he worked for the team, he was the difference between the two teams.
"He had a fantastic record in the Bundesliga with a club that were struggling, so he is no mystery. He is a player with pedigree. His second goal - it was like a Masters golf shot. I thought it had gone over in mid-air, but it had that bit of backspin on it. It was a terrific finish.
"It was a fantastic win for us, a really big win. Our home games now should see us through to fifth or sixth place. This is the first time we've won four in a row in the Premier League. We've done it in different ways. Today wasn't a brilliant performance, but we've got quality in the right areas.
"When you play Swansea you won't get twenty chances, as they keep the ball so well, so the strikers have to keep their focus. They may get just one chance and he was focused on those two chances and did not let us down.
"I always said the last 10 games are the most important, and if we were to get to the last six (and be well placed) we would give it a go. We have now won four out of four to put us in a position that elevates us to better form than we expected, but there is a belief in the group.
"Itís a long journey for them (the toon fans) to Swansea, and I said I hoped to give them something to cheer. We did that. We got the early goal, which was good because it made us relaxed and comfortable, but maybe it made us too relaxed.
"We gave away too much possession in the first half, and in the second half we were much better. We had a couple of great moments from Hatem - which frightened them - and then Papissís moment sealed the game. It was a fantastic goal from him.
"If we keep clean sheets and take the chances in this league, you have every chance. Also, we donít want to give away free-kicks in and around the box, and we didnít dive in or give silly fouls away. Itís very important at this level, and Sigurdssonís a fantastic player from set-plays.
ďWe were brilliant throughout and the squad shone through again. Fergie got a game, Dan Gosling did too, and Ryan Taylor slotted into midfield and Perchie at centre-back. It doesnít really matter, I feel comfortable to put anybody in anywhere, and they know what they have to do.Ē
On Saturday's mackems v Spurs game:
"It will be one of the first times we are all going to be pulling for Sunderland in our dressing room! So good luck to Martin and the boys up in the North East. We will be hoping they can do us a favour."


Brendan Rodgers commented:

"We don't want to be a team that takes the plaudits and loses - we've taken plaudits this season for the right reasons, but what we want to do is continue taking points. Many aspects of our game really encouraged me, but I felt we just didn't have that bit of quality at the top end to make the goals - that was the difference.

"It is a big credit to our play for little Swansea to dominate the game like we did against a team challenging for the Champions League positions. It will be interesting to see the possession statistics (77%/23% in his team's favour).

"It wasn't far off parking the bus from them which, you've got to say, for a team like ourselves coming up from the Championship last season, to be given that respect is incredible. We had 13 shots on target and 20 efforts on goal, so I can't ask any more of the players. It gives me great hope going forward, but we need to finish up a lot of our great approach play.

"We've finished a spell of three tough games against Everton, who are a really experienced Premier League team, and Tottenham and Newcastle. Teams that are challenging for the Champions League places and, arguably - in particular against Newcastle - we controlled those games."

"We've got 39 points with six games to go. We're heading for our objective, which is to stay in the league, but you are going to have disappointing games like today. Now we are going into a spell of teams fighting like ourselves.

Asked if Papiss Cisse could fire United into a Champions League spot:

"There is no question, having seen him live. You can see why they spent their money on him. His movement was outstanding. Ashley Williams and Steven Caulker were outstanding in defence for us but his movement to clear space and his double runs to get on the ball were brilliant.
"He is a real player, he has great movement, mobility and size and his second finish was incredible, the way he was able to dig that out. They were two terrific passes for him by Cabaye, and the finishes were outstanding."


Papiss Cisse has now scored in his last four games and collected nine goals from his eight outings for Newcastle to date (seven starts). He's been on the pitch for a total of 594 minutes.

We've now completed a half century of grounds that we've visited for Premier League fixtures (including St.James' Park). Our one season absence from the top flight competition in 2009/10 means that we missed a trip to Turf Moor during Burnley's one season visit.

This was our second visit to the Liberty Stadium following on from the 1-1 draw in February 2010 and only one Newcastle player - Danny Simpson - has featured in both.

United registered their seventh away victory in the Premier League this season, having played out three draws and lost their other six. With three games still to play, that's our best win tally on the road since the nine we managed in the 2001/02 season.

This was our first top-flight league game in Wales since a 2-3 loss against Cardiff City in February 1961 and our first-ever top flight away meeting with the Swans.

We've now played 343 PL away games - this was our 90th victory away games since our 2-0 success at Aston Villa in October 1993:

Aston Villa: 6
Leeds: 6
smoggies: 6
Tottenham: 6
West Ham: 6
Everton: 5
mackems: 5
Arsenal: 4
Bolton: 4
Blackburn Rovers: 3
Coventry: 3
Crystal Palace: 3
Derby County: 3
Fulham: 3
Sheffield Wednesday: 3
West Brom: 3
Birmingham City: 2
Ipswich Town: 2
Leicester: 2
QPR: 2
Charlton: 1
Liverpool: 1
Manchester City: 1
Norwich City: 1
Nottingham Forest: 1
Oldham: 1
Portsmouth: 1
Sheffield United: 1
Southampton: 1
Stoke City: 1
Swansea: 1
Wigan: 1
Wolves: 1
Barnsley:0
Blackpool: 0
Bradford City: 0
Chelsea: 0
Hull City: 0
Manchester United: 0
Reading: 0
Swindon: 0
Watford: 0
Wimbledon: 0
Magpies @ Swans -all time:

2011/12 won 2-0 Cisse 2
2009/10 drew 1-1 Carroll*
1983/84 won 2-1 Wharton, Mills
1980/81 lost 0-4
1979/80 won 3-2 Hibbitt, Rafferty, Shoulder
1964/65 lost 1-3 McGarry
1964/65 lost 0-1 (FA Cup)
1963/64 won 1-0 Anderson
1962/63 lost 0-1
1961/62 lost 2-3 Thomas, Wright
1951/52 won 1-0 Mitchell (FA Cup)
1946/47 won 2-1 Shackleton, Wayman
1938/39 won 1-0 Clifton
1937/38 lost 0-2
1936/37 won 2-1 Rogers, Smith
1935/36 won 2-1 McMenemy, Smith
1934/35 won 4-3 Boyd, McMenemy, Murray, Weaver
1914/15 won 2-0 King, Pailor (FA Cup)
(all played at Vetch Field except * at Liberty Stadium)
Full record v Swansea:
P
W
D
L
F
A
SJP
15
9
3
3
37
14
VF/LS
15
9
1
5
23
23
League
30
18
4
8
60
37
SJP(FA)
3
2
1
0
7
1
VF
3
2
0
1
3
1
SJP(LC)
0
0
0
0
0
0
VF
0
0
0
0
0
0
Cup
6
4
1
1
10
2
Tot
36
22
5
9
70
39
Waffle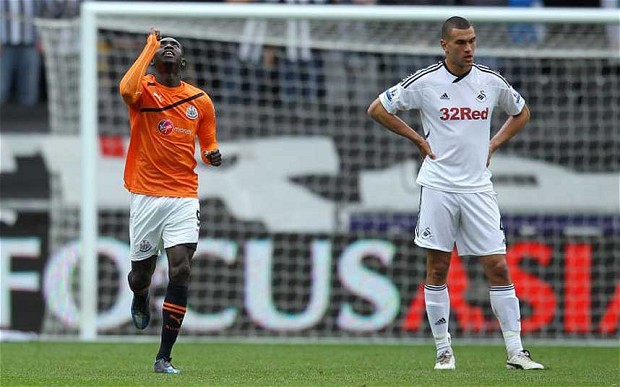 Two more sublime finishes from our latest number 9 hero, Papiss Cisse, made it four Premier League wins in a row to shoot Newcastle temporarily into fifth position, until Wigan and the match officials at Stamford Bridge combined to gift wrap three points for Chelsea the following day.
That's an incredible nine goals from eight games for Cisse as Alan Pardew continues to profit from fielding a front three - the Newcastle boss hailing Cisse's second goal of the game as something worthy of the greens at Augusta.

If Cisse hogged the headlines though, then it's those around him who are defying logic. In a season of unexpected events, the most outlandish to date has to be getting into the ground and being relieved to see that James Perch hadn't succumbed to injury and was stripped and ready for action.

And it wasn't just Perchinio's flowering causing eye-rubbing: looking across the field in the closing stages as home fans began to drift away and seeing the likes of Shane Ferguson and Dan Gosling - both of whom had played and scored for our reserves up the road in Llanelli back in September, when they couldn't even make it into the first team match day squad. This shouldn't be happening.

Among the artisans though, we retain some artists and if Ben Arfa had been the supply line for Cisse against Liverpool, today it was the turn of Yohan Cabaye to act as chief provider. Both Ben Arfa and Demba Ba did conjure up shooting opportunities themselves, but for much of the first half we were on the back foot - an indication of that the presence of Cisse doubling up with the recalled Davide Santon at left back, while Ba led the line.

Making it to half time without conceding was a significant milestone, but an ill-advised lunge by Mike Williamson put him on a yellow and cranked up the pressure a notch further.
The game followed a similar pattern after the break, City continuing to enjoy the majority of possession. However the much-admired Swans did very little to hurt United, who again defended stoutly despite losing Cheick Tiote to injury.

Seemingly content to play and play without altering their tactics, the stalemate continued as the clock gradually ticked down - home fans only really rousing themselves when the odd corner was won, scoring from something as vulgar as a set piece seemingly out of kilter with Swansea's beautiful game ethic.

From a rare United counter attack though, the pressure was relieved in spectacular fashion, as Cisse supplied a touch and finish worthy of Lionel Messi, never mind anyone donning a green jacket.

A goal that was eye-catching on camera was both sublime and unexpected when viewed in real time from the seats behind, a slo-mo effort that appeared to be passing over until it dropped like a stone and caressed the net. Kevin Todd at Rotherham? Steve Watson at Liverpool?

Two home replacements gave City more threat up front but again Scott Sinclair's best efforts were from distance and Danny Graham also rarely looked like scoring against his former side* - SJP old boy Wayne Routledge similarly impotent.
This was a magnificent result and disciplined performance from a side who have hit a rich vein of form to push for European qualification, registering four straight league wins for the first time since April 2006 - when a similar charge by Glenn Roeder's side secured our most recent European entry.

Then as now we have picked up some momentum - a precious commodity for Newcastle fans and something that's often been sadly lacking as we've stumbled round the final bend and finished off the podium.

If securing four wins in a row has done one thing for United, it's in lessening the significance of the Liverpool versus Everton FA Cup semi-final next weekend. Miserable Kenny's Carling Cup victory means that European qualification is assured regardless of their league position and FA Cup fate.

An Everton win in the merseyside Wembley derby would hand the Toffees a route into Europe though, given that they would face either Spurs or Chelsea in the final - infinitely preferable than the mackems sneaking through, but no better for our own ambitions. As it is now though, we've progressed from cautiously hoping for a Europa League finish to contemplating an unlikely Champions League qualification - daring to look up the table rather than worry about those beneath us.

And thankfully the timing of the FA Cup semi-finals means that after Monday's visit of Bolton, United will have a 12 day break to regroup before welcoming Stoke City to SJP - a welcome opportunity to regroup and get a couple of bodies back in the group for our final six games.
Chelsea by contrast have league visits to Fulham and Arsenal on the 9th and 21st of April that bookend an FA Cup meeting against Spurs at Wembley (15th) and then the small matter of a Champions League meeting with Barcelona at Stamford Bridge (18th).

The race for Europe now threatens to overshadow that for the title - heady days indeed and something that was utterly unimaginable as we scraped a draw here in the Championship just over two years ago. The whys and wherefores can be debated at the end of the season, but for now we've manoevured ourselves into a fantastic position. Pressure? what pressure?
* Graham appeared as a schoolboy for our junior side before signing for the smoggies in 2003.
Biffa

PS: A grand day out and a memorable toon-watching debut for 7 year-old Joseph Benyon