Date: Sunday 25th March 2012, 4pm
Live on Sky Sports

Venue: The Hawthorns

Conditions: Glorious

Admission: £29

Programme: £3

West Brom

Newcastle United

1 - 3

Teams
6 mins After a cross from Ben Arfa was cleared, Gutierrez slotted a fine ball back to Ben Arfa who crossed for Cisse to sidefoot home in front of the visiting support. 1-0

12 mins Ben Arfa broke clear and played a one-two in his own half with Cabaye before evading a tackle and exchanging passes with Cisse. With the Baggies back line back-pedalling, Ben Arfa cut inside and unleashed a left-footed drive beyond Foster into the far corner. 2-0
34 mins Another break from Ben Arfa this time saw him lay the ball left to Ba and his backheel allowed the overlapping Ben Arfa to cross from the byline. Ba may have got on the end had he not been barged over but Cisse finished first time anyway before Ba could protest. 3-0
Half time: Baggies 0 Newcastle 3

52 mins A long ball over the top sent Odemwingie sprinting through but Krul was all set to gather the ball before Williamson nodded it to the side and Long following up had an empty net to tuck the ball into. 3-1

Full time: Baggies 1 Newcastle 3

Alan Pardew said:

"Today it was champagne stuff - Demba, Papiss and Ben Arfa are a real front three. We've been phenomenal all year, the players have worked so hard and deserve all the plaudits they get.

"First half, we played some really fantastic stuff. I said before the game that at the training ground there was a new buoyancy after the win against Norwich. We had chances to get the fourth goal, we knew that would seal it and that was my half-time message. But we managed to see it out.

"This is a tough place to come and they've won with something to spare.

"I didn't think we'd be level with Chelsea with eight games to go. Maybe it might happen in the first 10 games if you get a fantastic start, which is what we did. To have the same points at Chelsea at this stage is phenomenal really and you have to take your hats off to the players.
"But are we Champions League contenders? I don't think so. I don't think we've got the depth of squad to challenge for that.
"Fabricio is so important to us and, to lose him for the next two or three games, will hurt us.
"I think there are not many players who can do what he (Ben Arfa) can do and it might be a nice wild card for France to have him in the squad. He really has knuckled down and there is a much more controlled person in his manner and the way he is around the training ground.
"I can say that publicly so it registers with the French manager. We've not had one issue with him but in the past in France there was some reputation that he was an enfant terrible but not here."


Woy Hodgson said:

"When it's 3-0 at half-time you are looking down the barrel of the gun and you're looking at a bad day, especially as we weren't playing very well.

"In the second half I thought, to the players' credit, they gave it a good shot to get back into it.

"Getting the early goal gave us a bit of momentum but that certainly disappeared when Morrison got injured and had to go off because we had to do it with ten men having made all our substitutions.

"In the end the only solace we can take from the game is that we did win the second half, which is not easy to do when you're 3-0 down.

"That's probably the task we set ourselves - to at least win the second half.

"We knew it would be hard to get three or four goals and not concede any but at least we tried to make certain we won it so that we reduced the damage.

"But we were caught badly on the counter-attack in the first half with two of the goals.

"We left ourselves very open and lost the ball in areas we had no need to lose it.

"Newcastle were very quick to break out and profit from it.

"Ben made two great saves and they scored three good goals but apart from that a lot of the action was at the other end of the field.

"But it's a little bit late when you are three goals down."

About the danger of his side "switching off" for the season:

"No, I don't think it was that and I think the second-half performance puts any suggestion that was the case to bed.

"If anything the quality Newcastle showed was far superior to the quality we showed as a team.

"Their passing and ball control was much better than ours.

"A lot of our players had an off-day on the ball.

"Balls were bouncing off them or their passes were off, whereas Newcastle's passing was very good.

"Of course they had the great advantage of being two goals up after 12 minutes.

"They were playing with wind in their sails and with margin on their side, whereas we were anxiously chasing to get back into it and sometimes that effects the composure people show on the ball."

About tearing off his armband and throwing it to the ground:

"It is something I did without thinking out of pure frustration at conceding the third goal.

"I meant no disrespect by it to such a great player (the recently-deceased Ray Barlow), nor his family, and offer my sincere apologies if it has caused offence."


Our 1,000 Premier League points (now 1,002) have come from 684 games and this was our 272nd win and the 89th away from home.

Papiss Cisse now has five goals from six appearances (five starts) while Hatem Ben Arfa has weighed in with the same number in league and cup this season.

On the road this season, we've amassed a grand total of 21 points from 15 matches (from 6 wins and 3 draws). With four away games still to play, that's already our best return since the 2002/03 season when we won 22 points.

And in terms of goals scored, the 22 strikes we've managed in those 15 games equals our 2004/05 total and was last bettered by the 27 scored in 2002/03.

Three goals in 28 minutes is our most rapid sequence of scoring away from home in the Premier League since we put three in the Spurs net in 20 minutes in March 2008.

That was over two halves though, so the still incredible salvo of three goals in six second half minutes at the mackems in April 2006 stands as a high water mark.

Magpies @ Throstles - last 20:

2011/12 Won 3-1 Cisse 2, Ben Arfa


2010/11 Lost 1-3 Lovenkrands
2009/10 Lost 2-4 Carroll 2 (FAC)
2009/10 Drew 1-1 Duff
2008/09 Won 3-2 Duff, Lovenkrands, S.Taylor
2005/06 Won 3-0 Owen 2, Shearer
2004/05 Drew 0-0
2002/03 Drew 2-2 Jenas, Viana
1990/01 Drew 1-1 Quinn
1989/90 Won 5-1 OG, Brazil, Brock, McGhee, O'Brien
1985/86 Drew 1-1 Wharton
1984/85 Lost 1-2 Baird
1977/78 Lost 0-2
1976/77 Drew 1-1 Barrowclough
1973/74 Won 3-0 Tudor, Macdonald, Barrowclough (FAC)
1972/73 Won 3-2 Tudor 2, Smith
1972/73 Lost 1-2 Hibbitt (TC)
1971/72 Won 3-0 Macdonald 2, Busby
1970/71 Won 2-1 Dyson, OG
1969/70 Drew 2-2 Dyson, Robson

Full record v West Brom:



| | | | | | | |
| --- | --- | --- | --- | --- | --- | --- |
| | P | W | D | L | F | A |
| SJP | 56 | 28 | 13 | 15 | 118 | 81 |
| TH | 56 | 13 | 18 | 25 | 73 | 109 |
| League | 112 | 41 | 31 | 40 | 191 | 190 |
Waffle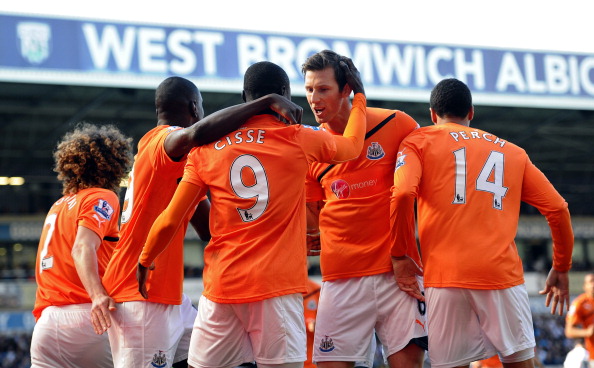 Newcastle began this game 11 points ahead of Roy Hodgson's side and while we had aspirations of Europe, Albion were sitting reasonably comfortably above the relegation zone just a win or two away from guaranteed safety.
When the Baggies had won 3-2 on Tyneside just before Christmas they had looked a decent side and the pace of Long and Odemwingie had caused us problems all night with an unfit Coloccini struggling against Long in particular.

But on this occasion the roles were reversed as a lively-looking Newcastle front line tore the home defence apart from the very first whistle. United lined up unchanged from the side that had defeated Norwich but the formation was different with Gutierrez in midfield and Perch at left back. Ben Arfa took more of a central role while Ba was often found drifting out wide.

Whether the variations caught out the home side or not, they certainly worked and two goals from Cisse and one from Ben Arfa in an impressive first period pushed us towards a place in Europe but it was another game of two halves for United on a sunny Sunday afternoon at The Hawthorns.

Losing Coloccini at half-time almost sent Alan Pardew's side into a downward spin and the three goal interval lead looked very fragile when Long profited from some poor defending to reduce the arrears.

But thanks to fine rearguard performances from the rapidly improving James Perch and the gutsy Jonas Gutierrez, the Magpies held firm to take all three Premier League points and move eight clear of Liverpool to join Chelsea on 50.

It had all started so well when Ben Arfa crossed for Cisse to give the visitors the lead after just six minutes, in front of the noisy away following in the Smethwick end.

The lead was doubled after another six minutes with Cisse returning the compliment and playing in Ben Arfa who cut inside and whipped a fabulous left-footed drive past Ben Foster as the orange-shirted side threatened to run riot.

But in a similar fashion to the home games against Wolves, Villa and Everton, a comfortable lead soon turned into an uncomfortable burden.

Thankfully and totally against the run of play, Cisse grabbed his second after Demba Ba appeared to be felled in the area as Ben Arfa centred for Cisse to make it 3-0. At that point Hodgson threw his armband to the floor and had to apologise later (see quotes above). Easily done, Roy. I have to admit I struggled to applaud Ray Barlow. I'd have been more than happy to respect a minute's silence but Barlow meant absolutely nothing to me. To stand and applaud someone who did zero for me or my team just seemed very odd.

The whole Muamba stuff is also starting to puzzle me. I watched him collapse live on TV and was genuinely shocked by what had happened but was honestly delighted to hear later that night he was still with us. End of story. Applause at the start of the Norwich game was fine but T-shirts and bed sheets with special messages at The Hawthorns again bemuses me.

I know I probably over think these things but is anyone else wondering if plots are being lost somewhere...? We're rapidly getting to the stage where a match starting without a minute's silence or applause becomes something of a novelty....

Anyhow, when United made it to the break without conceding, that should have been game over but when they emerged after the interval with captain Coloccini missing, there was suddenly an alarming frailty about our back line.

And that was exposed just seven minutes into the second period when Mike Williamson got in a tangle with Tim Krul and inexplicably nodded the ball straight to Shane Long who slotted into the empty net.

With memories of last season's tossing away of a 3-0 advantage against Albion still fresh, nerves began to jangle in the away end, as the Baggies with Long and Peter Odemwingie - who had done so much damage at St. James' last December - seemed set to go for the jugular.

But Cisse and Ben Arfa both had chances to finish the game off, running through the middle but both found Foster instead of the net and the misses looked costly.

"Perchinho" pulled out a performance to remember as he moved from left back to centre half (after recent worthy displays in midfield) to block and clear all that Roy Hodgson's side could throw at us.

Even seven minutes of added time caused by a succession of stoppages never really threatened United's advantage, with the home side already down to ten men due to an injury to James Morrison, with all subs used.

The Albion challenge melted away, as did their followers and referee Chris Foy's final whistle was witnessed by a half empty ground, although none of the away contingent had left their places, cheering the victors off the pitch.

Both Ryan Taylor and Perch have come in and covered ably when injuries, suspensions and international call-ups have left us short and their worth as "utility" players has been vital to this season's success. Their fine stop-gap performances have got Pardew out of trouble on many occasions but the danger is we use them as excuses not to invest in better players for individual positions. Neither are full backs or centre halves....

After the win we remained in sixth position but extended the gap over our next visitors, Liverpool, to a massive eight points and we joined the top five on breaking the half century of Premier League points for the first time since the 2005/06 season - with eight games still to play.

A place in Europe now looks within touching distance and although the various permutations are still to unfold, successfully negotiating the final eight games would secure a remarkable achievement for Pardew & Co. He has certainly enjoyed his fair share of good fortune this campaign but he can only be so lucky and he deserves great credit for what has unfolded.

If the initials on his tracksuit had been AW rather than AP and it had been Arsene Wenger who had replaced Chris Hughton then he would now be hailed as an absolute genius for unearthing all that French talent, being frugal with our transfer funds and getting us back to the brink of European qualification.

Transforming Perch into a footballer is the equivalent of turning water into wine and if he can do the same with Dan Gosling and channel the immense talents of Ben Arfa then it will be the stuff of miracles, making Jesus look like Paul Daniels.

Seeing off miserable Kenny next week would go a long way to securing at least sixth spot, but to get back into Europe we may also need to cheer on some of our rivals in the FA Cup and Champions League to aid our cause. Hopefully, whatever luck we have enjoyed so far hasn't all been used up.

Niall MacKenzie