Date: Monday 12th March 2012, 8pm
Live on Sky Sports

Venue: Emirates Stadium

Conditions: gut-wrenching

Admission: £35

Programme: £3




Arsenal

Newcastle United

2 - 1

Teams
14 mins A smooth forward move from United saw Tiote break over halfway and slide the ball to Ba, whose slick layoff to Obertan allowed the Frenchman to pick out Hatem Ben Arfa on the overlap.

The former Marseille man checked inside Gibbs and hit a thunderous low drive that beat Wojciech Szczesny at his near post. The rather gimpy celebration that followed was later revealed to be inspired by Obertan's poor dance moves - with the object of the ridicule joining in 1-0

15 mins less than 60 seconds later though and it was all square, as Arsenal attacked down their right from the restart, Theo Walcott centre and Robin Van Persie was left free to slot past Tim Krul as his alleged marker Mike Williamson failed to intercept and was left wrong-footed 1-1

Half time: Arsenal 1 Newcastle 1

90+5 mins The home side broke upfield and Walcott sped away down the right before dinking a cross into the heart of the United box. Both Van Persie and substitute Aaron Ramsey challenged for the ball with Williamson and the former looked to get the vital touch that took it towards the oncoming Vermaelen towards the far post, who was able to stick out a leg and volley home from within the six yard box, with another Gunner lurking behind him, equally unmarked....
The goal -a near replica of Hatem's at Fulham - was scored even later than Gyan's flukey leveller at the mackems last season - and was just as heart-breaking. People say it's character-forming, apparently. 1-2

Full time: Arsenal 2 Newcastle 1

Alan Pardew:

"Last minute defeats are galling. Unfortunately our right-back, Danny (Simpson), got injured and we couldn't replace him as we had already made three subs.

"It was a really committed performance to try and get something against a side that are really in form. They pushed and they pushed and unfortunately we didn't have the legs left at the end to see it through.

"We switched off after we scored and almost gifted them the first goal, but we've defended well. We could have a bit more threat and keep the ball a bit better. But it's difficult, they are a tough team.

"Forget how the game went because we could have offered a bit more threat than we did, they were bang in form tonight, Arsenal. It was really hard to stay the course, and to get to 94 minutes, it's galling to lose.

"The most important thing was that we came here, put a real proper effort in, and look organised, which we did. Maybe in possession we could've done a little bit more, but we gave everything.

"It's just unfortunate. It was a typical last-minute goal, and it hurt us.
"There were words between them (Robin Van Persie and Tim Krul) at the start about this and that. It happens. If we'd scored in the last minute, I'm sure one or two of them would have been upset with us.
"There was a lot of verbals and it kind of got a little bit silly. He was not doing anything other than to be set for the kick. When you have got the whole team defending 40 metres in front of the goal, it takes time. He was waiting for our strikers to get set.

"When you are away from home you are not going to rush things. We have had that at our place. Goalkeepers do unbelievable things.
"The draw wouldn't have made any difference to us - we needed to win to stay in there and we ain't going to go there. We must go for the Europa League now. We have a lot to play for still."


Arsene Wenger untwisted his face to say:

"That is the best response to something that has been questioned sometimes this season. I believe that shows we have quality, we have spirit, which I have never questioned. It was a relentless effort again tonight from the first to the last minute. The tempo was absolutely top level tonight. We kept going until the last second and just managed to win the game.
"Certainly the fact we have done it before helped us. Even when we were 1-0 down we just kept going and we feel now at the moment in the team we just have that complete and total commitment to do as well as we can and give absolutely everything. That gets the crowd behind the team and you saw a very entertaining game tonight against a very good Newcastle side.
"We played recently against Tottenham, Liverpool, Newcastle and Sunderland who are all very difficult to beat and we won all of these games. We know every time it was very tight and we won in the last minute in three of them. There is definitely complete commitment in every single game. Where we finish is down to how we keep going and if we put that same amount of effort into every single game.
"I don't compare us to any other team, I just think we have rebuilt confidence and belief and that will be vital in the race until the end. It can change very quickly because as soon as you lose a little bit of urgency you are in trouble in this league. So let's focus on keeping that and after we will see when we finish.
"At the moment I maintain that because we have gone through some difficult periods and it's very important that we keep our feet on the ground, keep our complete focus and give absolutely everything until the end. We have done that recently because we produced a great game tonight, we produced a great game against Milan and we produced a great game against Tottenham. That has to be our real target.
"If you look at our run from the Chelsea win until January you will see that our run was quite positive. But we had four full backs out in January and it is something that can work one game but it cannot work for five or six games. For that I believe we were punished but the quality was always there. Today we have 52 points with ten games to go and we have gone through a difficult period in January but recently we have won the games in the last minute whereas we lost the games in the last minute against Fulham and Manchester United.
"The atmosphere is great within the squad, and tonight it was exceptional in the dressing room because the pleasure is even more intense when you win in the final minute of the game where you have given everything. And the disappointment is intense when you have lost in the last minute of a game. The positive recent history of a team has a very positive influence and the positive vibes make everyone stronger.

Regarding the Krul / Van Persie incidents:
"Is it history from Holland? Is it just today's story? I don't know, they both looked a bit nervous. I have not spoken to Robin yet. I will find out but I am happy it stayed yellow and did not become red. He is absolutely committed and he gave everything again tonight. He got us a quick equaliser. But the whole team played very well and Walcott also had an exceptional performance tonight."

Alan Pardew's 50th Premier League game in charge of the club has seen his side win 18 times, draw 17 and lose 15.

Hatem Ben Arfa netted his fourth goal of the season and the third in the Premier League as we scored our 19th goal in 14 away games - compared to just 15 all last season.

United scored first but lost in an away PL game for the third time this season, after doing so at Liverpool (ahead for four minutes), Fulham (ahead for nine minutes) and now Arsenal (ahead for one minute).

Magpies @ Gunners - Premier years
2011/12: Lost 1-2 Ben Arfa

2010/11: Won 1-0 Carroll
2008/09: Lost 0-3
2007/08: Lost 0-3
2007/08: Lost 0-3 (FAC)
2007/08: Lost 0-2 (LC)
2006/07: Drew 1-1 Dyer
2005/06: Lost 0-2
2004/05: Lost 0-1
2003/04: Lost 2-3 Robert, Bernard
2002/03: Lost 0-1
2001/02: Lost 0-3 (FAC)
2001/02: Won 3-1 O'Brien, Shearer, Robert
2000/01: Lost 0-5
1999/00: Drew 0-0
1998/99: Lost 0-3
1997/98: Lost 1-3 Barton
1996/97: Won 1-0 Elliott
1995/96: Lost 0-2 (LC)
1995/96: Lost 0-2
1994/95: Won 3-2 Keown og, Beardsley, Fox
1993/94: Lost 1-2 Beardsley
(@ Highbury until 2005-06 season, Emirates thereafter)
Total record against Arsenal:
P

W

D

L

F

A

SJP

78

40

19

19

142

89

H/Em

78

22

17

39

82

127

League

156

62

36

58

224

216

SJP

(FA)

2

0

2

0

4

4

H/Em/W/VG

8

4

0

4

7

12

SJP(LC)
1
0
0
1
0
4

H/Em
3
0
0
3
0
8

Cup

14

4

2

8

11

28

Tot

170

66

38

66

235

244
Waffle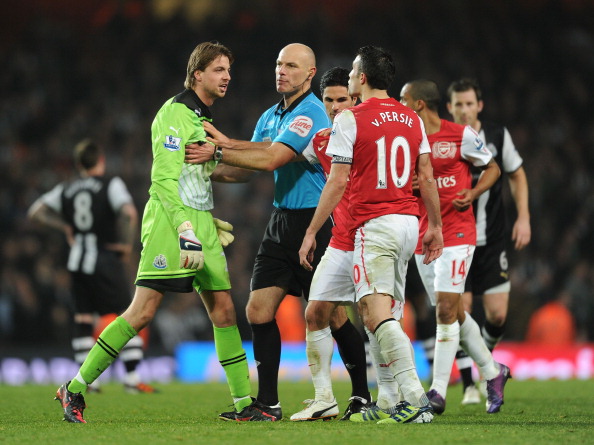 Like a comedian, football is often all about the.....timing.

Rather than focus on the precise number of seconds between the first and second goals here though, or the time remaining on the referee's watch as we conceded possession deep in the opponent's half just before 10pm, it's the fixture order over the full season that we refer to.

Given a favourable run of games when the opposition have their eyes elsewhere, are coming off the back of a midweek European expedition or have a treatment room that resembles A&E at the RVI on Sunday morning, it's possible to string together a series of results that leads a side away from the lower reaches and into mid-table respectability, with upwardly mobile aspirations.

An Arsenal side under pressure before a ball was kicked this season came to Tyneside for the opening game and on a day when nobody hit the ground running, Joey Barton's theatrical tumble upset all and sundry and we had our first point and a rare clean sheet against the Gunners.

Arsene Wenger's side then ending the Samri Nasri saga by allowing him to defect to Manchester City, followed him up the M6 to Old Trafford and then promptly conceded eight goals. Timing.

Similarly, our excursion the weekend after to a still-chastened mackems was a masterful piece of scheduling that reinforced those feelings of impotence (despite them finishing above us last season) and soon saw pasty boy walking the plank.

The flip side though can have an effect way above the eleven versus eleven.

A midfield featuring Cheick Tiote and Yohan Cabaye might reasonably have been expected to hold things together rather better than their understudies managed at Spurs. However, our arrival at White Hart Lane for 'Arry's coming out party was a classic case of wrong place, wrong time and most teams would surely fared no better or if you're Wigan, lost by a far greater margin....

Lately though, things have started to go awry a little too often for comfort, when the unexpected results involving ourselves aren't favourable to us. We may have been able to reacquaint Mark Hughes with the art of losing in his first QPR game, but Terry Connor's managerial bow had a galvanising effect on the Wolves and the 2012 vintage mackem rabble displayed rather more conviction(s) than of late, thanks to the man management/kidology of their latest superhero.

And so it was with this game. In one corner, a Magpies side who have never subsequently scaled the heights of the 3-0 home victory over Manchester United two months earlier due to various injuries, suspensions international callups, loss of form....and timing.

Opposing them, a Gunners side who had put five past their deadly rivals last time out in the league here (a feat that we'd just achieved when coming here last season and winning), adding to a tally of seven scored in the game before and another three in the Champions League exit to Milan.

That suggested a side gathering momentum and turning recent jeers to cheers (albeit via elongated passages of near-silence this evening from catatonic home fans) and so it proved, as yet another last gasp winner saw Wenger indulging in his bizarre celebratory gallop once more.

A hectic start saw Arsenal squander the first of a rake of decent scoring opportunities when Robin Van Persie somehow failed to connect with Theo Walcott's low cross. Our first attack then brought only the third goal we've scored here in seven visits (all in the first half, all at the far end) and a lightning reply that sparked a running battle between our 'keeper and their scorer.

The second half then followed the pattern of our previous visits here, with the home side building up a head of steam as they bore down goal. Some poor finishing and gallant defending though made a draw look increasingly inevitable until that late night TV nasty. Krul's goal leading a charmed life as it did in that unlikely victory here on our last visit and our epic draw at Old Trafford this season.

Added time came and with it the rare sight of Newcastle players in the final third of the field at our end. Unfortunately that late incursion ended the tragic sight of Krul picking the ball out of his net again and the quarrel between the two Dutchmen that had simmered throughout the evening then escalated from gesticulating and exchanging unpleasantries into more overt threats of violence that saw most of their colleagues become involved - hardly an ideal situation coming just days after we were landed with an FA charge for another melee against the mackems.

Both players were booked as five minutes of added time turned into eight, with our man upset by RVP's continued attempts to block his clearances and incurring the wrath of the prolific forward and home fans for dallying over his kicks - something which while hardly ideal was nowhere near the ludicrous time-wasting antics of Wolves 'keeper Hennessey on Tyneside last month.

A defeat of that nature was a painful way for Alan Pardew to mark his 50th Premier League game in charge of United and although his side never really fired on all cylinders, their effort and commitment deserved some sort of reward.

He had put his faith in a line-up that included Gabriel Obertan (in central midfield) and Ben Arfa, with Ryan Taylor absent due to injury and Papiss Cisse dropped to the bench - where he was joined by Haris Vuckic following the expiration of his loan deal at Cardiff City (recalled following the injury to Peter Lovenkrands).

Davide Santon's pace saw him reinstated at left back to match Walcott's speed but despite shrugging him off in the opening exchanges, the Italian was given an increasingly torrid time as Arsenal funneled most their forward play down their right flank in the opening 45 minutes.

James Perch replaced Santon at the interval and put in another decent shift as we dug in and looked to have done enough to register a third successive draw. It wasn't to be though and a fanbase who have done more than their fair share of trudging disconsolately through North London streets exited in almost total silence.

In the interests of unity, we'll not name names but perhaps the biggest indicator of the varying attitudes of our squad could be gauged at full time. Some used their final ounces of energy to get off the pitch as quickly as possible, a few others had the decency to look gutted and applaud the away support, while some laughed, joked and swapped shirts with their victorious pals.

Coming from someone whose murderous post-match thoughts concerning smug Gooners in the same carriage persisted as far as Acton Town on a Piccadilly line tube train, that's awfully difficult to comprehend never mind tolerate....

Our inadequacies this evening could be summarised in one sentence - Williamson out of his depth, Santon identified as a weak link and duly exploited, a lack of cohesion in the midfield and the little matter of Demba Ba losing his Midas touch in front of goal - not that he ever had sight of it.

As it is, we're now at the point of the season when aesthetic considerations give way to a grim determination to secure as many points as possible in a measured, calm way but scrapping from the first whistle to the last nonetheless and simply wanting it more than the opposition.

For the manager and his staff, the task is to accentuate the positives of this performance, whilst lamenting the final frantic few seconds of added time that denied them what would have been a worthy if slightly fortuitous point.

A great deal still depends on how fortune favours Pardew in the remaining weeks: if Coloccini ends up sidelined by injury and suspension then the nearest we'll get to Europe is a day trip to Holy Island. It remains to be seen whether there's anything more in the tank or if the remaining ten games end up as a levelling exercise and we've simply used up our allotted good fortune.
Regardless of the juvenile muppetry glimpsed at the reserve derby though, the biggest plus of this round of games may just be the continuing re-engagement of the owner in this "project" as evidenced by his MD's candid and unapologetic public comments last week. Given the rampant uncertainty over the finances of many clubs, keeping them on board could turn out be a more tangible reward for a season of effort than a Europa League place.

Even to consider playing competitive games overseas though is startling progress - quite frankly, this second season back in the top-flight had outgrown our expectations by the first week of January. I'm still tickled at scoring in this postcode. This time two years ago we were scraping a draw at the smoggies in a team featuring Tamas Kadar, Fitz Hall and Fabrice Pancrate.

Losing to the last kick of the ball at the Emirates twenty four months on doesn't seem quite so bad in that context - and the air is cleaner.

Biffa