Date: Thursday 8th March 2012, 7pm

Venue: St.James' Park

Conditions: mental







Newcastle United

mackems

3 - 3

Teams
23 mins Obertan shot 1-0

32 mins Tounaka shot 1-1

45 mins Noble shot 1-2

Half time: Newcastle 1 mackems 2

58 mins Gosling header 2-2

73 mins Tounaka header 2-3

86 mins Donaldson header 3-3

Full time: Newcastle 3 mackems 3

Willie Donachie:
"It was a good game and I thought our lads showed a lot of character and played some really good football early on. Then it was just inexperience which caused two really horrendous goals, which makes it hard for you. But it was good experience for the young lads, who came back and got a draw with ten men.

"There were a lot of good things, but it was just disappointing to lose three goals. I thought we were the better team and should have won. In the first half-hour we were all over them but not creating enough real shots on goal. That was disappointing as when you have that amount of possession and attacking play, we should be scoring more and creating more chances.

"After being 3-2 down, giving away bad goals away and having ten men, I thought it was going to be bad again. But getting a result against our rivals for the crowd that was there was good.
"The game is about winning, even at this level. You've got to win games because that's what football is all about. We want to have that winning mentality at every level of a big club like this."

On Remi Streete:

ďWeíve been told he hasnít broken his ankle, but itís quite swollen so we wonít know the extent of it until that has gone down. It didnít look great when he was stretchered off, but itís good news that itís not broken. Heís done well for us, and itís disappointing to lose him, and we will just have to wait and see how bad the damage is.Ē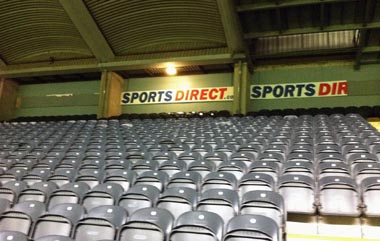 Damaged signs, East Stand, SJP, Thursday night
Almost 3,000 fans were at St. James' Park on Thursday night to witness an eventful Tyne-wear reserve derby that ended in similar style to Sunday's senior meeting.

Newcastle shaded the early exchanges but neither 'keeper was greatly involved until the 23rd minute, when Gabriel Obertan marked his stiffs debut by bursting forward to rifle home a low effort at the Leazes End.

However the red and whites were handed a route back into the game on 32 minutes, when Magpies 'keeper Alex Baird's air shot on the edge of his area allowed Oumare Tounkara to stroll through and tap into an empty net.

James Perch almost restored our lead soon after but his header from a Mehdi Abeid cross came back off the bar - one of several efforts on goal by the former Nottingham Forest player who was appearing in central defence.

Perch's partner Remie Streete however was forced off on a stretcher just before half-time with an ankle injury and his side crucially opted to play on with ten men before re-organising at the interval.

Almost immediately though the mackems attacked and when Dan Gosling missed his tackle on the advancing Ryan Noble, he was able to convert at the second attempt after Baird had blocked, adding to a hat trick in the corresponding fixture earlier in the season.

A double replacement at the break saw Streete's U18 partner Louis Storey introduced, while Greg McDermott replaced fellow midfielder Michael Richardson as he continued his comeback from injury.

United opted to leave Phil Airey to reprise his former right back role rather than push him forward to support striker Dan Taylor, and although his attempts at providing service into the box via crosses were mixed, Phil played a vital role in Newcastle's equaliser.

Mehdi Abeid's 58th minute corner was played long beyond the goals and Airey was well placed to lob it back into the danger area, Dan Gosling buried a header for 2-2.

Just eight minutes later however, United fell behind again when French centre forward Tounkara was left unmarked to head home his second goal of the evening - hardly less of a gift than his side's previous two strikes.

That looked enough to give the mackems their third successive reserve victory on Tyneside, with only a long-range effort from Mehdi Abeid in the closing stages that stung the hands of Ben Wlson worthy of note.

Five minutes from time Gosling looked to make only a semi-serious attempt at fisting the ball goalwards after failing to connect with it properly. However the match referee was unimpressed by that or his horror-stricken pleas for leniency and showed him a second yellow card.

Within a minute of going down to ten men though, United grabbed a point when substitute Yven Moyo hared down the left and crossed for Ryan Donaldson to net with a diving header at the Gallowgate End to make it 3-3.

That however sparked the significant teenage presence who had spent the evening verbally abusing their mackem counterparts to turn their attentions to the advertising hoardings at the back of the East Stand - with a number of cardboard Sports Direct placards dislodged and part of one ending up on the playing surface.

While hardly comparable in seriousness to the events of pre-season at Darlington, the stupidity exhibited was of a similarly unwanted and unwarranted nature - coming once the attention span of our apprentice clowns had been reached.

The irony that most of those chanting that Sports Direct is "f****** s***" were clad in clothing and footwear from said emporium was presumably lost on them...

Referee Paul Curry briefly halted proceedings before police and stewards moved in to calm things down and the game was played to a conclusion with no further interruption.

It remains to be seen whether that incident will appear in his match report - along with mention of a small missile thrown in the vicinity of the linesman in the second half.

Meanwhile there was some pushing and shoving outside as the two sets of fans exited SJP - a set of incidents that while comparatively minor, all undermine the argument for not playing reserve team games behind closed doors.

Good game, shame about (some of) the fans.

PS: a crowd of youths moved on from SJP at full time and vandalised doors and windows of the Eldon Square Sports Direct store entrance on Blackett Street. Police have appealed for witnesses.

Tyne-wear Derbies - Premier Reserve League:

2011/12 drew 3-3 Obertan, Gosling, Donaldson (SJP)

2008/09 lost 1-2 Godsmark (SJP)

2007/08 lost 1-3 OG (KP)
2005/06 won 3-2 Finnigan, Carroll, Smylie (KP)
2004/05 drew 1-1 Guy (KP)
2003/04 won 3-1 Ferrell 2, Guy (SJP)
2002/03 lost 0-1 (GS)
2001/02 lost 2-4 English, McMenamin (KP)
2000/01 lost 0-1 (KP)
1999/00 won 3-1 McMahon, Robinson, Gall (KP)

(GS=Gateshead Stadium, KP=Kingston Park)
Biffa

Reports