Date: Sunday 4th March 2012, Noon
Live on ESPN

Venue: St. James' Park

Conditions: cliff hanging






Newcastle United

mackems

1 - 1




Teams
24 mins A Demba Ba foul on Gardner just over halfway resulted in a free kick that Kieran Richardson thumped into the Newcastle box. It looked to have passed harmlessly out for a goal kick, only for the referee to point at the spot amid what seemed like a stunned silence.

Those at that end of the ground and watching on TV though were only too aware that Mike Williamson had senselessly tugged Michael Turner to the ground by his shirt. Wearing his protective mask, Nicklas Bendtner shot past Tim Krul, although the 'keeper guessed correctly and dived to his right 0-1


Half time: Magpies 0 mackems 1

90+2 mins A ball into the box was helped on by Williamson and although it bounced across Ba mackem-tormentor-in-chief Shola Ameobi popped up at the far post to stab the ball into the turf and into the back of the net via Mignolet's hands at the Gallowgate End - a goal greeted with a roar that shook St.James' Park to its foundations.
1-1

Full time: Magpies 1 mackems 1
Alan Pardew commented:

"I didn't like the way it started with the first tackle, it was premeditated and I'm disappointed with that - I thought it was ugly. I think (Lee) Cattermole would have gone off at any other time. That set the tone, it was more about being physical than anything else.

"They did well in the first half and I was proud of the second half.

"We had words on the side, he (O'Neill) is passionate about his team and I am about mine. It will not carry on, we are two experienced pros and it will be dead and buried as far as I am concerned.

"With the mind-set they were in with tackles and trying to upset us – I knew somebody was going to go. I did not expect Sessegnon to go because he had been very level-headed. Nevertheless we won a penalty and it was justice – that was my emotion. We missed it but we still had the character to get the equaliser.

"It was a passionate game. We got wrapped up into Sunderland's game plan. They came here to upset us. They took the lead through a pull of a shirt, which we see a thousand times and they do not get given. It was a penalty but you could go to a thousand games and see that all the time.

On mackem claims that NUFC staff visited the referee's room at HT:

"I can tell you it's completely untrue - none of our staff are allowed in the ref's room. It's not right. The game was a little bit unsavoury at times and we probably should have been more grown up about it. If we overstepped the mark, myself included, I apologise.

"I've never done that before- it looks terrible but it was just sheer relief we'd got a penalty. Unless you're a manager or a player you don't understand the pressure of this game, a lot of emotion was involved. I was really frustrated.

"We shake hands at the end and it's all forgotten, at least in my case. I'd have liked to have a drink and a chat with Martin, but I hear he's already gone, so I'll be drinking alone.

"I love Shola (Ameobi) to bits, the chance couldn't have fallen to a better person. He brings important qualities passed down from his parents to this club. Some of Hatem's play was breathtaking; it was his best 45 minutes for us. I have to find a way of getting him in my team."


MON said:

"The derby was absolutely everything people have told me – the hostility, the fervour, everything. It's two points slipped through our fingers but, in a perverse way, I enjoyed it.

"I'm disappointed that we have dropped a couple of points when we almost saw it through, but I was very, very proud of my team. It was a fantastic effort. In the first half I thought we looked very dangerous, I thought we deserved the lead when we got it, and we were causing them all sorts of problems.

"In the second half we had a chance to make it 2-0 and I think it would have been a long way back for Newcastle from that viewpoint, but they cleared it off the line and that gave them great hope.

"The sending off of Sessegnon was the turning point, because it put us on the back foot. We were coping with them until we went down to 10 men. Stephane's was a red-card offence and Lee cannot be doing that sort of thing (swearing at the referee) - he should leave it to me.

"But in mitigation we'd heard some of their staff visited the referee's room at half-time. Lee felt a lot of decisions went Newcastle's way in the second half. That's not saying I agree with that, but I think even Newcastle would agree they were lucky to still have 11 men on the field. Tiote is a fine player, but he was lucky to stay on the pitch."

"I think I shall go and climb on the bus."

Stoked up by the local mackem rag, MON then returned on Monday with further observations:

"The half-time stats are a total contradiction to what their manager said - they've twice the number of bookings we have, and twice as many fouls. It was an extraordinary analysis of the game, and that's what I've set out to defend, as much as anything else.

"You think you've watched the game, given a reasonable analysis, certainly your own viewpoint, and then you hear the opposition manager saying that Sunderland had a game plan to upset them, to unnerve them, to basically - and he used the word ugly - attempt to kick them off the pitch.

"Lee Cattermole was booked after a minute and a half and quite rightly so too. The second foul was committed by ourselves when Gutierrez goes by Seb Larsson and Phil Bardsley after three and a half minutes. The irony is that we didn't commit another foul then for about 17 minutes, during which time they conceded seven.

"This is an opportunity for me to set the record straight as it were. It's not a case of taking moral high ground, but putting across what I felt during the course of the game almost entirely the opposite of what their manager was saying.

"Sessegnon deserved to be sent off the pitch, I said that at the time, because he raised his arm in retaliation. He's flung an arm back in the manner that, if the referee sees, he has no option but to send him off. Tiote, this 'hard-man' of the Premier League, has clutched part of his anatomy that wasn't even touched, he was hit between the chest and neck, enough to hit a fly over.

"He's gone down two and a half seconds after the incident, and rolled around 14 times."


The 146th Tyne-wear derby ended in stalemate for the 47th time, leaving United ahead in the win stakes by 53 to 46. We're unbeaten in five derby fixtures and it's just one Newcastle defeat in the last 15 meetings home and away.
Shola Ameobi scored his second goal of the season, taking 20 minutes to do so after arriving on the field with his side a goal down and kicking into the Gallowgate End. In an identical scenario on a Sunday back in October 2011, he took 15 minutes to earn his side a point with an effort from rather further out at that end against Spurs.
His 72nd career goal for Newcastle was his 40th in the Premier League, leaving him fifth in our scoring charts, but moving to within one of Les Ferdinand (41) and closer to both Andy Cole (43) and Peter Beardsley (46). The sheet metalworker's son remains way ahead with 148 goals.
The mackems had two players dismissed at St.James' Park for the first time since their 1-3 defeat in January 1985, when Howard Gayle and Gary Bennett were sent off.
We've now been awarded penalty kicks at the Gallowgate End in the last four meetings with the mackems on home soil, Demba Ba failing in the 82nd minute where Shola Ameobi (49 minutes, 2010), (69 minutes, 2009) and Michael Owen (45 minutes, 2008) had all succeeded.
Ba's miss was his first since joining the club, after having netted away at Stoke and Manchester United in his previous two attempts. Our number 19 failed to find the target in similar style to Alan Shearer, who saw his 81st minute effort at the same end saved by Sorensen in November 2000.
We've now conceded nine spot kicks in 27 Premier League games this season, with Tim Krul stopping two (Chelsea home, Blackburn away) but conceding seven (Spurs home, Stoke away, Manchester City away x 2, Fulham away x 2 and now the mackems).
Tyne-wear derby - NUFC top scorers:
11 Jackie Milburn (all LG)
8 Albert Shepherd (6 LG, 2 FA)
7 Shola Ameobi (all LG)*
5 George Robledo (all LG)
* as ever, that's going with the official stat that Shola scored two in the 2005/06 home game and one wasn't Steve Caldwell's OG.
smb @ SJP since 1980:

2011/12: Drew 1-1 Ameobi
2010/11: Won 5-1 Nolan 3, Ameobi 2 (1pen)
2008/09: Drew 1-1 Ameobi (pen)
2007/08: Won 2-0 Owen 2 (1pen)
2005/06: Won 3-2 Ameobi 2, Emre
2002/03: Won 2-0 Bellamy, Shearer
2001/02: Drew 1-1 Bellamy
2000/01: Lost 1-2 Speed
1999/00: Lost 1-2 Dyer
1996/97: Drew 1-1 Shearer
1992/93: Won 1-0 Sellars
1991/92: Won 1-0 Kelly
1989/90: Lost 0-2
1989/90: Drew 1-1 McGhee
1984/85: Won 3-1 Beardsley 3 (1pen)
1979/80: Won 3-1 Cartwright, Cassidy, Shoulder
All Time Tyne-wear stats:

| | | | | | | |
| --- | --- | --- | --- | --- | --- | --- |
| | P | W | D | L | F | A |
| SJP | 67 | 31 | 18 | 18 | 118 | 98 |
| SoS/JP | 67 | 20 | 24 | 23 | 90 | 98 |
| League | 134 | 51 | 42 | 41 | 208 | 196 |
| SJP(PO) | 1 | 0 | 0 | 1 | 0 | 2 |
| JP | 1 | 0 | 1 | 0 | 0 | 0 |
| SJP(FA) | 5 | 1 | 2 | 2 | 5 | 9 |
| NR/JP* | 3 | 1 | 1 | 1 | 3 | 2 |
| SJP(LC) | 1 | 0 | 1 | 0 | 2 | 2 |
| JP | 1 | 0 | 1 | 0 | 2 | 2 |
| Cup/PO | 12 | 2 | 6 | 4 | 12 | 17 |
| Tot | 146 | 53 | 48 | 45 | 220 | 213 |
* We're including the Newcastle East End FA3QR game at Newcastle Road in 1888.
Waffle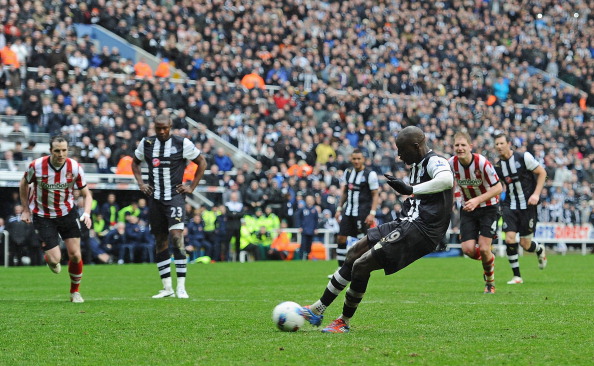 Passion. A much-used word in footballing circles, whose meaning is as indefinable as the current buggers muddle that masquerades as the offside law. Mention the 'D' word (derby) though and the 'P' word inevitably follows, along with sundry other staples such as form departing through windows.

Whatever it means though, a 50 year-old South Londoner and a bespectacled 60 year-old from Northern Ireland certainly found enough of it to embarrass themselves at pitchside in the manner of last bus drunks - not bad going for a noon kickoff on a Sunday...

Alan Pardew and Martin O'Neill managed to wind each other up and had successfully programmed players from Stoke to Senegal and Stockton to Salford into believing the Tyne-wear hype - setting about each other with something approaching a malevolent glee from the first whistle.

Lee Clattermole may have opened proceedings with a trademark scythe, but there were plenty of others on both sides just as prepared to tickle toes, aided by light rain that made the playing surface even more slide-worthy.

Maybe it was the presence of an ex-Celtic boss that brought to mind comparisons with the Old Firm fixture, in particular the Souness era when Ibrox incomers like Graham Roberts and Chris Woods took the rivalry to a higher level than home-grown players had managed. Or maybe 22 local players would have gone at each other today like a regional heat of British Bulldog if this was a truly local affair...

For all the sledging and posturing on and off the field though, this was still a relatively bloodless affair more akin to the Haye v Chisora kerfuffle than a genuine toe-to-toe, questions in the house, preparing files for the CPS type of slugfest as is regularly witnessed in Glasgow. The malice was more than evident, along with the suspicion this will steadily get nastier while O'Neill is winding up his lot and we're attempting to match him.

Professional boxing may soon be back on Tyneside, but this was strictly amateur stuff, with the elements of wind and water as prominent as fire. Cheick Tiote crumpled to the floor in the manner of JFK (the President, not our ex-boss) when Sessegnon tapped his jaw, but it was vaudeville stuff - casual viewers in the USA may believe that this was all scripted, like their dreadful wrestling.

In that quest for the other mythical prize of bragging rights, a rerun of last season's 5-1 demolition was never on the agenda, despite the red and whites arriving after their first back to back league defeats. Much has altered since ridding themselves of the pie eater, not least of which was the collective mackem mindset today - far more cold-hearted than Brucey ever managed to achieve - something which cost ultimately cost him his job.

What football that was played between the hacking came mostly from the visitors though, who proved as adept as Wolves in squeezing the midfield area, isolating our forward line and picking up possession from our inevitable hopeful punts and stray passes.

Going behind was still an almighty shock to the system and one that we'd only just begun to come to terms with by the break - the only real heart-stopping moment coming when the otherwise invisible Demba Ba headed Ryan Taylor's header against the crossbar.

Little was seen of our Senegal strike duo, with Cisse struggling to make an impact and in a less overt way than Tiote looking as if he was playing the occasion rather than the game with some avoidable "in your face" disputes - not quite Gazza playing the flute, but maybe some misplaced effort. Hopefully he'll learn to channel that aggression better next time round.

A first sign that change was afoot came during half time with Ben Arfa stripped for action and warming up on the pitch. The change when it came saw Davide Santon fail to reappear, with our number 10 slotting in at outside right and Taylor reverting to left back role that he'd scored from on wearside.

That looked slightly rough on our Italian, whose attempts at pushing forward in possession during the first half had been among our more positive moves. Our money had actually been on Yohan Cabaye making way for his countryman, after another little moment when he took exception to being tackled and the Gallic lip looked to be on, as had been the case against QPR.

That change - and whatever was said at half time (perhaps giving 150% instead of a mere 110%) - had an instant effect on United though and they sent a trio of range-finders past Mignolet's goal within the first few moments; more than they'd managed throughout the whole of the previous half.

Renewed optimism at that point that we'd get something from the game sparked the home crowd back into life and when the mackems were reduced to ten men just before the hour mark, normal service was seemingly on the verge of resuming round these parts.

That marked the end of the red and whites as an attacking force, although Krul somehow managed to prevent them taking a two goal lead shortly before Sessegnon walked, saving first from Sebastian Larsson and then hurtling across goal to deny James McClean with an even better block.
Despite our overwhelming dominance of possession, the deliveries into the box remained haphazard and the inspired Ben Arfa was left high and dry on a few occasions as his colleagues again tried to bludgeon their way down the left via a succession of Gutierrez dribbles that never quite came off.

Cometh the hour, cometh the Mag and our talismanic mackem knacker duly appeared from the bench to place one shot narrowly wide and then induce a rash challenge from substitute Frazier Campbell that was a far more obvious penalty than various other hopeful shouts at that end (although one handball claim was almost universally appealed for by the Newcastle players, not just the crowd).
Having done the business twice before in identical situations, Ameobi enquired of the ball-grabbing Ba but having failed to persuade him to relinquish possession, saw our first choice penalty taker step up and shoot low and weakly on goal.

With eight minutes of normal time remaining and what looked like a golden opportunity tossed away, one part of Level Seven was in Heaven, ready to acclaim their managerial messiah and by dint of our penalty taking choice, having seemingly broken the Shola curse once and for all.

They reckoned without the remarkable powers of that particular adopted Geordie though, who once again staked a claim as the ultimate impact substitute/folk hero in the second minute of added time.
Like Ian Rush appearing at Everton to score for us in the FA Cup, this has now become a self-fulfilling prophecy, with wearside the only place in the country where the name of Ameobi is feared.

And as long as he can retain a modicum of mobility, there's no reason why our number 23 can't keep doing this against them for another decade - that's Sho business!

What could hardly have been more of a great escape had Ameobi vaulted a fence on a motor bike then came unbelievably close to what would have been an improbable victory, time seeming to stand still as the ball got stuck under Williamson's feet deep in the box and with the goal apparently gaping.

The final whistle sounded though with honours even - and added comedic value caused by Dean showing a straight red card to Clattermole as the slack-jawed mackem captain embarked upon a further bout of moaning. Perhaps he threatened to vandalise his car...

From impending doom to glorious madness and clenched fist salutes then - all for the same return as the previous week's massive disappointment against Wolves. A draw that felt like a loss followed by one celebrated like a victory.

Passion ruled the day today (or relief, anyway) and perspective can return for the other 36 games.
Thank goodness there are only two of these per season though; just witnessing the damn thing takes it out of you, never mind playing in it.

For now we'll go with the summary of old boy Lee Clark, who pinpointed shortcomings on both sides but doubted that a single player was less than totally committed to their respective cause. It's a short step though to unrestrained thuggery and at times today the lines were blurred. Never was a pre-match handshake less sincere, including that between Manchester United and Liverpool.

This wasn't quite the incredible comeback of the Arsenal 4-4 here 11 months ago (that Bendtner watched the bench), but elements of the same "never say die" attitude that we credited Nolan and Barton with that day were in evidence here, just as they were missing last week. Somewhere in there some sort of balance has to be achieved.

We may now be (just) back at the point of fielding our first XI, but the whole isn't quite the sum of its parts at this point, with something missing in fluidity. More work is needed to integrate our front pair with the midfield, minimise the times our defence howk random balls forward and as Pardew admitted, harness the potential of Ben Arfa.

Avoiding defeat here should be a collective shot in the arm, but a repeat of the Fulham and Spurs implosions at Arsenal would soon wipe out any feelgood factor that this result and the confirmation of extended deals for messrs Krul and Coloccini produced.

Eleven games to go and the positives continue to outweigh the negatives in a season that remains more than intriguing, with the carrot of Europe still dangling. This one could go right to the finish.

Biffa