Date: Saturday 25th February 2012 3pm

Venue: St. James' Park

Conditions: fraught







Newcastle United

Wolves

2 - 2




Teams
6 mins Christophe Berra was dispossessed by Yohan Cabaye and his cross was almost back-flicked in by Demba Ba at the Leazes End, but when the ball was cleared, Cheick Tiote's deflected shot was turned in by the lurking Papiss Cisse for his second successive home goal. 1-0

18 mins Danny Simpson forced Wayne Hennessey into a fine save with a rasping drive at the expense of a corner. That came to nothing, but the ball eventually fell to Jonas Gutierrez on the left edge of the box, who promptly unleashed a stunning volley to double our lead 2-0


Half time: Magpies 2 Wolves 0


50 mins Matt Jarvis halved the deficit when he advanced on goal in possession before trying his luck with a shot from slightly wider than that which Jonas had launched his effort from. His up and under promptly flicked off Danny Simpson and dropped over Tim Krul, the Teessider greeting the goal with a little war dance that may have been the resurrection shuffle. 1-2

66 mins Jamie O'Hara took a free-kick from midway down the Wolves right. Kevin Doyle latched on to his whipped in delivery and although Krul parried his initial shot, the Irish striker reacted quicker than Williamson to tuck the loose ball away 2-2


Full time:
Magpies 2 Wolves 2
Alan Pardew commented:

"It was two points gone, but we need to take the point and say 'Let's move on'. Two-nil is always a scoreline where, if they can get that goal, if they get the next one they're back in the game. I just felt if I could have changed it just before I did we could have restricted that.

"But the five in midfield worked for them – and fair play to the players and management there, they did a good job and deserved their point.

"There was a little bit of after effect from Spurs. We could have pushed in a little bit more – especially our full-backs – but we were a bit nervous after being given the runaround at Tottenham.

"I think that had an effect. But we were far better for that performance, I could be a lot more disappointed than I am, because it's a game where some of our players have played below their level.

"In particular the players who came back in, they needed that game. Cheick in particular had to get back up to Premier League speed – Cabaye started to get some form towards the end of the game I thought. I think we will be better set for next weekend.

"When you're two-nil up at Newcastle and you're the home team, you've got to win. It's as simple as that. We spoke about it at half-time, the game wasn't over because Wolves had a fair amount of control over the game even though we had two goals.

"We never got to grips in that first 20 minutes of the second half. Though having said that, it was two poor goals and we should have done a lot better.

"We have had a good run at home – perhaps Saturday was the first disappointment for a while, but I'm not overly concerned – we look like we've got a goal threat up front and on the defensive side of it we just need to adjust a little bit."


Newly-appointed manager Terry Connor said:

"The result could set us up for the rest of the season - I told the players at half-time if they believe and have confidence, hopefully things will turn your way. I didn't enjoy being 2-0 down, but I enjoyed it then (at 2-2).

"I think the continuity has been vital with me knowing the players and knowing the dressing room. With a new manager there might have been a settling-in period, and it might just have taken a while to adapt. Because I've been there with these lads and dealt with them over a number of years, I think it was easier for them to understand what was required on Saturday.
"We know how to stay in the Premier League. We've done it for the last two years. I think I'm the right man for the last 13 games because I've been here for 13 years and the lads have been comfortable working with me – we didn't need any time to bed in.
"It didn't just affect the staff but most of the players as well - Saturday's message (from Mick McCarthy) was good luck to me, all the staff, all the players and to the club for the rest of the season. He's been championing me for the last four-and-a-half years and when I told him I'd got the job for the rest of the season, he was absolutely delighted for me."


United failed in their attempt to win four successive top flight home league games for the first time since 2007, while Wolves were unsuccessful in their quest to win their first top-flight fixture at SJP since a 4-3 success in February 1959. Since then they've lost 11 and drawn the other four.

This draw gave Newcastle their 995th Premier League point from what was their 680th game, but failing to win means that the 1000 point mark can't now be reached here against the mackems next weekend.

Jonas Gutierrez scored his tenth goal for Newcastle and his third against Wolves in his last three appearances against them. A 100% strike rate is let down by the fact that he didn't manage one in his first outing at Molineux in August 2010 - but sent over the free kick for Andy Carroll to net.

Wolves in Toon - last 10:

2011/12: drew 2-2 Cisse, Gutierrez
2010/11: won 4-1 Nolan, Ameobi, Lovenkrands, Gutierrez
2003/04: drew 1-1 Bowyer
1992/93: won 2-1 Kelly 2
1991/92: lost 1-2 og
1990/91: drew 0-0
1989/90: lost 1-4 Brock
1982/83: drew 1-1 Wharton
1978/79: drew 1-1 Withe (FAC)
1977/78: won 4-0 T.Craig, Mitchell, Cassidy, Nattrass

Full record against Wolves:
P

W

D

L

F

A

SJP

41

23

10

8

96

52

M
41

6

10

25

40

81

League

82

29

20

33

136

133

SJP

(FA)

2

0

2

0

3

3

M/H/LR

7

1

1

5

7

13

SJP(LC)
0
0
0
0
0
0

M
0
0
0
0
0
0

Cup

9

1

3

5

10

16

Tot

91

30

23

38

146

149
Waffle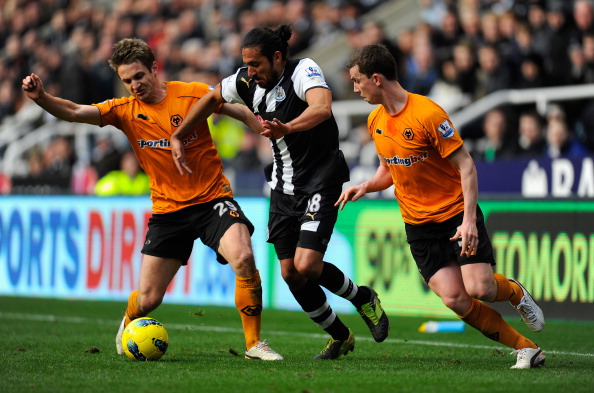 Alan Pardew may have looked forward to fielding his "A Team" after an eight game interlude, but hopes that his big hitters would take up where they left off against Manchester United in January looked forlorn indeed by full time, as home cheers turned to boos.

Those fans who had marched on the ground with a coffin in memory of St.James' Park pre-match were presumably engaged in praising rather than burying after an opening 18 minutes in which Newcastle had created three goalscoring chances - and resoundingly converted two of them.

At that point this really did look to be a case of how many times the visitors would concede and how many times the cameras would focus on the anguished managerial debutant in the away dugout, whose appointment had overtones of our initial decision to promote Chris Hughton.

"We'll do it for Mick" had been the inexplicable battle cry from Wolves players in the run up to this game, begging as it did the question of why they couldn't achieve enough in the name of Mr M.McMackem over the preceding 25 Premier League games to keep him in post.

In fairness though, much of the Molineux malaise this season has been exactly that: continued failings on home soil leaving the natives restless, with those who follow them on the road seeing draws at Spurs, Arsenal and Bolton plus victory at QPR in their four away games before today.

Whatever spirit, discipline and energy that had propelled Wolves to those heights though was conspicuous by its absence in the opening stages of this game and the straw-clutching talk from their hierarchy of managerial continuity for maximum effect had a distinctly hollow ring to it.

A small reminder of our defensive frailty had been provided by Kevin Doyle's solo run in the opening seconds of the game and the alarm bells should have been ringing when the same player glanced a header wide of Tim Krul's goal from a Matt Jarvis cross on 20 minutes.

However none of that seemed to matter at that point and although the Ba / Cisse partnership was only fleetingly sighted, the latter made ground to head narrowly past the goal. And with Tiote and Cabaye seeing a fair bit of the ball in centre field, the lack of forward momentum and consequent pressure on Hennessey's goal was evident but not of great concern at that point.

Gradually though the visitors climbed out of the pit they'd dug themselves and began to maintain possession better - something that Newcastle increasingly found to be beyond them.

Terry Connor may have been rendered almost speechless by the demands of the previous week, but he was able to impart something of note in the dressing room at half time. Reminding them that they could hardly play worse but were only a retrievable two goals behind, or perhaps threatening to resign and abandon them to the Corbridge pie eater - whatever he croaked made a difference.

Wolves raised their game, pushed bodies forward and were quickly rewarded with a fortunate goal, our previous positive vibe steadily ebbed away and a crowd that had almost fallen silent became to become audibly more restless and impatient. Neither that nor the subsequent pressure from Wolves acted as a kick up the backside though and the air of apprehension was tangible.

Looking to vary his stagnating forward and midfield options, Alan Pardew made a double change but added Danny Guthrie and Hatem Ben Arfa to the mix just as Wolves shaped up to take a free kick, breaking that unwritten law of football seeing his reshaped side restart in need of a goal rather than trying to eke out 25 minutes of play to hang on to a lead.

Demba Ba's frustration at being continually held back by Wolves players manifested itself only in moaning to the unimpressed officials when the temptation to exact his own punishment via fist or elbow must have been strong. However he was unable to exert any influence on the game and it took until the belated entry of Shola for the ball to start sticking anywhere near the Wolves area.

Our set pieces meanwhile had become increasingly sloppy, culminating in a self-induced panic when rather than launching the ball forward from the halfway line we played a ludicrous short free kick and promptly conceded possession. At the risk of over-reacting, that action seemed at the time to be symptomatic of a team-wide drift that nobody was willing or able to arrest, the shouting and cajoling of a Nolan-like figure noticeably absent as we looked like eleven individuals.

Guthrie was almost grotesquely inept, while Ben Arfa was his usual mixture of frustration and inspiration, squandering possession but also working two half-chances only to flash shots wide on both occasions. If he was a cat, another of his nine lives would have been used up today....

Wolves meanwhile may reflect that they could have left with all three points had they continued their unsettling pushes through midfield. Once back at 2-2, their instincts seemed to lead them towards running the clock down and inviting us to attack them, despite adding Michael Kightly to the mix but never really setting him away to take on our defence - James McClean may pursue that particular avenue more thoroughly this coming Sunday.
A day reminiscent of the two points dropped here last May when we turned a 3-0 lead over West Brom into a 3-3 draw ended with similar grumbles from some spectators, who seem to believe that buying a ticket means that a home win is guaranteed. If we lose next week then presumably they'll be ringing those no-win/no-fee compo companies that advertise on the telly. Grow up.

Liverpool's League Cup success does potentially open the door to another top-flight team qualifying for Europe, but that's no more than a meaningless aside given our woefulness today.

Without retreating into the mass media mentality that makes every Premier League game of hideous over-importance, failing to collect three points here makes next Sunday a genuinely pivotal point in this season. Win and the bandwagon is off and running again; lose and the manager's office could be a lonely place. Like us, Alan Pardew will just have to wait and see which Newcastle United turn up.

Biffa