Date: Saturday 11th February 2012, 5.30pm
Live on ESPN

Venue: White Hart Lane

Conditions: brutal

Admission: £40 upper / £36 lower

Programme: £3.50




Tottenham Hotspur

Newcastle United

5 - 0

Teams
4 mins Davide Santon conceded a throw in down the United left that was played back to Kyle Walker. A short forward pass to Emmanuel Adebayor saw the on-loan striker turn towards goal to leave both Danny Guthrie and Santon trailing in his wake, before pinging the ball infield on the edge of the box to Gareth Bale.

His wall pass was picked up again by Adebayor, who continued his run almost to the byline, beat Santon again and pinged a pass across the six yard box that evaded Tim Krul and fell to Benoit Assou-Ekotto beyond the far post. The Frenchman had the simple task of wellying the ball left- footed into the unguarded net from six yards in front of the South Stand 0-1

6 mins A Newcastle attack broke down midway in the Spurs half and the ball was cleared by Nico Kranjcar, whose scooped pass picked out Adebayor scampering down the right. This time his marker was Fabricio Coloccini, but the United captain couldn't prevent a centre that picked out the onrushing Saha, whose run had bisected the meandering Danny Simpson and Mike Williamson.

The Frenchman marked his home debut by crashing home a left-footed half volley from ten yards that passed Krul at head height. 0-2

20 mins A crossfield pass from Kranjcar switched play to the Spurs left and Assou-Ekotto knocked it back into the middle for Luka Modric to pick up. One smooth interchange later and the Croatian had reached the left hand corner of our area with James Perch left on his backside and neither Simpson or Guthrie within fouling distance.

A cut back pass eluded Williamson and fell to Adebayor, marked by Coloccini and with his back to goal. He simply laid it off to Saha, who crashed in a right foot shot from 12 yards out that left the partially unsighted Krul absolutely helpless. 0-3

34 mins Guthrie lost possession to a combination of Scott Parker and Modric on the edge of the home penalty area. The latter strode forward and sprayed a pass out to the left flank. where Saha was making progress over halfway. He continued towards the United and although failing to hit Bale on the run ahead of him, a forward pass into the centre dropped nicely for Adebayor.

Poking the ball right-footed goalwards, Krul came to the edge of the six yard box to block his effort, but could only knock it forward. With Coloccini nudging Adebayor to prevent him reaching the rebound, Kranjcar was well-placed behind him to pass it into the goal. 0-4

Half time: Cockerels 4 Magpies 0

64 mins A goal of savage beauty, started by Adebayor down the Spurs right who encountered Coloccini and turned back before feeding Bale. He traded passes in the centre with Modric before stroking out a pass to Assou-Ekotto on the left, who ignored the merest hint of a challenge from Gutierrez and fired a pass into the box.

Saha rose above his grounded marker Coloccini to head forwards and with his back to goal, Adebayor caught the ball in mid-flight on the edge of the six yard box to angle a right-footed volley that beat both his marker Williamson and the shell-shocked Krul. It was reminiscent of a scene from a computer game - and we may as well not have been on the field. 0-5

Full time: Cockerels 5 Magpies 0

Alan Pardew's own self assessment:

"It couldn't have gone any better for Harry. He must have been sitting there thinking he's had the best week of his life. Harry's got a tough decision because this isn't a team you want to walk away from. But I can only think of my players and we have to bounce back.

"We could have done a bit better in the fundamentals of heading it, kicking it, passing it and making a tackle. We must not get carried away. We've been thumped. We had an absolutely cracking game at our place – the 2-2 game - and at that point we said they're as good as we've seen this year and we felt that coming into this game. They're definitely in the mix with United and City.

"What we showed today isn't a true reflection of us all season. You have to say Tottenham were irresistible at times. Some of the stuff they were doing, it was almost as if it was coming off for fun. Some of their interplay and movement would have caused anybody a problem today – any team. Unfortunately it was. Adebayor and Saha were a real handful for us today.

"Certainly today I wish I had but I'm not sure if we're going to come under the circumstances we came under today. In terms of the start that Tottenham had, two quick goals, the team they've got, the sort of personnel they've got.

"The feeling in the stadium for Harry and the players feeling for wanting him to stay. It was unusual circumstances today and it was for sure Spurs' day. But we'll have our day, we'll have more days

"We talked about it in the room, they'll want to show they want their manager to stay. I think that was pretty evident. We had to cope from the start and we didn't. Two goals that we should have done better with.

"I think it's just a decision Harry will make. He's going to get a phone call, I should think – that's for sure and he'll make his own decisions. I'm not going to talk for Harry Redknapp but he's got a fantastic team here – he really has. They were a problem for us, the team on the pitch and the subs.

"Some of the blame today lays with myself with the selection. We probably played too many offensive players today and against a team that were not only a very, very good side but a team that had a bit of extra bounce in their step after what happened with their manager this week.

"Two-nil down in five minutes was a real issue for us. The positives for us were the second half where we didn't lose our head. We didn't go kicking them or getting someone sent off by being stupid.

"We were a little more disciplined in our tackling and in our covering and we threatened the goal as well. In that we can have something to lean on. But perhaps we had too many key players missing today against a very good Tottenham team."

From the Daily Mirror match report:

"Newcastle were supposed to be tough opponents and chasing a top-four place themselves. In reality, they were a shambles and unworthy of the incredible support shown by their amazing fans, many of whom were still singing at five goals down."

"Call me dirty and i'll sue the b*ll*cks off you" Harry Redknapp addressed the nation thus:

"We all felt it would be a tough game but we started so brightly. Adebayor and Saha were unplayable in that early period and it set us up. We got the early goals and there was no danger after that. You hope for a start like that, but you can't expect it.

"The chances came along and we put them away, great finishing.We played some fantastic football and overall, it was a great all-round performance.

"This was the most difficult week I've ever had. I wouldn't want anyone to go through that and what it's done to my family was worse, but it's behind us now and the week's turned out good. Things turned out right and the lads played well today. It was a good all round performance.

"Nothing's happened with the England job. No-one has spoken to me or (Chairman) Daniel (Levy) about it. It wouldn't be fair to anyone here to think about it. Daniel gave me the job, he brought me to the club when there was a public court case hanging over me. I owe him and we've been great for each other. At the moment I can't take my focus off Tottenham.

"Adebayor and Saha were unplayable in that early period and there was no stopping us after that. There was some great finishing. I took the chance of playing Saha today. Some people questioned why I signed him but I've always thought he is a top player. If you can keep him fit, you have a real player on your hands."



United matched but were unable to beat their record run of consecutive scoring in Premier League away games, having reached 10 since the 0-0 at QPR in September. That total was also reached in both 1993 and 2003.

It's now 277 minutes since we last scored at a goal at White Hart Lane (Obafemi Martins in March 2008) and it's no win against Spurs in five games now, since a 2-1 home win in December 2008.

We're not alone in perishing here - at home this season, Spurs have collected 32 of the 39 points available so far - a perfect record foiled only by 1-1 draws against Chelsea and Wolves and a 1-5 loss to Manchester City.

Emmanuel Adebayor has never finished on the losing side in nine games against Newcastle for Arsenal, Manchester City and Spurs. He's netted five goals in those games.

Magpies @ Cockerels - Premier League era:

2011/12: Lost 0-5
2010/11: Lost 0-2
2008/09: Lost 0-1
2007/08: Won 4-1 Butt, Geremi, Owen, Martins
2006/07: Won 3-2 Huntington, Martins, Butt
2005/06: Lost 0-2
2004/05: Lost 0-1
2003/04: Lost 0-1
2002/03: Won 1-0 Jenas
2001/02: Won 3-1 Acuna, Shearer, Bellamy
2000/01: Lost 2-4 Solano, Dyer
1999/00: Drew 1-1 Speed (FAC)
1999/00: Lost 1-3 Solano
1998/99: Lost 0-2
1997/98: Lost 0-2
1996/97: Won 2-1 Ferdinand 2
1995/96: Drew 1-1 Ginola
1995/96: Won 2-0 Sellars, Ferdinand (FR)
1994/95: Lost 2-4 Fox 2
1993/94: Won 2-1 Beardsley 2

Full record against Spurs:
| | | | | | | |
| --- | --- | --- | --- | --- | --- | --- |
| | P | W | D | L | F | A |
| SJP | 67 | 27 | 19 | 21 | 117 | 95 |
| WHL | 67 | 20 | 11 | 36 | 76 | 127 |
| League | 134 | 47 | 30 | 57 | 193 | 222 |
| SJP(FA) | 4 | 4 | 0 | 0 | 13 | 1 |
| WHL/OT | 5 | 1 | 2 | 2 | 5 | 5 |
| SJP(LC) | 2 | 1 | 0 | 1 | 4 | 3 |
| WHL | 1 | 0 | 0 | 1 | 0 | 1 |
| Cup | 12 | 6 | 2 | 4 | 22 | 10 |
| CS | 1 | 0 | 0 | 1 | 1 | 2 |
| Tot | 146 | 53 | 32 | 61 | 215 | 232 |
A Tayl of woe:
14 PL games with Steven Taylor playing, conceded 15.
11 PL games with Steven Taylor absent, conceded 21.
Nap and knacked:
This was the 12th game in the 679 played in the Premier League by Newcastle during which we've conceded five goals or more:
30.08.1999 1-5 Manchester United (a)
09.12.2000 0-5 Arsenal (a)
19.10.2002 2-5 Blackburn Rovers (a)
23.11.2002 3-5 Manchester United (a)
12.04.2003 2-6 Manchester United (h)
09.11.2003 0-5 Chelsea (a)
12.01.2008 0-6 Manchester United (a)
23.02.2008 1-5 Manchester United (h)
28.12.2008 1-5 Liverpool (h)
20.11.2010 1-5 Bolton Wanderers (a)
21.01.2012 2-5 Fulham (a)
11.02.2012 0-5 Spurs (a)


Waffle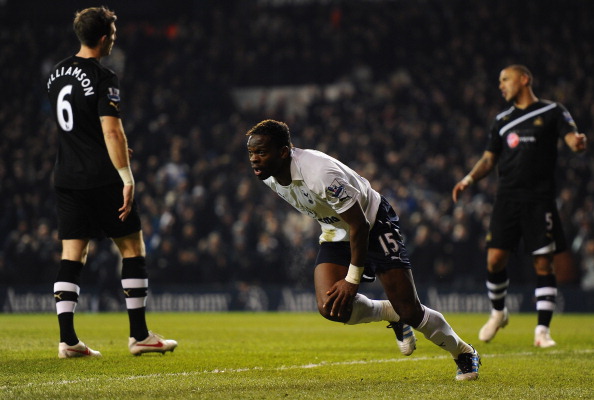 Harry's Game: do not go to jail. Pass. Go.

What may have started out sounding like Monopoly rapidly became monotony, as a rampant home side seemingly scored at will against a Newcastle lineup tasked to "have a go" in the words of their manager but proving to be meek in defence, mild in midfield and redundant up front.

After last week's hard-fought victory over Aston Villa, Alan Pardew had talked of letting his hair down at White Hart Lane, but the ease with which his side surrendered possession will have left him in no mood for partying.

His opposite number of course was in dreamland and treating his adoring public to little clenched fist salutes after each goal, presumably while exclaiming "oh yes" in the manner of Churchill the dog. King Harold may claim to be disorganised, but his side certainly weren't and the two weak spots in his lineup - the dubious defending of Michael Dawson and hopalong Ledley King - weren't taxed.

Our heaviest defeat at White Hart Lane in over half a century came less than a month after our Craven Cottage capitulation, with another London mauling unfolding as United failed to combat the rapid attacking thrusts of Emmanuel Adebayor and Ex-Magpie Louis Saha.

Central midfield pair Cheick Tiote and Yohan Cabaye were badly missed (as was Ryan Taylor) and although stand-ins Danny Guthrie and James Perch tried to stem the tide, they received little help from our nominal front four.

In fairness though, this game was a lost cause before we'd had the chance to draw breath, with a rampant Spurs two up in less than six minutes. And on an evening when little went right for the visitors, a handball shout against Adebayor was denied and shortly after Saha helped himself again when more sloppy defensive work was punished.
It got worse, when Tim Krul saved from Adebayor only to see the prone forward still manage to get a touch that fell to Niko Kranjcar who thumped in the fourth with just 34 minutes played. The Croat was also involved in our 1-4 home loss to Pompey in 2007, when 'Arry had another 'triffic day and his side were three ahead in less than 12 minutes.

With Gutierrez and Obertan peripheral figures and our front pair hardly seeing enough of the ball to hang on to it (with chief creative force Danny Guthrie otherwise engaged on defensive duties), the home side were given every encouragement to go for the jugular. And by jingo they did.
Our rare upfield forays brought no cheers, with one free kick from Demba Ba touched around the post by Brad Friedel - although referee Andre Marriner wrongly pointed for a goal-kick. It could be argued that Dan Gosling's introduction at 0-2 could have helped us keep the score down, but the quickness with which he managed to get a booking when he did appear could have seen a rerun of his red card folly at Carrow Road.
The second period saw Obertan withdrawn and Shane Ferguson play down the left and although United created very little it wasn't until after the hour mark when Spurs scored again and then looked to inflict further punishment by introducing Jermain Defoe and Aaron Lennon from the bench.
Ba almost converted with a header that was well saved by Friedel and Gosling managed to fire over an open goal from six yards out but there was little else for a boisterous away support to cheer. Our day ended in suitably farcical fashion as a mazy run and shot from Jonas was blocked by substitute Peter Lovenkrands - who contrived to do something similar to frustrate Andy Carroll here in 2010.
Arsenal's late winner at the mackems meant that we ended the day in sixth spot, losses for both Chelsea and Liverpool meaning the table didn't look too bad as we remained a single point away from a Champions League spot with a more presentable set of fixtures to follow. And Arsenal away.

Our FA Cup exit now leaves us with two weeks to banish the memories of this misadventure and prepare for successive home games against Wolves and the mackems with Cabaye and Tiote back in harness and our new front pair integrated more fully into the squad.

How disappointed you are by the manner and margin of this defeat depends on how you rate our team in general and defence in particular. Speaking personally, our grave reservations remain about those anchored by Coloccini in front of Krul.

Talk of the Champions League remains purely notional at this point - we would be better equipped for the Europa League than say Birmingham City, but in order to function at a level that would make continental jaunts meaningful, quality in the first XI and depth beyond it is required.

The end of our last UEFA adventure in 2007 saw Glenn Roeder comment that he had to "find defenders who are good enough to play in front of Shay Given." Well, the goalkeeper's name has changed, but not much else.
For the home side meanwhile, this was a memorable end to a week that had begun with the (distant) prospect of gaol but ended in goals. We've seldom had worse days here but have yomped back to Seven Sisters in good fettle on more than one or two occasions - and recollections of Cockerels crumbling on Tyneside remain both fresh and treasured; in retrospect this game remains a colossal missed opportunity for Spurs to avenge those 6-1 and 7-1 losses "Ap Norf".
PS: At least one Spurs employee had become slightly giddy towards the end of the game, the scoreboard compiler mistakenly announcing their third substitute as Nelson, rather than Nelsen. England expects eh?
Biffa