Date: Sunday 5th February 2012 1.30pm
Live on Sky Sports

Venue: St. James' Park

Conditions: Senegal-e force winds






Newcastle United

Aston Villa

2 - 1




Teams
30 mins Santon's throw in to Guthrie down the United left saw the latter come away from the corner flag to evade Ireland and then head back infield before sending over a right-footed chip that Dunne got ahead of Ba to flick across the box.

Presumably his intention had been to set up Warnock for the clearance, but the loose ball bounced in front of him and saw Ryan Taylor reach it fractionally ahead of the Villa defender. As Taylor tried to shoot right-footed towards goal, Warnock advanced and sent him cartwheeling into the air.

The ball however has squeezed across the six yard box and fell to Demba Ba, who controlled it with a touch of his right boot before forcing it home with a low right footed effort from six yards at the Leazes End. 1-0

45+5 mins Jonas Gutierrez cheaply gave away possession when attempting to squirm away from three Villa players on the touchline adjacent to the home dugout. Petrov picked out Keane with a dipping forward pass on the edge of the box and he turned away from Coloccini before finding N'Zogbia lurking out on the left flank.

With Williamson caught between shadowing Bent and Keane as both made their way into the middle, N'Zogbia found space between Coloccini and Simpson to centre for Robbie Keane to side foot home from close range 1-1


Half time: Magpies 1 Villans 1


71 mins A left wing cross from Jonas was left by Ba, bounced over the outstretched left foot of Dunne and dropped to Papiss Cisse. Controlling the ball on his chest, the debutant allowed the ball to bounce and then thumped a sublime left-footed drive into the top corner of the Gallowgate goal for a dream start to life in the famous shirt, sighted again after a year's absence. That's his weaker foot, apparently. 2-1


Full time:
Magpies 2 Villans 1
Alan Pardew commented:

"We mustn't get carried from the team ethic we have got here because the guys did brilliantly to get a result at Blackburn in the week and again we have put in a display here that has been strong.

"(James) Perch in midfield was brilliant. We had no Cheick (Tiote) today, no (Yohan) Cabaye, but we keep winning. That's a great thing.

"Having said that, you still need great players because they change games. Papiss did that today and Demba has done it for us before. It was a real bonus that he got a goal on his debut.

"Papiss has got that ability to turn with his first touch, and Demba's got that too. They can get at back fours as soon as the ball is played into them.

"They are a dangerous pair. We have got dangerous strikers all over the place here because Shola and Besty have done well, Lovenkrands is there as well and Ben Arfa, so we have got firepower. We just need to make sure that we have enough quality, enough composure and enough control of the game - which we did second half.

"It was a good win because Villa came here and looked lively. They looked lively first half. Although they scored just before half-time, they deserved to be level. They deserved to be in the lead at half-time.

"We accepted that and second half we knew we had to be better and more controlled, and we were. We limited their breakaways on us and we got a bit of pressure building. Of course we got a dream goal for us, because he's a new signing and he wanted to do well. It was a fantastic goal.

"He (Cisse) looked a threat and his goal was something special - it lifted the roof off the place. It really was a great hit and I didnít think it was too bad for his weak foot. If you are going to wear that number 9 shirt at Newcastle you need a good start and he has had that.

"It's Boyís Own Annual stuff that goal but his all-round performance would have had any Newcastle fan nudging his mate thinking we have got a good one here."Papiss Cisse is the right age for that Number 9 jersey. He has Bundesliga experience. He is a good player. And I thought he showed that in his first moments. His first touch was a turn.

"Scoring a goal like that will really help him settle down and after the game he did his interview and shook everyoneís hands Those little moments are nice. He is a genuine guy. This is a guy who just wants to do well for Newcastle. He hasnít come here with any other agenda than to do well for us and he has had a great start. I didnít want to bring him on that early.

"In my career I have been lucky with strikers on debuts and so I am really pleased because it is a big investment for the club. Although Mike Ashley sanctioned it and he is the owner I have got to spend the fans' money here. I like to spend it well we have taken our time and I would like to think we have got it right.

"Demba and Papiss have been in Africa travelling around and had three disappointing games and then a long flight back and I didnít think they would be fresh enough to put in the performances in that they have today so I am delighted with that.

"People are under a misconception that they are a partnership that has formed. They have hardly ever played together but they are going to complement each other well because Papiss wants to go in behind and Demba wants to come short so you have a nice balance there.

"We are missing some players in a key area in Yohan Cabaye and Cheik Tiote and you would think their absence would hurt us against a Villa side that were good today. They were really sharp and caused us a lot of problems and got what they deserved at half-time."We can go to Tottenham and let our hair down. We will have a go and if we get beat, we get beat."

Papiss Demba Cisse conducted media interviews in French after the game (with old boy Olivier Bernard acting as his interpreter). Our new number 9 wore a Northern Rock tracksuit top - old skool? or no new Virgin branded stock?

"The aim from now is to keep working hard in training. If I do that I would like to think that I can get more goals like that. Firstly, I have to work hard and get to know my team-mates.

"I'm happy with my first goal, but I have a lot of thank yous to give out. Firstly the club for signing me, my team-mates and to all of the fans who made it so memorable.

"When I signed for the club, to score in my first game was one of my aims. To do that is fantastic. I thank God for that."


Big Eck said (after others said Feck):

"The opposition have a great work ethic Ė the whole lot of them Ė they put the ball in the box and flood it. That was the reason for their first goal. I donít think itís rocket science. They get results because of a fantastic team work ethic.
ďWe could be where Newcastle could be. The difference with us is too many draws. They have turned those into wins. There are certain parts of our squad who are still learning and a little bit unused to doing certain jobs that I am now asking them to do. I just cite Newcastle as a great example of what I am trying to do with the team.

Itís a kick in the teeth - I thought we were well worth a point, if not all three. In the first half we were especially good, we kind of controlled the game, so to go behind was pretty awful to bear, but we got back in at half-time and started the second half slow as well and then looked livelier before they scored.
ďIt was disappointing, the goals themselves.We didnít get the tackle in to stop the crosses. This is a must when youíre playing in Aston Villa colours. We have to stop these crosses coming in. We must engage with the opposition winger or full-back or whoever is in there, and then we donít deal with the ball coming into the box.

On the substitution of Stephen Ireland, who had earlier told his manager to go forth and multiply:

"I never saw the eff-off thing - I know he spoke back but, at the same time, players don't like to hear the manager screaming at them from the touchline. I kick every ball. I'm passionate and I care. I wouldn't be so petty to take a player off for something like that if he is doing a fantastic job.
"I donít even know why you (the media) want to elaborate on it. Itís trivial. If you want to look at everyoneís lip-reading, I am sure youíll get a few more and you can get another story. Itís trivial. Itís a trivial question. I think itís a ridiculous question.
ďStevie had an ankle problem and wasnít able to close down. Danny Guthrie sidestepped him to put the cross in. I thought it was too easy and Stevie should of been making that tackle or at least putting a block on the cross.
ďIt was clear at half-time that he didnít have capacity to get close to people. His touch was still great at certain moments, but at this level in the Barclays Premier League you need players with legs and energy.

On his decision to withdraw N'Zogbia:

"I just felt that the space between Newcastleís right side that Gabriel Obertan was getting on the ball too easily and was able to run at the back four without any doubling up. I felt Charles was just isolating Stephen Warnock a little bit. I needed the gap filled.Ē

Papiss Cisse became the 171st player to appear for United in the Premier League and the 102nd scorer (excluding own goals). He's the fourth Senegalese international to score for Newcastle, following on from Habib Beye, Abdoulaye Faye and Demba Ba.
By our calculations, Papiss becomes the sixth Newcastle player to make a goalscoring debut for the club in the Premier League and only the second to do so from the substitutes bench - Alex Mathie being the first:
1. Alex Mathie v Sheff Wed (h) 1993 (19 mins)(sub)
2. Les Ferdinand v Coventry City (h) 1995 (83 mins)
3. Stephane Guivarc'h v Liverpool (h) 1998 (28 mins)
4. Duncan Ferguson v Wimbledon (h) 1998 (59 mins)
5. Xisco v Hull City (h) 2008 (82 mins)
6. Papiss Cisse (h) 2012 (57 mins)
(number in brackets is time on pitch before goal)

Demba Ba's sixteenth PL goal is already the tenth best seasonal total by a Newcastle player:
1. 1993/94 Andy Cole 34
2. 1995/96 Les Ferdinand 25
3. 1996/97 Alan Shearer 25
4. 1993/94 Peter Beardsley 21
5. 1999/00 Alan Shearer 23
6. 2001/02 Alan Shearer 23
7. 2003/04 Alan Shearer 22
8. 2002/03 Alan Shearer 17
9. 1996/97 Les Ferdinand 16
10.2011/12 Demba Ba 16
Villans @ SJP - Premier League Years:

2011/12: Won 2-1 Ba, Cisse
2010/11: Won 6-0 Barton, Nolan 2, Carroll 3
2008/09: Won 2-0 Martins 2
2007/08: Drew 0-0
2006/07: Won 3-1 Milner, Dyer, Sibierski
2005/06: Drew 1-1 Shearer (pen)
2004/05: Lost 0-3
2003/04: Drew 1-1 Robert
2002/03: Drew 1-1 Solano
2001/02: Won 3-0 Bellamy 2, Shearer
2000/01: Won 3-1 Glass, Cort, OG
2000/01: Drew 1-1 Solano (FAC)
1999/00: Lost 0-1
1998/99: Won 2-1 Shearer, Ketsbaia
1997/98: Won 1-0 Beresford
1996/97: Won 4-3 Ferdinand 2, Shearer, Howey
1995/96: Won 1-0 Ferdinand
1994/95: Won 3-1 Venison, Beardsley 2
1993/94: Won 5-1 Bracewell, Beardsley 2, Cole, Sellars
Full record against Villa:
| | | | | | | |
| --- | --- | --- | --- | --- | --- | --- |
| | P | W | D | L | F | A |
| SJP | 73 | 46 | 13 | 14 | 158 | 88 |
| VP | 73 | 18 | 18 | 37 | 76 | 134 |
| League | 146 | 64 | 31 | 51 | 234 | 222 |
| SJP(FA) | 2 | 1 | 1 | 0 | 5 | 3 |
| VP/W/CP | 5 | 1 | 0 | 4 | 3 | 15 |
| SJP(LC) | 0 | 0 | 0 | 0 | 0 | 0 |
| VP | 0 | 0 | 0 | 0 | 0 | 0 |
| Cup | 7 | 2 | 1 | 4 | 8 | 18 |
| Tot | 153 | 66 | 32 | 55 | 242 | 240 |
Various media outlets grasped on to the fact that Robbie Keane scored on his third successive visit to St. James' Park, but failed to add that he finished on the losing side not only in that trio of visits, but also the other five times he's taken to the field at Gallowgate:

Apr 2000 lost 0-2 with Coventry
Dec 2000 lost 1-2 with Leeds
Dec 2002 lost 1-2 with Spurs
Dec 2003 lost 0-4 with Spurs
Mar 2005 lost 0-1 with Spurs (FAC)
Apr 2006 lost 1-2 with Spurs (scored 1)
Oct 2007 lost 1-3 with Spurs (scored 1)
Feb 2012 lost 1-2 with Villa (scored 1)

(The nearest Keane has come to winning at SJP was when named as a non-appearing substitute for Liverpool in December 2008, when the Reds won 5-1).

2008/09: NUFC after 24 games: 24 points, 15th position (scored 30, conceded 40)
2010/11: NUFC after 24 games: 30 points, 10th position (scored 36, conceded 34)
2011/12: NUFC after 24 games: 42 points, 5th position (scored 36, conceded 31)



Waffle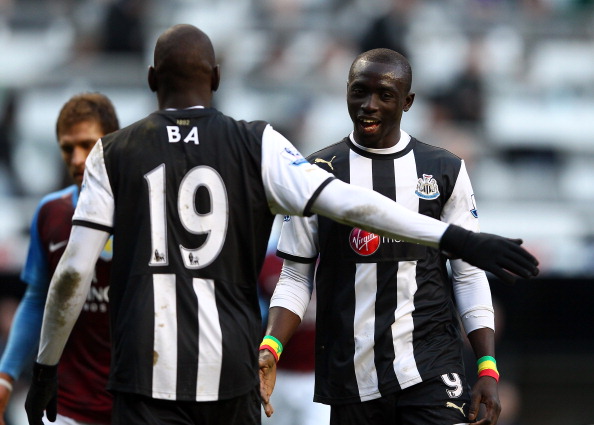 Having failed to make an impact at the African Cup of Nations, Senegal strike pair Demba Ba and Papiss Demba Cisse capitalised on an early return by rediscovering their goal touch and delighting the Geordie Nation.

And while Ba was swiftly back in the old routine to plunder his 16th club goal of the season, our new number nine appeared to mark his Magpies debut with a spectacular winner - seven weeks after his last club outing for Freiburg, for whom he'd plundered nine Bundesliga goals this season.

James Perch replaced Hatem Ben Arfa in midfield in the absence of Yohan Cabaye and Cheick Tiote, Alan Pardew had looked for something capable of slowing Villa's fleet-footed attack and encouraged by his composed 45 minute stint at Blackburn, Perch got the nod.

Jonas Gutierrez meanwhile had made a welcome return to the outside left position where he's the biggest threat and looks most at home. Ba returned in place of Shola Ameobi while Cisse began his Premier League career on the bench. However he was soon handed his debut when Leon Best fell awkwardly under challenge from Stephen Warnock after his shot had been charged down.

Cisse replaced him amid loud cheers and a standing ovation, but it was Parisian, Ba, who pounced on the half hour to give United the lead. The goal came at some cost though, with Taylor felled by an awful two-footed lunge from Warnock - who was lucky to remain on the field.

Ryan departed on a stretcher with his leg in a splint, en route to an X-ray that thankfully proved to be a badly swollen ankle rather than the feared broken bone. despite looking reckless, the challenge went unremarked by both match officials and the TV - especially galling, given the goggle box jury conviction of Yohan Cabaye for a questionable incident in the Brighton cup tie.

Warnock's transgression gave home fans yet another Villan to abuse, with Charles N'Zogbia and former Toon loan flop Stephen Ireland taking stick from the crowd. Both subsequently failed to complete 90 minutes, with McLeish getting stick from his own fans when replacing Zog, who huffily then took to twitter communicate his unhappiness. Boo hoo - who says that grief from the crowd doesn't have an effect?

Mackem-deserter Darren Bent inevitably received most abuse, while Shay Given took his place between the posts before both halves amid warm applause - his long service as a Magpie rightly overshadowing bad feeling in some quarters at the manner and timing of his departure in 2009.

Taylor's departure allowed Gabriel Obertan to try and build on his midweek debut strike in a like for like replacement down the right for Taylor, our two most recent signings giving us the look of a more balanced and conventional 4-4-2 formation.

With much attention paid to the striking talent old and new on show (later substitute arrival Emile Heskey having scored here for Leicester almost exactly 15 years earlier), the home keeper proved to be the busier of the two custodians, another top show from Krul giving his side the platform to go on and win the game.

Deservedly pegged back to go in level at half time, United returned with a renewed purpose and Ba and Cisse almost combined only for the ball to be scrambled away. The new man then had a glorious chance to open his account when Guthrie clipped a cross to him, only for the striker to head over when unmarked just six yards out.

But nine minutes later he found the target with a fabulous strike and although Villa pressed and had most of the possession through until full time, United held out until referee Mark Halsey blew the final whistle, amid great relief.
Climbing back above Arsenal into fifth spot, the Magpies briefly joined Chelsea on 42 points until the Londoners went one ahead after sharing six goals with Manchester United later on Sunday.
Post-match injury reports meanwhile confirmed that Taylor hadn't sustained a broken leg and reported a badly swollen ankle, while Best had medial ligament damage on his left knee and is expected to be out for at least a month.

While Leon's absence is now manageable, the news about utility man Taylor is a relief given our lack of cover: winger-cum-left back Shane Ferguson the nearest thing we had to defensive cover on the bench at kickoff time today.

The circus now moves on to White Hart Lane, where quite honestly anything could happen but we at least travel with the confidence of fielding a pair of strikers who look set to give defenders of any pedigree sleepless nights. It's been a long time since we were able to say that.
Biffa