Date: Wednesday 1st February 2012, 8pm

Venue: Ewood Park

Conditions: bitterly cold

Admission: £29

Programme: £3




Blackburn Rovers

Newcastle United

0 - 2

Teams
12 mins Radoslav Petrovic lost the ball in his own half and Leon Best moved it infield from the left to Jonas Gutierrez, who in turn fed Ryan Taylor. Urged by Alan Pardew before the game to try his luck whenever possible in front of goal, Taylor did just that from outside the box at the Ronnie Clayton Blackburn End. And although his right foot shot was on target, it looked set to cause Robinson's no issue as he moved towards his right hand post to post.

However, an untimely deflection from the boot of Scott Dann on the edge of the box as he turned to face his own goal sent the ball nicely inside the left hand post and put us one up 1-0

Half time: Rovers 0 Newcastle 1

90+3 mins A classic counter-attack saw Gabriel Obertan pick up possession almost in the right back position and ping the ball infield to fellow substitute Peter Lovenkrands. The Dane played an elongated one/two with the Frenchman, who hared forward towards goal and then dispatched a low right-footed effort beyond the advancing Robinson's right glove. 2-0

Full time: Rovers 0 Newcastle 2

Alan Pardew said:

"To get a clean sheet is a fantastic achievement, To get two goals on top of that has put us fifth in the division and above teams like Arsenal and Liverpool

"You need the breaks – a deflected goal and a little bit of luck with the chances that Blackburn had. You need that at times. We got it tonight and perhaps we deserved it. We put our bodies on the line.

"With the loss of (Yohan) Cabaye this morning and so many key players out, I think we knew coming here it was going to be very difficult.

"We talked about it before the start of the game, to be resilient and strong. Blackburn put everything in your box. We had to be strong and we were, but we had some fortune in the game, something I didn't think we got at Brighton, and sometimes that can make a difference.

"I am disappointed, especially with everybody saying they don't think there's any intent in there and the FA still decide to (ban him).

"Papiss and Demba come back tomorrow and we have done brilliant while they have been away. When the guys went everyone thought it would be difficult for us. We have had two big, big victories without them against QPR and this one tonight. Those results have been about resolve, resilience and grit.
"We can now attack the second half of the season, we find ourselves fifth. It is incredible really. We are safe as well. That's a big barrier that we have overcome. We shouldn't get away from that, to get that under our belt first is great, now with the games we have left we have to see what we can do.
"We had 80 balls into the box and we knew Tim, and all of the players, would have to be strong. I felt we were fortunate, which we weren't at Brighton last Saturday.
"I am really pleased for Gabriel too. He was a massive part of that 13 game unbeaten run we had at the start of the season and he has had to wait for his chance again. He took his goal well.
On Krul:

"His body language and his whole demeanour on the pitch suggested confidence. It was no surprise to me when he saved the penalty."


Steve Kean:

"I felt we didn't really start the game well, but after the deflected goal we controlled the last 30 minutes of first half. So in that respect we were happy, but we just felt we snatched at chances and didn't show enough composure in front of goal.
"It's a shot that may be on target and Scott's thrown his leg at it. The penalty is tough, David's disappointed but he showed enough character to take it. The keeper had a lot of good saves, so I wouldn't blame my players at all.
"We've controlled the game - the boys are gutted, they are thinking 'how did we not get a point', but we didn't and we've got to pick the bones out of it and go and get something out of the Arsenal game.
"We had enough chances and clear cut chances to win three games never mind one. I felt we did not start the game well but after the deflected goal we controlled the first half. I would not be surprised if we had more than double the amount of shots than Newcastle had.
"The performance level we were happy but I felt we snatched at a few chances and did not show enough composure in front of goal.
"I would not blame my players at all. I thought we had a real good go at it and if we can get that type of performance against a team like Newcastle then we will win enough games in the rest of the season.
"We are normally composed and we normally score. We usually have the Yak up front and he does not get over excited easily. He is normally calm and clinical."
"I think Anthony (Modeste) did really well on his debut and was probably unlucky not to get a goal on his debut. He had enough chances maybe to get a hat trick. Each time the ball fell to him and it never happened, he was trying a bit too hard but I think he showed enough to suggest he is going to add something to our squad.
"Anthony never knew until the last minute he was playing, with Goodwillie having flu, so maybe he got a bit excited but it wasn't only him. We missed other chances as well."




Newcastle completed their first double of the season and also beat Rovers at SJP in an FA Cup tie, failing to complete a 100% sweep by losing a League Cup tie at Ewood.

Gabriel Obertan scored his first goal for Newcastle during what was his 22nd appearance. That effort was first ever strike in the Premier League, with the Frenchman's only goal during his 28 outings for Manchester United - during a Champions League victory in Turkey.

Obertan became the 101st Newcastle player to score for us in the Premier League.

Danny Simpson made the 100th senior start of his Newcastle career and also reached his century of appearances in all competitions (in other words, he's never come on as a substitute).

United recorded a fifth Premier League away win of the season (mackems, Wolves, Stoke, Bolton & Blackburn). That matches the total of the whole of the 2010/11 season (Everton, West Ham, Arsenal, Wigan, Birmingham City)

The fourth Premier League goal this season scored by an opposition player means that own goals now join Leon Best as joint second top scorer behind Demba Ba's 15.

Tim Krul faced his eighth spot kick of the season in the Premier League and saved his second one (having previously defied Chelsea's Frank Lampard at SJP).

Rovers v United - Premier League era:

2011/12: Won 2-0 og(Dann), Obertan
2011/12: Lost 3-4 Guthrie, Cabaye, Lovenkrands (LC)
2010/11: Drew 0-0
2008/09: Lost 0-3
2007/08: Lost 1-3 Martins
2006/07: Won 3-1 Martins 2, S.Taylor
2005/06: Won 3-0 Shearer, Owen, N'Zogbia
2004/05: Drew 2-2 Dyer, Robert
2003/04: Drew 1-1 Bellamy
2002/03: Lost 2-5 Shearer 2
2001/02: Drew 2-2 Shearer 2
1999/00: Won 2-1 Shearer 2 (FAC)
1998/99: Won 1-0 Saha (FAC)
1998/99: Drew 0-0
1997/98: Lost 0-1
1996/97: Lost 0-1
1995/96: Lost 1-2 Batty
1994/95: Lost 0-1
1994/95: Won 2-1 Hottiger, Clark (FAC)
1993/94: Lost 0-1

United were forced to do without Yohan Cabaye after the United midfielder failed in his appeal against an FA charge of violent conduct earlier in the day. That landed him with a three match ban, following an incident in Saturday's cup tie at Brighton.



Full record against Rovers:



| | | | | | | |
| --- | --- | --- | --- | --- | --- | --- |
| | P | W | D | L | F | A |
| SJP | 63 | 37 | 12 | 14 | 118 | 69 |
| EP | 63 | 14 | 14 | 35 | 71 | 119 |
| League | 126 | 51 | 26 | 49 | 189 | 188 |
| SJP(TM) | 1 | 1 | 0 | 0 | 4 | 0 |
| EP | 1 | 0 | 0 | 1 | 3 | 4 |
| SJP(FA) | 4 | 2 | 2 | 0 | 6 | 3 |
| EP/ER/Hills | 7 | 4 | 1 | 2 | 8 | 8 |
| SJP(LC) | 1 | 0 | 1 | 0 | 1 | 1 |
| EP | 1 | 0 | 0 | 1 | 3 | 4 |
| Cup/TM | 15 | 7 | 4 | 4 | 25 | 20 |
| Tot | 141 | 58 | 30 | 53 | 214 | 208 |
Waffle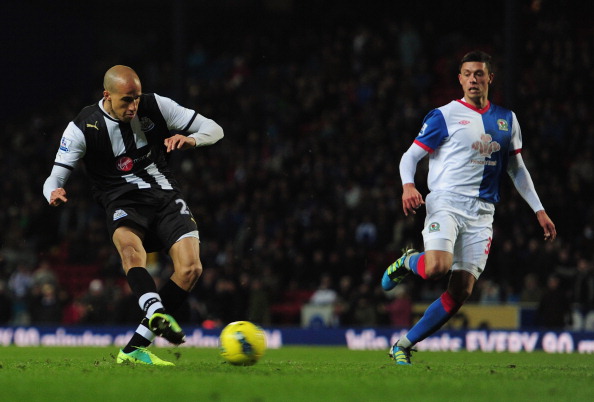 Wherever Lady Luck had disappeared to during Saturday's defeat at Brighton, she returned to guide us to victory at a chilly Ewood Park as Newcastle moved up to fifth in the Premier League, despite one of their less illustrious performances of the season.
This time it was United who enjoyed the benefit of a deflected goal to give them an early lead that they would somehow protect until the end of normal time, compounding the home side's misery by grabbing a breakaway second in time added on.

Rovers had netted six times in our previous three league and cup meetings this season and looked set to continue in that vein despite the absence of Yakubu in their forward line. However Steve Kean's side were hindered by a combination of their own inaccuracy and United's defensive prowess.
Principal in that was the returning Fabricio Coloccini, who posted the sort of confident and sure-footed display that has become his hallmark - and by appearing on the field immediately boosted the confidence and performance levels of Mike Williamson (trying to make sense of the Fulham debacle, perhaps Coloccini was carrying an injury and unsuccessfully tried to play through?)

Tim Krul meanwhile earned his pay several times over, saving a David Dunn penalty just before half-time after Danny Simpson was penalised for a clumsy challenge on Anthony Modeste. Simpson had earlier cleared off the line when Gael Givet volleyed Morten Gamst Pedersen's corner goalwards and then poked the rebound wide. Givet also crucially got in the way of Pedersen when Krul's penalty save looked likely to be turned in - at that point it was starting to look like our night.

James Perch replaced the out-of-touch Hatem Ben Arfa at half time to make our overrun midfield a bit more solid and it worked to a point but it was still Rovers who looked most likely to score, as Newcastle barely got within shouting distance of the away fans behind Robinson's goal.

Modeste was presented with his second open goal of the evening when Krul made a rash charge off his line but this time his attempted lob was weak, as opposed to the first half chance that he fired over. Substitute Mauro Formica then should have equalised but put his effort into the side-netting when a deflected shot fell to his feet ten yards out.

Dann headed weakly from close range and Perch blocked a Givet shot after Krul hadn't cleared a corner as United hung onto the lead and then Modeste struck a firm volley straight at Krul.

Into the closing stages and the militant set of home fans in the Darwen End lower began to increase the volume of their "get out of our club" type chants and a couple of banners then appeared (Toon followers had been warned before the game that attempts by Rovers malcontents to get anti Venkys/Kean banners displayed in the away end would see them refused entry).

At that point Gabriel Obertan then entered the fray to kick-start his Newcastle career with a maiden strike and seal the victory that partly avenged successive failures at Fulham and Brighton to send us back to Tyneside with more than the optimism that a returning Demba Ba and his new pal Papiss could solely provide.

In a season where we're learning to expect the unexpected, United's forward momentum resumed here despite the continuing absence of Cheick Tiote and perhaps even partly because of the enforced absence of Yohan Cabaye. The latter has shown signs of becoming a little frayed at the edges in recent weeks and while not ideal, the enforced absence due to suspension may provide an opportunity to absorb and reflect on his time in toon so far - and come back suitably refocused.

To receive our top scorer back into the side having taken six points out of nine and improved on our league position by two places is genuinely eyebrow-raising. And in terms of the mood compared to a year and a day previously when the post-Carroll era began with the meekest of defeats at Fulham, it's almost diametrically opposed - with little boosts coming from unexpected quarters when we're in need, such as Best's nimble footwork against QPR, Obertan's goal here and back to back displays that rank along James Perch's best in a black and white shirt.

Having spent countless afternoons and evenings in places like this flattering to deceive and snatching defeats from the jaws of victory with progressive but flawed performances, we're more than happy to take any "winning ugly" jibes - and the three points.

While the rest of the country remains obsessed with the tribulations of clubs in Manchester and London, the story on Tyneside continues to unfold in engrossing fashion. Quite where this season will end remains to be seen, but holding on to our prize assets and adding to them in the form of Cisse is a damn sight better than plucking Shefki Kuqi from the scrap heap - even if our failure to acquire defensive cover could yet be a costly miscalculation. Watch this space.

Biffa