Date: Saturday 28th January 2012, 5.15pm
Live on ESPN

Venue: American Express Community Stadium

Conditions: demoralising

Admission: £24

Programme: £3




Brighton

Newcastle United

1 - 0

Teams
Half time: Seagulls 0 Magpies 0

76 mins Will Buckley had picked up possession in his own half and tore down the Albion left, Danny Simpson pulling out of what could have been a second booking of the game, had it been mistimed. However, the ball went through our man's legs so his disinclination to challenge smacks of incompetence rather than discernment....
The Albion winger then made his way into the box - abetted by the covering Cabaye failing to get goal side and saw his goalward shot/cross diverted in by Williamson - the Magpies centre half repeating his own goal nightmare at Stevenage in our last FA Cup defeat just over a year ago. 0-1

Full time: Seagulls 1 Magpies 0

Alan Pardew said:

"We were searching for a little bit of quality to win the game. They defended well to be fair and we were always liable to a breakaway. They got some massive fortune for the goal and it was their day.

"We had a good grip on the game and felt comfortable. But we weren't threatening the goal enough to find a way through.
"I cannot really fault my players too much in terms of the commitment they've shown, but our overriding emotion is one of disappointment. On another day we could have got the draw or nicked a win.
"It's just a bit galling really. Brighton are very good at pulling teams around and manoeuvring the ball around but they didn't really do that. They had to dig in and be gritty and they've nicked a goal on the break. You have to applaud them for that because they've had to defend very, very well.
"But from our side we're scratching our heads as to how we've not come away with at least a draw. The attitude of the players and commitment was good. The balance was good. You just wanted that moment and sometimes it's difficult to criticise players for not producing a moment, but that's what was missing.
"It was tough on us. We had good control of the game, although we were hoping to threaten the goal a little bit more than we did. You're always liable to get caught on the break. We were unfortunate on the goal, I thought.

"Danny had just been booked and he couldn't really make the challenge. He skipped past Danny and then there was a deflection, which I think was the only real shot they've had of any threat. So it is disappointing.
"It was a big shout from our fans, I guessed it had hit a hand. But we haven't had one of them all year. We must have had 11 penalties against us all year, we've hardly had a shout for a penalty from a referee. I didn't expect to get a break if I'm honest.
"We knew the game was important, because we have the core of our team still to come back. We had no Coloccini, no Cheick, Papiss or Demba. We knew if we could get through it with all that coming back, it would arm us. But unfortunately it got away from us.
"We're in a good position in the league and we need to strengthen that by getting a result at Blackburn and hopefully against Villa too."

From the FA, Monday:
Newcastle United midfielder Yohan Cabaye has been charged with violent conduct following an incident in The FA Cup Fourth Round tie against Brighton Hove Albion.

Cabaye was involved in an incident involving Brighton's Adam El-Abd during The FA Cup tie at the Amex Stadium on Saturday 28 January.
Cabaye has until 6pm on Tuesday 31 January 2012 to respond to the charge.
The charge follows the publication of comments from Albion's Adam El-Abd in various newspapers in which he claimed to have been told by referee Lee Probert that he intended to review video footage of a clash with Cabaye.
United's French international midfielder appeared to have caught the home defender in the face with his boot when the pair fell to the ground during the second half, although Probert played on.
Ahead of the charge, Alan Pardew had sought to defend Cabaye, saying that:
"I thought it was unfair – the guy was coming towards him, and he was trying to keep him away. There's no malice in that.
"I'm disappointed the TV highlighted that, I really am. Yohan's not that type of person. Perhaps there weren't enough incidents in the game and they wanted to try to find something.
"As far as I'm concerned, he's done nothing wrong."

Gus Poyet:

"It's special, this cup; it's beautiful - I've said before I play, after I've played, it's the best cup in the world.
"It was a great night. We have so many great games so far at the AmEx, it's incredible. It's unbelievable we've only been here for six or seven months. It's massive. It's true that we beat Sunderland this year, but I think it was a different time in the season, and Newcastle have been better this year than Sunderland which just shows that it's been a very difficult game.
"There were no silly mistakes, no silly risks. They're quicker than you, stronger than you, read the game better, so it was a game that we needed to be spot on, especially in our half and we did that. That gave us the chance to go on and win the game.
"I saw players today from Newcastle, the ball was coming from another planet and they were bringing it down easily. The quality was there, the strength was there; they were unbelievable in the air and it was very difficult, so credit to the players.
"We got lucky. It was the best time to play Newcastle. Everybody knows that Mr. Ba is on fire this season, and he was not here. I like to see every good player on the pitch. When I watch games on Sunday, I like to see the top players on the pitch. When they're against me, I would like them to stay at home, so we were lucky in that too because of the timing of the game.
"Result-wise, that was the best. Performance, no. We've played better than today. Putting everything into consideration, especially the opposition and the strength, the way that we work - we really believe in the system and the way we play - it's probably up there and one of the best days at the AmEx.
"I'm always honest. I'm not going to say we were the better team. We started well, we were very brave on the ball. Then we lost it too easily, or maybe we couldn't cope with the strength of Newcastle. They put us under pressure, they had the ball, they moved it well, people changed positions, they were coming from everywhere.
"We coped quite well in the first half, not so good in the beginning of the second half. Then Peter Brezovan was there to make a couple of saves and then, of course, the game became very open. When we are the better team I don't like that. When we are not, we take advantage of the open game because we have got nothing to lose.
"(Will Buckley) was doing a few things every now and then. A few times he went past the left-back, then he switched positions. But right now he's incredible. He tries and somehow it goes in. We need to use him, and that's why he plays 90 minutes every game and why he's so important for us now.
"It was a big decision (to sign him) in the summer, a lot of money. But last week I said he's already paid the money back. He's going plus now! I didn't (know he was a Newcastle fan), I'm gonna have a word with him tomorrow. It happens sometimes when you play against your team. For some reason you get that luck. Did he celebrate? Just checking!"




Alan Pardew's 50th game in charge of Newcastle saw his side beaten for the 16th time. During that period they've won 19 games and drawn 15 in all competitions.

United made their debut at the Amex Stadium, meaning that they have now played a game at some level in 77 of the stadia currently occupied by the 92 Premier and Football League clubs.

The "missing" ones: Millwall, MK Dons, Colchester United, Wycombe Wanderers, Crawley Town, Shrewsbury Town, Oxford United, Burton Albion, Morecambe, AFC Wimbledon, Bristol Rovers, Barnet, Macclesfield Town, Dagenham & Redbridge and Northampton Town.

Magpies in Sussex:

1961/62 won 4-0 Allchurch, Thomas, Kerray, Suddick
1978/79 lost 0-2
1982/83 drew 1-1 McDermott (FAC)
1983/84 won 1-0 Waddle
1989/90 won 3-0 Quinn 3
1990/91 lost 2-4 Quinn, Brock
1991/92 drew 2-2 G.Peacock, Kelly
2011/12 lost 0-1 (FAC)

Total record against Brighton:
P

W

D

L

F

A

SJP

6

3

1

2

11

5

GG

6

3

1

2

12

8

League

12

6

2

4

23

13

SJP

(FA)

3

1

0

2

3

3

GG/AS

2

0

1

1

1

2

SJP(LC)
0
0
0
0
0
0

GG
0
0
0
0
0
0

Cup

5

1

1

3

4

5

Tot

17

7

3

7

27

18
This was the 21st time that we've been the subject of a post-WW2 giant-killing:

1948/49 Bradford Park Avenue (h) 0-2 (D2 beat D1)
1956/57 Millwall (a) 1-2 (D3S beat D1)
1957/58 Scunthorpe United (h) 1-3 (D3N beat D1)
1960/61 Sheffield United (h) 1-3 (D2 beat D1)
1961/62 Peterborough United (h) 0-1 (D3 beat D2)
1963/64 Bedford Town (h) 1-2 (NL beat D2)
1967/68 Carlisle United (h) 0-1 (D2 beat D1)
1971/72 Hereford United (a) 1-2 (NL beat D1)
1972/73 Luton Town (h) 0-2 (D2 beat D1)
1974/75 Walsall 0-1 (a) (D3 beat D1)
1977/78 Wrexham 1-4 (a) (D3 beat D1)
1979/80 Chester City (h) 0-2 (D3 beat D2)
1980/81 Exeter City (a) 0-4 (D3 beat D2)
1985/86 Brighton & Hove Albion (h) 0-2 (D2 beat D1)
1988/89 Watford (a) 0-1 (D2 beat D1)
1991/92 Bournemouth (h) 2-2, 3-4pens (D3 beat D2)
1993/94 Luton Town 0-2 (a) (D1 beat PL)
2002/03 Wolves 2-3 (a) (D1 beat PL)
2006/07 Birmingham City (h) 1-5 (CH beat PL)
2010/11 Stevenage (a) 1-3 (L2 beat PL)
2011/12 Brighton (a) 0-1 (CH beat PL)

Waffle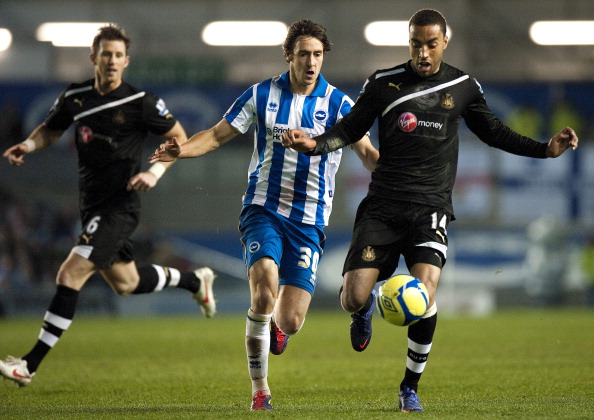 Alan Pardew completed a half century of games as Newcastle boss on Saturday, but watched helplessly as his side exited the FA Cup to a lower league side for the second successive season.
Seeking a first FA Cup away win in eight attempts, United had lined up with the same XI that began last week's loss at Fulham - save for Fabricio Coloccini (whose absence led to some half-baked conspiracy theories about him not getting cup tied - forgetting that he'd played in Round Three).
And as had been the case at Craven Cottage, there looked to be uncertainty about our formation, with captain-for-the-night Shola Ameobi in a lone striker role, Hatem Ben Arfa nominally on the right and Leon Best on the other flank. Where Jonas Gutierrez played is open to interpretation, but his central midfield positioning singularly failed to bring any dividend here.
What proved to be a half of few decent efforts saw Best flash one effort across goal before clunking a header over the bar when well-placed. Danny Simpson then saw his shot blocked by Lewis Dunk after a rare moment of inspiration from Ben Arfa in a half when we seemed intent on complying with the downbeat pre-game comment of the manager by leaving Sussex still in the competition.
An early challenge on Yohan Cabaye looked to offend his sensibilities in the same way as was the case against QPR but he at least played on today, albeit contributing little to our attacking efforts. That uninspiring display was matched by fellow midfielder Danny Guthrie, who seems to have swiftly reverted to type after getting back in the side and obviously doesn't feel threatened by Dan Gosling.

What nobody successfully managed to do was provide anything tangible to in the way of support for the efforts of Shola, who had our best shot of the second period but continually lacked outlets when he managed to win possession. That's especially galling as both Albion full backs looked ill at ease and seemingly there for the taking, something that we proved unwilling or unable to exploit.
Kicking towards the away end after the break, a brief United improvement culminated in a series of corners and a Best shot that bounced off Brezovan. From that point though it was mostly downhill, with only a pair of semi-hopeful spot kick appeals waved away by referee Lee Probert, who by then looked to have tired of Newcastle's moaning and was in no mood for charity.
An uninspiring tie that was apparently drifting towards a scoreless conclusion and replay on home turf was ultimately settled when Mike Williamson deflected Will Buckley's shot past Tim Krul.
Closer inspection of an interview in the match programme revealed Oldham-born Buckley to be an alleged Toon fan in his younger days. However, his black and white leanings never extended to visiting St.James' Park - had he put his shot in the stand, he may well have got his wish...
Lacking striking options with our Senegalese pair still on international duty, a late triple switch saw both Gabriel Obertan and Peter Lovenkrands remain benched - leading to further thoughts of lip service from the manager when waffling on about hoped-for cup success.

Stopping short of starting with a weakened XI that would have left him open to criticism had they lost, one can't help but consider that caution was never truly thrown to the winds and there was little regret in failing to make it into the next round.

Unlike last season though when the lunacy of Tiote's appearance and subsequent dismissal at Stevenage impacted on our league season, we at least avoided any knock-on effect (that sentence looked more than a tad inaccurate when Cabaye was charged with violent conduct on Monday...)

Five minutes of added time brought no joy and we exited amid great scenes of home celebration, who earlier this season were acclaiming a single goal victory here over the mackems in the League Cup. And at the centre of it all was Brighton boss Gus Poyet - a man with a considerable track record in ending Geordie dreams of progress in this competition as a player. And no doubt his old chum Dennis Wise suppressed a smirk somewhere.

In giant-killing terms this loss hardly compares to the 2011 Stevenage reverse, given that our conquerors here retain hopes of becoming a top-flight side at the end of this season. All that grand talk from Pardew about progress in this competition now looks hollow however, along with the suspicion that those players available to him today didn't share his view.

Quite what our mid-season break to Tenerife achieved is unclear at this point though; judging by photos in the gutter press, the only tactics that were discussed looked to concern how best to score in a slightly different context....

Biffa