Date: Sunday 15th January 2012 1.30pm
Live on Sky Sports

Venue: St. James' Park

Conditions: chilly






Newcastle United

Queens Park Rangers

1 - 0




Teams
37 mins Ryan Taylor was in the right place to head a weak clearance from Shaun Derry goalwards and into the path of Jonas Gutierrez. He accelerated into a yard of space down the right hand channel and dinked the ball forward to Shola Ameobi on the edge of the Rangers box.

With his back to goal, the Magpies striker controlled the ball on his chest and laid it into the path of the advancing Taylor, whose determination to reach the ball took him past a perfunctory challenged from Derry. The ball ran for Leon Best on the left side of the box and he skipped inside a tackle before taking a touch and stylishly sweeping the ball into the far corner of the Leazes goal 1-0


Half time: United 1 Rangers 0

Full time: United 1 Rangers 0
Alan Pardew commented:

"Weíre never going to have a champagne performance week-in, week-out. We had the champagne against Man United - it was more like a flat beer, but we won, which was the important thing. As a spectacle, it was hard to watch.
"But if we can manage to get a couple more wins when the boys are away and they can come back and give us a boost, who knows what we can achieve, but we will never take our eye off things. We are not that naive.
"We are sixth and that's not just the result today but through 21 games. We are above Liverpool who have fantastic players. It's amazing we have got where we are.
"There was a lot of pressure on us today. We were so disciplined and professional and we got our reward. It was a game where you could almost feel it was a bit slippery but we came through.

"There is always controversy about tackling but it is very difficult for referees so I am not going to sit here and criticise that decision but Yohan was upset.
"He felt the tackle was a little bit over-exuberant but the doctor seems to think he is going to be okay. He looks okay to me. The doctor seems to think we might scan him or we might not so it isnít an injury that is going to give us an injury going forward - we are hoping he will be running around for us next week. He is a massive, massive player for us.
"It was a strong challenge - it was Shaun Derry, wasnít it? Shaun Derry is a player who makes strong challenges and I thought the referee was right on top of it. I thought it was kind of borderline yellow-red. But I think probably it was yellow. He seemed to get the ball.
"The referee did a good job today. Mark Hughes' teams have a bit of steam about them and you expect that and they wanted to impress him so a few heavy tackles went in but the referee conducted himself well and he got those calls right.
"The challenge mustnít overshadow the fact that after Yohan went off the guys in there did a terrific job. It wasnít hugely entertaining or enthralling but on a professional front it was a very competent showing by us.
"We didnít start well but we changed our system and the two boys on the flanks Ė Best got the goal and Ben Arfa who was absolutely terrific - just did enough to get us the win.
"It would be better if I was asked the question about whether we can stay in the top six when we get through this period without two great players because Cheik Tiote and Demba Ba are two great players.
"We have had two hurdles to negotiate since they went Ė Blackburn in the FA Cup which we won and again today Ė and so so far it has been a case of flying colours.You have to remember that a lot of the players did a good job, that will only give them confidence to go forward.
"There is money available to me and we will take a player if we think one works for us financially and for the team. We have a really tight bunch here and I donít want to upset it. I am going to be careful.
"I thought the first 20 minutes QPR did what you would expect them to do and our players didn't quite get the message. We got caught on our heels a little bit, we got an injury to one of our best players, and we still managed to win.
"When we got the goal I was really pleased with the second half. We were controlled and disciplined and never really had any scares apart from one I can think of. It was good performance.
"As a manager we love 1-0s. Get a clean sheet, stay disciplined and see the game out. It was a good game.
"Hatem made a difference when he came on - he gave us a bit of flair and exuberance. Hatem is becoming a force here. You can see him growing as we are growing. He's starting to manoeuvre his way into the first team.
"I thought he was very, very good. He has taken on board the team ethos we have here. In terms of tracking back and doing everything else you need to do to play in our team, he did all of that and added that bit of quality that all teams need."

Mark Hughes said:

"I was pleased with their application, they gave me everything they had. Obviously we've been done with a little bit of individual skill in our own box.
"In terms of our play I think we created a number of reasonable chances and on another day those will go in for us. It would have been ideal obviously if we could have got something out of the game because overall I felt we deserved something.
"It's a hard place to come, we understand that. It was never going to be easy so that's why I'm encouraged by what I saw today.
"We haven't had that much opportunity to work on our attacking play, it was more this week about making sure our shape was good and everybody knew what was expected of them and I think you could see that in our play.
"We were nice and solid, and everyone was working in relation to one another and that augurs well for the future and I think the longer we have the opportunity to work with the guys and given their application today, they'll only improve.

"It's important to improve our goals for column and we missed some good chances but you saw a committed team, it was pleasing the way players helped each other out. They had good understanding and communication. I think we can improve in the future, though and if we can bring players into the club this month it will help us, But it's difficult in January.
"Hatem Ben Arfa looks a very skilful player - very accomplished.

"Certainly from my viewpoint there's no suggestion of Joey (Barton) leaving, he's captain and a quality player."
Alan Pardew presided over three successive home victories for the first time as Newcastle manager, as his side made it a trio of wins since donning shirts with Virgin Money sponsorship.

Leon Best scored his fourth goal of the season - 803 minutes after his third, against Fulham last September.

It's 17 years to the day since Newcastle drew 1-1 at SJP with a Manchester United side that included R's boss Mark Hughes. He marked that occasion by scoring before departing on a stretcher with a leg injury.

R's in Toon - all time:
2011/12 won 1-0 Best
2009/10 drew 1-1 Harewood
1995/96 won 2-1 Beardsley 2
1994/95 won 2-1 Kitson, Beardsley
1993/94 lost 1-2 Allen
1988/89 lost 1-2 Ranson
1987/88 drew 1-1 O'Neill
1986/87 lost 0-2
1985/86 won 3-1 Beardsley, Reilly, McDonald
1984/85 won 1-0 Reilly
1982/83 won 1-0 Keegan
1981/82 lost 0-4
1980/81 won 1-0 Waddle
1979/80 won 4-2 Shoulder, Withe 2, Cassidy
1977/78 lost 0-3
1976/77 won 2-0 Burns, Cannell
1975/76 lost 1-2 Gowling
1975/76 won 2-1 T.Craig, Gowling (FAC)
1974/75 drew 2-2 Tudor, Macdonald
1973/74 lost 2-3 Tudor 2
1968/69 won 3-2 Burton, Dyson, Gibb


Full record v QPR:
| | | | | | | |
| --- | --- | --- | --- | --- | --- | --- |
| | P | W | D | L | F | A |
| SJP | 20 | 10 | 3 | 7 | 29 | 29 |
| LR | 20 | 7 | 4 | 9 | 25 | 35 |
| League | 40 | 17 | 7 | 16 | 54 | 64 |
| SJP(FA) | 1 | 1 | 0 | 0 | 2 | 1 |
| LR | 1 | 0 | 1 | 0 | 0 | 0 |
| SJP(LC) | 0 | 0 | 0 | 0 | 0 | 0 |
| LR | 2 | 2 | 0 | 0 | 7 | 1 |
| Cup | 4 | 3 | 1 | 0 | 9 | 2 |
| Tot | 44 | 20 | 8 | 16 | 63 | 66 |
Waffle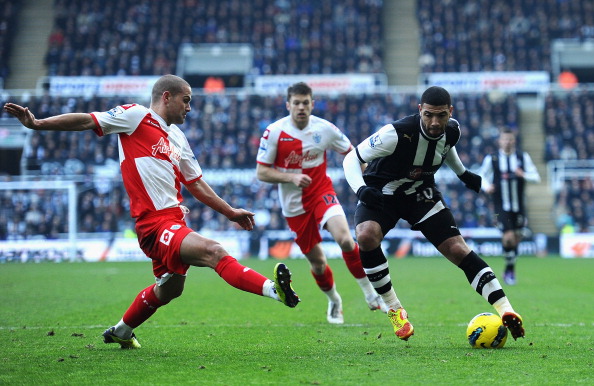 To anyone doubting the worth of a mid-season managerial change, this game provided evidence to support that strategy - even if the new boy in the away dugout ultimately left empty-handed.

In just a handful of training sessions and team talks, Mark Hughes has successfully projected his own particular brand of snarling nastiness, doubtless deriving pleasure from the full-blooded challenges that brought a scattering of yellow cards and the departure of a United player on a stretcher.

And this was achieved without well-known philosopher Joey Barton, suspended after a pantomime dismissal in what proved to be the last league game of Neil Warnock's time as R's boss (the second time he's managed that, after his dismissal at Anfield in our colours to hasten Alan Shearer's demise).

In fairness, later reviews of the Cabaye incident seemed to confirm that greater damage had been inflicted on the French midfielder's ego than his ankle. If Sparky was left to cry into his ale though after a first managerial loss on Tyneside in six visits, his opposite number Alan Pardew was toasting another victory - and may have raised a glass in the direction of his opposite number.

Having elected to leave last week's hero Hatem Ben Arfa on the bench in favour of a more solid approach to soak up a revitalised Rangers side, his enforced appearance midway through the first half saw us go on to the front foot and begin to test the visitors, who had begun with a spring in their step and started to test Tim Krul within the opening sixty seconds of the game.

And looking slightly beyond the scoreline to the performance, there may also have been some comfort for the Newcastle boss in seeing the inadequacies of his squad highlighted but collecting three points and a clean sheet without African Nations Cup absentees Demba Ba and Cheick Tiote.

Twelve months ago Leon Best belatedly announced his arrival as a top-flight player with a hat trick against West Ham which while boosting Pardew's points tally, may have undermined his claims that striking reinforcements were required - even before the departure of the pony-tailed prodigal son.

Fast forward to 2012 and while Best has improved his work rate and effectiveness, the stats show that he's still not a regular scorer or a ninety minute man. And as for his strike partner, with Ba away and both Nile Ranger and Peter Lovenkrands out of the picture the burden has fallen on Shola - and today it was beginning to show.

After 75 minutes of toil against Manchester United and a 35 minute substitute appearance that changed the course of the Blackburn cup tie, our number 23 laboured today and did the majority of his work with his back to goal - including a significant assist for Best's winner. The expression impact substitute starts to come into play here - along with diminishing returns. If he's our solution, then we have got a problem, regardless of whether these are his best efforts (which we think they are).

A mention also of the pleasing echoes of Gutierrez and Jose Enrique down the left when Jonas and Davide Santon linked up - plus an industrious return for Danny Guthrie that put him back ahead of Medhi Abeid in the midfield pecking order.

In central defence, a third clean sheet in four league games since Mike Williamson returned was a noteworthy stat and our pre-Christmas points tally could well have been even more eye-catching had he been able to play against Norwich and West Brom. However, the near-panic evident when the ball is at his feet remains - he's an old-fashioned stopper in every sense of the word - exhibit B in the case for purchasing (or borrowing) cover in that position.

Back to the game, which increasingly became a midfield battle after halftime with very few attempts on goal, with a clear United penalty claim for handball turned down. An astute through ball from Ben Arfa threatened to give Best a second go on goal, but the ball ended up travelling across the six yard box and missing the lurking Ameobi, while an opportunistic effort from Jonas as Kenny scrambled back into his area was accurate but just too lightly-weighted.

Three more Premier League points took us above Liverpool into sixth spot - and symbolically past our miserable total of 34 in the relegation season. So far so good then in January, with the winning streak continuing and the squad intact, but neither is assured to continue over the coming weeks, with a deceptively difficult pair of away league trips up next to Fulham and Blackburn - where our renewed defensive strength and discipline will need to continue if we're to avoid defeats.

Biffa

This report is dedicated to the memory of Sean 'Fish' Taylor who sadly passed away on Thursday. Love from all your mates who travelled with you on "The Westoe" Pub bus on match days. RIP.