Date: Saturday 7th January 2012 3pm

Venue: St. James' Park

Conditions:

Tickets: £20 adults (£25 posh bits), £5 bairns






Newcastle United

Blackburn Rovers

2 - 1




Teams
35 mins Morten Gamst Pedersen sent over a flag kick from the Strawberry corner, with Grant Hanley beating Coloccini to the ball and heading it back across goal. Tim Krul leapt to his right and prevented it sneaking inside the near post but palmed it on to the chest of David Goodwillie.

The former Dundee United striker had the simplest of tasks to poke the ball into the unguarded net from point blank range, having scored a similar goal against Stoke last Monday.0-1


Half time: United 0 Rovers 0

70 mins The bare facts: Hatem Ben Arfa took possession of the ball on the right hand side of the pitch, level with the edge of the centre circle nearest the Gallowgate End goal. Nine and a half seconds and fourteen touches of the ball later, he blasted a left foot shot from four yards into the roof of the net. Simply a goal in a million. 1-1

94 mins With four minutes of added time played, Jonas Gutierrez motored forward down the left channel into the Rovers box, exchanged passes with Leon Best and found the bottom corner with a delicate left-footed chip over Bunn.

The Spiderman mask made a return (for which he was booked) and Ryan Taylor found time to chuck it towards a fan. Rovers barely had time to kick off again before the whistle blew 2-1

Full time: United 2 Rovers 1
Alan Pardew commented:

"In our stadium 30,000 doesn't feel a lot so there was no electricity. Bless the hearts of our fans though. They are paying out for game after game and some of them simply could not afford to be here again.

"I've tried to explain to our French-speaking players what being in the hat for the fourth round means. Perhaps it's my French but it seems to have gone over their heads.
On the winner:

"I didnít even see the second goal Ė everyone was jumping up and down Ė I just saw it plop in the net. He deserved that goal, because I think he had a little dip, if Iím honest, three or four weeks ago. Heís been outstanding. Heís got back to his best in the last two or three games. Heís a big bonus for us.

"Davide and Jonas were brilliant in the second half - I donít think thereís many teams that can cope with them coming down that side, and their energy. They did it against Man United, and they did it again. I was really, really pleased.
On Ben Arfa's goal:

"It's the greatest goal, in my opinion, I have ever seen with my eyes because just the technical part of it - to beat six players, to skip past people, left-foot, right-foot, cut-back, accelerate, everything that was involved in it, it was an unbelievable goal. I am absolutely chuffed for him.

"I didn't have to clear the air with him (Ben Arfa). His comments this week, I read them and I thought they were spot on. He understands that this is a big agenda for him - he needs to do well here. At some other clubs, it hasn't gone so well and he is doing everything in his power to make it happen here, and that's good for us.

"He's had situations in France where his talent hasn't come to the fore as much as it should have, perhaps, and then he has had a terrible injury here.

"He knows this is a great opportunity at this football club. He probably feels that he could play for France, and I know the French Federation look at him very closely. Is he going to emerge because he has got the talent that he showed today? We are all hoping he does, of course."


Steve Kean said:

"I think the way we played in the first half, we certainly deserved to be up and on reflection maybe we deserved to be up by more than one goal. Steven Nzonzi and Petrovic really got tight to Newcastle's midfield two and stopped them from dictating play We are disappointed we never saw the game out and at least forced a replay.
"It took two very good goals on their behalf but when you get that late in a game you feel you have done enough to earn a replay. We wanted to get through. Everyone can see that by the way we played in the first half - and we were really disappointed we didn't score more goals in the first half.
"We have players coming back from injury now though and there is going to be real competition for places come the vist of Fulham next weekend."


Mehdi Abeid played his second senior game for the club and made both his FA Cup debut and bow at SJP. His first was the 4-3 victory at Forest in the Carling Cup, also settled by a late winner from an Argentinean....

In addition to Abeid, Gabriel Obertan, Davide Santon, Yohan Cabaye, Hatem Ben Arfa and Dan Gosling all made their FA Cup debuts for the club.

Newcastle goal number nine for Jonas Gutierrez - but his first in any cup competition.

Hatem Ben Arfa scored his third Newcastle goal and the first on home soil. He also became the fourth Frenchman to find the net in this competition for the club:

1998/99 Louis Saha v Blackburn (a)
1999/00 Didier Domi v Tranmere (a)
2002/03 Laurent Robert v Arsenal (h)
2003/04 Laurent Robert v Liverpool (a)
2011/12 Hatem Ben Arfa v Blackburn (h)



Newcastle's Third Round Record - last 20 years:

2011/12 Blackburn Rovers (h) won 2-1
2010/11 Stevenage (a) lost 1-3
2009/10 Plymouth Argyle (a) drew 0-0 (won replay)
2008/09 Hull City (a) drew 0-0 (lost replay)
2007/08 Stoke City (a) drew 0-0 (won replay)
2006/07 Birmingham City (a) drew 2-2 (lost replay)
2005/06 Mansfield Town (h) won 1-0
2004/05 Yeading (a) won 2-0
2003/04 Southampton (a) won 3-0
2002/03 Wolves (a) lost 2-3
2001/02 Crystal Palace (h) won 2-0
2000/01 Aston Villa (h) drew 1-1 (lost replay)
1999/00 Spurs (a) drew 1-1 (won replay)
1998/99 Crystal Palace (h) won 2-1
1997/98 Everton (a) won 1-0
1996/97 Charlton (a) drew 1-1 (won replay)
1995/96 Chelsea (a) drew 1-1 (lost replay on pens)
1994/95 Blackburn (h) drew 1-1 (won replay)
1993/94 Coventry City (h) won 2-0
1992/93 Port Vale (h) won 4-0

Rovers @ SJP - Premier League era:

2011/12 Won 2-1 Ben Arfa, Gutierrez (FAC)
2011/12 Won 3-1 Ba 3
2010/11 Lost 1-2 Carroll
2008/09 Lost 1-2 Owen (pen)
2007/08 Lost 0-1
2006/07 Lost 0-2
2005/06 Lost 0-1
2004/05 Won 3-0 og, Shearer, O'Brien (2-0)
2003/04 Lost 0-1 (0-0)
2002/03 Won 5-1 Solano, Robert, og, Jenas, Bellamy
2001/02 Won 2-1 Bernard, Speed
1998/99 Drew 0-0 (FAC)
1998/99 Drew 1-1 Shearer (lost 4-2 on pens) (LC)
1998/99 Drew 1-1 Hamann
1997/98 Drew 1-1 Gillespie
1996/97 Won 2-1 Shearer, Ferdinand
1995/96 Won 1-0 Lee
1994/95 Drew 1-1 Lee (FAC)
1994/95 Drew 1-1 og(Flowers)
1993/94 Drew 1-1 Cole





Full record against Rovers:
P

W

D

L

F

A

SJP

63

37

12

14

118

69

EP

62

13

14

35

69

119

League

125

50

26

49

187

188

SJP

(TM)

1

1

0

0

4

0

EP

1

0

0

1

3

4

SJP

(FA)

4

2

2

0

6

3

EP/ER/Hills

7

4

1

2

8

8

SJP

(LC)

1

0

1

0

1

1

EP

1

0

0

1

3

4

Cup/TM

15

7

4

4

25

20

Tot

140

57

30

53

212

208
Waffle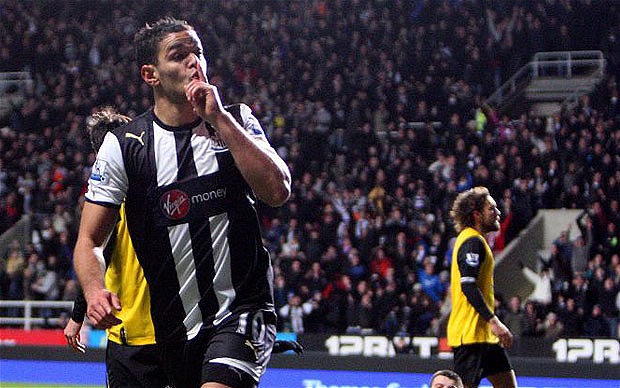 Only those with excellent memory or a recent acquaintance with that season via the peerless "Ultimate Record" book will recall that three days after the memorable 5-0 win over Manchester United here in 1996, we returned to face Oldham Athletic in what was then the Coca Cola Cup.

And although another capacity 36,000+ crowd were in attendance, the expression "after the Lord Mayors show" was never more fitting, as an instantly forgettable fixture was settled by a Peter Beardsley penalty and the Magpies took their place in the draw for the next round.

With messrs Tiote and Ba having departed on the back of keynote performances in midweek, Gallic trio Mehdi Abeid, Gabriel Obertan and Hatem Ben Arfa plus Leon Best were added to the mix as Ryan Taylor and Shola reverted to bench duty.

For much of today's cup tie a similar sense of unfulfilled expectation was evident, with United's brisk start but failure to score against a timid-looking Rovers side distinctly underwhelming and doing nothing to charge an atmosphere more reminiscent of a pre-season kickabout than an FA Cup tie.

Not that Blackburn were to be taken lightly though: perennial nuisance Pedersen was in their lineup and recent eye-catching results at Anfield and Old Trafford demanded a semblance of consideration if not respect - and that's without mentioning our galling Carling Cup loss at Ewood last October.

However it's fair to say that Steve Kean's first priority isn't this competition - a fact exemplified by the failure of Yakubu to appear off the bench throughout the afternoon. Despite his absence though, Rovers held United at bay before we fell to a classic sucker punch that saw the home side exit for their half time cuppa to some mild booing - short memories, some folks.

Alan Pardew commented on a lack of electricity in the stadium and didn't bother to try and urge those present into making a noise, but at times it was difficult to discern any noticeable pulse, with Lancashire malcontents choosing not to travel to the North East - meaning our fanciful notions of a "Pune Mafia OUT" banner appearing were misplaced.

The chances continued to pile up, with Mike Williamson apparently anxious to atone for the OG that began our FA Cup demise at Stevenage a year ago. The defender came close on three occasions to notching his first goal in our colours - the a curling first half shot that like similar efforts from Yohan Cabaye and Jonas Gutierrez ended up in the partially populated Leazes End.

The second and third meanwhile were headers; one striking the crossbar and the other momentarily looking to catch Bunn flat-footed before he recovered. By then though United had pulled level in the most spectacular of circumstances, with yet another potential Toon goal of the season.

The difference had been the introduction of Shola Ameobi - although he'd been guilty of a glaring miss after Cabaye played him in for a clear shot on goal, only to see the ball travel high and wide of the goal. His appearance had allowed United to revert to a 4-4-2 formation and that crucially put another body alongside Leon Best for Rovers to keep tabs on.

Ben Arfa's previous role having seen us end up with a five man midfield that at times was made even more congested by the foraging of both full backs. But having gone on the record to claim that the Frenchman would only ever occupy a central striking role at this club for him, the pragmatic Pardew dragged him out towards the right flank to compensate for withdrawing Obertan.

For a while the signs weren't promising, with our attacking efforts going on around him. But Hatem had a trick up his sleeve and unveiled a sensational leveller strongly reminiscent of Mark McGhee's memorable effort against Bradford City at the other of the ground back in October 1989.

But with an unwanted second midweek trip to Ewood Park within three weeks (and a third of the season) seemingly looming large, Jonas popped up to take on a crucial flick from the otherwise below-par Best and put us into the Fourth Round.

Just time to to mention that our last two FA Cup wins over Rovers have ended at Wembley Stadium, which is in tube Zone 4. There, that should be enough to put the mockers on us....

Biffa