Date: Wednesday 4th January 2012 8pm
Live on Sky Sports

Venue: St. James' Park

Conditions: incredulous






Newcastle United

Manchester United

3 - 0




Teams
33 mins If there's ever a compilation DVD entitled "Now That's What I Call Route One", then this particular effort will be in the advert to promote it. Tim Krul's long kick upfield was met by Shola Ameobi, who beat Phil Jones in the air and flicked it on for Demba Ba.

He let the ball bounce once before hooking a stunning right-footed effort from 12 yards around his marker Rio Ferdinand and beyond Anders Lindegaard - the first time the Danish goalkeeper has conceded in the Premier League, enjoying five clean sheets before this game.

Sky's "outer space" camera sited on the top of the Leazes Stand made this goal look even more like something from a subbuteo simulation 1-0


Half time: United 1 United 0

47 mins A rampaging forward run from his own half by Demba Ba was halted illegally by Jones, who was booked. Ryan Taylor and Yohan Cabaye stood over the ball almost 30 yards out, with the home crowd singing the "over the wall" song to encourage the former.

However it was the latter who stepped up to power a right-footed effort over the wall and past the flapping Lindegaard, dropping clearly into the goal off the crossbar. The scorer danced towards the Strawberry Corner, pursued by his team mates. If the first goal was stunning, this was sublime. 2-0

90 mins Only Phil Jones will know what he was doing - and Lindegaard know why he was attracted out of his goal towards the lurking Leon Best - as Tim Krul's wind-assisted punt upfield dropped in the visitors box. Jones met the ball as it bounced off the surface but could only divert the ball into the unguarded net off his thighs. Calamitous, horrendous, hilarious. 3-0

Full time: United 3 United 0
Alan Pardew commented:

"There have been some really good things happening tonight - it was a great day for Newcastle. We've got ourselves a great sponsor, a fantastic blue-chip company who have put good money into the football club.

"And I think the board will have seen tonight that we've also got very good players here. It's all about the team and we have a very good squad of players, but we want to build on that. Nights like this help to keep everyone enthused.

"The performance we've put in certainly won't do any harm. I'll be looking forward to meeting (the owner Mike Ashley) later and having a quiet drink. We've been really at it in every game we've played this season, I can't really think of any times when I've been disappointed standing on the sidelines. But this really puts a cherry on the cake of the season so far.

"I feel everything came together in terms of our discipline and game plan. The first win of 2012 is always important, and we did it in a style we could only have dreamed of beforehand.

"We were brave. You need players to believe in what they're doing, the full-backs pushed in, our midfield went tight on theirs, we left a gap between our midfield and took a risk. The front two today caused them a lot of problems, and we made them nervous, and you make any great team nervous and they don't play to their best

"The players deserve a lot of plaudits tonight because they have put in some fantastic performances. You could highlight one or two that were exceptional, but as the team manager, I am just proud of all of them.

"We have to make sure we don't get carried away with it, we've got an important game in two days' time. The last time we had a quick turnaround like this, we were beaten at Stevenage, so you're never far away from falling on your face at the standard we're at.

"I'm not going to hide the fact that Demba and Cheik were our two outstanding players tonight - and we're going to miss them while they're away. They've gone off on the best note that they could have, as I don't think they're going to be available Saturday.

"In addition to his goal, Demba's all-round display was outstanding, and it was as good a display as he's produced since he's been here. But you have to say what a way to sign off, and we look forward to welcoming them back in six or so games time. It's a great result, we stayed on top of United, and didn't let them play. We were due a win at home against one of the big Premier League sides, but now we've done that, we mustn't get carried away."

On Demba Ba:

"His biggest asset is his personality. He's a winner. Whatever role I have given him, he has tried to do that to the best of his ability - he has played in two or three roles for me.

"His all-round play has been excellent and tonight, he was a leader for the team and put in a performance to match that. When you compare him to other players, it's difficult because really, he hasn't had that long a time here in the Premier League.

"But this year, you would have to put him in the top four or five, for sure."

The septuagenarian said:

""We started reasonably well - the goalkeeper made a good save from Nani and we had a good chance when Wayne Rooney was through and the ball ran under his foot. That was a great opportunity and if we'd taken it, we could have gone on to win the game.

"Newcastle scored not long after that. It was a fantastic goal and it really got their fans up. They became aggressive, they got stuck right into us and made it difficult for us. It (Ba's goal) was a great hit on the volley and the second one just after half-time - a marvellous free-kick, you have to give the boy credit - was a killer for us. That really put them in the driving position, they were very difficult to beat after that.
"We didn't make enough of our possession with the ball. We had some chances after that (at 0-2) and a shot knocked off the line. You've got to take your chances away from home. We didn't play well enough to win the game.
"The own goal just summed up the whole night to be honest, but take nothing away from Newcastle, they fought hard and deserved their victory, no question."




It's now three games without defeat against the Red Devils for Alan Pardew's United, who have conceded just one goal in that trio of fixtures.

Newcastle became the first team to stop Manchester United from scoring in a Premier League away game this season and their first loss on the road.

This was our first win over Manchester United in twenty attempts, since a 4-3 success at SJP in September 2001. The final goal in that game was also an OG by the visitors at the Gallowgate End - from future mackem Wes Brown. Since then we've lost fourteen times and drawn the other five.

In thirty six Premier League meetings with the side from Old Trafford, we've won four, drawn twelve and lost the other twenty:

Premier League Red Letter Days @ SJP:

20.10.1996 NUFC 5 MUFC 0 (36,579)
(D.Peacock 12, Ginola 30, Ferdinand 63, Shearer 75, Albert 83)

Srnicek, Watson (Barton 87), Peacock, Albert, Beresford, Lee (Clark 87), Beardsley, Batty,
Ginola, Shearer, Ferdinand. Subs n/u: Asprilla, Gillespie, Hislop.

12.02.2000 NUFC 3 MUFC 0 (36,470)
(Shearer 26, Ferguson 76, Shearer 86)

Harper, Barton, Hughes, Helder, Dabizas, Lee, Dyer (Gavilan 83), Speed, Gallacher (Domi 83), Shearer, Ferguson (Ketsbaia 61). Subs n/u: Given, Fumaca.

15.09.2001 NUFC 4 MUFC 3 (52,056)
(Robert 5, Lee 34, Dabizas 52, OG Brown 83)

Given, Griffin, Elliott, O'Brien, Dabizas, Solano, Lee (Barton 46), Bellamy (Distin 90) , Shearer, Robert, Acuna. Subs n/u: Harper, Shola Ameobi, L.LuaLua.

04.01.2012 NUFC 3 MUFC 0 (52,299)
(Ba 34, Cabaye 47, OG Jones 90)

Krul, Simpson, Williamson, Coloccini, Santon, R.Taylor, Cabaye (Perch 78), Tiote, Gutierrez, Ba (Obertan 90), Shola Ameobi (Best 75). Subs n/u: Harper, Vuckic, Ben Arfa, Sammy Ameobi.

Red Devils @ SJP - Premiership era:

2011/12 won 3-0 Ba, Cabaye, OG (Jones)
2010/11 drew 0-0
2008/09 lost 1-2 Lovenkrands
2007/08 lost 1-5 Ab.Faye
2006/07 drew 2-2 Milner, Edgar
2005/06 lost 0-2
2004/05 lost 1-3 Shearer
2003/04 lost 1-2 Shearer
2002/03 lost 2-6 Jenas, Ameobi
2001/02 won 4-3 Robert, Lee, Dabizas, OG (Brown)
2000/01 drew 1-1 Glass
1999/00 won 3-0 Ferguson, Shearer 2
1998/99 lost 1-2 Solano
1997/98 lost 0-1
1996/97 won 5-0 D.Peacock, Ginola, Ferdinand, Shearer, Albert
1995/96 lost 0-1
1994/95 drew 1-1 Kitson
1994/95 won 2-0 Albert, Kitson (LC)
1993/94 drew 1-1 Cole

Full record against Manchester United:
P

W

D

L

F

A

SJP

73

30

17

26

138

110

OT

73

9

20

44

77

163

League

146

39

37

70

215

273

SJP

(FA)

1

0

0

1

2

3

OT/W/MS

3

0

0

3

1

7

SJP(LC)
1
1
0
0
2
0

OT
1
0
0
1
2
7

Cup

6

1

0

5

7

17

OT/W(CS)

2

0

0

2

2

8

Tot

152

40

37

75

222

290
First footing - last 20 year-opening results:
1993 Port Vale (h) won 4-0
1994 Manchester City (h) won 2-0
1995 Manchester City (h) drew 0-0
1996 Arsenal (h) won 2-0
1997 Leeds (h) won 3-0
1998 Everton (a) won 1-0 (FAC)
1999 Crystal Palace (a) won 2-1 (FAC)
2000 West Ham (h) drew 2-2
2001 Spurs (a) lost 2-4
2002 Manchester United (a) lost 1-3
2003 Liverpool (h) won 1-0
2004 Southampton (a) won 3-0 (FAC)
2005 Birmingham City (h) won 2-1
2006 smoggies (h) drew 2-2
2007 Manchester United (h) drew 2-2
2008 Manchester City (h) lost 0-2
2009 Hull City (a) drew 0-0 (FAC)
2010 Plymouth (a) drew 0-0 (FAC)
2011 Wigan (a) won 1-0
2012 Manchester United (h) won 3-0

United began 2012 with a new shirt sponsor, after Virgin Money agreed a two year deal and hastily-rebranded kits were sourced and cleared by the Premier League in time to make their debut in this game.
As was the case when the club jettisoned Greenalls Brewery in favour of a return to S&N midway through the 1990/91 season, patches featuring the new logo will be made available for fans to update existing replica kits.
Owned by Sir Richard Branson, Virgin Money recently completed a £747m purchase of the banking and mortage lending arm of former NUFC sponsor Northern Rock, which itself was nationalised back in 2008.
NUFC statement, Wednesday:
Newcastle United are delighted to announce a new shirt sponsorship deal with Virgin Money.
The two parties have agreed a two-year deal which follows a long standing relationship between Northern Rock and Newcastle United. (Virgin Money completed the acquisition of Northern Rock plc on 1 Jan 2012.)
The club will unveil the new strip this evening with Newcastle United taking on Manchester United in the Premier League.
The Virgin Money logo will be used on team shirts for the remainder of the 2011-12 season under the current sponsorship arrangements.
Newcastle United Managing Director Derek Llambias said:
"We're delighted to secure this new deal with Virgin Money and we look forward to enjoying a mutually beneficial partnership over the coming seasons. It is an excellent deal for both parties and we're very happy to have them on board."
And Jayne-Anne Gadhia, Chief Executive at Virgin Money said: "Now that Virgin Money and Northern Rock are united as one business, it gives us great pleasure to continue the shirt sponsorship of Newcastle United Football Club. The Northern Rock sponsorship started in 2003 and it is an important link to the North-East which we are pleased to continue.
"Combined with our sponsorship of the Virgin London Marathon and the Edinburgh Festival 'Fringe on the high street', the shirt sponsorship of Newcastle United Football Club embeds our involvement in the communities we serve.
"The first 10,000 supporters with 2011/12 season shirts that bring them to the Club shop will receive a free Virgin Money update to their shirt. Availability of this new branding will be posted on the club website but is expected at the end of the week."


Waffle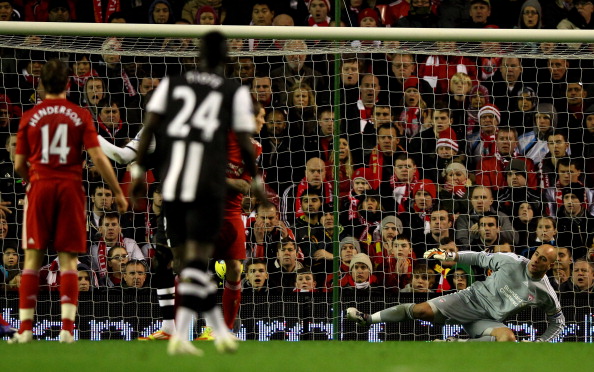 Broken Britain, 2012. A lonely pensioner stands out in the rain; the helpless victim of a vicious and sustained assault stripping him of his dignity. But enough of Alex Ferguson and Manchester United.

The rest of the planet may disagree, but this wasn't about the failures of a grumpy Scotsman and his sulking/faltering side. No, the real story was of a team that continue to confound expectations and a manager who oversaw a deserved victory thanks to dominance in all departments.

Hands up anyone who saw this one coming?

It wasn't just the presence of the Belgian Prince that brought memories of "Howay 5-0" to mind; the same collective feeling of incredulity in 1996 was in the air, as was the same rapidly expanding area of empty seats in the away end...

If anything though, our victory by the same margin in 2000 was a more fitting memory, especially the havoc that our twin threats Shearer and Ferguson wreaked that day. Fast forward to 2012 and messrs Ba and Ameobi were every bit as much of a handful tonight - Ba continually torturing the visitors with his abundant energy and Shola provided a physical threat, even if his perennial hip problem now markedly restricts his movement. It's not laziness, honest.

Great though the opener was though, the crucial goal was the second one - putting clear daylight between us and them and giving the crowd a colossal confidence boost, feelings of hope that we'd hang on evolving into expectation that this was to be a night of nights - a grand score settling.

And crucially, it hit the bar and went in. Had that happened in the closing moments of our tragic single goal loss to Manchester United here in March 1996, then the word may now be a different place and we might have more than the Japan Cup on the sideboard (to recap, we blitzed Peter Schmeichel's goal for 45 minutes but couldn't score- unlike Eric bloody Cantona after the restart).

For anyone who doesn't understand why we subject ourselves to all this, let tonight be exhibit A. Unable to score against Swans, frustrated by an inability to repel Baggies and then for no apparent reason, some celestial alignment of the planets occurs and the reigning champions find themselves reeling at the combined might of Ryan Taylor & Co. Unlike the darts, this is genuinely exciting.

And even when two goals to the good, the expectation was that we'd have to weather a storm approaching that which Giggs & Co. battered us with at Old Trafford almost 40 days ago. But as each visiting substitution appeared and only Danny Welbeck looked like prompting a revival, the celebratory mood grew, culminating in a ear-splitting mass chants of "Newcastle, Newcastle" with the manager again acting as self-appointed choirmaster. You just don't get that at Southampton.

Throughout the ups and downs of this season, Alan Pardew has insisted that his first choice XI is a match for anyone else in this league and having convinced his players of that fact, they went out and did their level best to demonstrate precisely that to the watching world.

In the classic manner of the black and whites though, having reached a state of footballing nirvana, the manager is instantly forced to try and work his magic with different personnel. Time will tell whether Leon Best can supply the vigour - and goals - if he's partnered with Shola, or if Hatem Ben Arfa can take this team and this league by the scruff of the neck....or we regress and fulfill those one trick pony accusations.

It's hard to remember a game when Newcastle fans spent so much time applauding, as challenge after challenge, counter-attack after counter-attack and block after block closed the door time and time again on the Red Devils, leaving them exasperated and bewildered - their lack of pace exposed.

Every last man played his part on a night when we wanted it more and Tiote especially reminded those watching why he's coveted by many. We may have been wearing a kit with the Virgin Money logo, but a team of Northern Rocks in black and white displayed the greater riches, free transfer Ba opening the scoring with a goal of great simplicity (and another belter to add to his show reel).
At the other end, Rooney stumbled when well-placed and Berbatov saw a deflected header hit the post but Krul had only made one routine save from Nani before collecting the rebound. And once two behind, birthday boy Danny Simpson made another goal line clearance to deny his boyhood heroes and former employers, before Newcastle threatened again, and the visitors imploded.
A ground that was already giddy with excitement cheered Ba to the rafters when he was replaced in the closing seconds and by the time full time was blown, had erupted into choruses of European football and a crowning of King Alan. 33 Premier League points are already secured - just one less than our total in the whole miserable 2008/09 campaign.

As tellingly, we sit in the same seventh spot that they occupied on the day that Andy Carroll was pushed/walked out the door. Only time will tell whether history repeats itself in the name of budget balancing and our famous five (Krul, Colo, Tiote, Cabaye & Ba) are seen on the same pitch again.

Pardew had barely got his feet under the table and begun his work when the Stevenage Cup exit was followed by the Carroll departure and any credibility he'd gained evaporated as a result of his "read my lips" comments. A year on and he's been decidedly more circumspect on the topic of departures and this time would receive tangible public sympathy were he to be asset-stripped. Whether he'd have the knackers to walk away is a question for another day.

Like 1996 though, we'll doubtless celebrate this one-off victory while the vanquished get on with the business of rebuilding their season and doubtless ending up there or thereabouts. As it was with Keegan v Fergie, battles were won but wars lost - and that was back in the days when we were almost on a par with them and "he" turned "them" down.

If competing with the real moneymen at the very top though isn't sustainable, this result gives further credence to the theory that organisation and motivation added to a sprinkling of genuine quality are enough to take you well into the mix of sides battling it out immediately below. And to the genuine surprise of most pundits and spectators, the man making it possible is Alan Pardew - the unlikely manager of the season, pushing forward thanks to the goals of the player of the season.

Reality will doubtless intervene only too quickly, but on nights like this it's still possible to dream - and hope that the excitement and emotion generated here tonight inspires the owner and he chooses to push on, rather than settling for another season of so-called consolidation. New mind new signings, is the Virgin deal enough to stave off the threat of the January sales? Let's hope so.

Biffa