Date: Friday 30th December 2011, 7.45pm
Live on Sky Sports

Venue: Anfield

Conditions: showery

Admission: £44

Programme: £3





Liverpool

Newcastle United

3 - 1

Teams
25 mins A dangerous left wing cross from Ryan Taylor found Yohan Cabaye and the Frenchman's goalbound flick header hit Daniel Agger's arm to deflect past Jose Reina. Demba Ba was in close attendance to the Liverpool player but the striker didn't touch the ball - despite another chorus of the "since Ramadan..." song from the away end moments later that counted up to 15. 1-0

29 mins A centre from the Liverpool left reached Charlie Adam and when the left-footed player crossed with his right, Cheick Tiote cleared weakly but only as far as Craig Bellamy who lashed a right-footed effort low into the corner of the Kop goal from inside the box. 1-1

Half time: Liverpool 1 Newcastle 1

67 mins Tiote's challenge on Agger was punished with a free kick in a central position, fully 35 yards from goal. Danny Simpson broke from the defensive wall to go back on the line before dithering in the six yard box as Bellamy hit a curling effort on target. Perhaps distracted, Krul was unable to keep the shot out, not helped by the presence of Simpson and his clumsy diversion of the ball 1-2

78 mins Danny Simpson needlessly gave away a throw down the United right. And when Tiote failed to track Steven Gerrard's run into the box, the midfielder was able to stride clear and fire the ball between Krul's legs from a tight angle. 1-3

Full time: Liverpool 3 Newcastle 1

Alan Pardew said:

"We might have got something out of the game had we been a little more positive but overall we can't complain We've still had a terrific year. I think we've only had 12 defeats in the calendar year (10 in the Premier League) and that's pretty good when we have not only changed the team but our style of play.

We are not quite where we want to be yet, we still have to beat a big team rather than just matching them for parts of games, but we have shown we can be a force.
"We got in good situations, and I wanted somebody to take somebody on and be a bit more constructive, like Yohan was when we nearly got the equaliser. Those two incidents, the free-kick and clearance off the line, determined the result.
"We're disappointed. We got ourselves in a good position in the game, and at 1-1, in the second half, it started to look like we were starting to impose ourselves even more on the game.
"The free-kick (that led to Liverpool's second goal) was a turning point. It shouldn't have been given in the first place. We made an error in terms of Danny and Tim getting in each other's way - I think Tim would have saved it quite comfortably.
"It's a tactic we use to defend that post if we think they're going to bend it over. We'll perhaps have to review that."


Kenny Dalglish:

"To get 2011 out of the way is good for us because I don't think we've had too much luck in the matches we've played in the first part of the season. We fully deserved the victory. We showed great courage, commitment and desire to get back into the game after going behind.

That was probably the game where we created the least chances but we ended up scoring three goals. I was delighted to see Steven Gerrard score the third but I thought we were pretty much in control anyway.
"If anything untoward took place I am sure the authorities will act appropriately, but I'm not saying anything did because I haven't had a close look at either incident (Coloccini's clash with Bellamy and Cabaye's tackle on Spearing) yet.
"When Steven (Gerrard's) not playing he's influential so I suppose you can add the word hugely influential when he is in the team. He's getting back to fitness which is fantastic reward for him and everyone who has worked with him to get him back to the level he's at now. He's got a lot of years to go yet and we'll look forward to that.
"He's put the pressure on himself now, scoring a goal but it's great to see him getting his reward. He's worked really hard to get where he is. It was a freak injury really, so the boy deserves a bit of luck in 2012.
"It's not the first time we've praised him (Bellamy) and it certainly won't be the last. He took the first one well because it was tight in the area and the second one was a free-kick. The defender ran back on the line for some reason and Andy (Carroll) ran back with him. It went between the goalkeeper and the full-back – it was a good free-kick and may have gone in anyway.
"We are delighted for him. We just hope his cut eye isn't too bad. As he came off I just said congratulations to him."




Our Anfield goal famine was finally ended on 543 minutes, a run stretching back to December 2004 when Patrick Kluivert found the net at the same end of the ground.

Dane Daniel Agger's inadvertant assist was the second OG we've benefited from this season, following from Dutchman John Heitinga putting through his own net at SJP in November.

Magpies @ Anfield: Premier League Years:

2011/12: Lost 1-3
2010/11: Lost 0-3
2008/09: Lost 0-3
2007/08: Lost 0-3
2006/07: Lost 0-2
2005/06: Lost 0-2
2004/05: Lost 1-3 Kluivert
2003/04: Drew 1-1 Ameobi
2003/04: Lost 1-2 Robert (FAC)
2002/03: Drew 2-2 Speed, Shearer
2001/02: Lost 0-3
2000/01: Lost 0-3
1999/00: Lost 1-2 Shearer
1998/99: Lost 2-4 Solano, Andersson
1997/98: Lost 0-1
1996/97: Lost 3-4 Gillespie, Asprilla, Barton
1995/96: Lost 3-4 Ferdinand, Ginola, Asprilla
1995/96: Won 1-0 Watson (LC)
1994/95: Lost 0-2
1993/94: Won 2-0 Lee, Cole



Full record against the Reds:



| | | | | | | |
| --- | --- | --- | --- | --- | --- | --- |
| | P | W | D | L | F | A |
| SJP | 75 | 30 | 23 | 22 | 111 | 91 |
| Anfield | 76 | 11 | 14 | 51 | 77 | 175 |
| League | 151 | 41 | 37 | 73 | 188 | 266 |
| SJP(FA) | 4 | 4 | 0 | 0 | 6 | 1 |
| Anf/W | 5 | 0 | 1 | 4 | 3 | 13 |
| SJP(LC) | 1 | 0 | 0 | 1 | 0 | 2 |
| Anf | 1 | 1 | 0 | 0 | 1 | 0 |
| Cup | 11 | 5 | 1 | 5 | 10 | 16 |
| Tot | 162 | 46 | 38 | 78 | 198 | 282 |
Steven Gerrard netted his seventh goal against the Magpies, 13 years and one day after facing us for the first time at senior level.

And Craig Bellamy made it five goals against his former employers; three for Liverpool and one each for West Ham United and Manchester City. He's also faced us in the colours of Coventry City and Blackburn Rovers without finding the net.

United once again ended the calendar year on a low note. Not since a 2-1 home win over Spurs in 2002 have we ripped the final page off the calendar having earned three points. Shola Ameobi and Steve Harper were unused subs that day, while Craig Bellamy was in the United side.

And all but one of the ten away games during that period have now ended in defeat - the exception a win against Leicester City at the now-defunct Filbert Street in 1999.

NUFC's year ending results - Premier League era:

2011/12 Liverpool (a) lost 1-3
2010/11 Spurs (a) lost 0-2
2009/10 Derby County (h) drew 0-0
2008/09 Liverpool (h) lost 1-5
2007/08 Chelsea (a) lost 1-2
2006/07 Everton (a) lost 0-3
2005/06 Spurs (a) lost 0-2
2004/05 Arsenal (h) lost 0-1
2003/04 Blackburn (h) lost 0-1
2002/03 Spurs (h) won 2-1
2001/02 Chelsea (h) lost 1-2
2000/01 Manchester United (h) drew 1-1
1999/00 Leicester City (a) won 2-1
1998/99 Liverpool (a) lost 2-4
1997/98 Liverpool (h) lost 1-2
1996/97 Spurs (h) won 7-1
1995/96 Manchester United (a) lost 0-2
1994/95 Norwich City (a) lost 1-2
1993/94 Chelsea (a) lost 0-1


Waffle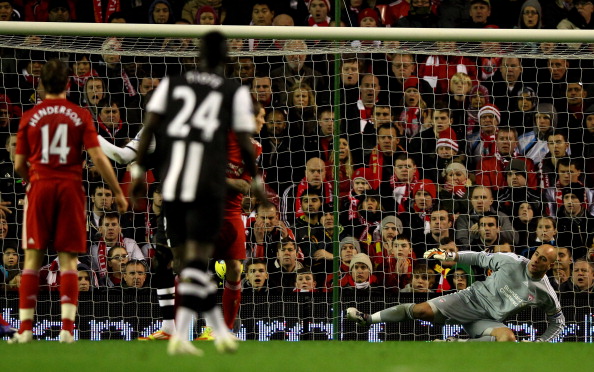 Newcastle's Anfield goal drought was finally halted after 543 minutes, but their almost perpetual year-end misery continued as former Magpie Craig Bellamy struck twice to ensure another joyless visit to the red half of Merseyside for black and white devotees.
The former Welsh international was the pick of the SJP old boys on show, with Jose Enrique having an unspectacular game and Andy Carroll enduring a torrid evening - plus a good deal of abuse from his fellow Tynesiders....
Having scored twice, Bellers was forced from the field with a gaping wound over his left eye after tangling with Fabricio Coloccini but Carroll's pain continued for the whole 90 minutes as Tim Krul, the woodwork and some inaccurate shooting denied him the goal he craved.
Despite having Dan Gosling available, Alan Pardew went with Haris Vuckic in a midfield five as Leon Best was dropped, but that extra body in midfield never allowed United to turn prolonged periods of possession into any forward momentum. Demba Ba continually lacked support and the second half introduction of Hatem Ben Arfa a Pardew ploy that just didn't come off.
Unbeaten at Anfield in the league since last May, Liverpool caused problems down our flanks and bookings for Jonas Gutierrez and Taylor left us vulnerable to runs from Stewart Downing and Glen Johnson, although Jose Enrique didn't unveil one of his trademark forward forays until very late on.
Against the run of play, United had taken a surprise lead with an almost farcical goal that began with a slapstick moment of Haris Vuckic seemingly having his teeth knocked down his throat when taking the ball full in the face. As he walked towards the bench apparently holding his jaw in place, the game went on round him and somehow the ball ended up in the net - opinion divided behind the goal as to whether Cabaye, Ba or a Liverpool player would be credited with the goal.
Within five minutes of taking the lead however the scores were equal again, almost before those celebrating in the away end had been able to register the fact. And having found the net once, old boy Bellamy again caused problems with a corner that Martin Skrtel headed narrowly wide. Our sole reply was a long range effort from Cabaye that flew over the bar in added time.
Taylor was replaced at left back by Davide Santon at the interval as his yellow card and an ankle knock contributed to his substitution. Tiote and ex-mackem Jordan Henderson clashed in the centre circle and Jay Spearing and Cabaye traded late lunges for the ball, with the home player coming off a distinct second. Referee Lee Probert awarded Liverpool a free-kick but took no further action.
But the whistler had United seething midway through the second period when he awarded a foul against Tiote for what looked like a legitimate challenge on Agger, Bellamy firing home the free kick
Steven Gerrard had replaced Adam just before the hour and was being given far too much time and space to create several chances for the low-on-confidence Carroll. One saw our former number nine crash a header against the bar and Coloccini clashed with Bellamy as the ball was cleared. That would have killed off any hopes of a Toon comeback, although two minutes earlier Skrtel got back on his own goal line to miraculously clear a Ba effort that seemed destined to get us back on terms.
Other than that moment of hope for the black and whites though, 2-1 looked to be more than enough for a home win and Steven Gerrard then ended the game as a contest. Sammy Ameobi replaced the erratic Gabriel Obertan but he provided little more than a comic interlude as keeping out as the forlorn figure of Carroll became the only source of comfort for the away contingent.
It's tempting to criticise the formation and tactics we deployed tonight and certainly eyebrows were raised by the inclusion of Vuckic, although the shape and balance of the side was far more evident when he was on the pitch - his passing rather than positioning becoming an achilles heel.

However the swinging cross from Ryan Taylor that led to our goal and the astute through ball from Cabaye to Ba that came so close to providing a second were isolated moments of genuine threat.

Concerns over a lack of defensive cover that were highlighted before Christmas and the ongoing worries about our one man strike force when Ba heads off with Senegal are both justifiable, but lurking behind those twin concerns are the lack of supply lines - neither Obertan nor Gutierrez are coming up with the goods and have nobody pressing them for their shirts. Had Andy Carroll been playing for the visitors tonight, the final score would most probably have been the same.

We have achieved less on this ground in previous seasons with better Newcastle sides than this and there were some positives to be taken from the night nonetheless, Williamson and Santon both coming through this test intact on a night when Simpson looked the weak link in the back four.

As to where the goals will come from though, the most likely scenario to us looks to be fielding both Shola Ameobi and Leon Best in a two replacing one scenario. The plan to replace Tiote though looks much less clear-cut though in the absence of Guthrie. Mehdi Abeid has been mentioned, but starting with him while leaving Ben Arfa on the bench would be a controversial policy - and fielding both would be placing a lot of responsibility on Cabaye's shoulders.

Biffa