Date: Monday 26th December 2011, 3pm

Venue: Reebok Stadium

Conditions: almost ridiculously warm, even Demba Ba didn't feel the need for gloves.

Admission: £31 upstairs / £24 downstairs

Programme: £3






Bolton

Newcastle United

0 - 2

Teams
Half time: Trotters 0 Magpies 0

69 mins The attempted forward run of recently-arrived substitute Chris Eagles down the Bolton right was foiled on halfway by a neat intervention from Ryan Taylor, who rolled the ball infield to Cabaye with the sole of his boot.

The Frenchman played a simple pass forward to Gutierrez in space, who in turn laid it out to the overlapping Taylor, whose precise pull back found Hatem Ben Arfa on the penalty spot. He found the net with a crisply-struck low left footed half volley 1-0

71 mins The black and white multitudes behind were still dancing for joy when Ba and Gary Cahill met Krul's punt upfield, the Trotters defender winning the header but seeing Boyata's nod forward drop at the feet of Gutierrez, level with the centre circle on the United left. A passing triangle involving Ben Arfa and Cabaye then saw the latter deliver an inch-perfect pass out to the right flank, where Obertan tried to play in Simpson via a first-time flick with the outside of his boot.

That broke down and Paul Robinson tried to dribble forward, only to lose possession to Tiote, who set Obertan away down the right flank. Cutting back inside Robinson to deliver a precise low pass across the six yard box, it was met by Demba BA, who snuck ahead of Cahill to loop a first time shot over Jaaskelainen. 2-0

Full time: Trotters 0 Magpies 2

Alan Pardew said:
"We are delighted because we put ourselves under pressure with the West Brom result, so it was important today that we gave a more disciplined performance and we did that. We had an important meeting this week and had a chat about what we're good at and what we're not good at. You've got to understand your weaknesses as a team.

"We exposed our weaknesses against West Brom the other night. Tonight we've shown our strengths. It was about getting back to a few things we're good at this week as a team and that's what we've always been about. We're a strong unit in that dressing room and we showed that today. We were really under a little bit of a pressure to get that win.

"And we didn't chase it - we were a lot more controlled. It was a brilliant day for us. We've come here today with round pegs in round holes - and that's important. We haven't really had our two centre-halves fit for a while and it showed today.

"Williamson came back and we looked a lot stronger. We looked a lot more like our old selves. It was just a question for me if we could open the door. And it took a sub in a cameo role to come and do that.

"It was nice to see Hatem score because heís had a terrible injury and also a long time out with it. I wouldnít say Hatem was an impact player. He will consider himself to be more than that, but in the role he is in at the minute, heís building himself back to where he is.

"This is a big player and he has a high opinion and a high regard for his own ability and thatís important to have a player like that in your squad. He feels he can change a match and he managed to do that today and itís good for us.

"Demba took a little knock on his knee, we will have to see. Santonís knee was not as bad we had thought. I left him out, but I think he will be back for Liverpool.

"Sometimes it just takes different ingredients and in this game it suited Hatem. It might not have been Besty coming off, but it suited Hatem the way we get between the lines.

"That created the goal for us. You knew when it came back to him and he was on his left side his technical ability was going to take over. That then changed the face of the game once he had scored.
"It was a good move and we played good stuff against a committed Bolton team. They had a big victory just last week and you could tell they were Ďon ití. They pressurised us all game. They made it difficult, but we managed to work it all out.
"Some our fans have been impatient with him (Obertan) I keep saying he is only a young player Ė even in his knowledge of the game. Sometimes you want him to open his legs and do something a bit more exciting. However, he had a great shot before we scored and had other moments. He was a threat to them.
"With all due respect to Perchie, because he has done great, Williamsonís a round peg in a round hole. He is a centre-half, that is his position and he made a big difference to us There has been a lot of criticism about our results, but we have not had two centre-halves out there.
"Perch is a midfield player/full-back. He is brilliant in terms of that, but centre half is a tough call. Willo came out and we looked a lot more solid. It was about putting him in and protecting him, which we did."


Owen Coyle gruffly uttered:

"I thought in the first 15 minutes Newcastle started better but then we really grew into the game, finished the first half really strongly and looked as if we could go in front, and then started the second half in the same manner.
"Until the first goal Newcastle had offered no threat in the second half and we looked like we could go on to win the game but then we've given the ball away under no pressure. Soft is probably an understatement.
"Take nothing away from the cutback and the finish, that was exquisite. Newcastle have been doing that all season because they've got terrific offensive players who can hurt you, but prior to that the threat was minimal.
"We've given it away cheaply, but when that happens and you're 1-0 down with 20 minutes left, you're looking for a bit of character, and we had that from a few but not enough. One or two were fragile, maybe lacking confidence, but there should be no need for that coming off a win the other night and the performance.
"But then within two minutes they get the second and to say it was an unforced error, it was ridiculous. It was a horrible mistake. (Gabriel) Obertan then raids down the right, Demba Ba gets a touch, Gary (Cahill's) gone to block it and it's spun up into the top corner, which probably sums up our little bit of bad luck.
"It leaves a bad taste but itís got to the point where the same people are not going to make the same mistakes. If I have got one or two coming back from injury and young kids ready to play then so be it.
"I have tried to play a few of them through it, I have tried to leave them out and then bring them back in. If they are not responding to it then the bottom line is I need players who are going to go in with the character and the resilience and the belief not to be making mistakes.
"We still have players who should be performing better than they are: I am not talking about young kids but course and distance guys who have done it. When we came in we inherited a squad of very experienced players, those players were on long-term contracts and are now two years older than when we came in at the bottom of the table.
"I have managed to get a song and a tune out of them up to this point. Maybe now there are one or two not up to delivering that and, if thatís the case, they are not going to play in our team, thatís for sure.

"It's frustrating because we've let a great opportunity pass us by in terms of getting back-to-back wins. That's being very respectful of the quality Newcastle have but we're at home, we had a terrific record here last year and we've let ourselves down again.

"A win would have put us in amongst five or six teams and it would have been very interesting. Going into the Wolves game on Saturday, that's our biggest game of the season absolutely and we have to make sure that we're ready.

"in spells there was a lot to be pleased about but it's got to be for the entirety of the match. The two goals are self-inflicted and that's hard to take. I can always accept if a team is better because they've got world-class players and everything else, but when you shoot yourselves in the foot as we did, it leaves a bad taste in your mouth (has there been a better quote in 2011?)

"The era I played in, people stood up to be counted, and we've not done it well enough. You do one of two things in life, you either feel sorry for yourself or you stand up and say, 'I'm the guy who can change it. I'll work hard, I'll do my bit', and that's what we need to do.

"It's horrible, it's not a nice feeling, particularly as a manager. But we do know we can change it, and change it quickly, but to do that we need everyone to give a big performance against Wolves."

NUFC - Boxing Day Record - Premier League era:
2011/12 Bolton (a) won 2-0
2010/11 Manchester City (h) lost 1-3
2009/10 Sheffield Wednesday (a) drew 2-2 (Championship)
2008/09 Wigan (a) lost 1-2
2007/08 Wigan (a) lost 0-1
2006/07 Bolton (a) lost 1-2
2005/06 Liverpool (a) lost 0-2
2004/05 Blackburn (a) drew 2-2
2003/04 Leicester (a) drew 1-1
2002/03 Bolton (a) lost 3-4
2001/02 smoggies (h) won 3-0
2000/01 Leeds (h) won 2-1
1999/00 Liverpool (h) drew 2-2
1998/99 Leeds (h) lost 0-3
1997/98 Derby (a) lost 0-1
1996/97 Blackburn (a) lost 0-1
1995/96 no game
1994/95 Leeds (a) drew 0-0
1993/94 no game
Our last Boxing Day away victory came at Hillsborough against Sheffield Wednesday in the 1988/89 relegation season.

Demba Ba struck his fourteenth Premier League goal for United and he's the fourth most prolific scorer at this stage of the season in the competition:
1993/94 Andy Cole - 19 goals by Boxing Day
1995/96 Les Ferdinand - 18 goals by Boxing Day
2003/04 Alan Shearer - 15 goals by Boxing Day
Seasonal comparisons:
2008/09: NUFC after 18 games: 22 points, 12th position (scored 24, conceded 25)
2010/11: NUFC after 18 games: 22 points, 9th position (scored 28, conceded 29)
2011/12: NUFC after 18 games: 30 points, 7th position (scored 25, conceded 22)

It's a decade since we were last in better point-winning form at this stage of the season, while it's also worthy of mention that we're now just four points away from equaling the measly total for the whole season that saw us relegated in 2009.
(season / number of games and date to reach 30 points / total points tally at season's end)
2011/12 18 games, 26th Dec, ?? points.
2010/11 23 games, 22nd Jan. 46 points.
2008/09 32 games, 19th Apr. 34 points.
2007/08 31 games, 22nd Mar. 43 points.
2006/07 24 games, 20th Jan. 43 points.
2005/06 25 games, 11th Feb. 58 points.
2004/05 25 games, 2nd Feb. 44 points.
2003/04 21 games, 11th Jan. 56 points.
2002/03 18 games, 21st Dec, 69 points.
2001/02 16 games, 15th Dec, 71 points.
2000/01 20 games, 26th Dec. 51 points.
1999/00 25 games, 12th Feb. 52 points.
1998/99 24 games, 6th Feb.46 points.
1997/98 24 games, 1st Feb. 44 points.
1996/97 16 games, 9th Dec. 68 points.
1995/96 12 games, 4th Nov. 78 points.
1994/95 13 games, 5th Nov. 72 points *
1993/94 18 games, 4th Dec. 77 points *
*42 game season - all rest are 38.
Magpies @ Reebok:

2011/12 Won 2-0 Ben Arfa, Ba
2010/11 Lost 1-5 Carroll
2008/09 Lost 0-1
2007/08 Won 3-1 N'Zogbia, Martins 2
2006/07 Lost 1-2 Dyer
2005/06 Lost 0-2
2004/05 Lost 1-2 Ambrose
2003/04 Lost 0-1
2002/03 Lost 3-4 Shearer 2, Ameobi
2001/02 Won 4-0 Solano, Robert, Shearer, Bellamy
1997/98 Lost 0-1

Full record against Bolton:

| | | | | | | |
| --- | --- | --- | --- | --- | --- | --- |
| | P | W | D | L | F | A |
| SJP | 55 | 36 | 7 | 12 | 111 | 53 |
| BP/RS | 56 | 15 | 12 | 29 | 82 | 92 |
| League | 111 | 51 | 19 | 41 | 193 | 145 |
| SJP(FA) | 3 | 1 | 1 | 1 | 4 | 4 |
| BP/ER | 3 | 2 | 1 | 0 | 7 | 4 |
| Cup | 6 | 3 | 2 | 1 | 11 | 8 |
| Tot | 117 | 54 | 21 | 42 | 204 | 153 |
Waffle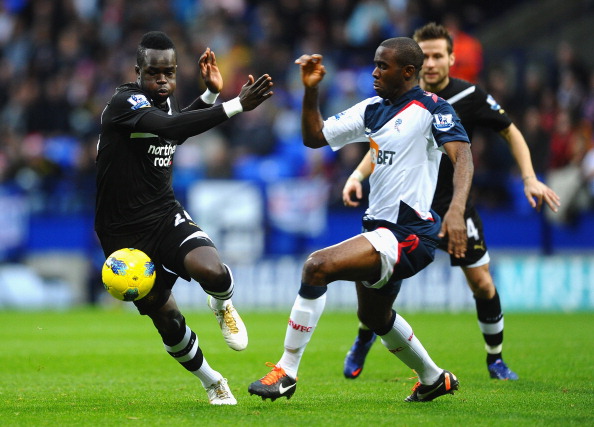 In the apparent absence of any Gallic equivalent of Boxing Day, 'Joyeux Noel' seems to be the most appropriate phrase to describe this timely success, as United's French contingent brought some yuletide cheer in what was starting to resemble a bleak midwinter, despite the mild weather.



Parisian pair Hatem Ben Arfa and Demba Ba blasted away our Boxing Day blues as we ended a six game winless run and were boosted both by the return of Yohan Cabaye after suspension and a display from Gabriel Obertan that bought praise for his contribution rather than exasperation.

And our fourth away win this season was also a first Boxing Day success in a decade, to end our winless away sequence on this day that stretched back to Hillsborough in 1988.

A turgid first half that is best forgotten was notable mainly for fine blocks at either end of the pitch from free kicks: Jussi Jaaskelainen turning Ryan Taylor's effort round a post before Tim Krul denied Martin Petrov from similar range.

And kicking towards the travelling support in the second half, Newcastle's efforts to unravel a nervous Trotters team who had lost all but one of their last eleven league games on home soil remained workmanlike rather than inspiring.

Seeking something different, Alan Pardew opted to throw on Ben Arfa just after the hour mark in place of Leon Best, whose laboured and invariably unsuccessful efforts to remain onside had prompted mass calls for a change.

The effect was almost instant, as Ben Arfa smashed his shot home amid great celebrations on and off the field - the scorer looking as if a burden had been lifted from his shoulders. Just two minutes later it was game over when Gabriel Obertan - having one of his better games for us - made a French connection from the right flank for Ba to claim goal number fourteen of the season.

With Wanderers reeling and their fans making for the exits, Ba was denied a third by Jaaskelainen before Bolton made a belated effort to breach our defence by bringing on Kevin Davies and Tuncay, but to no avail.

After some difficult weeks at the start of his second year in charge, Alan Pardew picked up some positives rather than problems from this game, with a more familiar-looking back four keeping a clean sheet on the road for the first time in six games - and significantly, avoiding any further bookings.

Mike Williamson made a successful return after injury and attacked aerial balls with a relish that has been missing from our defence in Steven Taylor's absence, while a second goal in our colours for Ben Arfa was priceless - both from a collective and individual perspective.

The United boss may have been quietly grateful that Kevin Davies started on the bench for the Trotters and as result, a sloppy home side were unable to make any aerial inroads of the type that had brought dividends for Norwich and West Brom in recent weeks.

That was due in part to the ineptness of David Ngog, who moved to Bolton last August to plug the gap left by Scandinavian workie ticket Johan Elmander, who single-handedly wound up the whole Newcastle side here in the corresponding game. On the basis that Ngog was in the Anfield departure lounge in January when Andy Carroll arrived, we look to have dodged a bullet in opting not to borrow or buy this particular Frenchman.

Things were little better elsewhere for Coyle's side, who nonetheless matched Newcastle for almost an hour. Bad-tempered Nigel Reo Coker looked as if he'd been briefed to try and goad Tiote into an early bath, while what creativity there was came from Martin Petrov, who looked in vain for anyone on a similar wavelength - to his obvious frustration. David Wheater meanwhile remained an unused substitute, presumably so not to confuse any watching youngsters into thinking The Grinch is real.

And as for Gary Cahill - the hyping of which is on a par with an X Factor finalist - he looked uneasy throughout with the presence of Ba and twice attempted to land him in hot water by claiming to have been caught by intentional elbows. And If Chelsea are considering a bid. Cahill may fit in well there, given the reaction of Ba to a comment passed by Cahill - the United striker springing to his feet after winning a free kick and looking set on a confrontation before other players intervened.

Banishing the disappointment of recent home games, we moved on to 30 points and prospered from a first outing for the black away kit since Stoke. And once again that had the desired effect in gaining revenge for what was one of the lowest points of last season - having righted a wrong at the Britannia (0-4 and we were lucky to get none), it's pleasing to also have done that at the Reebok (1-5 with Colo and Willo both red carded once the video nasty had been dissected).

The three points kept us in seventh but we made up ground on Liverpool who were held at home by Blackburn Rovers. A win at Anfield on Friday would lift us ahead of miserable Kenny & Co. but even scoring a goal there would be a minor triumph for us, given the run of consistent disappointment we've suffered there. We do have the man to do that though - and a better defence than of late.

Biffa