Date: Saturday 3rd December 2011, 12.45pm
Live on Sky

Venue: St. James' Park

Conditions: Dignified/deflating






Newcastle United

Chelsea

0 - 3

Teams
38 mins With the home crowd still seething as a result of Dean's earlier cowardice, further roars of disapproval greeted the award of a throw-in to the visitors although a cross from the right flank had seemingly drifted out.

In reality though, the ball had flicked off Ryan Taylor's head and United momentarily switched off as the throw was taken on the Chelsea left. Yohan Cabaye allowed Juan Mata to get to the byline and his cross was nodded past Tim Krul by Didier Drogba at the Leazes End, substitute James Perch making a woeful attempt to block the scorer. 0-1


Half time: Newcastle 0 Chelsea 1


89 mins Fernando Torres should have scored but when his effort was blocked he played in Salomon Kalou who found the net from the edge of the box. 0-2

92 mins Having threatened to find the net all afternoon, Daniel Sturridge finally beat Krul with a low drive. As he had for the second goal, Chelsea fitness coach Jose Maria Rocha exercised himself with an over the top celebration in front of the home bench, AVB hastily intervening with gestures of apology as at least one member of the United coaching staff looked more than willing to point out the error of his ways.
0-3

Full time: Newcastle 0 Chelsea 3
Alan Pardew commented:

"He (Dean) said, 'I made a mistake, he should have been sent off'. At half-time yesterday, his opinion was different, but his opinion would have been altered if his assistant referee had done his job, in my opinion.

"When I saw the referee at half-time, I said, 'Why did you not send him off?'. He said to me, 'He didn't have control of the ball'. Well, how can you have control of the ball when the guy is knocking you over?

"I have got no problem with the referee, he made a mistake. The bigger problem I have got is with the linesman on this occasion, because I was looking at the linesman. The linesman can see that - he didn't flag, he didn't go mad, he didn't do anything, so Mike Dean is making that decision from 40 yards away.

"If the linesman is waving his flag and suggesting, 'You know what, this is an incident here', and they have got their little mics...It would have altered the game, down to 10 men, Chelsea, the pressure they were under.

"I wouldn't have lost my centre-half (Steven Taylor) to injury because we were forcing the game. I had people charging around trying to get back a situation when we would have been in control of the game. Not only do I lose the game, but I have lost two players through injury (Taylor and Coloccini). I'm still angry.

"It is (a different game with 10 men), of course it is. With the atmosphere and the crowd we had today, Chelsea would have struggled. In the first half outside of that decision, Chelsea played their game, we played ours, and it was pretty tight. They bossed periods of that first half. We didn't have the impact I would have liked – losing Coloccini was another blow we had to take – but we still wouldn't lie down.

"We changed it at half-time, put a little bit more pressure on their back four and we almost got something out of the game in that period.

"I have to applaud my players – they were terrific in their attitude. No Coloccini, no Cheick, no Gutierrez and yet we still pushed Chelsea, so in a lot of ways, there are a lot of positives to take out of that.

"Then we lose Steven Taylor to what looks like a bad injury, and that is a worry, and we concede two late goals. You have to feel for one or two of my players, not least Tim (Krul), who was absolutely brilliant. To have three goals against him must be really galling. He must be as disappointed as I am.

"The injuries are our biggest concern now as we look ahead. Whether it changes our plans for January depends, I guess, on the seriousness of the injuries and the recovery of Williamson. Once we lost Williamson we were always in trouble.

"There's a big feeling of ­disappointment about this game. I felt there were a lot of positives to come out of it, with the team we ended up with at the end. We are really short (of players). We go to Norwich and the next three games are winnable for us.

"We've got to approach those, with the players we've got available and try and win them. And if we try and win them we could find ourselves back in the top four and that's what we want to try and do.

"The injuries are our biggest concern now as we look ahead. Steven's is a bit of a worry, Colo has a thigh strain, we hope it doesn't tear, so obviously we'll have to scan them to find out how serious they are. We've been a bit unfortunate in these three games, we've not had our best squad to pick, and yet I still look at my team and they're competitive."

Asked about the touchline incident following the third goal:

"The (Chelsea) manager has been under a lot of pressure but he apologised straight away. He conducts himself with dignity but his staff let him down."

Andre Villas-Boas observed:

"It was a good, solid performance for 90 minutes. The players were decisive. To find that inner-belief and strength was a major key. Coming to one of the best stadiums in the Premier League, plus one of the best defences in the Premier League and a team that was at full steam in terms of motivation, was always a difficult challenge. We did fantastically well and the players deserve some applause for what they did.

"I haven't seen it. Of course, the emotions from the stands and from the Newcastle bench, for them, it looked like a sending-off. But all I can say is with ten or nine men, we play even better, so maybe we would have won the game more than 3-0."

Referring to the added time daftness:

"I said sorry at the time and we will try to control ourselves, but it was a key goal late in the game and it is ridiculous to make too much out of an incident like this."



Stats:

United surrendered their ten-match unbeaten league run at SJP (6 wins, 4 draws) as the visitors became the first side to leave with all three points since Everton back in March 2011.

This was the largest margin of victory by Chelsea at SJP since a 6-1 success in March 1961.

Blues @ SJP - Premier League era:

2011/12 Lost 0-3
2010/11 Drew 1-1 Carroll
2008/09 Lost 0-2
2007/08 Lost 0-2
2006/07 Drew 0-0
2006/07 Lost 0-1 (LC)
2005/06 Won 1-0 Bramble
2004/05 Won 1-0 Kluivert (FAC)
2004/05 Lost 0-2 (LC)
2004/05 Drew 1-1 og(Geremi)
2003/04 Won 2-1 Ameobi, Shearer
2002/03 Won 2-1 og(Hasselbaink) Bernard
2001/02 Lost 1-2 Shearer
2000/01 Drew 0-0
1999/00 Lost 0-1
1998/99 Lost 0-1
1997/98 Won 3-1 Dabizas, Lee, Speed
1996/97 Won 3-1 Shearer 2, Asprilla
1995/96 Won 2-0 Ferdinand 2
1995/96 Drew 2-2 Albert, Beardsley (FAC) (lost on pens)
1994/95 Won 4-2 Cole 2, Fox, Lee
1993/94

Drew 0-0

Full record v Chelsea:



P
W
D
L
F
A
SJP
67
34
17
16
99
71
CG
66
10
19
37
70
127
League
133
44
36
53
169
198
SJP(FA)
5
1
1
3
5
9
CG
6
2
2
2
7
7
SJP(LC)
2
0
0
2
0
3
CG
3
1
0
2
5
6

Cup

16

4

3

9

17

25

WHL(CS)
1
0
0
1
0
3
Tot
149
48
39
62
186
223
This was the first Premier League game this season in which we've failed to either equal or better the result in the corresponding game in the 2010/11 campaign.

Tim Krul's penalty save wasn't the first for United at this end of SJP - the Dutch glovesman denied Brighton and Hove Albion twice during a penalty shootout to decide an FA Youth Cup tie at SJP back in March 2006.

That was the second time in that season's competition that Krul's actions had proved decisive in a shootout, having also saved twice from Stoke City players at Kingston Park. He went one better on that occasion by scoring the winning penalty for United.

Waffle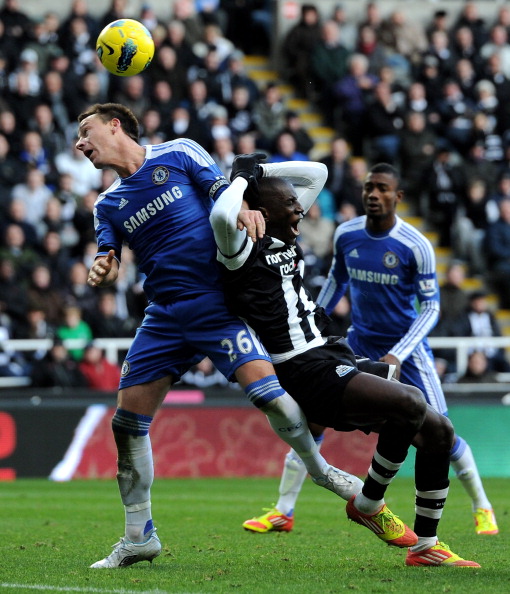 As Alan Pardew approaches the first anniversary of his arrival at St.James' Park this coming Friday, he may reflect on a work in progress that by any measurement is eye-catching.

However what he himself termed a daunting prospect in December 2010 remains exactly that, given that we remain masters of misfortune, consistently capable of turning any vaguely promising situation into something requiring the intervention of the Red Cross and/or the UN...

His early anniversary present today was our heaviest home league defeat in almost three years and two crushing blows in the shape of injuries to both first-choice centre halves. If he didn't it know before, when it rains round here, it pours and floods - and the ark shop is shut until January.

Like the sale of Andy Carroll in January that was immediately followed by Shola's fractured cheekbone and Leon Best's later ankle problems, versions of this nightmare scenario had been playing out in our head from some weeks now.

Ever since Mike Williamson's suggested recovery time from the injury sustained at Scunthorpe came and went without any trace of him returning, the risk of injuries and suspensions to either Fabricio Coloccini and Steven Taylor had loomed large - even before the other Doomsday scenario of irresistible January transfer bids came into play.

Graeme Souness asserted in 2005 that managers here are only ever two defeats away from a crisis and while Pardew's position is far removed from that of GS (who brought about his own downfall by acquiring messrs Boumsong, Babayaro and Moore), it's fair to say that this latest outbreak of ill fortune threatens to derail our season.

If nothing else, our current manager's recent comments about having a stronger bench than a year ago now unfortunately have a hollow ring to them when considering the defence.

Having started with the same back four in all 14 league games and reaped the benefits of a settled unit, Pardew's task is to now cobble together a defence composed partly of the unproven and the discarded - not quite a footballing version of Scrapheap Challenge, but a test of his coaching and motivational credentials. Thankfully the unattached Sol Campbell hasn't been mentioned. Yet.

But having defied logic with Ryan Taylor as an Enrique replacement and Danny Guthrie raising his game to deputise for Cheick Tiote, he now has to fashion two defenders out of Tamas Kadar (so far out of favour as to not possess a current squad number), James Perch (best described as jack of all trades) and Davide Santon (allegedly a left back but debuting v Spurs in the right back slot).

(And in another typical twist, in addition to Simpson, Ryan Taylor is believed to be deadlocked in contract negotiations at SJP, both having rejected deals of improved length but unacceptable wages. Their current contracts run until 2013).

At least Pardew hasn't been forced into this make do and mend action sooner though, thus avoiding what could have been morale-sapping howkings on either side of Manchester.

Enough of the future forebodings though, high time we raked over the ashes of this one...

While the story of the game became the fourth minute decision by

referee Mike Dean only to book David Luiz for felling Demba Ba on the edge of the Chelsea box rather than dismissing him, for for the remaining 86 minutes (until Steven Taylor limped off) it was 11 against 11 and United came up short across the field, not in terms of effort and application but in prowess.

What the Chronicle used to call "unseen work" in their merit marks had seen Jonas Gutierrez track back to help out Ryan Taylor at left back in previous games, but with the winger suspended for this one after his Old Trafford dismissal, replacement Peter Lovenkrands was occupied elsewhere and with Daniel Sturridge to the fore, Chelsea frequently rampaged down the right flank.

In fairness Lovenkrands put in a good shift and was as close to a playmaker as we possessed in the side, outshining Ben Arfa and providing the only semblance of support to Ba until the Ameobi brothers made their entrance.

As it was though, Yohan Cabaye was back to clumsily (and illegally) halt another Sturridge run into the box on 13 minutes. Penalty rightly given and an opening goal to the visitors looming, after Krul's previous failed attempts to stop spot kicks. However it proved to be tenth time lucky for the flying Dutchman as he departed from his "star jumping" posture in favour of a crouching stance, pulling off a superb block to deny Lampard and to tip the ball onto the post before the danger was cleared.

The danger continued but Krul and a goalpost continued to deny Chelsea, while at the other end we burst into life and Ba brought a fingertip save from Cech before hitting the post with a header and seeing John Terry's clearance almost spooned into the goal via Luiz.

With captain Colo pulling up though and donating the armband to Steven Taylor before departing, James Perch arrived almost to an air of resignation that our chances of a first home win over these lot in seven attempts were rapidly lessening.

Barely ten minutes later and that sinking feeling was accentuated by Drogba's goal, leaving much work to be done at half time by the home side to rejig their attack and reformat their defence.

To a certain extent Pardew and his coaches managed to do that, dispensing with Ben Arfa in favour of Shola, who then effortlessly smacked an effort off a Leazes crossbar that still quivering from the thundering header Drogba had inadvertently placed against it some minutes earlier.

With Best left to his own devices on the bench, the final throw of the dice saw Sammy Ameobi thrust on to try his luck down the United left - Pardew bowing to the inevitable and replacing the ailing Lovenkrands rather than the fitter but faltering Obertan, who was frankly pathetic.

Sammy promptly hit Terry on the goal line with a volley - at which point it was probably safe to accept that our second league defeat of the season was looming - and then it all went even more pear-shaped, Chelsea scoring a breakaway second and Steven Taylor hobbling off the pitch, with all three substitutes already used. Surgery to correct a snapped achilles is likely to end his season.

Insult was then added to injury with an added time third, the visitors going above us as we slipped out of the top four for the first time since September, to a universal chorus of "told you so's".

It's perhaps unwise to predict what happens next, but even with our current bout of casualties we remain in a far healthier position than a year ago. As ever January promises to be very interesting,
but there are a quartet of winnable games before that and every chance of ending 2011 in an enviable position, looking upwards.

Alan Pardew is seven points and five places better off than Chris Hughton was at this point in December 2010 - from two fewer fames (26 points from 14 games in sixth compared to 19 points from 16 games in eleventh). And crucially, he retains the support of the dressing room and a side who are playing for him and each other - even if looking beyond the first XI is cause for concern.

Biffa