Date: Saturday 26th November 2011, 3pm

Venue: Old Trafford

Conditions: breathless

Admission: £43 (£42 in 2010/11)

Programme: £3





Manchester United

Newcastle United

1 - 1

Teams
Half time: United 0 United 0

49 mins Wayne Rooney's goalbound effort was blocked by Steven Taylor, only for the ball to ricochet into the Newcastle goal from close range off the torso of Hernandez - who knew very little about it. 0-1

64 mins Hatem Ben Arfa pushed forward in possession of the ball and outpaced two home players before continuing his run into the box. A reckless but seemingly legal challenge from Rio Ferdinand was flagged by linesman John Flynn (a Flight Sergeant in the RAF) for a penalty and the referee pointed to the spot - altering his original decision to award a Newcastle corner.

Once the considerable wailing had subsided, Demba Ba trotted up to calmly slot his spot kick home at the Stretford End, sending De Gea the wrong way. 1-1

Full time: United 1 United 1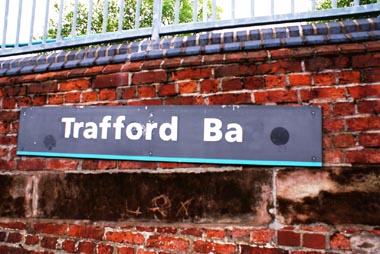 The writing was on the wall
Alan Pardew said:

"I can understand Sir Alex (Ferguson) being disappointed with the decision but we deserved a break and on this occasion we got one. It was a great run from Hatem (Ben Arfa), and it was one of those situations where you either get the decision or you don't. You could tell from the players' reactions that there was a good case for a penalty.
"In real time I thought it was a penalty - you could tell by the players' reaction that it was tight. Looking at it again, the ball has changed direction but whether Rio took a little bit of Hatem before he played the ball is debatable.
"It's one of those where I'm sure United and, particularly, Alex will be really disappointed but for us it was a break and I feel we deserved that. Sometimes you have to force the pressure and we did. We got a break.

"Forget about the result, it was just a great performance When United don't win, the headlines are about their disappointment. But my players, for me, were Geordie heroes today. It was a brilliant game and it will live long in the memory.
"We all had to pitch in at the end. We put our bodies on the line. Our goalie helped out on many occasions, as he has done all season. It was an outstanding display from him and the back four.
"The first half especially I thought we were the better side. They were heroes at the end, especially when you get a man sent off, you've all got to pitch in – which we've been doing all year.

"What you have got to do as a team and a squad is just roll on to the next game and set it up. We have done that, we have set up Chelsea. Had we been beat today then perhaps the atmosphere in the stadium would have been they expected us to get beat again.
"Next week, 52,000 Geordies will be going mad, hoping for us to beat one of the top teams. We are in a position where we could perhaps do that."

From the BBC online match report:
"At times in that thrilling conclusion Krul's goal seemed to be protected by a magnetic forcefield."

The lead singer of Deep Purple spat:
"I've just seen Alan Pardew's interview when he said Newcastle were the best team in the first half – I just wonder what game he's been at. Chicharito has had four clear chances. We played some great football. The second half was just an onslaught and not getting the three points was just a travesty.

"Their goalkeeper made some fantastic saves, there were shots blocked, others hit the post and were cleared off the line and there were one or two bad misses. It was just an incredible result.

"The penalty decision was an absolute travesty. The referee saw the incident and gave a corner, and he was in a far better position to judge than the assistant because he was only about eight yards away.
"I don't think anyone in the ground apart from the assistant thought it was a penalty, but he then let the linesman overrule him. The problem is that assistant referees are not full-time, even if referees are. I could not understand the decision at all.

"Everyone, including the referee, was astounded when the linesman put his flag up. He was put in a terrible position. Why can't the referee overrule it when he is only eight yards away? It is not for me to decide whether the assistant referee gets another game again but it was an absolutely shocking decision.

"It costs you, a decision like that. Two years ago, when the linesman gave the offside goal against Chelsea, it cost us the league, so hopefully we're not saying that at the end of May.
"I don't think we played badly at all today – if we carry on playing like that I'll be happy – but we slaughtered Newcastle and not to get the three points was a travesty."

Magpies @ Old Trafford - Premier Years:
(figure in brackets is HT score)

2011/12 drew 1-1 (0-0) Ba (pen)
2010/11 lost 0-3 (losing 0-2)
2008/09 drew 1-1 (1-1) Martins
2007/08 lost 0-6 (0-0)
2006/07 lost 0-2 (losing 0-1)
2005/06 lost 0-2 (losing 0-2)
2004/05 lost 1-2 (winning 1-0) Ambrose
2003/04 drew 0-0 (0-0)
2002/03 lost 3-5 (losing 1-3) Bernard, Shearer, Bellamy
2001/02 lost 1-3 (losing 0-1) Shearer
2000/01 lost 0-2 (losing 0-1)
1999/00 lost 1-5 (1-1) og (Berg)
1998/99 drew 0-0 (0-0)
1997/98 drew 1-1 (1-1) Andersson
1996/97 drew 0-0 (0-0)
1995/96 lost 0-2 (losing 0-1)
1994/95 lost 0-2 (losing 0-1)
1993/94 drew 1-1 (losing 0-1) Cole


Full record v Manchester United:
P
W
D
L
F
A
SJP
72
29
17
26
135
110
OT
73
9
20
44
77
163
League
145
38
37
70
212
273
SJP(FA)*
1
0
0
1
2
3
OT
3
0
0
3
1
7
SJP(LC)
1
1
0
0
2
0
OT
1
0
0
1
2
7

Cup

6

1

0

5

7

17

OT/W(CS)
2
0
0
2
2
8
Tot
151
39
37
75
219
290
Mike Jones became the first ref since Ken Stokes in September 1965 to award us a penalty here* and Demba Ba the first Magpie to score from the spot there since Ron McGarry in that Division One game.

Between those two awards, we played no less than 35 first team matches here against Manchester United in all competitions - almost 54 hours of play.

That night in 1965, a 42nd minute run into the box by Albert Bennett was halted by Nobby Stiles and as NUFC historian Alan Candlish describes:

"The referee immediately pointed to the spot and waved aside the Manchester protests. After McGarry scored, the Manchester players continued their protests and Bobby Charlton was eventually booked.

"In fact the referee had to speak to several players as the tension built up."

Nice to see that some things don't change....

That 1965 game also ended 1-1 after a 20 yard shot from Stiles took a deflection off defender Ollie Burton.

* excluding Alan Shearer's spot kick conversion here in the FA Cup Semi Final in 1999 against Spurs.
Waffle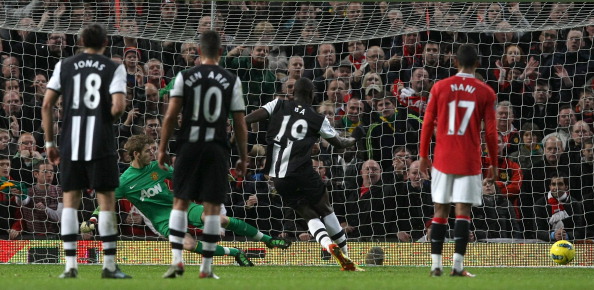 For the second successive Saturday, Alan Pardew took his troops to Greater Manchester and looked on as they gave a dogged display, battling opponents and officials from the first whistle to the last.

And unlike last weekend's Eastlands reverse, Newcastle departed with something more tangible than faint media praise and their pride intact, managing also to send the home manager into a crimson tide of anti-officialdom abuse - always a sure sign that we've done something right.

Containing the Red Devils early on, we then emulated last week's passage of counter-attacking and enjoyed notably more possession than against City, Demba Ba going for placement over power and Ryan Taylor miscuing a far post volley.

A first Old Trafford return for Gabriel Obertan meanwhile provoked the fit-again Frenchman into a more progressive performance, abetted by some Gallic rage caused by a couple of ankle tops from his former colleagues.

Having reached half time without conceding though - not in itself something really worthy of note, considering that the last time we managed it here we promptly shipped six goals - the Magpies quickly went behind after a bout of penalty box pinball left Tim Krul helpless.

So, normal service apparently resumed here, until a remarkable few seconds the like of which few present here of a black and white persuasion had ever witnessed. Ben Arfa went down in the box and rolled off the field, having earned a corner from his coming together with Rio Ferdinand.

Amid increasing consternation though, the referee indicated a corner before trotting over to confer with the linesman patrolling the touchline of what is now christened The Alex Ferguson Stand - and whose occupants obligingly moaned in the manner of their glowering idol when it became apparent that Newcastle had been awarded a penalty.

Six players surrounded the linesman and the protests continued even after the referee had made his way back to the centre of the field, the flag waver still pursued by moaning mancs as he took up position on the goal line. And after our first spot kick success here since 1965, Wayne Rooney's continued abuse of the referee delayed his side from kicking off again. No cards were shown.

Respect? Don't make me laugh - the tactics of pure intimidation were no different to those employed here by Beckham, Keane & Co. back in 2000 after Andy D'Urso had the nerve to award the smoggies a spot kick. The names change but the whinging stays the same.

That the stand-in whistler had an unexpected change of heart was rendered even more remarkable, as until that point he'd seemingly adhered to his Cheshire roots by cutting the home side plenty slack - notably when Wayne Rooney kicked out at Fabricio Coloccini as he and the ball went to ground just outside our penalty area.

Colo - playing only after extensive treatment for a back spasm problem - was content to settle the matter with a handshake, but Hatem Ben Arfa then sprinted across to pitch to confront Rooney, getting a yellow card for his reaction before Jonas Gutierrez dragged him away from further trouble.

At eleven against eleven with 26 minutes to play, leaving here with a point still looked like more of an aspiration than an expectation (although the introduction of Sammy Ameobi did lead to some idle dreams of a sensational winner - in reality he spent much of the time getting in the way of Ba as both players worked the same channel....)

However to then play out 12 minutes plus stoppages following the dismissal of Gutierrez for a second booking after a second rash tackle looked far less likely, despite our enviable work rate and evident desire not to be beaten.

Some superb saves from Tim Krul and last ditch blocks from Steven Taylor, Danny Simpson and a goal post somehow kept out the Red Devils though, before Hernandez was correctly flagged for a marginal offside in Fergie time. Despite the contributions across the field though, the cement of the team was once again Coloccini and talk that he might miss out today through injury just didn't bear thinking about.

The scenes at the end could hardly have been bettered had that elusive victory here finally arrived, both supporters and players rightly delighted and the coaching staff not wasting an opportunity to join in the on-field celebrations - and who can blame them?

The plaudits went to Krul for a string of noteworthy stops and perhaps tellingly, praise was forthcoming from the home manager. As we've referenced before, it doesn't take a genius to make a transfer story out of our Dutch keeper's talent, his admiration for Fergie advisor Edwin van der Sar and the variable form of David De Gea. Time will tell.



Of course though this point was all a fluke, we were gifted a goal and deserved to get nothing from the game. Long may we remain the invisible team - sneeringly dismissed by all and sundry, but with 50,000 punters eagerly awaiting the next chapter of this unfolding story on Saturday.

Biffa