Date: Saturday 19th November 2011, 3pm

Venue: Etihad Stadium

Conditions: intense

Admission: £38 (£36 in 2010/11)

Programme: £3





Manchester City

Newcastle United

3 - 1

Teams
41 mins The home contingent were becoming unsettled at the lack of a breakthrough from free-scoring City when Ryan Taylor's outstretched arm blocked Mario Balotelli's goalbound shot - with a miscued Steven Taylor clearance presenting the ball to the Italian forward.
Balotelli's stuttering run then bemused Tim Krul who could only stand and watch as the penalty conversion sailed past him. Home fans celebrated with their "Poznan" arms linked thing, while the scorer stared at Krul, arms folded in a manner reminiscent of Yul Brynner in the "King & I". 0-1

44 mins The sanctuary of half-time was still a minute away when Ryan Taylor failed to deal with a hopeful ball to Richards and the City defender was able to nip in and double his side's advantage, prodding the ball past Krul from six yards.
0-2

Half time: City 2 United 0

72 mins The final nail in our coffin came when Ben Arfa was caught on the wrong side of Richards and a clumsy challenge sent the defender tumbling, enabling Sergio Aguero to beat Krul from the spot - the Dutch 'keeper seeing two spot kicks pass him almost a year to the day that Bolton Wanderers had inflicted similar damage.
0-3

89 mins Two substitutes combined to create a consolation, sort of anyway. James Perch threaded though a pass that Demba Ba raced on to, Hart coming off his line to deny him but only partially block his short. Dan Gosling was on hand to tuck the ball home from close range, prompting the away end to sarcastically repeat the City fans' daft celebration and "we score when we want" chant.
1-3

Full time: City 3 United 1
Alan Pardew said:

"Their confidence is very high - you can see a real belief about them. Whether we catch another team in that mode again, I don't know. I certainly hope not. We feel a bit hard done by as the breaks did not really go our way. They are a powerful side and we had to go full tilt at times just to hang in there. We had some good chances but it just did not quite work for us.
"I thought we were doing well in the game when the penalties arrived and for the third goal, we've got a centre-half having his nose repaired on the side of the pitch and Hatem in a position he wouldn't normally be in and that cost us a goal. That sort of summed it up, I guess.
"We had two big chances at 0-0. When you're playing a side as powerful as Man City – and they showed how powerful they are today – you need to take your chances and you need breaks to go your way. We had a big, big chance at 2-0 (through Ben Arfa). If that had gone in, maybe the mood in the stadium would have changed.

"It's almost a minor triumph to keep them within two goals. They're the best side we've played by some distance. Throughout the game, questions were being asked of us, real tough questions, so it was a great performance by us simply to be in the game. You can be as organised as you like, but it generally comes down to the sheer class of the individuals they have in their team and the ideas and the movement.
"Twenty-five points after 11 games speaks for itself - we're a good side. City are the best side we have played by some distance, they are very powerful. We're a good side and how we are going to evolve, how we are going to deal with disappointment like today is still unanswered.
"It was one of those days – no Cheick (Tiote), no (Gabriel) Obertan. When you play top teams you want all your players available. But in the dressing room after there was genuine disappointment at things that didn't fall for us. That wasn't made up. It wasn't, 'Oh, we did OK today,' we're really disappointed.

I was impressed with him (Ben Arfa). The ideas some of the City players present you with, their flair, makes it very difficult for your defenders and I thought Hatem was at that level.

"He created one or two things, burst away from players, kept possession. To think it is only a year ago that he had that terrible injury, it was a really good performance, he should be proud of that.

"Outside of Nile (Ranger), I'm not envisaging much more (loan) activity. Shane Ferguson has come back from Northern Ireland injured - he's having a scan. Haris (Vuckic), I'm umming and ahhing about whether we need to keep him in and around the building, and the same with Mehdi (Abeid).
"Mehdi has a situation where the Olympic team have a tournament and he's got something like four or five games in that tournament, which is something like three weeks. That's something I might do – I think it'd be good for him, good for their Olympic team as well.

"My squad is definitely deeper than last year, without a shadow of a doubt. Sammy (Ameobi) will have taken great confidence from some of the embarrassing moments he caused (Gael) Clichy and he's a real senior player now. We also had the likes of Haris and Mehdi not even involved in the squad, so we're strong enough to cope with a strong season, which is what we hope to have."
Roberto Mancini opined:

"It was a difficult game, Newcastle played very well".

(Sound familiar? From Roberto Mancini's press conference after City won 3-1 at SJP in December 2010: "It was a difficult game, Newcastle played very well".)


"I told the guys before the game that it would be difficult, that they have good players who are playing very well and that we needed to play very well. We had a lot of possession, scored three goals and had a lot of chances. I hope we can continue like this, but in the next 28 games there will be one that we lose.

"We started the season very well and this confidence is important for the team - I don't think we are better than Real Madrid, Barcelona, Manchester United, but probably we are at the same level. Every three days we have a match at the moment and December and January is going to be a crucial time. Winning then will be really important.

"I hope we continue like this. I'm happy for the players, we've been playing well because of them and, at the moment, we have improved a lot. As players, as a team, we are very strong now but the season is long and there will be difficult moments ahead. For this reason, it's important we know we can score goals and win games in a row.
"Mario (Balotelli) is fabulous. It's impossible for him to miss a penalty, I don't know why! But he takes them very well. He's a very important player for us, and he is becoming better and better. I've told him not to waste his talent, and that how good he becomes is up to him."

Newcastle's 11 game unbeaten start to the league season came to an end at the point that it matched the feats of the Magpies in 1994 (losing 0-2 at Manchester United) and 1950 (losing 0-3 at Aston Villa).

City v United - Premier League era:

2011/12 Lost 1-3 Gosling
2010/11 Lost 1-2 Gutierrez
2008/09 Lost 1-2 Carroll
2007/08 Lost 1-3 Martins
2006/07 Drew 0-0
2005/06 Lost 0-3
2004/05 Drew 1-1 Shearer
2003/04 Lost 0-1
2002/03 Lost 0-1*
2000/01 Won 1-0 Shearer*
1995/96 Drew 3-3 Albert 2, Asprilla*
1994/95 Drew 0-0*
1993/94 Lost 1-2 Sellars*
1993/94 Drew 1-1 Jeffrey (LC)*

(*At Maine Road - all others at CoM Stadium)

Total record against Man City:
P

W

D

L

F

A

SJP

75

48

15

12

148

74

MR/CoM

76

16

20

40

79

136

League

151

64

35

52

227

210

SJP

(FA)

6

3

2

1

8

5

MR/W

4

3

0

1

10

7

SJP(LC)
1
0
0
1
0
2

MR/W
2
0
1
1
2
3

Cup

13

6

3

4

20

17

Tot

164

70

38

56

247

227
Dan Gosling became the 100th different Premier League scorer for Newcastle - excluding own goals.
Tim Krul has now faced five spot kicks this season - four in the Premier League - and failed to save one. That figure was four in 2010/11 (one in the Carling Cup) without getting near any.
PS: If you thought that your eyes were deceiving you in the second half of this game, reserve defender Paul Dummett didn't make his Premier League debut for United - but his shirt did.
Having taken another blow in the face, Steven Taylor returned after treatment on the sidelines with a replacement clean shirt bearing Dummy's 45 squad number (but no name).


Waffle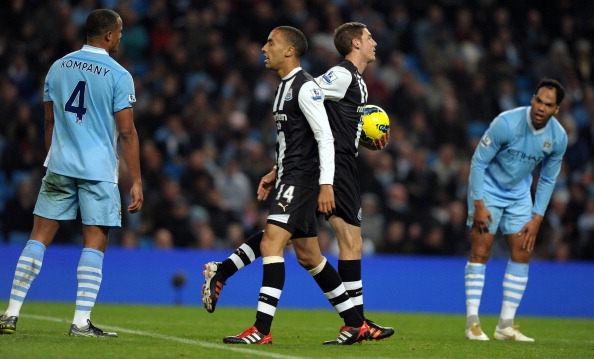 Now, where were we?

Two weeks ago we played and won at a St.James' Park that was brimming over with good cheer - and more fans than of late, thanks to a successful season ticket promotion that had combined with our on-field form to create something resembling the most positive atmosphere in recent memory.

A fortnight later though and much of that feeling of progression has been replaced by a more familiar one of deflation and Deja vu, after our masters seemingly reverted to type and began undoing their good work in almost wilful fashion.
Attempting to change the ground name in the haphazard fashion to which we've become only too accustomed (with further "@ St.James' Park" signage only just bolted in place), gave notice that disharmony was back on the agenda, before tabloid revelations of conversations between Derek Llambias and some fans re-opened old wounds of the Shearer, Keegan, Hughton and Carroll variety.

In fairness, the latter story was more depressing than disgusting, with some elements of both truth and logic in what was said in amongst the bragging and swearing. Some things round here don't change though, with Shearer still the target of abuse in a covertly-recorded, unguarded, bar-room conversation involving a club official - 13 years after Freddy and Douggie's infamous "Mary Poppins" comments.

(By the way, if a Shearer statue is planned, the current administration may get the ball rolling with their own contribution to it....a pair of concrete boots).

If there was any surprise in the story, it was that Del Boy felt emboldened enough to go out into the town post-match and drink with punters - and that Newcastle possessed a so-called gastro pub...

Taking stock of all that with a vague air of resignation, the destination of our next game was never likely to provide much relief, City's ground proving to be an ill-fated venue in our previous seven visits regardless of its numerous rebrandings, going back to when Joey Barton was a Citizen.

That our unbeaten run ended here was no great shock, given the superior form of the league leaders and the combination of confidence, pace and precision that they possess (plus strength in depth that sees them stride on with Johnson, Silva and Dzeko benched and Tevez AWOL). What is obvious close up also is the sheer size of Mancini's side, notably Yaya Toure. Big lads, taking no prisoners but just about staying within the boundaries of the law this time round.

Despite some overwhelming possession, City's dominance didn't translate into them laying siege on Tim Krul's goal. Aside from occasional flurries down the right from Sammy Ameobi though, United were seldom seen as an attacking force in the opening half hour as Demba Ba struggled to hold the ball up and Hatem Ben Arfa tried to get into the game, starting for the first time since leaving this stadium by ambulance some 13 months ago.

That changed though as the Magpies forced their way upfield and fashioned two scoring chances - Ben Arfa opting not to pull the trigger in favour of finding Ba, whose shot was smothered by Joe Hart, and Ba then unmarked at a corner but only able to head narrowly wide.

With chances inevitably at a premium, those who feared the worst from our spurning two in quick succession were soon plunged into gloom after four horrible minutes just before half time. First Ryan Taylor's outstretched arm to concede a spot kick, before the same player got himself in a tangle when trying to deal with a ball across the box, presenting a gift of a goal to Micah Richards.

Two behind and mindful of City's habit of stepping things up after half time, damage limitation looked to be our first priority after the restart. Again though they thrust without cutting and James Milner continued with his industrious work for little reward as Balotelli sauntered around before going off.
A glimmer of hope that something remarkable could still come to pass was then raised and dashed, as Ben Arfa took advantage of a slack pass to wriggle forward and place his low shot beyond Hart, but also crucially back off the post to nobody in particular. Fabricio Coloccini then ripped a fierce volley wide of the target and Danny Guthrie tested Hart from a narrow angle - with Steven Tayor agonisingly close to reaching the rebound - as our hopes rose.
Had one gone in, the destiny of the points could have altered, but when Ben Arfa appeared at the other end of the field to clumsily concede another penalty that Aguero duly converted, City's unbeaten start to the season was on the way to being extended and ours was en route to ending.

It should be noted that Steven Taylor was at the time off for treatment after having clouted himself on the nose again. The latest damage to his hooter (but not a break thankfully) seemed to have come from him heading the ball with his face. At least Hatem was back in the thick of things, rather than taking a long view back from the centre circle, as some of his predecessors were prone to do.
There was certainly no disgrace in this defeat for United, who put in another spirited performance despite the cracks in the squad beginning to show. And if nothing else was achieved from this afternoon, getting Ben Arfa through this phyiscal and mental test may prove to be a significant plus.

Our record may have gone, but despite the world apparently ending again behind the scenes, there was enough going on here to suggest forward momentum has only been slowed not halted. A similarly resolute performance across the city next week may not bring any reward - and we're not holding our breath after countless previous trudges past Lou Macari's chip shop - but we at least maintained some discipline here, aided by some pre-Napoli slackening off from the home side.

The prospect of taking Chelsea on at home should be one that players and fans alike relish though, as Alan Pardew prepares to mark his first anniversary of life in what has always been a madhouse, aka St.James' Park.
Biffa