Date: Saturday 5th November 2011, 12.45pm
Live on Sky

Venue: St. James' Park

Conditions: Buoyant






Newcastle United

Everton

2 - 1

Teams
12 mins A fluid buildup from United saw Steven Taylor push the ball forward over halfway to the perambulating Danny Guthrie, who played it out to Danny Simpson - pushing forward into space down the Magpies' right flank.

He promptly sent over a low, sweeping centre that Toffees defender John Heitinga prodded past Tim Howard from the edge of the six yard box. Leon Best was lurking behind the scorer but hardly breathing down his neck and the visiting 'keeper had set himself for what looked like a routine take as the cross came over, before Heitinga's miscalculation. 1-0

29 mins Ryan Taylor began the move that ended with him firing in a spectacular dipping effort, taking a throw in from the left flank just not quite level with the Everton box. His looping throw was aimed towards Demba Ba, but bounced over him and two defenders before it was headed away by Jack Rodwell.

Enter Taylor again, who picked up the loose ball outside the area, chested it down to elude Drenthe and then unleashed an unstoppable shot that gave Howard absolutely no chance as it flew in off the Gallowgate crossbar. The boyhood Liverpool fan escaped the congratulations of his team mates and set off towards the Milburn Stand, directing waves and a rocking baby mime to where his lass and six-week old Henry were watching (or more probably blissfully unaware and sleeping). 2-0

45+2 mins Drenthe's powerfully-hit flag kick from firebomb corner saw Jack Rodwell escape his marker Danny Simpson to bullet in a header that left Tim Krul grasping at thin air.
2-1

Half time: Magpies 2 Toffees 1

Full time: Magpies 2 Toffees 1
Alan Pardew commented:

"I don't want to dampen expectations and dampen the mood. I am not here for that. I want Newcastle fans to enjoy this and if they are dreaming of the Champions League, let them dream, it is fantastic, good luck to them.
"In the dressing room we have to be a little more conservative about our approach. We are a new team, we have done terrific and we go to the next game, that's it.

But it is a great achievement for everyone at the club, regardless of the role they have here. Everybody believes in each other and trusts each other, from the staff who work at the stadium, to the training ground. It is brilliant to able to say we are unbeaten at this time and we should be very proud of that.

"It was a difficult game for us today. We started well – so did Everton, as you would expect – and there were chances at each end. But once we got the goal, I thought, 'This could be a good day for us here' because we were really, really on it when we scored.
"We got a second goal, a fantastic goal and at that point, we were brilliant for about 15 minutes. I don't think anyone could have played against us in that period, we worked so hard. Then their goal changed the game, and an injury to Cabaye changed it too because we lost a little bit of rhythm when he went off.
"They got a goal and you sensed the second half was going to be a little bit more of a struggle. They had players on the bench that I thought if they came off the bench were going to affect the game – Cahill in particular – which they did.
"They had all the big guns at the end, probably the best team they have had for a while, on the pitch, but our resilience, our defensive quality and the crowd got us over the line.
"The substitutions were all forced, they were all injuries and to have three players come in and pick up a game at that level is very, very difficult, especially early on like Dan Gosling had to do and Sammy Ameobi.
"At the end, I had a bit of a tough call with that one, Peter Lovenkrands or Hatem Ben Arfa. In hindsight, I'm glad I chose Hatem because he was superb in that last period of the game to just keep possession and take the ball in, keep it, win a few free-kicks.
"Haris Vuckic and Mehdi Abeid – there is a good possibility they'll go out. They've done absolutely brilliant and they should be playing. (Shane) Ferguson too. Absolutely it'd be Championship, I wouldn't go lower than that.
"Sammy (Ameobi) is a bit different. He offers – especially with Obertan at the moment being injured – something different. We've got to see how bad Obertan's infection is but Sammy isn't going anywhere."

David Moyes twisted his face and told reporters:

"You need confidence, you need a run of results. You see that Newcastle went into the game against us with that. That's not the only thing missing for us – we've got a lot of things missing. We were rubbish for the first 30 minutes but in that time we still created four or five chances.
"I think on the games we've played our league position is representative. We've lost them. So it's a true reflection of how we've played. We've not scored enough and we've not defended well enough and that was probably noticeable against Newcastle.
"It was a stonewall penalty when it hit his (Gosling's) hand. The ball was going in as well - the goalkeeper wasn't getting it. But we came here not expecting to get anything from anybody. From any officials, I'd be surprised if we'd got anything.

"But winning and gaining confidence can cover up a multitude of sins and maybe when you start losing games you start to see the weaknesses, so that's what happens. The own goal was a joke and the second one wasn't an awful lot better but you have to give the boy a bit of credit because it was a terrific finish.

"They're certainly making a good go of it (Newcastle). They're making themselves hard to beat, they're scoring goals, they've added quality in the middle of the pitch in one or two players, they're doing very well. If you get off to a good start it helps. If you're at the top you can lose and still not be that far away, get one back and still be up there. You've just got to keep hanging in.
"It's Easter time when you really see whether you're in the mix or not and what we had to do – what every team will have to do somewhere down the line – is win some really big games if you're going to do it. It's a long way to go.
"You never want to go into a break on the back of a defeat, so we've got to suffer for two weeks before we can go out and do it again. We had everyone fit bar Victor Anichebe - for anyone thinking there are lots of players to come back at Everton, that is not the case."


Newcastle made it 11 Premier League games unbeaten this season - and 14 in total since our 0-3 reverse at Anfield back in May of this year.

In avoiding defeat in this game, the 2011 side emulated the start of their 1994 counterparts in going 11 games undefeated in the Premier League from the start of the season. That run took us to the top of the table but ended with a 0-2 defeat at Old Trafford.

And the eleven game mark proved to be a stumbling point back in 1950, with a 0-3 loss at Aston Villa ended our run that season.

We retain the meanest defence in the top four divisions, having conceded eight goals this season - Manchester City and Liverpool have conceded 10 and Manchester United 12.

And once again United were able to improve upon the result from the corresponding fixture in 2010/11 - a trait that we're becoming quite adept at:

| | | |
| --- | --- | --- |
| Fixture/ venue | 2011/12 outcome | 2010/11 outcome |
| Arsenal (h) | DREW | DREW |
| mackems (a) | WON | DREW |
| Fulham (h) | WON | DREW |
| QPR (a) | (DREW) | n/a |
| Villa (a) | DREW | LOST |
| Blackburn (h) | WON | LOST |
| Wolves (a) | WON | DREW |
| Spurs (h) | DREW | DREW |
| Wigan (h) | WON | DREW |
| Stoke (a) | WON | LOST |
| Everton (h) | WON | LOST |

That's an incredible improvement of 18 points from just ten games.

Toffees @ SJP - Premier years:
2011/12 Won 2-1 og(Heitinga), R.Taylor
2010/11 Lost 1-2 Best
2008/09 Drew 0-0
2007/08 Won 3-2 Butt, Emre, Owen
2006/07 Drew 1-1 Ameobi
2005/06 Won 2-0 Solano 2
2004/05 Drew 1-1 Bellamy
2003/04 Won 4-2 Bellamy, Dyer, Shearer 2
2002/03 Drew 3-3 Dyer 2, OG (LC - lost on penalties)
2002/03 Won 2-1 Shearer, Bellamy
2001/02 Won 6-2 Shearer, Cort, O'Brien, Solano 2, Bernard
2000/01 Lost 0-1
1999/00 Drew 1-1 Shearer
1998/99 Lost 1-3 Shearer
1998/99 Won 4-1 Ketsbaia 2, Shearer, Georgiadis (FAC)
1997/98 Won 1-0 Lee
1996/97 Won 4-1 Ferdinand, Lee, Shearer, Elliott
1995/96 Won 1-0 Ferdinand
1994/95 Won 2-0 Fox, Beardsley
1993/94 Won 1-0 Allen


Full record against the Toffees:
P

W

D

L

F

A

SJP

77

42

18

17

140

77

GP

76

20

15

41

90

145

League

153

62

33

58

230

222

SJP

(FA)

1

1

0

0

4

1

GP

4

1

0

3

1

5

SJP

(LC)

1

0

1

0

3

3

GP

0

0

0

0

0

0

Cup

6

2

1

3

8

9

CS

1

0

0

1

3

5

Tot

159

64

34

61

238

231
Our last five goals at home have all come in front of the Gallowgate End.

Waffle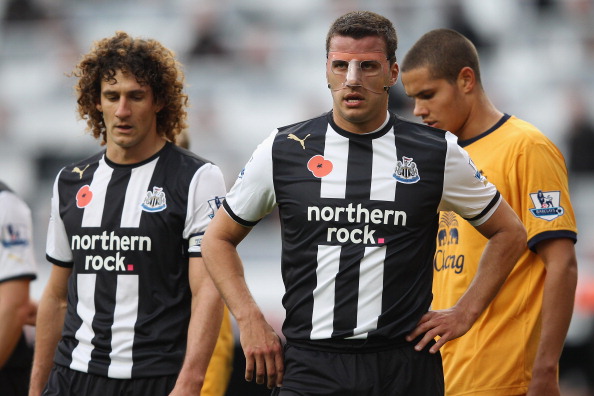 An injury-hit Newcastle scrapped their way to their third successive league win to reach the dizzy heights of second place, as Everton were beaten 2-1 in the Saturday lunchtime live TV game to the delight of the largest Gallowgate crowd of the season.

Since the victory over Wigan and announcement of a part-season ticket offer that saw some 4,000 supporters sign up for reduced rate seats starting today, the mood has been resolutely upbeat off the field - and increasingly satisfying on it, especially after the morale-boosting success at Stoke.

And that positive atmosphere could be detected today from the off, with full-throated roars coming from the full Gallowgate End and waves of noise bouncing around the stadium, something that had increasingly only come after a goal has been scored on home turf.

What proved to be an abrasive afternoon against a Toffees side clad in a custard-coloured kit began with both Cheick Tiote and Gabriel Obertan missing from the action. And before full time, they had been joined in the treatment room by Yohan Cabaye, Sylvain Marveaux and Leon Best - who all had to be replaced after succumbing to various groin, hamstring and toe problems.

Ahead thanks to an OG and another memorable Ryan Taylor effort, United played some of their most flowing and progressive football of the season to date in the first half, but without really testing visiting 'keeper Tim Howard - although goalscorer Taylor shaved his crossbar with a left wing cross.

However some sloppy defending from a corner produced a goal that Everton scarcely deserved but which changed the pattern of the game. Rather than the hoped-for second half goal avalanche kicking into the Leazes End, that set up a second period in which United were forced to battle and scrap for everything - and provide another illustration of their prowess.
There were elements of fortune though: a first half injury to Phil Neville forcing him off after he'd been behind most of what Everton had achieved. His replacement was SJP old boy Sylvain Distin, who received his usual Tyneside welcome....
And we were grateful to another old boy for again misfiring against his former club - Louis Saha striking a post in the first half before lamping one into the crowd. Substitute Dan Gosling meanwhile - appearing to a background of jeers from the away support - escaped a decent-looking second half penalty claim for handball as Saha's goalbound shot hit his arm.

With the Gosling/Guthrie combination seeing United getting overrun in midfield, pressure mounted on the back four and Krul. Once again though, they came up trumps with a display of resilience and fortitude that secured another memorable victory in what is proving to be a miraculous season.

Not for the first time, Alan Pardew went for the wild card option when looking to reshuffle his pack, unleashing the pace and unpredictability of Sammy Ameobi and almost seeing an instant return, when his first touch of the ball saw him break from the half way line before scuffed a shot across goal that just for a second looked like turning into a defence-splitting pass.

That proved to be a rare upfield excursion, with Best and Ba lending a hand (and heads) to clear from Leighton Baines and Seamus Coleman at the other end. Krul meanwhile also saved from Tim Cahill (making a rare appearance against us) as we dug out three more precious points.

Like the Wigan home victory, DVDs of this particular 90 minutes won't be in great demand but those present and tuning in saw another solid and committed display, with some noteworthy performances from lesser lights - notably stand-in midfielder Danny Guthrie. Jonas Gutierrez meanwhile gave further evidence of his improved work rate this season, tracking back when covering both flanks.

Once again, captain Coloccini and his masked partner Steven Taylor proved to be the rocks on which our success was founded upon - the former a joy to watch and in the form of his career as a Magpie, the latter getting his head/face in the way of anything with no thought of further damage.

Sensing perhaps that his side were running out of steam before the end, Pardew once again took it upon himself to conduct the SJP choir - obtaining the necessary reaction from the punters, who found their voices once again for that final push over the line. Not a classic, but no less enjoyable.

With Manchester United later regaining their second spot, after Steve Bruce and his Old Trafford old boys rolled over for Fergie & Co (ex-Red Devil Wes Brown even scoring), our spell behind leaders Manchester City may have only been fleeting, but it was certainly deserved.

After a two week international break in which to try and overcome some of our multiplying injury concerns, United face two high-profile but untelevised trips to the two Manchester clubs on successive Saturdays. Few outside Tyneside will expect us to avoid defeats at both venues, but stranger things have already happened what is becoming an increasingly intriguing season.

For now though, there's a fortnight for the side to regroup and the supporters reflect on a remarkable points tally of 25 - something which took us until February in our 2008/09 relegation season to surpass.

And regardless of what happens in M11 and M16, the visit of Chelsea here in a month's time is another opportunity for fans and players to demonstrate their rediscovered pride and confidence in each other, in front of a TV audience. Let's just hope Coloccini isn't suspended.

Biffa