Date: Monday 31st October 2011, 8pm
Live on Sky Sports

Venue: Britannia Stadium

Conditions: Mild, dry and euphoric

Admission: £30

Programme: £3






Stoke City

Newcastle United

1 - 3

Teams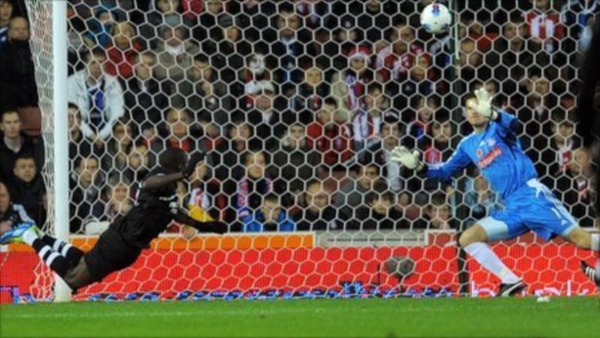 12 mins Leon Best flicked on a Tim Krul kick and although Gabriel Obertan didn't look favourite to reach it, he did with ease before floating over the perfect cross for Demba Ba to place his header past Begovic. TV replays confirmed that the scorer had to twist slightly to reach the ball, in a manner reminiscent to us of Peter Withe. Ba also cupped his ear as he ran past home fans. 1-0
40 mins Fabricio Coloccini surged forward and found Best free on the right of the City box. The Magpies forward controlled the ball well before scuffing a right-footed effort that fortunately fell straight to Ba, who tucked it home with his left foot. 2-0

Half time: Potters 0 Newcastle 2

75 mins Peter Crouch took advantage of some clumsy defending from Ba to collapse to the floor like a stick insect hit by a tranquiliser dart. The deeply unpleasant Jon Walters thumped his penalty as hard as he had hit Ryan Taylor in the first half straight down the middle, as Krul dived to his left and conceded his second spot kick in a week. 2-1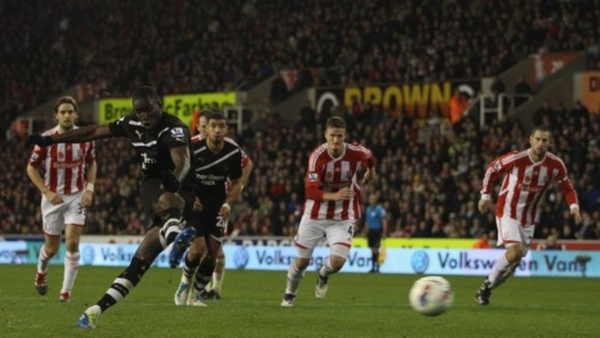 81 mins The horrible Robert Huth threw away his side's chances of a comeback with the most senseless of shoves on Best. Referee Dean had no hesitation in giving another spot-kick and could be clearly seen to be telling protesting City players to go and ask Huth if he had pushed Best.

Ba took the ball from Ryan Taylor after a short consultation before calmly striking an excellent right-footed kick into the right corner of the goal to complete his perfect hat-trick in front of an incredulous away section. Hat-trick and treat! 3-1

Full time: Potters 1 Newcastle 3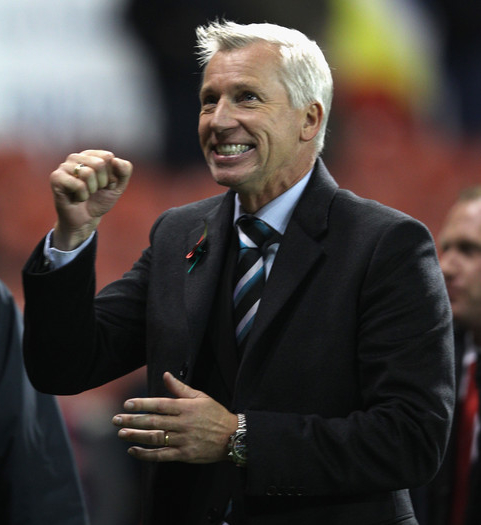 After the game a jubilant Alan Pardew said about his hat-trick man:

"I don't think there is any animosity between Demba and this club (Stoke). He did a great job at West Ham and I brought him to Newcastle and he has been absolutely terrific. He doesn't miss a day's training.

"Don't think this is a one-off from him; his link-up play, his all-round ability and his finishing - he is always on the move in the box and if you do that you are going to score goals and that is why he got his first two. It showed sheer confidence to hit a penalty like that.

"Obviously this is a really good Stoke side who have a strong squad and the way they play makes it difficult. You have to show real character and my players did that tonight.

"They showed another side to them and it is important in the Premier League you have many sides to your team. We set ourselves up to attack the game and on the break at times we looked threatening in the first half.

"It was a bit disappointing in the second half as we didn't get as much control of the game as I would have liked but we got goals at good times. I thought both penalties were soft-ish but at least the referee was consistent."

Treble-hitting Demba Ba said of the Stokies:

"If they want to boo, they should boo their board! Today I am very happy to score a hat-trick here because it is a place you come and struggle.

"It's very important when you have strikers who can run and defend. Today we did our best but the team at the back were very strong. We are just in the first 10 games so it's a long way to go."
The loathsome Tony Pulis rambled on and moaned thus:

"We really fancied Demba for a while but people have to remember we were paying £9million for him with his wages and everything else.

"The medical people at this club are fantastic and they didn't think his knee was a risk we could take at that time.

"Taking him on a free is a different option and he has certainly done well at West Ham and at Newcastle. He has no problems from me.

"The two goals they scored they are not goals that have cut us apart and you have to hold your hand up and say it is really good play.

"They are two poor goals for us. The first one is offside - when the keeper kicks it Leon Best is actually offside and comes back and wins it but we should have done better after that.

"The second goal we should have dealt with better as it was two basic balls which went into the box and our defending was very poor.

"We gave them a leg up with a 2-0 start and it is always going to be uphill. It wasn't our night tonight it was Newcastle's and fair play to them."
Our third away win in the Premier League this season was also a maiden competitive Magpie success at the Britannia Stadium - a venue that had brought us two draws and a defeat, after a 2-1 pre-season win on our first visit here back in July 1999.

This was also the first top-flight success against Stoke since a 1-0 victory at their former Victoria Ground home back in May 1985.

A second competitive outing for the all black kit brought a first success wearing it - the previous appearance having also come on a Monday night, away to the QPR on the box.

Demba Ba scored his second treble of the season - only the second away hat trick ever registered by a Newcastle player in the Premier League, after Michael Owen at West Ham back in December 2005.

This was our 12th Premier League hat trick:

1993/94 Peter Beardsley v Wimbledon (h)
1993/94 Andy Cole v Liverpool (h)
1993/94 Andy Cole v Coventry (h)
1995/96 Les Ferdinand v Wimbledon (h)
1996/97 Alan Shearer v Leicester (h)
1999/00 Alan Shearer v Sheffield Weds (h)
2005/06 Michael Owen v West Ham (a)
2010/11 Andy Carroll v Aston Villa (h)
2010/11 Kevin Nolan v mackems (h)
2010/11 Leon Best v West Ham (h)
2011/12 Demba Ba v Blackburn (h)
2011/12 Demba Ba v Stoke (a)


The proof of our progress from last season was clear for all to see, as once again we improved upon the result from the corresponding game in 2010/11:

Fixture/
venue
2011/12 outcome
2010/11 outcome
Arsenal (h)
DREW
DREW
mackems (a)
WON
DREW
Fulham (h)
WON
DREW
QPR (a)
(DREW)
n/a
Villa (a)
DREW
LOST
Blackburn (h)
WON
LOST
Wolves (a)
WON
DREW
Spurs (h)
DREW
DREW
Wigan (h)
WON
DREW
Stoke (a)
WON
LOST

That's an improvement of 15 points from nine games.

2008/09: NUFC after 10 games: 9 points, 15th position (scored 12, conceded 18)
2010/11: NUFC after 10 games: 14 points, 7th position (scored 19, conceded 14)
2011/12: NUFC after 10 games: 22 points, 3rd position
(scored 15, conceded 7)

Potters v Magpies - last 15:
2011/12 Won 3-1 Ba 3*
2010/11 lost 0-4*
2008/09 drew 1-1 Carroll*
2007/08 drew 0-0 (FAC)*
1995/96 won 4-0 (LC) Beardsley 2, Ferdinand, D.Peacock
1989/90 lost 1-2 K.Scott
1984/85 won 1-0 OG
1978/79 drew 0-0
1976/77 drew 0-0
1975/76 drew 1-1 Gowling
1974/75 drew 0-0
1973/74 lost 1-2 Tudor
1972/73 lost 0-2
1971/72 drew 3-3 Macdonald 2, D.Craig
1970/71 lost 0-3

(*At the Britannia Stadium - previous games were played at The Victoria Ground).
Total record against Stoke:

| | | | | | | |
| --- | --- | --- | --- | --- | --- | --- |
| | P | W | D | L | F | A |
| SJP | 35 | 24 | 7 | 4 | 85 | 30 |
| VG/BS | 36 | 8 | 10 | 18 | 32 | 57 |
| League | 71 | 32 | 17 | 22 | 117 | 87 |
| SJP(TM) | 1 | 1 | 0 | 0 | 2 | 1 |
| VG(TM) | 1 | 0 | 0 | 1 | 0 | 1 |
| SJP(FA) | 4 | 4 | 0 | 0 | 11 | 4 |
| VG/BS | 3 | 1 | 2 | 0 | 5 | 3 |
| SJP(LC) | 1 | 1 | 0 | 0 | 3 | 0 |
| VG | 1 | 1 | 0 | 0 | 4 | 0 |
| Cup/TM | 11 | 8 | 2 | 1 | 25 | 9 |
| Tot | 82 | 40 | 19 | 23 | 142 | 96 |
Waffle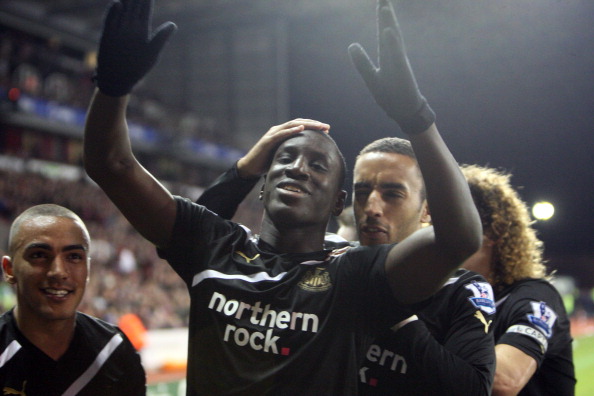 Alan Pardew's Newcastle climbed to third in the Premier League after giving Tony Pulis' side a taste of their own medicine at the Britannia Stadium on Monday evening.

Striker Demba Ba hit his second hat-trick of the season to take him on a staggering eight goals in the last five league games, as we registered a maiden Premier League victory against the Potters at the fifth time of asking.

If United had gone off the boil in the Carling Cup at Ewood Park last week, the gas had been turned up full for this live TV encounter as they put in a simmering performance to deservedly made it thirteen league games undefeated.

Dressed all in black, Pardew's hit squad took care of Stoke's hatchet men and we even had a deadly weapon to rival Rory's rifle, with Ryan Taylor's rapier-like long throws.

At last, a team taking the lead here had the gumption to use the towels the ballboys are issued with to take their time over throw-ins, although they should have done it more and taken longer, which would have further riled a home crowd who couldn't stand to see another side doing it.

Just about everything about Stoke is vile. The "city", the location of the ground, the stadium, the players and manager but most of all its followers

. The Vic may now have been levelled, but everything else is unchanged from the bad old days: similarities to wearside are very evident and recollections of the mayhem of the 1995 League Cup game remain fresh.

And aside from the joy of our own achievement, there was great satisfaction to be had in seeing some of City's players suffer - that sense of schadenfreude not just restricted to the misadventures of former mackems clad in this red and white garb. To nick their song, we stood there laughing....

Be it Shawcross and his self-inflicted groin injury. Delap's laughable party-piece and lack of footballing ability that leaves them a player short. Woodgate's hair. Huth blowing any chance of a comeback with a pointless push.

That latter moment was delayed justice: like a certain Mr Shearer, I've not forgotten how he stamped his studs on the golden balls of our famous no.9 when we beat Chelsea at St. James'.

And perhaps it's just me but I cannot abide Tony Pulis.

The way he prances about in his cap and trainers, shouting vile abuse at anyone within spitting distance of his technical area. His tactics, the shortening/widening of the pitch, watering of the away team's half and then post-match moaning dressed up in a smug, camera-friendly persona. Only "Colin" Warnock can rival him for his two-facedness after being a devil-incarnate during the game.

But it was Ba's perfect hat-trick; header, left-foot and right-foot that stole the show for a Newcastle side that keeps defying all the odds and now sits on the shoulders of the Manchester money-men with Chelsea, Arsenal, Spurs and Andy Carroll's outfit left trailing in our wake.

Quite when and where this will all end is anyone's guess but the crest of this particular wave just gets longer and longer and we're all enjoying the ride.

Our lot looked "at it" from the off and the pre-match high fives and hugs seemed absolutely genuine as their team spirit appears to strengthen game by game and memories of those "big personalities" in the dressing room diminish.

Steven Taylor returned clad in a transparent plastic mask of the type previously worn by Shola Ameobi (and Leon Best in his Coventry City days) to protect his broken nose and gave a typically fearless performance at the back.

Even Gabriel Obertan was chasing down lost causes and after 12 minutes was rewarded by running onto Leon Best's flick before providing a pinpoint cross for Ba to head home and give his side a deserved lead.

It was a sweet moment for Ba who had been all set to join Stoke before signing for West Ham back in January and he was able to hammer home the point again before the break, converting Best's scuffed shot to send the away end into delirium.

With the home side employing its usual thuggery - notably Jonathan Walters' first half assault on Ryan Taylor - the absence of Cheick Tiote did nothing to hamper United's dominance of the middle of the park, Danny Guthrie revelled in that midfield role on what was his first league start of the season.

The defence meanwhile gets better and better; Danny Simpson having one of his best games for us and Captain Colo as dependable as ever. Like Cabaye, he also avoided the booking that would have brought both players to within a yellow card of a one game ban.

Ryan Taylor though personified our attitude: self-belief, confidence and controlled "take no crap" aggression. Having held the view - along with most others seemingly - that his replacing Enrique at left back was no more than the flimsiest of stop-gap measures, he is in the form of his life.

If anyone is looking for evidence of Alan Pardew's managerial talent, then the immeasurable improvement in our number 16 is exhibit A. Part of the shadow squad 12 months ago and drafted in only for Carling Cup nights, he now had the honour of being rested at Ewood last week.

And once again he claimed an assist of sorts to go with his headlining "over the wall" efforts - the long throw leading to our penalty award now going alongside the deep cross that led to Cabaye's Wigan winner and the subtle pass in the build-up to Shola's Spurs sizzler.

Even a few bits of juggling by Tim Krul went unpunished as we remained strong after the break but with 15 minutes, remaining a soft penalty award against Ba for a push on Peter Crouch looked set to spark a belated City comeback. With home fans finally finding their voices after Walters had smashed home the spot-kick, we looked set to face our fiercest test of the season to date.

Just six minutes later though it was game over, when a nudge on Best in the box as he stretched to meet Ryan Taylor's howitzer long throw saw referee Mike Dean once again pointing to the penalty spot. Ba promptly did the business to secure the three points to take us up to the dizzy heights of third position for the first time since the closing weeks of the 2002/03 season - apart from a 24 hour period after beating Wolves this season.

This was a memorable night in many ways, no least for the scoreline and the performance but also the attitude that we exhibited from the off: confident, competitive and in the mood to confirm their footballing superiority against a side who beaten just once at home in the league in 2011.

Pardew had called the win against Wigan our most important result of the season. It may have been, but only until this fabulous victory. Definitely one for the memory banks.



Niall Mackenzie