Date: Wednesday 22nd October 2011, 8pm

Venue: Ewood Park

Conditions: uncomfortable

Admission: £20

Programme: £3





Blackburn Rovers

Newcastle United

4 - 3
aet

Teams
5 mins Both Sylvain Marveaux and Yohan Cabaye failed to intervene while Danny Simpson was a spectator as Rovers mounted another attack down their left. Junior Hoilett ran beyond them to the the byline before pulling the ball back between Cabaye and James Perch. Ruben Rochina arrived to sweep home a left-footed effort from just in front of the penalty spot. 0-1

64 mins Samba's challenge on Ba in the Rovers area wasn't adjudged to be a penalty kick and Rovers counter-attacked through Pedersen, who ambled towards halfway before looping a crossfield pass forward and beyond Perch to the unmarked Rochina.

He controlled the ball on his chest and advanced into the box before being stopped by the advancing Krul, who found man and ball simultaneously with his left-footed lunge. The referee this time awarded a spot kick and Yakubu sidled up to the ball before sending Krul the wrong way. 0-2

90+3 mins With the tie apparently won and Rovers fans making for the exits, Ba's throw in down the United right was played back to Cabaye, whose short pass infield found Danny Guthrie. With defenders seemingly leaping out of the way to present him with a run on goal, the midfielder took a step forward before hitting a low right foot drive from outside the box that fizzed past Bunn and into the bottom right corner of his net. 1-2

90+6 mins Substitute Peter Lovenkrands was fouled by Samba in a central position outside the Rovers box. No Ryan Taylor? No problem. Yohan Cabaye stepped up to flight a right-footed free kick over the wall and to Bunn's right again. The away support behind that goal went collectively mad. 2-2

Full time: Rovers 2 Newcastle 2

99 mins From even further out than Cabaye's, a contested free kick was powered goalwards by Morten Gamst Pedersen and took a nick off an unwitting visitor that was enough to divert it beyond the diving Krul and into the net. 3-2

105+3 mins Gabriel Obertan found space down the United right and his low centre was hit first time by Ba. Bunn blocked the shot but couldn't hold on to the ball and substitute Hanley took a lump of Lovenkrands' shirt to prevent him stepping forward and converting the rebound. Again the referee was unmoved, but the linesman indicated a penalty and after some discussion Peter Lovenkrands calmly slotted home with left footed conversion. 3-3

Half time of extra time: Rovers 3 Newcastle 3

120 mins With penalties looming large, a Rovers free kick midway in the United area was pumped towards the back post, where Samba climbed above Ba to head across goal to where the unmarked Gael Givet was waiting to nod home unchallenged from close range - both he and Hanley looking to have strayed offside. 3-4

Full time of extra time: Rovers 4 Newcastle 3
Alan Pardew commented:
"If we were going to go out of the cup, that's how to go out of it. We gave absolutely everything, but sometimes you can't win every game. I don't like the idea of being a gallant loser to be honest, and we haven't really had that too often this season thankfully.

"But it was a fantastic effort, and I'm sure all the fans who came to the game will have appreciated the effort that was put in and the commitment to try to turn things around. We took everything that was thrown at us and came out fighting, but unfortunately it wasn't our day.
"To be 2-0 down was galling - we had a couple of penalty shouts and when Demba turned Samba, I definitely thought he had hold of his arm. I thought it was a penalty and, to compound that not being given, having seen the video of their penalty, I'm sure Tim played the ball.
"It wasn't a penalty at the other end, and that put us really on the back foot. But the players just don't know when to give in and they kept pressing and pressing to the end.
"It was really just tiredness at the end that cost us the game. We just lacked concentration on that last set-play. Samba is a massive threat, but unfortunately we just didn't react to him winning that header.
"But I couldn't fault the players because they'd put in a magnificent effort by that stage. Sadly, it just wasn't meant to be for us."


Steve Kean said:
"I hope that silences some of the critics. Anybody who was there looking to criticise us would see we took the scalp of a very, very good Newcastle side and we are the first team to beat them this season.

"The team showed massive character - not just for us to have beaten them but the manner in which we beat them. We showed a never-say-die attitude. I would like three or four goals and a clean sheet, being greedy, but the way we play we are always going to score goals and create chances.

"We have exciting players in the wide areas and we have young dynamic players so we will always create the chances and now we are going to be working our socks off for a clean sheet.

"I think what you've seen is a Blackburn team going after goals and working hard, trying to get a clean sheet that we almost had. That's our main focus now, making sure we can close the back door because I think the way we play we'll always score plenty of goals.
"I don't think it's a turning point for the majority of fans but if anybody's negative they'll see how the lads were fighting for each other. They're flat on their feet at the end. It's going to be a tough turnaround because this is going to be a third games in six days so it's tough programme but we'll get them rested up and push them back out there against Norwich."
Rovers v United - Premiership years:

2011/12: Lost 3-4 Guthrie, Cabaye, Lovenkrands (LC)
2010/11: Drew 0-0
2008/09: Lost 0-3
2007/08: Lost 1-3 Martins
2006/07: Won 3-1 Martins 2, Taylor
2005/06: Won 3-0 Shearer, Owen, N'Zogbia
2004/05: Drew 2-2 Dyer, Robert
2003/04: Drew 1-1 Bellamy
2002/03: Lost 2-5 Shearer 2
2001/02: Drew 2-2 Shearer 2
1999/00: Won 2-1 Shearer 2 (FAC)
1998/99: Won 1-0 Saha (FAC)
1998/99: Drew 0-0
1997/98: Lost 0-1
1996/97: Lost 0-1
1995/96: Lost 1-2 Batty
1994/95: Lost 0-1
1994/95: Won 2-1 Hottiger, Clark (FAC)
1993/94: Lost 0-1


Ful
l record against Rovers:

P

W

D

L

F

A

SJP

63

37

12

14

118

69

EP

62

13

14

35

69

119

League

125

50

26

49

187

188

SJP

(TM)

1

1

0

0

4

0

EP

1

0

0

1

3

4

SJP

(FA)

3

1

2

0

4

2

EP/ER/Hills

7

4

1

2

8

8

SJP

(LC)

1

0

1

0

1

1

EP

1

0

0

1

3

4

Cup/TM

14

6

4

4

23

19

Tot

139

56

30

53

210

207
Defender Davide Santon made his Carling Cup debut and first senior start for United.
This was the third successive Carling Cup tie that Newcastle have appeared in that had to be settled in 30 minutes of extra time.

Waffle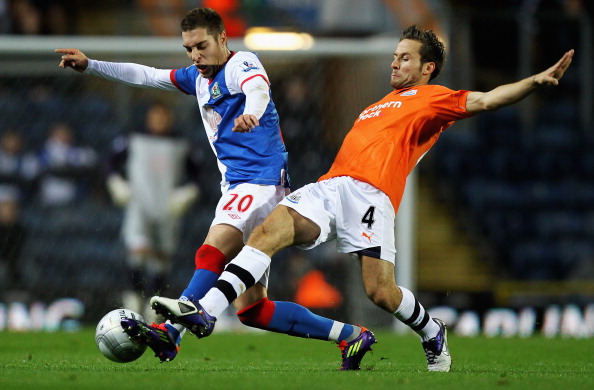 Newcastle's 14-match unbeaten run finally came to an end at an almost eerily empty Ewood Park on Wednesday night, but only after an unbelievable late resurgence that produced two goals in added time and set up yet another decisive period of extra time.

After Sammy Ameobi's 112th minute effort at Scunthorpe and Fabricio Coloccini's 120th minute Forest feller though, it proved to be third time unlucky for United and the sparsely-populated home sections were left to celebrate a late winner and the avoidance of penalties.

Losing the services of Shola Ameobi, Cheick Tiote and Steven Taylor ahead of the game gave Alan Pardew some selection dilemmas and emphasised the imbalance in his squad, while both Leon Best and Ryan Taylor failed to appear - and in their absence found their reputations boosted.

Having failed to impress as we conceded three goals at Forest in the last round, James Perch was reintroduced at centre half through necessity with Mike Williamson nowhere near fitness. Add in Danny Simpson struggling to secure the right with Marveaux providing little cover in front and Davide Santon receiving some harsh lessons about English football, the curly-haired talisman was fighting a losing battle all night to knit together his previously-impregnable back line.

Santon seemed bemused when his half-hearted approach to tackling and willingness to tumble over upon first contact left him on the turf as the referee waved play on - he'll need to quickly realise that what convinces officials to stop the game in his homeland is radically different over here.

Those decisions though proved to be rare moments of competence from hapless referee Rob Madley, who turned down a trio of United penalty appeals - including one blatantly obvious handball - before belatedly pointing to the spot in added time, but only after reluctantly agreeing with his linesman's call. An incensed Alan Pardew had sought him out at full time before speaking to his players but that action hardly looked to have made Madley better disposed to our cause.

It's impossible to write this report without moaning about those incorrect decisions, plus suspicions that the free kicks that led to Rovers' third and fourth goals were harshly-awarded and the eventual winner was scored by a player in an offside position - our lot seemingly too knackered to appeal.

However, it's also unavoidable to report that in 90 minutes of normal time, the turgid offering from Pardew's side was fully deserving of an exit from the cup. To deal with the positives, nobody left on a stretcher and Ba chasing lost causes all night in an unfamiliar role as a sole target man.

Other than that though, only the late spark Sammy Ameobi provided hinted at anything coming from this tie - with Ben Arfa the major disappointment of the evening. And until Guthrie's added time effort, Bunn hadn't had a single shot to save - Ba hitting a post at 0-1 and both Marveaux and Ben Arfa mis-directing second half headers into the away section.

The avoidance of penalties at least meant that Tim Krul didn't have to throw himself across Ewood any longer. With all three of our replacements used, the extended treatment he needed in added time had prompted questions as to whether an outfield player had ever gone between the posts for a shootout (Lionel Perez for the mackems at Wembley was somewhat sarcastically suggested....)

Like Perch, the prospect of Rob Elliot starting at Stoke fills us with nothing but dread and one look at the remaining sides in the cup was enough to invoke our default position for this tournament; namely that we'll amble along until the draw puts us up against a "big" team and then tumble out.

By the way, post-match comments from drink-driver Steve Kean about winning the competition suggested he'd been on the sherry again and may soon become as superfluous and laughable as Pardew's recent waffle - tell me a Newcastle manager that didn't want to win a trophy and in doing so achieve immortality.

Rovers were shorn of numerous players but still included Yakubu and Pedersen in their ranks, two players who have perennially caused us problems - even if they've not always been matchwinners.

And with recent Gallowgate goalscorer Hoilett cantering down the left, there were threats all over the field from a Blackburn side who may not have been bothered about advancing in this competition, but who were more focused and committed from the first whistle than our lot.

Our run was always going to end at some point and like us, many had thought that Stoke was a more likely graveyard. As it is though, we now go there with some trepidation as the make-up of the team and a nagging worry that as we expected, reality will soon intervene as our first-choice XI is broken up by injury (and suspension, with Cabaye, Tiote and Colo now all on three yellows).

Putting aside the romanticism of Wembley etc. this wasn't the end of the world and may prove to be a useful exercise in reducing expectations and bringing a few people back down to earth. As ever though, it's never dull watching our lot.

PS: Monty, your cruise is safe. Woody, welcome to the wonderful world of Newcastle United.
Biffa