Date: Sunday 16th October 2011, 4pm
Live on Sky Sports

Venue: St.James' Park

Conditions: unbowed






Newcastle United

Tottenham Hotspur

2 - 2

Teams
40 mins Fabricio Coloccini's innocuous infield pass from the left back position found Yohan Cabaye facing his own goal, who was promptly robbed by Jake Livermore. He prodded the ball into the path of Emmanuel Adebayor, who headed into the United box before deviating left as Steven Taylor approached.

Making a challenge reminiscent of the one that had upended Jamie O'Hara at Molineux, Taylor led with his left leg and sent the on-loan Cockerel tumbling. This time though the referee pointed to the spot after hesitating briefly. Rafael Van der Vaart's left footed spot kick deceived his Dutch international colleague Tim Krul. 0-1

Half time: Magpies 0 Cockerels 1

48 mins An upfield pass to Leon Best bounced back off him and fell to Demba Ba, facing towards the centre circle. His layoff back to Cheick Tiote saw the midfielder sweep the ball out to the left wing where Jonas Gutierrez lurked. With both Luka Modric and Kyle Walker back-pedalling in front of him, the United winger accelerated past the former and got to the byline before the latter.

With Best dallying for the pulled back pass and Cabaye going to the front post with two defenders, Jonas produced a chipped pass that dropped in space just inside the six yard box towards the far post. Demba Ba arrived to steer a goalbound shot from four yards at Brad Friedel, who rushed across his goal line and connected with the ball in his midriff, but slid well into the goal. 1-1

68 mins Best failed to connect with Krul's punt downfield and Walker pushed the ball over halfway, Scott Parker's first-timed cushion pass giving Modric a yard of space. Seeing Parker continue his run down the centre, the Croatian bisected Tiote and Gabriel Overtan, Parker quickly knocking another pass forward to Adebayor.

He allowed the ball to run over his foot and find Jermain Defoe - negating marker Coloccini in the process - but as Adebayor took up position for a return ball, substitute Defoe instead turned and took advantage of Ryan Taylor's half-tackle by drilling home a low left footer from inside the "D". 1-2

86 mins A stunningly-executed leveller from substitute Shola Ameobi began with Livermore attempting to back into Tiote as Parker's lofted clearance dropped midway in the Spurs half. The impact of the challenge set Tiote back half a stride and resulted in him diverting the ball to the left via his left boot. That took it behind Modric and to Ryan Taylor, whose beautifully-weighted first time pass was seized upon by Shola, goal side of his marker Walker but well onside.

The man who turned 30 days before took a touch to get the ball out from under his feet and as he headed out wide left took a second, steadying touch with his right foot. The third touch was a left-foot thunderbolt, dispatching the ball low and true beyond Friedel first bounce into the bottom corner, just as Walker dived in with his attempted block. The goal celebration was nonchalant. 2-2

Full time: Magpies 2 Cockerels 2
Alan Pardew commented:

"We've got a team who have come here via a different kind of route to Tottenham - they've got world-class players brought in on big salaries and fees; we've got a team from all parts of the world, from the Championship, so it's a good advert for players who have not gone the obvious route.
"They've had to fight. A few of our players are fighting for their careers, fighting to develop, fighting to be top players and that makes us dangerous. I think we're going to be a dangerous side against the top sides as well as everybody else."
"I'm proud of the players and the staff because this has taken a lot of hard work - and from the owners too. They've taken a lot of criticism at this club and sometimes things take time. What we have in place is a sound financial structure, we go forward and hope to achieve one of those seasons where people say we were one of those surprise teams and provided some entertainment here and there. We did today.
"I think we deserved something and it was important for the stadium and the fans that we got something. They could have gone away and thought 'well, perhaps we are a bit short'. But maybe we ain't short. Maybe we'll surprise everybody, maybe we'll surprise ourselves.
"There were times last year when I stood on the sideline and there was a fair distance between us and the top sides but I think we've closed that gap. Can we sustain it? We're still going to need our key players to stay fit but we still have players in the background who can make an impact as well.
"As I stand here unbeaten it's a fantastic achievement by the players and the staff. We've got our targets which we think are achievable for us in the short-term in this first half of the season. We'll stick to those.
"We go on to Wigan and if we're fortunate enough to have a bit of fortune against them and get a result then we will have 19 points so that will be some achievement with us almost halfway to safety. Wigan's a massive game for us and I hope it's a full house, and the players deserve it.
"After clearing those barriers then you can start looking at other things. On the horizon for us is Blackburn in the League Cup as well and that's something that I think will be important to us.
'I am hoping the owner is starting to get a little bit more respect. I don't think we are ever going to win everybody over for Mike and Derek and maybe even myself, but at least you can logically look at it and say we are in a much better position than most Premier League clubs in terms of our financial position.
'We have an owner who doesn't want to go away. He wants to invest in the team, but he wants to do it in the right manner. We are working really hard, my scouting team and my staff, to try to bring in the best players we can on the finances we have.
"Graham Carr, myself and John Carver have assembled what we think is a team that is better than last year's. That's all we are at the minute, and let's hope we can improve from there.
"Shola hit a great goal, but Ben Arfa does things that no one else can do, and he showed that when he came on. He looked sharp and lively, it showed he's near his best, and he's threatening to burst into the team. On that showing, he's got a good chance.

"He (Shola) is somebody that since I have been here has been absolutely brilliant. I looked at him and I thought his reputation didn't coincide with the player he is. Since I have been here, he's fitter, scoring goals, impacts the game, great in the dressing room, and I was so pleased for him that he got that goal."
Shola said:

"It was a great feeling after the game Ė we came up against a top side, and we battled them all the way. It was a great game to watch Ė I was itching to get on and be part of it.

It was one of those that you just try and get on target. Obviously the angle wasnít great, but Iíve caught it and itís hit the back of the net before Brad Friedelís even dived. Itís one of those shots you hit probably one in 50 times. Itís obviously come at a good time for us when we were pushing for the equaliser.
"We have got players who have got a lot of pride in the shirt that they play in, and we have got winners. We have got people who want to win games, who want to do well and who want to prove that they belong here, and that's always going to bode well.
"Having a fit squad now, we have got everyone pushing each other and you know if you are not quite at it, you have got someone else ready to step in. That competition bodes well for us and it's really been fantastic to see this season.
"As a striker, goals breed confidence and that was big for me. All the other guys are off the mark and flying. Being out, you are always a little envious watching them do that, but it's always great for us as strikers. You wish your team-mate all the best and they have done well this season. It's going to be tough for me to get back into that team.
"I'm the other side of 30 now. It's flown by. Every season I come back, it's always a pleasure, but God knows, it flies. To be 30 years old now, as one of the veterans...but I look forward to hopefully a few more years in the Newcastle squad.

"I can't remember that far back (as to whether this was one of his best goals) - my memory isn't the best being 30 and all! But it's certainly up there. It was a great strike and being on my left side, with the angle - and with what it meant as well, keeping that unbeaten run - it was fantastic.

The darling of the media had a little lilac whine:

"When you are 2-1 up with minutes to go, you are looking to win the game, for sure, so it becomes disappointing. Last year, we came here and we were losing with a couple of minutes to go and we grabbed an equaliser, so you are delighted. But when you are winning so late in the game, you are really looking to make sure you get the three points if you can.

"He (Ledley King) is just a fantastic player but his knee blows up like a balloon every time he plays, so he can't train. He plays on Saturday and he comes out the following Friday and has a little jog around for five minutes and then plays on a Saturday, so really his body is nowhere near fit. It can't be, so he is always open to pulling muscles, getting strains, and that's what has happened.
"Alan Pardew has done a great job and they're a strong team - the midfield two are very strong. They have the French lad (Cabaye) and Tiote, who is a strong, aggressive, very good player. Jonas Gutierrez is a threat and they are performing well. The front players work their socks off as well and Alan is getting the absolute maximum out of his team so they will be dangerous, that's for sure.

"I don't want to be disrespectful to Newcastle, but if they finish in the top four, Alan Pardew should be made manager of the year, for sure. I'm not saying it's impossible - nothing is impossible. But if you are asking my honest opinion, it's going to be very difficult.
"Liverpool are strong, Arsenal will come back, Tottenham are strong, and Manchester City, Manchester United and Chelsea, well... but they are going very well and Alan has done a great job here.

Asked by a reporter if he was aware of a fake Jermain Defoe Twitter account claiming that the striker was in the starting XI for this game:

"I didn't see the twit, the tweet, because I can't work a tweeter. I don't know what it is. I haven't got a clue what a tweet is. It's beyond me all this tweeting and Facebooking. I don't understand it as I live in another world to that so I don't know if he's tweeted or not.
"In fact I couldn't care if he did or he didn't really. We used to talk to each other at one time and now we talk on computers and all that. I don't know what the world's coming to really."
"Everyone says how clever a manager is when a sub scores a goal but if Iíd been really clever, Iíd have started with Jermain and then we might have won the game!

It is a difficult one really because I have got him and Rafa and it is a decision I have to make, really, as to who plays. They are both in good form but I didn't think Rafa looked sharp today. He looked tired, maybe from being away playing for his country. He wasn't as sharp as he normally is. He scored the penalty and then I just decided that Jermain might just give us a little bit more sharpness and he did.
"I suppose he has got a chance to stake a claim for an England place but I honestly don't think about that. If he keeps scoring goals for us I will be delighted."

Spurs in Toon: Premier League Era:

2011/12 drew 2-2 Ba, Sh.Ameobi
2010/11 drew 1-1 Coloccini
2008/09 won 2-1 N'Zogbia, Duff
2008/09 lost 1-2 Owen (LC)
2007/08 won 3-1 Martins, Cacapa, Milner
2006/07 won 3-1 Dyer, Martins, Parker
2005/06 won 3-1 Bowyer, Sh.Ameobi, Shearer
2004/05 won 1-0 Kluivert (FAC)
2004/05 lost 0-1
2003/04 won 4-0 Shearer 2, Robert 2
2002/03 won 2-1 Speed, Shearer
2001/02 lost 0-2
2000/01 won 2-0 Speed, Cordone
1999/00 won 6-1 Shearer 2, Speed, Dabizas, Ferguson, Dyer (FAC)
1999/00 won 2-1 Glass, Dabizas
1998/99 drew 1-1 Ketsbaia
1997/98 won 1-0 Barton
1996/97 won 7-1 Shearer 2, Ferdinand 2, Lee 2, Albert
1995/96 drew 1-1 Ferdinand
1994/95 drew 3-3 D.Peacock, Gillespie, Beardsley
1993/94 lost 0-1


Full record v Spurs:
P
W
D
L
F
A
SJP
67
27
19
21
117
95
CG
66
20
11
35
76
122
League
133
47
30
56
193
217
SJP(FA)*
4
4
0
0
13
1
CG
5
1
2
2
5
5
SJP(LC)
2
1
0
1
4
3
CG
1
0
0
1
0
1

Cup

12

6

2

4

22

10

WHL(CS)
1
0
0
1
1
2
Tot
145
53
32
60
215
227
That 13-match unbeaten run in full:
Season 2010/11:
May 2011 Birmingham (h) won 2-1
May 2011 Chelsea (a) drew 2-2
May 2011 West Brom (h) drew 3-3
Season 2011/12:
Aug 2011 Arsenal (h) drew 0-0
Aug 2011 mackems (a) won 1-0
Aug 2011 Scunthorpe (a) won 2-1 (LC)
Aug 2011 Fulham (h) won 2-1
Sep 2011 QPR (a) drew 0-0
Sep 2011 Villa (a) drew 1-1
Sep 2011 Forest (a) won 4-3 (LC)
Sep 2011 Blackburn (h) won 3-1
Oct 2011 Wolves (a) won 2-1
Oct 2011 Spurs (h) drew 2-2
Davide Santon became the 170th player to represent us in the Premier League and the second Italian-born one, following Alessandro Pistone. Our former Italian international loan striker Giuseppi Rossi was born in the USA, while trialist defender Francesco Coco never appeared competitively.
Career goal number 71 for Shola Ameobi was his first of the season and his 39th in the Premier League - the first of which came against Coventry at SJP in January 2001. The goal also moved him closer to Les Ferdinand (who attended the game) in the NUFC Premier League scoring charts:

NUFC Premier League Top Scorers:

1. Alan Shearer 148
2. Peter Beardsley 46
3. Andy Cole 43
4. Les Ferdinand 41
5. Shola Ameobi 39
6. Nobby Solano 37
7. Rob Lee 34
8. Gary Speed 29
9. Obafemi Martins 28
10.Craig Bellamy 27

(To date 98 Newcastle players have contributed to a total of 951 PL goals in our 662 Premier League fixtures. We've written that in a slightly odd way to include the fact that the total includes 26 own goals, without having to name those who came bearing gifts...)

Demba Ba netted for the third successive match and now has five goals in his last three outings.

Waffle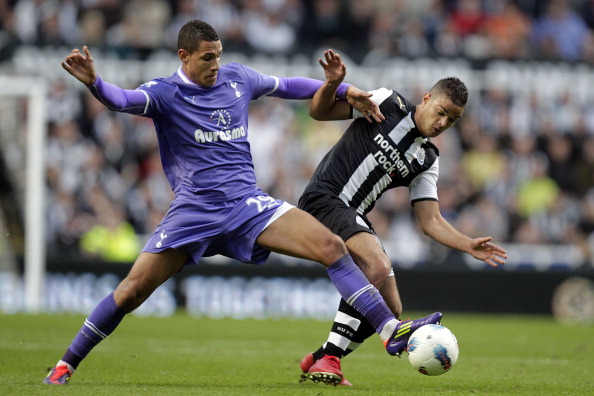 Widely tipped to be the first genuine test of Newcastle's new-found competence and confidence, this game eventually lived up to its potential and ultimately ended in a deserved draw that was more than enough to maintain the feelgood factor on Barrack Road.

And although emptier than had been hoped for and deserving of the "library" tag forthcoming from the away contingent, by the end the temperature had been raised to similar levels encountered in the latter stages of the 4-4 draw against Arsenal.

Alan Pardew was certainly enthused, imploring both players and fans into greater efforts as Spurs lined up again at 2-2, sensing that an improbable victory could be on the cards. Sadly, Fabricio Coloccini was a whisker away from repeating last season's heroics in front of goal this time round.

An absorbing but unspectacular first half had seen United concede ground early on as the visitors looked sharp from the first whistle and the movement of Adebayor threatened to make a mockery of pre-match doubts over his fitness.

Although Spurs had lost some momentum well before their opening goal, there hadn't been a great deal to cheer at the other end, some frustrations evident at Leon Best's inability to get into the game or link up with Demba Ba - caused partly by the latter dropping deep in search of the ball.

Within three minutes of the restart, our forlorn half time assessment that this team didn't have a goal in it had been blown away by another moment of precision from Jonas Gutierrez - looking in his last two outings as if he's now got over the departure of former left flank accomplice Jose Enrique.

There again was Ba and it was game on again, at least until Spurs shuffled their pack and almost instantly came up trumps thanks to Defoe's usual accuracy. Unlike the January game here though, we had some genuine bench options - plus one that we hadn't reckoned on being an asset...
In the corresponding game ast season our replacements were messrs Perch, Ranger and Lovenkrands (with Campbell, Xisco and Ferguson unused: we were still weeks away from Shefki Kuqi beaching up at high tide). Fast forward nine months and the Ba/Best combo were replaced by Shola and Ben Arfa, while Santon made his bow at right back in place of the increasingly raggy Danny Simpson.

That genuine level of options just wasn't available to Pardew previously - and still he had others, with Marveaux on hand as an alternative wide threat or Gosling coming on to anchor midfield, although Cabaye's match fitness seems to be improving and he's lasting longer week by week.

To come back from behind once as we had done at Villa was admirable, to do it twice was inspiring.

Having taken players like Barton and Nolan out of the equation, there were question marks whether their replacements and former colleagues could perform in adversity when shorn of sleeves rolled-up leaders on the field. The answer today at least was Yes, Oui, Si...

Back in January, we described the draw here with Spurs as "a Championship side playing against a Premier League one" and while that was a slightly harsh assessment in some respects, it would be laughable now. That's a level of progress that someone like 'Arry would be hailed in the media for.

Much of our frustration last season came from United's willingness to settle for muddling through once Andy Carroll was sold, when in our eyes the opportunity was there to push on and achieve our best finish in five years (the 1-1 draw with Spurs here in late January left us in seventh - a mark that we eventually finished five places and eight points behind).

Those concerns remained when we appeared to have done only half the job in the last transfer window and the Barton and Enrique sagas played out to their conclusion before we indulged in some farcical last day shadow puppetry (in association with Sky Sports News).

It's fair to say that the early appearances of Ba also gave massive cause for concern, his gait reminiscent of immobile strikers of our acquaintance ranging from Frank Pingel to Albert Luque.

Looking at the table now though, it's more difficult to maintain the line about enjoying good fortune all the time in decisions, fixture order etc. The fears are beginning to ease slightly, albeit with the proviso that losing kingpins such as Coloccini would undermine everything we've achieved to date, due to the lack of cover (see also R.Taylor, left back).

News this week of a renewed bid for Sochaux's Modibo Maiga and scouting of defensive targets for January is heartening - a sign of a 'speculate to accumulate' attitude that didn't seem evident earlier this year, when Best's Hammers hat trick killed talk of a striking arrival before Carroll was sold. Hopefully Shola's wonderfully unexpected goal today won't trigger a repeat....

On a short-term basis, our league progress (hopefully continuing on through Wigan) means that we can go to Blackburn on Wednesday week for an eminently winnable tie and pay more than lip service to a cup competition by fielding our strongest side.

As has always been the case round here, if the product on the pitch is acceptable, then little else matters. People who watched Gazza's trickery and Waddle's brilliance did so on open terraces, through fences and at the risk of trench foot from the netties. They remember the football.

We shouldn't be getting excited about a home draw with anyone or satisfied with a situation where there's one unsold seat: the presence of a Magpies Premier League legend like Les Ferdinand here provided a timely reminder of the time we were feared as a genuine football side with an authentic bear pit atmosphere from all four sides of the ground. You ain't heard nothing yet Alan, hopefully.

Given the seismic unrest round here in recent years though, any replacement of the perpetual volatility of Gallowgate life with something approaching normality is to be welcomed - regardless of its duration. The fans of most other clubs seem to be able to take that for granted, while we wear disappointment and disenchantment like campaign medals.

Reality will doubtless intervene at some point soon in the form of a tabloid headline or broken bone - enjoy this run while you can, there'll doubtless be some equally arid spell in the season when everything is wrong from the centre forward's boots to the temperature of the pies.

Biffa