Date: Saturday 1st October 2011, 3pm

Venue: Molineux

Conditions: Hot and sunny - 27C!!

Admission: £34

Programme: £3






Wolverhampton Wanderers

Newcastle United

1 - 2

Teams
17 mins A simple but accurate near post Cabaye corner found Demba Ba five yards out and with Hennessey flapping and the defence napping, our man converted a header with ease in front of the half-built Stan Cullis Stand. 1-0

38 mins Some vicious tackles down the left finally ended up with thug-in-chief Henry gifting the ball to Jonas Gutierrez who managed to weave his way past Johnson into the area and hit a left-footed effort inside the far post giving Hennessey no chance. 2-0

Half time: Wolves 0 Newcastle 2

88 mins Substitute Adam Hammill crossed from the left beyond our defence and found Steven Fletcher. The former Burnley and Hibs forward was able to guide his firm header past Tim Krul from close range. 2-1

Full time: Wolves 1 Newcastle 2




Alan Pardew

commented:

"I don't think deserved is the word I'd use today. We did play well in the first half which gave us a platform to win the game, but Wolves were very good. In my view, if you want to use the word deserved, they deserved something from the game themselves. We were a little fortunate with that decision at the end. I've seen it. It's really tight.

"Certainly we lost control of the second half at times – we were over eager and making mistakes and it was a hot day. I thought that was a factor. I watched their last two performances here when they were beaten, but they were a lot better today, and they can take great heart from it.

"You don't concede four all season without having people getting blocks in, covering each other, trying to help each other. That's basically what we had to do there. It was all hands to the pump and we got really nervous but that's to be expected – we're a young team.

"We haven't got that experience of a Kevin Nolan or Joey Barton who might have stopped or slowed down the game. We're a different team and we need to see games out better than we did.

"Tim (Krul) had more work to do than in about three of our games, if I'm honest - that's why you need a good goalie.

"But we have a lot of attributes to our team and we had to show different sides to our game. It could have been a very different game – about half-way through that second half we had two really good chances to get a third goal and then there is no grandstand finish.

"I saw the fans' reaction and I honestly thought it was a penalty. I had already accepted that one.


T

o be honest, I don't think that could have been the worst thing to happen to us because at half-time when you're 2-0 up the psychology of the dressing room is different.



"I think we felt we were comfortable, but you are never comfortable here, as has been proven over the years.

W

e've not won here since 1990, so it's never an easy place to win.

"15 points is an outstanding achievement for the squad and fair play to them. I'll pinch myself tonight, when you look at teams that have got 15 points it's probably only the top three or four who have got it in the last 14 years.

"We looked at that and it was a target for us, it doesn't mean anything really other than we've had a great start and we've got some good attributes to the side and now we go on to the next game.

"We go into the international break unbeaten. I genuinely think that our points total suggests we're kind of in no man's land. We're kind of like, 'What? How good are we going to be?'

"Perhaps the question goes to Tottenham, one of the top teams, at home. How are we going to perform? Did we match them? Did we get lucky and get a win? Or did we actually dominate the game and were unlucky (not) to win?

"That's where we are. I honestly can't tell you how good we are. The signs that I'm getting suggest that we're a good side. I think we're a little bit more vulnerable.

"Last year, we could get results. We could get goals at set-plays. We could eke a result out. This team isn't really like that. There's more things that can go wrong. Two or three lose confidence and it might not look the same.

"So it's different. We've got all those battles to come. When we go down to 10 men, can we still nick a result? When things are really going against us - a penalty decision that was never a penalty, another goal straight after and were 2-0 down - how are we going to react?

"These are all different types of scenarios that could go wrong for us and that's something we've got to make sure we are ready to react to."





Ex-mackem Mick McCarthy was far from impressed and we had the added pleasure of hearing him moan in his post-match comments:

"I guess you'd like me to blame them (the officials), and I'd probably be justified in doing so, but we gave two goals away to start with which came right out of the blue.

"We didn't defend a corner particularly well, and then conceded another soft one, albeit it was a good finish. Before that we had enough chances to be in the game.

"But when you're having a tough time you do rely on people getting decisions right, and quite clearly they got them wrong.

"Mark Halsey said he didn't want to guess, well I guess he did because he got it wrong. He guessed wrong. He (O'Hara) is a good yard inside the 18-yard box, not just a little bit.

"And when you've worked as hard as my lads have at the end of the game to get the equaliser, to have another decision go against you tends to rip the heart out of you a little bit."



This was United's first top-flight success at Molineux in fifteen attempts, when a 3-1 win was achieved through goals from Len White (2) and Arthur Bottom in 1958.

We also ended a run of six competitive games without a win at this venue, since Kevin Scott scored the only goal of a Second Division clash here in April 1990.

Since losing 0-3 at Anfield in May 2011, Newcastle have gone ten league games unbeaten, their best sequence since a twelve match run between March and August 1997, ended by a home loss to Wimbledon.

Our seven game unbeaten start to a league season is the best Newcastle have posted since an 11 game run ended at Old Trafford in late October 1994.

Mags @ Molineux - last 10:

2011/12 Won 2-1 Ba, Gutierrez
2010/11 Drew 1-1 Carroll
2003/04 Drew 1-1 Shearer
2002/03 Lost 2-3 Jenas, Shearer(pen) (FAC)
2002/03 Won 2-0 LuaLua 2 (FR)
1992/93 Lost 0-1
1991/92 Lost 2-6 Quinn, G.Peacock
1990/91 Lost 1-2 Clark
1989/90 Won 1-0 Scott
1982/83 Drew 2-2 Varadi, McDonald

Jonas Gutierrez scored his eighth goal for Newcastle (four of which came during our Championship season).

Full record against Wolves:

| | | | | | | |
| --- | --- | --- | --- | --- | --- | --- |
| | P | W | D | L | F | A |
| SJP | 40 | 23 | 9 | 8 | 94 | 50 |
| M | 41 | 6 | 10 | 25 | 40 | 81 |
| League | 81 | 29 | 19 | 33 | 134 | 131 |
| SJP(FA) | 2 | 0 | 2 | 0 | 3 | 3 |
| M/H/LR | 7 | 1 | 1 | 5 | 7 | 13 |
| SJP(LC) | 0 | 0 | 0 | 0 | 0 | 0 |
| M | 0 | 0 | 0 | 0 | 0 | 0 |
| Cup | 9 | 1 | 3 | 5 | 10 | 16 |
| Tot | 90 | 30 | 22 | 38 | 144 | 147 |
Waffle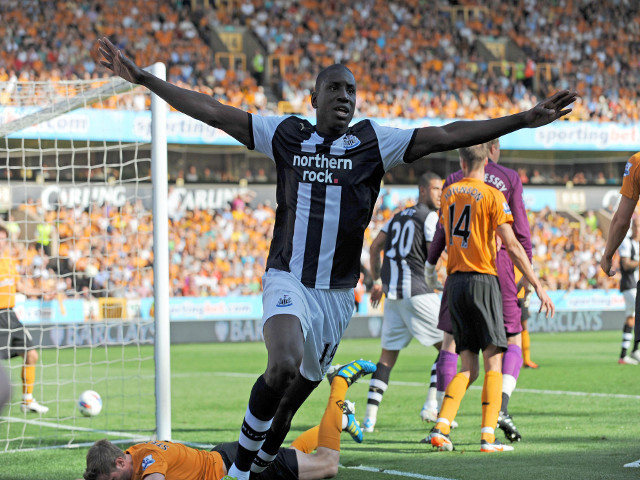 Seven games played and even the optimists must be pleasantly surprised by our points total and lofty league position. Therefore, those of us who even consider a glass being half empty as wildly optimistic - about to be kicked over is my usual view - are floating on a cloud that sits so high above cloud nine that even Level Seven season ticket holders would get vertigo.

In this fabulous run of four wins and three draws in the league, we've ascended to some pretty towering heights - the win at the mackems, halting Blackburn's run of St. James' victories and now this; our first top flight win at Molineux since 1958. Another horrible run of results ended.

But even more rewarding was the manner in which this match was won. With 87 minutes played, things seemed to be drifting aimlessly to an inevitable conclusion, with only the prospect of more misplaced crosses from the home side sailing harmlessly over Tim Krul's crossbar.

We'd already enjoyed being on the right end of one crucial decision that had been a bonus when a dead-cert penalty (you won't catch me using the nonsensical "stonewall") wasn't given, so our victory was already icing-coated. We didn't really need or want the cherry.

But then Wolves went and soiled our clean sheet with a goal that surprised everyone who hadn't exited in disgust - and there were more than a few. Two minutes left on the clock, plus perhaps three added minutes - surely Fletcher's header had to be too little, too late?

It doesn't matter how many games you watch, the agony of the final few minutes, leading by a solitary goal never lessens. Stomachs genuinely churn, hearts do miss several beats and the cold sweats today defied the searing, unseasonal temperatures.

I've never seen a film that can do this or experienced anything else that has the nerves jangling so wildly - stage fright is something I've only ever read about. But those last few minutes of a football match delicately balanced are just the stuff of nightmares - and worse than the hope of completing some sort of comeback with a leveller or a winner.

Why? Because we've all seen comfortable 2-0 victories wrenched away by out-of-the-blue headers and mad last second scrambles that somehow find the net after hitting 'keeper's backsides or posts, unfolding in excruciating slow motion. But that wasn't going to happen today, surely? And then the fourth official held up the board indicating five added minutes....

Krul may have taken five extra seconds on half a dozen goal kicks (and was booked for doing so) but someone needs to point out to him that some whistlers will routinely add two or three extra minutes for time-wasting. It's the same with substitutions in added time - they are a sure-fire way of extending the game, not a way of eating up extra seconds.

And then it happened. The nightmare of all nightmares, as a hopeful cross to the back post was nodded back and a scramble ended with the home areas erupting and gesturing towards the away corner. My reflex action was to look straight over to the linesman who seemed to be flagging and instantaneously Halsey did the same.

From the depths of despair to total elation in a second or two - what else in life can do that? Very little I'd suggest and that emotional parabola is what keeps us coming back, week after week.

Very few of the home fans had checked the linesman before celebrating and gesticulating at us and for a full 30 seconds it was hilarious to see them all slinking back down in their chairs as their parabolas were upturned. The Newcastle fans rubbed it in further by dancing to their own version of "Tom Hark" which had blasted over the tannoy when Fletcher had scored minutes earlier.

With Halsey penalising Krul even further by stretching the five minutes to six there was still time for Wolves to force a corner but as soon as that was headed clear the final whistle was blown and the victory was ours, with relief evident one the faces of our celebrating (and knackered) heroes.

To hear Mick McCarthy bemoaning the crucial decisions later and to see the TV pictures confirm that we'd been lucky just made it all the sweeter. Our cake had been iced, garnished with cherries and we'd eaten every last morsel. Delicious. Space doesn't permit us to mention the long list of miscarriages inflicted on us, bu
t let's just say today was a little payback for previous punishments.

On a more level headed note, it was good to see Demba Ba continue where he'd left off against Blackburn, nice to see Gutierrez celebrate signing an extended deal with his first of the season.... and easy to get sucked in by post-match hype that we were gifted this win by the officials.

Regardless of the alleged/actual indiscretions of the official though, these three points were well deserved and the margin of victory could easily have been greater but for some poor finishing after slicing through the home defence after a series of counter-attacks.

United dominated most of the game and it was only in the last 15 minutes when Wolves threatened to steal what would have been a fortunate point as our lot began to wilt in the heat, and Alan Pardew was faced with a dilemma over who to replace, with Ba, Cabaye and Obertan all struggling.

Quite what he thought Peter Lovenkrands would bring to the party remains a mystery however, with the pace of Sam Ameobi or Marveaux surely more likely to occupy Wolves and keep them away from our area.

Man of the match was undoubtedly Tim Krul who pulled off some magnificent saves, ably assisted by Taylors Ryan and Steven who put in some staggering blocks. First denying Jamie O'Hara when the former Spurs man's free-kick looked to be curling inside his far post, Krul then blocked Kevin Doyle with his head, despite being inside his area.

Jonas went close with a right-footed effort and then from Yohan Cabaye's corner, Ba had a simple near post header to put us ahead - his fourth goal in two games prompting the away section to remind those present that his form since Ramadan has been remarkable. He and we just can't get enough....

A good half then got even better when Sunday League clogger Karl "Kelvin" Henry gifted possession to Gutierrez and Spiderman coolly strode into the area before dispatching the ball past Hennessey to send the travelling Mags (thankfully in the shade) bonkers once more.

The lead could have been halved before half time after Steven Taylor's rash and needless challenge on O'Hara in front of the away fans. And although Halsey gave Wolves a free-kick, the contact was clearly inside the area - had the Wolves man fallen in there, he could have been rewarded....

Halsey then waved away another appeal minutes later when Matt Jarvis dived over a wayward challenge from Danny Simpson. The dive infuriated the Magpies full back, but in truth Jarvis could have been cleverer in making more of the lunge.

The home side were being barracked by their own supporters before and after the break and Henry was jeered as he left the pitch, substituted in the 58th minute. It then should have been game over when Ba was set up on the left of the area but he curled his shot narrowly wide with Hennessey motionless as he watched it skim wide of his upright.

That miss seemed to change the game and United dropped deeper and deeper as the misfiring Obertan gave away the ball. Krul made a breathtaking double save as Mick McCarthy's side battled to get back into the game and finally Steven Fletcher converted a cross with two minutes of normal time remaining, to set up a frantic finish which we thankfully survived.

It's always a bonus to leave this place unscathed but to finally grab three top flight points in the manner that we did was truly memorable. I'd been here to see Kevin Scott head us the winner in April 1990 as we attempted to get out of Division Two but I'm sure I'll remember more about this October 2011 victory in 20 years time. Hopefully it won't be that long before we win here again....

We now head for an international break in something approaching rude health, with everything the manager does working out for him and even the owner apparently in better fettle (which may or may not have something to do with tabloid claims of a reconciliation with the former Mrs Ashley).

Alan Pardew was quick to quote that 1990 stat, but may have not been aware of the ghosts laid to rest by our winning while wearing white shorts. And observers who claim that he's more circumspect and less bombastic than earlier in his managerial career look to have a point; certainly there was a lack of piety and smugness in these post-match comments.

News of a team day out paint-balling and a tuck-in to Stowell Street meanwhile lends credence to the theory that the present group are getting on quite nicely thank you very much - and perhaps
now
able to get a word in edgeways

, now that certain big hitters have moved on.


The worry of a French-speaking clique was also addressed via a recent newspaper piece, with claims of fines for not speaking English in training and news that a trio of French players and their other halves had enrolled for language lessons at Newcastle University.

Given the alleged misery of some imported players on Tyneside in previous times (Domi and Pistone etc.) that's reassuring, especially in the context of the ongoing farce of Carlos "mind your language" Tevez. And although messrs Cabaye and Tiote have admitted that their on-field partnership was blossoming due to conversing in French, presumably they won't be fined....vive la difference?
Niall Mackenzie/Biffa