Date: Tuesday 20th September 2011, 7.45pm

Venue: City Ground

Conditions: Occasional showers. Mild.

Admission: £20 (£17 NUFC ST holders)

Programme: £3





Nottingham Forest

Newcastle United

3 - 4
aet

Teams
39 mins Hatem Ben Arfa picked out Sylvain Marveaux down the left and the winger's pinpoint cross was converted with an accurate header by Peter Lovenkrands in front of the half-empty Trent End. 1-0

Half time: Forest 0 Newcastle 1

46 mins Within seconds of the restart Camp's long kick found Findley and he was given time and space by Danny Simpson to hit a long-range effort that looked to go straight through Rob Elliot. 1-1

60 mins Marveaux's fabulous first touch took him away from two defenders and into the box where he was needlessly tugged back, referee Mason pointing straight to the spot. Peter Lovenkrands hit a left-footed kick into the corner and although Camp got a strong hand to it he couldn't save it. 2-1

66 mins A block tackle by Greening fell favourably for Derbyshire and when Elliot inadvisedly rushed out of his goal, the striker was able to sidestep the 'keeper and slot into the unguarded goal. 2-2

Full time: Forest 2 Newcastle 2

93 mins Danny Simpson's cross from the right into the Forest area was so inaccurate that it eluded everyone, including Camp and nestled in the far bottom corner of his goal. The scorer maintained that his only other NUFC goal - a similar effort at SJP against Peterborough in November 2009 - was intentional, but watch his nose grow if he repeats his claim for this one. 3-2

Half time of extra time: Forest 2 Newcastle 3

114 mins James Perch looked like he'd ended a threatening foray down the Forest left from Miller but the ball got tangled up in the United defender's feet, allowing Miller to square it for Tudgay, who side-footed home into the unguarded net from two yards. 3-3

120 mins Substitute Sammy Ameobi seemed to be embarking on a mazy run but touched it left to Gabriel Obertan who stabbed over a strange right-footed centre. That ended up being perfect for Fabricio Coloccini to nod home from close range at the far post in front of the away contingent. Cue wild celebrations. 4-3

Full time of extra time: Forest 3 Newcastle 4
Alan Pardew commented:
"It's a competition where we will be looked at as one of the possible teams who can win it, and we have got to believe that. We are looking for a home draw because we have had two tough away games. The first game might have been unglamorous, but to win here at the City Ground is always a good result, so hopefully (we'll get) a home draw.
"It was a funny game. When you make nine changes, you kind of know that the team is going to be slightly dysfunctional in some of its play, but within that team individually, my goodness, we had some outstanding performances tonight.
"We are unbeaten, we showed great spirit to come back again, get a knock-back, come back, knock-back, come back, knock-back and still get the winner.
"It was fitting that the captain should get it because I did think long and hard about playing him, and I'm glad I did now.
"He (Ben Arfa) just started running out of steam a little bit towards the end when Forest had a little bit of control of the game, but he made one burst through the middle of the pitch - that just sets him apart from other players when he does things like that.
"If we get him up to speed and get him into what we do in the first team, he is going to be a massive bonus for us.
"I can't think of one player who didn't play well, and if we had worked on the team like we have the first team, it would have been a better performance as a team.
"On Thursday, I will have a training ground where everybody is happy, and that doesn't happen very often. It might not be on Friday, though, when I pick the team."

Steve McClaren commented:
"The key thing was to restore some pride and we can have that in abundance. We wanted a reaction from the team and we got that. The team gave everything and, while we did not get the result, we got the performance and we looked like a team.
"The performance was almost as important as the result. We wanted Newcastle to leave here knowing they had been in a tough game. It is important for our morale and for the fans' morale.
"We came back from behind three times, we showed great character and that is only going to help and we nearly did it a fourth time as well. That attitude will take us forward.
"As long as they want it as they did in this game, we will come through this bad start. I hope this is the catalyst for better performances and better results. The priority now is to get out of the bottom three. Now we must take this performance, this consistency and start to get some results, starting on Saturday at Watford.
"It is great that I have some thinking to do now when it comes to team selection. Apart from the performance, what epitomises this club is Luke Chambers. He had been in hospital all day, with his partner, while she was giving birth.
"He texted to say she'd had a baby boy and I replied that there was a place on the bench for him, if he wanted it. He wanted to play. Little things like that show you what we have in the dressing room."
United extended their unbeaten run in all competitions to ten games (since losing at Liverpool back in May) as they managed to record a win against Forest for the first time ever on their own ground in a competitive cup competition.

Our unbeaten start to 2011/12 now extends to seven Premier League and Carling Cup fixtures.

There were debuts for goalkeeper Rob Elliot and midfielder Mehdi Abeid, while Danny Guthrie, Hatem Ben Arfa, James Perch and Shane Ferguson all played their first competitive games of the season.

Paul Dummett meanwhile was selected on the bench for the first time in a competitive game.

Forest v United - last 20:

2011/12 won 4-3(aet) (CC) Lovenkrands 2, Simpson, Coloccini
2009/10 lost 0-1
1998/99 won 2-1 Shearer, Hamann
1996/97 drew 0-0
1995/96 drew 1-1 Beardsley
1994/95 drew 0-0
1991/92 lost 1-2 (ZDS) Scott
1990/91 lost 0-3 (FAC)
1988/89 drew 1-1 Brock
1987/88 won 2-0 Gascoigne, Mirandinha
1986/87 lost 1-2 Gascoigne
1985/86 won 2-1 Beardsley 2
1984/85 drew 0-0
1984/85 drew 1-1 (FAC) Megson
1977/78 lost 0-2
1974/75 drew 1-1 (LC) Macdonald
1971/72 lost 0-1
1970/71 lost 1-2 Robson
1969/70 drew 2-2 Dyson, Robson
1968/69 won 4-2*

* played at Meadow Lane.
Full record v Forest:
| | | | | | | |
| --- | --- | --- | --- | --- | --- | --- |
| | P | W | D | L | F | A |
| SJP | 44 | 25 | 9 | 10 | 88 | 47 |
| CG | 44 | 17 | 11 | 16 | 48 | 52 |
| League | 88 | 42 | 20 | 26 | 136 | 99 |
| SJP(FA)* | 9 | 4 | 3 | 2 | 19 | 13 |
| CG | 7 | 2 | 3 | 2 | 5 | 9 |
| SJP(LC) | 1 | 1 | 0 | 0 | 3 | 0 |
| CG | 2 | 1 | 1 | 0 | 5 | 4 |
| CG(ZDS) | 1 | 0 | 0 | 1 | 1 | 2 |
| Cup | 19 | 8 | 7 | 4 | 32 | 26 |
| Tot | 107 | 50 | 27 | 30 | 168 | 125 |
* Includes the 1973/74 FA Cup game, ordered to be replayed.
Waffle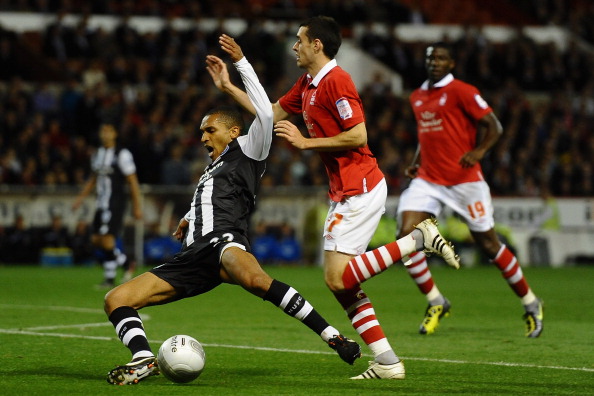 Old boy Joey Barton had spoken on Goals on Sunday about his distrust of
our management, in particular how a former casino owner was making football decisions at the club. However, in amongst the vitriol was a phrase that slipped out about his former team manager, describing Alan Pardew as "talented". Praise indeed from the Aristotle, Nietzsche and Morrissey fan.

He may well be right.

Pardew's job was to play a side capable of beating Championship strugglers Forest while at the same time resting his Premier League top performers and blooding some new signings, disgruntled reserves and players returning from injury. Well, by the end of 120 minutes he'd done the lot!

It was great to see Ben Arfa back in a Newcastle shirt and his pass for the first goal was sublime, while one run in the second half that took him past three or four home players was exactly what we'd been missing for nearly a year.

Mehdi Abeid made his first ever appearance to become top of our alphabetic listing of first team players (overtaking Clarence Acuna) and put in a decent shift as our holding midfielder, showing sensible use of the ball in the early stages. And although he visibly wilted in the second half, the French youngster found a second wind when we made our three subs and he wasn't one of them.

Danny Guthrie made a first start of the season and was his usual mix of pirouettes, erratic passing and some genuine quality. If Scott Parker was a poor man's Robert Lee, then Guthrie is probably a poor man's Parker but that might not be such a bad thing given that the former McDonalds ad man was ridiculously elevated to player of the year in 2010-11.

Gosling got another runout and played the first 70 minutes to add to his brief showings so far for the club. It's early days and I'm sure he's still far from his best but I've got to say that if he had been a youngster elevated from the reserves, we'd probably never see him again. Based on the evidence we've seen so far, he's being played for his form at Everton. But as I said, it's early days....

And then we had Perch returning to his former club. At least Pardew didn't make him captain. He was bought as a full back but here he filling in at centre half and (appropriately) looking like a fish out of water - hopefully stringent EU quotas will prevent him playing in the Premier League....

Those who look back on the Hughton era with rose-tinted glasses should remember Perch, along with messrs Campbell, Simpson, Routledge, Pancrate, Khizanishvili and Harewood as severe errors of judgment. Birmingham City probably now view their appointment of him as manager similarly. For me, he'll always be a great assistant and top bloke who should never have been manager. A modern day Willie McFaul, if you like.

And making his first appearance between the sticks was new 'keeper, Rob Elliot, who now seems to be second choice behind Tim Krul, with Ole Soderberg in the reserve XI at Chesterfield hours before this tie and the more highly-rated Jak Alnwick on a month's loan at Gateshead.

Can anyone remember what injury Steve Harper is nursing? Surely our "no.1" must be fighting his way back to fitness? So, was that an injury sustained before, during or after the 90 minutes he played against Norwich Reserves a week before this game then...??

TV pictures didn't really show what was visible from the away end - the first Forest goal went straight through Elliot but the footage certainly showed that he came out rashly for the second, making Derbyshire's decision to take it round him an easy one. A bit harsh, perhaps, but behind a pretty shaky defence he showed little or no command of his area in this game. A puzzling signing....

Shane Ferguson was also a welcome first-starter having recovered from the injury picked up at Darlington and although he still looks like a ball boy in the warm-up, his maturity, quick feet and work rate are still more than enough to justify his selection - and keep Ryan Taylor on his toes while we await the unveiling of the new Italian.

But in amongst the mixed bag making up our onfield XI was a player who shone out like a beacon - a beacon with a mop on top. Despite making nine changes, Pardew had the good sense to retain his captain, Fabricio Coloccini and he was outstanding again.

While ably assisted in the Premier League by Steven Taylor though, this tie saw him act almost as our entire back four rolled into one, still finding time to fittingly supply the match winner, by which time the limping Shane Ferguson had been pushed forward out of the way and the left back slot was on rotation - when it was filled at all.

Colo also acted as minder for Fergie, booting Tudgay in revenge for a shameful hack on young Shane early in the game that went unpunished. The Argentinean was yellow-carded for that indiscretion, but it was probably worth it.

And it was our curly haired cult hero who popped up to catapult us into the last sixteen of this competition, heading home his fifth goal in our colours in the dying seconds of extra time, just as the dreaded penalty shoot-out loomed.

It was the fourth and final time that we'd been in front, having let Forest back into the game twice in normal time and once in the extra half hour. Peter Lovenkrands had scored in each half of the first 90 minutes only for the home side to reply through Robbie Findley and Matt Derbyshire.

The Dane's first was a fine header, converting an excellent cross from Sylvain Marveaux after Ben Arfa had picked out the winger with a raking ball and the second came from the spot after Marveaux was felled in the area.

And when Danny Simpson's hopeful cross in extra-time looped into the far corner over Lee Camp's head it looked like Pardew's pick-and-mix side had done enough. Forest thought otherwise though and with five minutes remaining of the extra 30 minutes, Tudgay's side-foot seemed to set up an inevitable penalty shoot-out.

However, with just seconds of the tie remaining, Obertan - again mainly infuriating but occasionally effective - stabbed over a right-footed cross that fell perfectly for Coloccini to gleefully head into the net in front of the ecstatic travelling fans in the Bridgford Lower stand.

There was still time for Elliot to push an effort around the post as Forest threatened to find yet another equaliser but thankfully, referee Lee Mason finally blew to end what had been a remarkable contest and rekindle memories of another famous 4-3 cup victory over Forest. Happily this time there was no pitch invasion, despite the chants threatening one if Sammy Ameobi had scored....

It was almost a year to the day that United famously won by the odd goal in seven at Stamford Bridge in the same stage of this competition when Shola Ameobi headed a late winner in normal time to send United through. And although that was surely the more outstanding of the 4-3 victories, this was stunning in its own way - and just as entertaining.

For a hot-potch side such as this, to show the collective spirit to be pegged back three times and still find a fourth, was heartening to see and those superstars who were guilty for our relegation should be made to watch re-runs of this game for eternity as they burn in their Hades pits.

If KK or Big Al were back in charge and our board had sold up and left Toon, current events on the pitch would be seen as miraculous. Perhaps them still being here makes them even more so.

It can't last, can it??

Niall MacKenzie