Date: Saturday 17th September 2011, 3pm

Venue: Villa Park

Conditions: Sunshine and showers.

Admission: £43

Programme: £3






Aston Villa

Newcastle United

1 - 1

Teams
13mins A hopeful cross from the left by Barry Bannon really shouldn't have caused any problems but when Agbonlahor scuffed a volley it bounced off the challenging Fabricio Coloccini and fell invitingly for the Villa man who couldn't really miss from ten yards in front of the North Stand.

The shot glanced off Tim Krul as it went underneath him, but a save from the United 'keeper over that distance would have been a major shock. 0-1

Half time: Aston Villa 1 Newcastle 0

57mins From a similar position to the Villa goal, Tiote hit a cross that was a bit fuller and reached a surprising unmarked Best at the far post. His header was well saved by Given but he tucked away the rebound via the keeper into the roof of the net.

The seemingly inevitable linesman's flag never appeared, TV replays showing the decision to be accurate to a few eighths of an inch. Remarkable, given previous calls from Swarbrick. Without wanting to be too harsh, I'd suggest that nine times out of ten it would have been chalked off. 1-1

Full time: Aston Villa 1 Newcastle 1

Alan Pardew told reporters:

"I was really buoyed by our performance. When you come to Aston Villa you don't expect to control the game for as long as we did, so I was really pleased by that.

"We got a grip of the central area of the pitch – Demba Ba helped our two midfield players get on the pitch and they were outstanding today, Cabaye and Tiote.

"Although you could be slightly disappointed not winning the game, I've got to be pleased to get a draw here with a performance that deserved a win.

"I thought we looked a threat all day - the only thing that was holding against us was our record of how many goals we'd scored already.

"If you hadn't seen our goals for column, you would suggest that we have got a four or five-nil team there. Or four or five potential goals. We created great chances and I was really, really pleased with that. It bodes well for going forward.

"But if I can get Cabaye on the ball . . . you'd pay good money just to watch him. He was beautiful today, some of the things he did. He deserved a goal and it was ironic it was Shay Given – a Newcastle stalwart – who kept him out.
"I thought the two strikers did very well - Ben Arfa will play Tuesday night and Shola came on the pitch, along with Peter Lovenkrands in the background. We're not as shallow as perhaps people thought.

"I think it was just our performance today, sometimes you just have to say we looked a decent team and I say we should take that forward and make sure we put performances of that standard week in, week out.

"It's his (Leon Best's) 25th birthday tomorrow, he's been in and around the game a long time and not really had the opportunities at Premier League level he feels that he deserves.

"He has great belief in himself and he gets a start, he gets a goal and keeps the shirt. It's as simple as that for me and I'm pleased for him. He'll go in there next week against Blackburn and I hope he scores again.

"When you lose the players we have – the likes of Kevin Nolan, Joey Barton and Jose Enrique – it's a lot of character and a lot of goals we've lost. But we look a different type of team. I thought we controlled the game perhaps more than we did at any time last year away from home.
"We've got a lot of pace in the team too – we're a different team. I think if I had travelled down with the Toon Army today I'd be very pleased with what I'd seen, but we've got to keep producing that - it's still very early but so far, so good."

About Shay Given:

"Ironically, an iconic player at Newcastle stopped us winning the game. He was in our hotel. We tried to slip something into his drink but without any success. He's a massive player for Villa and was a great signing."

Alex McLeish commented:

"We could have been better in the final third - we were a bit careless and we've got to be more ruthless in those situations. Benty had a right good chance to make it 2-0 and it is not like him to miss those chances but he is only human.

"We started in a blistering way. There was a good feeling after the first goal and we were opening them up and looked dangerous. Then we had a couple of problems with Petrov and Warnock and we lost a bit of momentum with these injuries."

Former 'keeper Shay Given (who was staying in the same hotel as the United squad) said:

"When he (Yohan Cabaye) hit it I thought I was in a bit of trouble but luckily enough I had a strong enough spring in my legs and strong enough hand to get it around the post. I feel sharp and on top of my game and that is important.

"They say goalkeepers get better with age and hopefully that will be the case with me. I've never doubted myself. It was all about one man's opinion (Roberto Mancini). I feel I'm on top of my game and playing as well as ever.

"It was the first time I played against Newcastle since leaving and when I came out for the second half the fans gave me a great reception and I thank them for that. But I am an Aston Villa player now and am trying to impress a new set of fans. Hopefully I will do that with my performances.
"It was nice to see some of the staff, the medical team and the kit men. I had 12 years up there and some great memories and still some great friends. Luckily enough they didn't take all three points."
Leon Best's ninth Premier League goal for United was his third of the season and came in just twelve starts (he's failed to score in any of his three top-flight sub outings).

Alex McLeish still seeks his first-ever managerial win against us after five unsuccessful attempts - having previously led Birmingham City to three losses and a draw.

Gabby Agbonlahor's goal was the first to have been scored by either side in the first half of a United Premier League game this season.

Alan Pardew's 27th Premier League game in charge of United saw his team register their 12th draw, to go with eight wins and seven losses.

Of the five former Magpies at Villa, messrs Given, N'Zogbia and Ireland featured, but injury kept on-loan midfielder Jermaine Jenas out and Habib Beye wasn't selected.

There was also another familiar face on the home bench, ex-Magpies goalkeeping coach Terry Gennoe having recently joined the Villa Park staff.

Toon @ Villa Park - last 20:
2011/12 drew 1-1 Best
2010/11 lost 0-1
2008/09 lost 0-1
2007/08 lost 1-4 Owen
2006/07 lost 0-2
2005/06 won 2-1 Ameobi, N'Zogbia
2004/05 lost 2-4 Kluivert, O'Brien
2003/04 drew 0-0
2002/03 won 1-0 Shearer
2001/02 drew 1-1 Shearer
2000/01 drew 1-1 Solano
2000/01 lost 1-0 (FAC)
1999/00 won 1-0 Ferguson
1998/99 lost 0-1
1997/98 won 1-0 Batty
1996/97 drew 2-2 Shearer, Clark
1995/96 drew 1-1 Ferdinand
1994/95 won 2-0 Lee, Cole
1993/94 won 2-0 Allen (pen), Cole
1988/89 lost 1-3 Mirandinha (pen)
Ful

l record v Villa:
| | | | | | | |
| --- | --- | --- | --- | --- | --- | --- |
| | P | W | D | L | F | A |
| SJP | 72 | 45 | 13 | 14 | 156 | 87 |
| VP | 73 | 18 | 18 | 37 | 76 | 134 |
| League | 145 | 63 | 31 | 51 | 232 | 221 |
| SJP(FA) | 2 | 1 | 1 | 0 | 5 | 3 |
| VP/W/CP | 5 | 1 | 0 | 4 | 3 | 15 |
| SJP(LC) | 0 | 0 | 0 | 0 | 0 | 0 |
| VP | 0 | 0 | 0 | 0 | 0 | 0 |
| Cup | 7 | 2 | 1 | 4 | 8 | 18 |
| Tot | 152 | 65 | 32 | 55 | 240 | 239 |
Waffle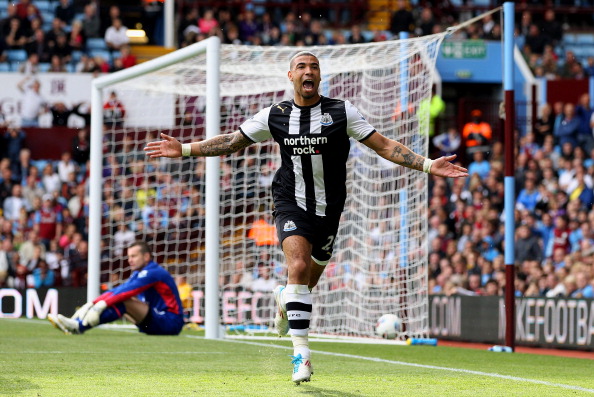 This game never fails to bemuse me. How this side has now gone five games unbeaten and is lying fourth in the table is the stuff of dark arts. Never mind Dynamo, Alan Pardew is the new David Blaine for getting this side performing beyond its means at the moment.

But at the same time, Alex McLeish seems to have found his own supply of smoke and mirrors in maintaining Villa's unbeaten start to the season. Both sides on paper look like they should be struggling and perhaps they will but both managers are enjoying unexpected honeymoon periods that seem to be turning into unlikely marriages.

Most pre-match previews seemed to predict that "something had to give" in this one and my natural pessimism told me that we would be the fall guys. However, we were due a decent result at this place and Villa were certainly due a rotten afternoon, having escaped with what sounded like some fortunate draws this season.

Sadly that all seemed to be coming true in the 13th minute when, against the run of play, Villa took the lead with a jammy Agbonlahor goal that came from nowhere. We'd started brightly and Cabaye and Tiote seemed to be controlling things from the very first whistle and had Ba and Best's first touch been better we could have already been in front.

However, the early setback didn't seem to disrupt our dominance of the opening period and we seemed able to make progress up to the Villa penalty area freely, although creating anything clearcut thereafter seemed to be beyond us. Cabaye had one effort from the edge of the area go narrowly wide and Steven Taylor ventured forward to have a goalbound attempt cleared off the line but our two forwards had few chances to speak of.

Ironically, the counter-attacking side that Pardew had talked about - with Obertan providing a pacy outlet - was in danger of being counter-attacked itself and Bent should have made it 2-0 when Petrov cleverly set him up six yards out but the ex-mackem man side-footed wide.

The Pardew plan was also being hampered by Obertan's insistence on holding up any sort of forward movement by receiving passes and then slowing it all down to walking pace for some unknown reason. Gutierrez was also guilty of going easy on the full-backs when Warnock and Hutton looked to be incredibly vulnerable. He and Ryan Taylor would forever cut inside onto their right and deliver ineffective crosses when the byline beckoned for anything half decent to be sent over from the left.

Anyone at Old Trafford who had heard good reports about Obertan and was beginning to think they had let one get away should review the footage of this one - the evidence was plain to see why he hadn't made the grade there. His play was full of poor decision making and passing, that put his team mates under unnecessary pressure as our forward momentum was regularly lost.

But it was still surprising that we reached half-time a goal behind and although Villa seemed certain to up their game, it also appeared likely that our pressure would create some better openings.

Cabaye crashed a fine effort off the bar ten minutes after the interval and then happily we finally got the break when Best equalised at the second attempt before celebrating wildly in front of the away fans - receiving a yellow card for doing so.

Cabaye unleashed a ferocious volley that brought a brilliant parry from Given - playing against his former side for the first time - and then the former Lille man then found the ball at his feet for the third time as substitute Sylvain Marveaux picked out his angled run into the box. However, Cabaye chested down the pass before firing over the bar from barely six yards.

Although it seemed more likely that the visitors would go on and claim the points, Steven Taylor had a couple of customary lapses that almost cost us the game. The first let in Bent who really should have scored but his chip looked to be going wide before Taylor made amends and cleared. Given that Taylor is approaching 200 games for us, it's about time he stopped making the sort of errors that novices make. He still reminds me of a daft puppy dog, trying to please its owner....

Neither side could force a late winner and when the Ameobi brothers took to the field from the bench, our chances seemed to diminish further. The disgraceful Stephen Ireland was thankfully unable to make a meaningful contribution after replacing Petrov - no change there then - and he was heartily booed by the away contingent, while Given received a half-hearted round of applause before the second half and N'Zogbia got some sporadic abuse.

But as the home fans queued to leave the ground early, the additional minutes came and went without incident and most seemed happy to settle for the draw, although a win was possibly there for the taking if we had pushed a little harder.

The point combined with Sunday's results kept us in fourth position and extended our unbeaten run in all competitions to nine games, a sequence that began with a home win over Alex McLeish's Birmingham City back in May.

It's still September and there are still 33 league games left for both sides. You get the feeling that both clubs are just three defeats away from a crisis and internal revolts but while the sun is shining and points are being harvested then who are we to complain? Short-termism rules....
Niall Mackenzie