In association
with NUFC.com


Date: Monday 12th September 2011, 8pm
Live on Sky Sports

Venue: Loftus Road

Conditions: miniaturised

Admission: £40/£45/£50. Scandalous.

Programme: £3






QPR

Newcastle United

0 - 0

Teams
Half time: QPR 0 Newcastle 0

Full time: QPR 0 Newcastle 0
Alan Pardew:

"For us it was about making sure Joey (Barton) didnít grab the headlines today. And we managed to do that. I wish him well after the game and shook his hand. Heíll be a good player for QPR. Heíll play better than he did tonight, especially at home, heís a real impact player at home.

"Iím not disappointed we didnít get more, because we didnít deserve anymore. We went with two strikers today and in hindsight with the exuberance and players theyíve now brought in, perhaps I should have helped out central midfield a little.

"We struggled and they dominated that area of the pitch and offensively we never created enough to warrant winning the game. On the plus side, our defensive display shows what weíve been doing all season really. We donít give much away because we are very organised.

"There is resilience and spirit within the group that makes it difficult for teams to beat us. Being Newcastle we need to threaten the goal more, Iím very much aware of that. I think our flair players were just a little bit off key tonight.

"We were obviously looking to bring another striker in but it didn't happen. We have a good group of strikers. The two tonight didnít get a lot of service. Not enough to warrant judging them. But, theyíve done well for me. Weíve got Ba who has started to get up to speed now.

"I have no intention of bringing a striker in. I think you have to remember Iíve got Ben Arfa in training. His imagination and flair on the pitch will be an asset for us and hopefully in two weeks time he will be involved in the team.

"The back four were brilliant again. I'm very pleased, and we've got something to lean on because we do look a good, sound unit. I can remember games last year where we didn't threaten the goal at all and got beat 3-0, but we didn't tonight and that might be the difference that gets us up the table.

"We played with two strikers, it's a small pitch and we took a bit of a gamble that we might be able to boss the two centre-backs, but we didn't really. That extra midfield players that they had allowed them to control the game, I tried to stay with that system, but really it was only my confidence in the back four and the goalkeeper that allowed me to do that."

PS: In the week leading up to this game, various quotes from the United boss appeared that gave some partial insight into his mindset following the unsatisfactory conclusion to the transfer window:

"The people who feel let down are the fans. They pay their money and they feel what they are being promised is not being fulfilled. I think from that point of view, all I can say is that Derek (Llambias) will be giving some financial news.

"The money that we got from Andy is going back into the club, but obviously a big chunk of it hasnít been spent yet.Ē
"The criticism that's going to come from not getting a striker in has some validity to it because seven months is a long time.
"But I can only say that from my point of view, we put the targets in front of the board and then it comes down to a financial decision, and that financial decision didn't take place.
"It's obvious that our fans and me and the players would have liked to have had another striker here and I think we're going into the unknown to a certain degree because a lot of the goals were created and scored last year are not in this team.
"We bid for three or four players to fill one position and none of them came to fruition, and that's the disappointment that we have to face.
"I feel within the squad, there's a real camaraderie in there, a really good, strong spirit. Defensively, we have shown we are a tight unit and it's just about getting the goals now.
[If Pardew thinks we are sorted defensively then he is sadly deluded: to our eyes we currently only have two proven quality Premier League defenders at the club. Injuries to them and we are in serious trouble.]
"It's going to be important that people step up to the plate and come out of the pack and score goals and contribute to goals with assists, and there's certainly enough talent in that squad to do that.
On Ben Arfa:
"Hatem's progress has been better than we thought, and he is certainly ahead of schedule. When he came back this week we were not expecting him to be in perhaps as good a condition as he is in.
"I have earmarked maybe the Nottingham Forest game as maybe an opportunity for him to take part in that game, but we will have to see how he goes. But so far his injury looks really good and his fitness does too."
On Joey Barton:
"Joey is a controlled animal now on the football pitch. He's an aggressive player, but he has brought that under control. He's a very, very good player and somebody we need to make sure doesn't influence the game as much as he did for us.
"He hasn't got anything to prove to me or the staff here because the players all know how good he is. Obviously, there was a falling-out with the board that wasn't going to be rectified, so Joey has moved on.
"He's got himself a contract that he has earned through not just his ability, but the way he has conducted himself in the last couple of years especially, and we wish him well. It's never quiet at a football club - especially Newcastle - but I enjoyed my time with Joey. He's a challenging personality but he's engaging and entertaining as well as being difficult. We miss him in some ways.
"It's difficult at Newcastle and I don't think the owner's relationship with the fans helps. That's obvious. I don't think there's anything I can say or do that will improve that. Hopefully over the next three-four years, if I bring some success to the club, maybe that can be looked at in a different light. But certainly not in the short term.

"I think Derek (Llambias) is the type to call a spade a spade and so am I. We've exchanged those words and we have to put it right and make sure we work together to move forward. That's where we are. I think it's important that Derek hears from me the message from the fans. I made that perfectly clear to him, how important it was.
"In terms of where I am with the club, I've really enjoyed working here. I love the people, they've been great to me. Hopefully I can repay them with the squad I've got.
"I would have loved to have the striker and filled the number nine jersey. We'd have had the complete picture then and it would have almost been too easy for Newcastle. That's how I've tried to look at it.
"I've not been helped by some of the key players that we've lost this summer. Some because of past histrionics with the board, some just had the desire to leave - like Jose Enrique, who was just determined to leave, there was nothing we could do. Andy Carroll was the same, to an extent.
"I've had difficult periods in that but I'm hoping it will smooth out now and that the players that really come to the fore to us, we manage to keep. We'll see."

Colin commented:

"I really enjoyed the game, that's what football is about - excitement.
"We should have scored some goals, but you can't ask for everything. To put five or six new players in 10 days we couldn't have asked for a better performance and I think the crowd will go home happy. I was delighted in the end.
"A clean sheet in football is different class, especially considering we had six new players on the pitch. We should probably have won the game, but if we keep playing like that we'll win games. We've only been together a few days but good players don't take that long to bond and we'll only get better.
"Making him (Barton) captain was just a logical thing really. I had a chat with Adel last week. Adel was straight away right about it. He appreciates how far we have come now and that we need to drive on now.

"We need somebody as our leader. He epitomised what we are about. It was difficult for him and I thought he handled himself well. He just grabbed hold of us. We will have our moments where things won't go so well, but you have to have that in any healthy relationship.

"He regrets certain things in his life like we all do but we all have to move on - I think London is a great place for him to be. No disrespect to Newcastle, but if you go out there, everyone knows who you are. "I think you'll see a different side to him on the field too.

"I know I'm biased but I think he (SWP) can get a lot better than that personally. I said before the game he could get into double figures in terms of goals this year. Shaun has seen a lot of players come and go at his previous clubs and some don't have as much ability as him, but it's about opportunities. He is a player who people will want to watch."


Sylvain Marveaux became the 169th player to represent us in the Premier League while there were first subs bench selections for both Davide Santon and Rob Elliot, but neither was used.

United wore their black change kit for the first time in a competitive first team fixture.

Steven Taylor made his 150th league appearance for Newcastle (141 starts).

The 180th draw of our 658 PL fixtures was also the 50th occurrence of a "nowts apiece".

Mags @ the Bush - all-time:

2011/12 drew 0-0
2009/10 won 1-0 Lovenkrands
1995/96 won 3-2 Ferdinand 2, Gillespie
1994/95 lost 0-3
1993/94 won 2-1 Clark, Beardsley
1988/89 lost 0-3
1987/88 drew 1-1 P.Jackson
1986/87 lost 1-2 Goddard
1985/86 lost 1-3 Gascoigne
1984/85 drew 5-5 Waddle 3, Wharton, McDonald
1982/83 lost 0-2
1981/82 lost 0-3
1980/81 won 2-1 Hibbitt, Boam
1979/80 lost 1-2 Ferguson
1977/78 won 1-0 Robinson
1976/77 won 2-1 Barrowclough, Nattrass
1975/76 drew 0-0 (FAC)
1975/76 lost 0-1
1975/76 won 3-1 Macdonald, Burns, Nulty (LC)
1974/75 won 2-1 Tudor, Burns
1974/75 won 4-0 Macdonald 3, Tudor (LC)
1973/74 lost 2-3 Moncur, McDermott
1968/69 drew 1-1 Foggon

Ful

l record v QPR:
P

W

D

L

F

A

SJP

19

9

3

7

28

29

LR

20

7

4

9

25

35

League

39

16

7

16

53

64

SJP

(FA)

1

1

0

0

2

1

LR

1

0

1

0

0

0

SJP(LC)
0
0
0
0
0
0

LR
2
2
0
0
7
1

Cup

4

3

1

0

9

2

Tot

43

19

8

16

62

66
PS: We've also played three other competitive games at Loftus Road during the Premier League era as follows:

2004/05 Yeading Won 2-0 Bowyer, Ameobi (FAC)
2003/04 Fulham Won 3-2 Robert, Shearer 2 (PL)
2002/03 Fulham Lost 1-2 Shearer (PL)

Waffle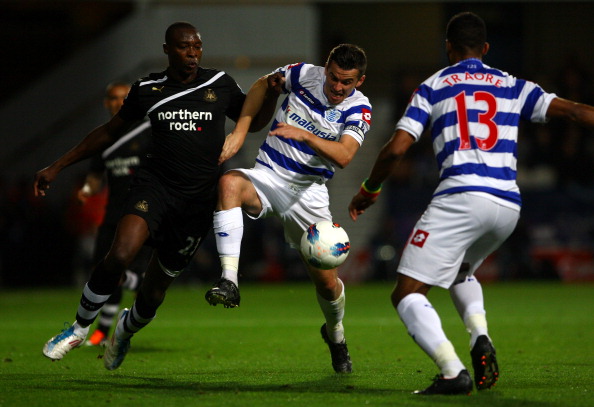 After a fortnight's break from domestic action during which the transfer window ended and the first suggestions of cracks in the relationship between Alan Pardew and his employers emerged, United continued in much the same vein as they had before.

A second 0-0 draw of the season left us unbeaten and in fourth spot, with a defence breached just once in six hours of Premier League play and a points tally of eight after four games. The latter matches the days of boundless optimism in the opening weeks of 2008/09 when Big Sam was first in the dugout and the new owner stood with the fans resplendent in his black and white top.

As ever the sub-plots abound, notably one J.Barton esq. who was debuting for the home side and did so as their newly-appointed club captain. Our erstwhile enfant terrible (if a 29 year-old can be termed thus) was the only one of Warnock's ex-Toon enclave to see any action however - with Kieron Dyer and Bradley Orr knacked, Peter Ramage loaned out and Fitz Hall demoted to the bench.

The high-profile transfer not only boosted Barton's fortunes and that of his agent(s), but also had Sky rubbing their hands with glee, this game suddenly more enticing to the casual viewer and ticking another box in addition to the one marked 'cynical attempt at deterring away fans from travelling'.

In the event though, it was a disappointing contest and Barton's contributions were more industrious than illegal or inspirational. He was one of clutch of new faces in the home ranks and inevitably the process of turning a squad list into a team takes time - that line about a favourable fixture list pitting us against sides at the right time holds water (see also Arsenal & the mackems) - contrast that though with trips to the two Manchester clubs followed by the visit of Chelsea later in 2011.

Alan Pardew's otherwise-honest assessment of this game including much praise of his "brilliant" back four, on the basis it's quite difficult to string out a narrative about one single shot (from Leon Best, in the first half) over the entire course of a press conference....

For anyone who is tempted by our current league position and stats into concluding that all is well at the back though, a repeat viewing of the first half will dispel that. Ryan Taylor afforded Shaun Wright-Phillips, given the freedom of the R's right flank and seemingly half of South Africa Road. But while his end product tonight may have been more tangible than messrs Obertan or Gutierrez, his variable quality underlined why inconsistency remains the ex-England man's enduring characteristic.

Having James Perch as the sole cover for Steven Taylor and Fabricio Coloccini is hardly a heart- warming prospect, while the sleepless nights suffered by Danny Simpson since the premature birth of his bairn may have given him some insight into what his defending routinely does for the punters. Like Steven Taylor though, there was nothing wrong with his timely goal-line clearance.

In fairness the United boss had clearly attempted to win the game, playing an attacking 4-4-2 formation that left Yohan Cabaye and Cheick Tiote outgunned in central midfield and our wide pair frustratingly incapable of picking out our front two or plotting a route past an opponent.

Rangers lost much of their spark after the break, Jay Bothroyd's return to his native London having seemingly seen him take up residence in the Shepherds Bush branch of Nando's. Despite that though, we failed to seize the initiative and become an attacking threat, despite the arrival of Ba.

The unlikely figure of Shaun Derry had become the Hoops' main goal threat as the second half wore on and he wasted two excellent headers from good positions. Pardew then withdrew Best in favour of Sylvain Marveaux as we went 4-5-1 with ten minutes remaining, Sammy Ameobi getting a brief runout but proving unable to make a difference on this occasion.

So, a good weekend for Alan Pardew - at least in terms of results here and elsewhere. Off the field though, it's been a varied few days for the Newcastle boss.

On the one hand, two official communiquťs emerged from the Barrack Road bunker (The Llambias statement and his Chronicle Q&A) giving Pardew some respite from his unwanted role as the club's mouthpiece, defending the indefensible and taking flak from journalists for other people's decisions.

However some of Pardew's own public comments (reproduced above) went went far further than the mild-mannered janitor Chris Hughton ever dared to (his most inflammatory comment proving to be deviating from the script taking credit for spotting the potential of Cheick Tiote himself).

In dropping more hints of his stormy relationship with Ashley and Llambias, Pardew again looked to be attempting to align himself with fans and distance himself from the ownership. Doubtless stung by widespread accusations of being a puppet, there's also the question of professional pride. Unlike Llambias or Ashley, in terms of real football experience, Pardew has been there and done it.

With 500 games as a player and 550 as a manager must come some insight into what's needed in the dressing room in terms of talents and personalities, not to mention head count. As Winston Churchill said: "give us the tools and we will finish the job". However Pardew's paymasters clearly believe that they know better - on that basis, why waste money on a manager's salary?
Even more so than the veiled comments about behind the scenes unrest, Pardew also seems to be playing with fire in emphsasing that he never fell out with Barton and would have retained his services (incidentally, Barton now finds himself subject to a partial twitter "curfew" by his new club, why did we never think of that?)

There will come a time soon when we'll start conceding goals and as a result starting turn winning positions into drawing ones and drawing ones into losing ones, due to our shortcomings in front of goal. Alan Pardew knows that, hence his profound dissatisfaction with his lot on September 1st.

Other than urging his squad to keep grinding out the points though, there's not much he can do: use Hatem Ben Arfa sparingly, reflect on what points tally/league position would trigger the opening of the cheque book in January and wait for the inevitable slings and arrows of Magpie misfortune.

The fact that team spirit cannot be bought is doubtless a great relief to this cash-conscious club, but making the best use of what he's got and trusting that he's capable of retaining more unity than his predecessors in 2008/09 are now Pardew's twin tasks. As for scouting trips, why bother?
Biffa