Date: Sunday 28th August 2011, 1pm

Venue: St.James' Park

Conditions: tranquil






Newcastle United

Fulham

2 - 1

Teams
Half time: Newcastle 0 Fulham 0

48 mins Under pressure from two defenders down towards the Gallowgate corner flag, Jonas Gutierrez lost out to Chris Baird who hoofed it out for a throw-in. That was taken by Ryan Taylor, who picked out Cabaye running infield towards goal and the Frenchman tried his luck with a half-volley from 25 yards out that bounced in front of Schwarzer.

The visiting 'keeper was already going to ground and succeeded only in diverting the shot on to his own crossbar. The ball fell nicely for Leon Best, who stifled his appeal for a goal and feathered it home from close range, with Matthews Briggs on his shoulder but unable to intervene. Best and Lovenkrands both then clashed heads in the celebration, with both looking groggy and the Dane coming off worse and requiring treatment. 1-0

66 mins Steven Taylor rose to head the ball back towards the halfway line, with Demba Ba failing in his attempt to nod it further upfield. Fortunately it fell to Obertan and he raced into the Fulham half on a diagonal run towards the East Stand.

With the visitors back-pedalling, he had time to check inside, look up and spot Ba running into space down the right hand channel. Picking him out with a precision pass, the substitute on the corner of the Fulham box, Ba controlled the ball on his chest before pinging a low centre across the box.

Old boy Aaron Hughes stuck out a boot but failed to intercept the pass and the ball fell to Leon Best, who back-heeled it and turned to face goal in one fluid movement before stabbing his right- footed shot between Schwarzer and the post from 8 yards. 2-0

88 mins Tiote lingered on the ball and was robbed a few feet into the Fulham half by Steve Sidwell, who flicked it forward for Danny Murphy, who in turn laid it off to Johnson. He was unceremoniously dumped over by Danny Simpson and Murphy delivered the resultant free kick on to the penalty spot.

Tim Krul blotted his copybook by allowing himself to be caught in no man's land outside his six yard box and when Clint Dempsey got in front of Fabricio Coloccini, his 12 yard looping header sailed over the 'keeper's head and into the centre of the unguarded net. Panic on the streets of 2-1

Full time: Newcastle 2 Fulham 1
A beaming Alan Pardew commented:

"We're delighted, three wins in a week is very hard to get in professional football, whatever level of the game you're at. All the squad are playing their part and we go on to the next one.

On Barton:

"We move on, the club is always bigger than any one individual."

On Best:

"He's a player who is trying to establish himself as a Premier League player. He has that hunger and desire and I don't think actually when he is playing poorly, it affects him too much.

"Some players, it does and perhaps in his first half, it could have done, but he isn't like that. I never really worry about his confidence. He kind of has that in abundance, which is not a bad thing for a footballer.

"He still needs to improve in some areas, but he was great today, especially in the second half. I have known him for a long, long time and come up against him a couple of times and for me, he has never really had a run where he has said, 'I'm the man'. He will get an opportunity now and he needs to prove it."

On the lack of signings:

"There's nothing that I want to disclose now - we've lost Joey and we need to get some bodies in through the door. Derek Llambias, Lee Charnley and Mike Ashley are as frustrated as me. Hopefully we will get over the line this week.

"There's nothing to update, we are at a point where in a few days we will know for sure what we have. You can't disguise the fact that, in a week we lost Joey after losing Jose Enrique, we needed people to come out of the pack. Gabriel Obertan and Sammy Ameobi are doing that and I think Leon Best did that here. But we need reinforcements. I am not going to disguise that. We need reinforcements."


Martin Jol said:

"If you play away from home and you create 8 or 9 opportunities, big ones as well, you expect to gain more, especially the first twenty minutes. I thought we were the better team, particularly in the first part of the first-half, but you have to capitalise on that sort of possession. You have to score. I think we created eight or nine chances away from home. Then they came out and they scored a goal because we couldn't concentrate.
"We were the better in spells and if we'd have capitalised on that we would have had a better result. Hopefully we'll return more fresh (after the internationals) but I think we should have had a result here.
"We work pretty well, the only problem is we have to play with a small team, the team is picking itself. Johnson was the only attacking player on the bench in the second-half and he wasn't 100 per cent fit, then you know you need a couple of players to add competition.

"You don't have to be great at mathematics to realise that if nine players have left the club and four have come in, you need some players."

On Krul:
"All credit to the goalkeeper, because he's from my home town - I like him – he's a great talent. He had to learn, he was away on loan, got his chance, had to wait again, now he's playing. The only thing is experience, this is why we should put the balls away in the corner so he can't get to them. All credit to him."

Cottagers in Toon - Premier League years:
2011/12 won 2-1 Best 2
2010/11 drew 0-0
2008/09 lost 0-1
2007/08 won 2-0 Viduka, Owen
2006/07 lost 1-2 Parker
2005/06 drew 1-1 N'Zogbia
2004/05 lost 1-4 Bellamy
2003/04 won 3-1 O'Brien, Speed, Robert
2002/03 won 2-0 Solano, Bellamy
2001/02 drew 1-1 Dyer
Total record against Fulham:
P

W

D

L

F

A

SJP

29

13

8

8

50

37

CC/LR

28

7

5

16

41

55

League

57

20

13

24

91

92

SJP

(FA)

3

3

0

0

15

0

CC

1

1

0

0

5

4

SJP(LC)
2
1
0
1
4
2

CC
1
0
0
1
0
2

Cup

7

5

0

2

24

8

Tot

64

25

13

26

115

100
United were just minutes away from beginning their league season with three successive clean sheets - something that they hadn't achieved since the 1902/03 season.
Leon Best has now scored eight goals in our colours, all of which have come in Premier League games that he's started for Newcastle - of which there have been just ten:

2010/11 West Ham (h) shot
2010/11 West Ham (h) shot
2010/11 West Ham (h) shot
2010/11 Arsenal (h) shot
2010/11 Birmingham (a) header
2010/11 Everton (h) header
2011/12 Fulham (h) shot
2011/12 Fulham (h) shot

Best however has drawn a blank in each of his two cup starts, six Championship starts and seven substitute outings (seven in the Championship, three in the Premier League).


SJP continues to be an unhappy hunting ground for Martin Jol:

2004/05 lost 0-1 (FAC) with Spurs
2005/06 lost 1-3 (PL) with Spurs
2006/07 lost 1-3 (PL) with Spurs
2007/08 lost 1-3 (PL) with Spurs - sacked hours later
2011/12 lost 1-2 (PL) with Fulham

Waffle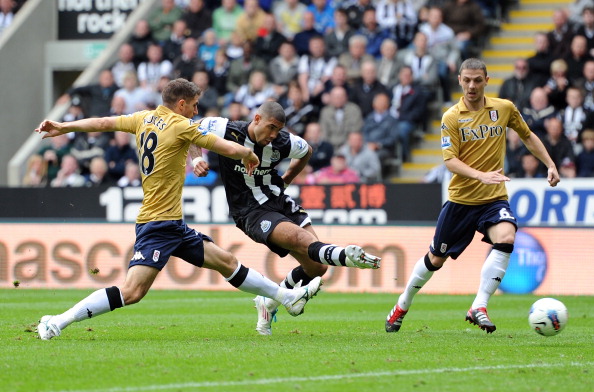 There may be no Barton anymore, but interventions from bar (the Gallowgate end one) and Ba (the Senegal one) proved sufficient for Alan Pardew to celebrate his third win in a week and send Martin Jol home empty-handed, as usual.

As was the case for Thursday night's Carling Cup conquest of mighty Scunthorpe though, large sections of this victory were depressingly drab and almost painfully mediocre.

Having faced two sides with concerns over their own prospects for the season and issues over their squad (that's Arsenal and the mackems: Scunny just worry about having eleven players) then this was another fixture almost tailor-made for us to prosper in.

Missing players to injury, with questions over both inbound and outbound transfers in the following days and short-handed up front, the only thing that differentiated Fulham from Newcastle - save for another terrible away kit - was the fact that the visitors had returned from a European jaunt 48 hours earlier. Remember those? They were great - even the crap ones. Mike, you'd love them...

And while we were still crowing about Ryan Taylor over the wall, the Cottagers had also failed to score a goal from open play in their opening two league games - or any other sort of goal for that matter. Those ingredients hardly promised to provide a feast of football and so it proved.

Fulham initially dominated with a slicker passing game but lacking anything resembling a cutting edge up front. We by comparison were unimaginative: ponderous in thought and deed and incapable of being expansive despite the visitors readily conceding ground and shying away from tackles.

A kind person would say that we were better suited to playing away; an unkind person would assert that we possessed as much creativity as Will Young's songwriting team. In a word, dour.

This phony war all took place in an atmosphere that was benign to the point of being soporific, the match having kicked off to almost total indifference from those present. No less fevered than the damp squib that was the Fiorentina splashabout, only the lusty booing that accompanied Damien Duff's occasional brushes with the ball proved that the patient had a pulse.

Thankfully things did improve towards the tail end of the first half as we belatedly discovered some forward momentum. Jonas Gutierrez managed a header on target before Yohan Cabaye forced Mark Schwarzer to tip over a shot and Ryan Taylor then volleyed narrowly wide.

Other than that though it wasn't great. The limitations of Ryan Taylor became more obvious when he tried to initiate attacks (please nobody suggest replacing Barton if/when we sign a left back) and a lack of movement in midfield that caused the ball to be played sideways time and again. Like trying to dig an escape tunnel with a spoon, there was evidence of progress but at a rate too slow to be of any earthly use.

Whatever words of wisdom were imparted at the interval though had an almost instant effect, with a quick piece of forward play ending in Cabaye buying his ticket in the (Euro Millions) lottery and trying his luck with another shot, Best proving to be lethal again from 10 inches - and celebrating staying onside for the first time in the match by netting the opening goal.

Only starting due to the non-availability of Shola (hip), Best then stylishly buried his next chance to seemingly secure all three points and provide a reminder of his under-rated talents, as he had last season following the sale of Carroll - only to then succumb to injury and leave us bereft of threat.

To anyone harbouring notions that our goalscoring concerns had been eased though, the chugging display of Peter Lovenkrands should reinforce the fact that proper money needs to be spent as soon as is humanly possible. The only time he and Best worked in tandem today was when they clashed heads in the aftermath of our opening goal.
The man who came on a free from Germany has given good service in two divisions, but now is the time to say goodbye - especially now that the decision has been made that we'll carry the burden of Shola for another couple of seasons. It's now doubtful whether the Dane would get a start at any other top flight club - the Championship surely beckons.

Two goals to the good thanks in part to the first piece of coherent work from Ba we've seen, Fulham then upped their game and Tim Krul began to take centre stage with a string of eye-catching stops and interventions.

Best made way for Haris Vuckic, but he was quickly forced off after suffering a broken hand - the second unfortunate incident to have befallen one of our young guns, following the temporary incarceration of Nile Ranger for rearranging a reveller's boat race two nights earlier....

The Slovenian's hasty departure meant the unexpected introduction of Alan Smith, his arrival on the field evoking unpleasant memories of our late capitulation against West Brom here last season, when we were two goals to the good before grabbing a draw from the jaws of victory. Thankfully there was to be no repeat of that implosion this time round, although Smith did manage to acquire a booking, presumably just to prove that he'd taken part in the game.

A nervy five minutes of added time saw Gutierrez try to replicate the Shearer corner flag macarena, before Ba somehow slipped into the box and grazed the goal frame with a shot from an unlikely angle. Three points were deservedly taken though, from opposition who have regularly frustrated us on our own ground in the past.

Even at this stage of the season that seemed vitally important given what's already gone on here in the last month - evidence that something might just be starting to fuse together over our all too evident wounds. We still retain a tendency to self-harm though - roll on September 1st.

Biffa