Date: Thursday 25th August 2011, 7.45pm
Live on Sky Sports

Venue: Glanford Park

Conditions: pleasant/tortuous

Admission: £19 - same as 2009/10

Programme: £3





Scunthorpe United

Newcastle United

1 - 2
aet

Teams
15 mins A suspiciously offside-looking Chris Dagnall flicked a close range effort beyond Tim Krul, with Demba Ba slow to follow his defence out of the box and presumably persuading the linesman to keep his flag down. 0-1

Half time: Iron 1 Newcastle 0

80 mins Peter Lovenkrands was shoved in the back as he went for the ball in a central area outside the Iron area. Ryan Taylor stepped up and you know the rest 1-1

Full time: Iron 1 Newcastle 1

Half time of extra time: Iron 1 Newcastle 1

112 mins Having caused problems to the opposition since he'd arrived on the field, Sammy Ameobi broke down the left, cut inside and unleashed a fine drive that simply flew in. 2-1

Full time of extra time: Iron 1 Newcastle 2
Alan Pardew:

"In the first half, you need the application to play here, and we didn't have that. We struggled, and we were lucky to be in at 1-0 down, but in the second half we were brilliant.

"What could have been a negative night for me as the manager turned out to be positive We won the game, we're in the hat, three or four players were outstanding and the subs made an impact. They're always tough nights.

"None of the sides from the Premier League have sailed through this week (Northampton Town losing 0-4 at home to Wolves and West Brom winning 4-1 at Bournemouth obviously don't count). Scunthorpe couldn't come to St James's Park and do that. It was a hard game and harder then probably Fulham's game was in the Ukraine.

"It would have been worth being stranded in Scunthorpe to see Sammy Ameobi's goal! I hope they had a few beers after the game to celebrate it.

"I've been saying privately he (Sammy) could threaten (a place in) this first team. He had a couple of cameos at Chelsea at the back end of last season, he's got a great brother who will keep his feet on the ground and great parents. He was terrific tonight and it was a fabulous goal. He's a different player to his brother - his feet are electric at times.

"It's a tight pitch and they are an organised side who gave us a lot of problems in the first half - but we were cheap with the ball and didn't really look like we were up for the game.

"Mike (Williamson) has had a bitty pre-season and this kind of sums up the start to the campaign for him. He hasn't really been able to put the kind of competition on the two centre-halves that he would have liked. Then he plays 20 minutes or so here, looks a little bit ring rusty, and gets injured.

"There was a lack of application, we were cheap on the ball, we weren't getting to grips with a small pitch and it could have been a negative night for us - we were lucky not to be 2-0 down at half-time. But we got into gear in the second half and pushed the strikers up to take a gamble. We had chance after chance after that.

"At half-time, I was thinking this could be a very, very negative evening, but in the end it's turned out to be a very positive night."


Alan Knill commented:
"It (extra time) was the last thing we wanted but what can we do? We will have a look at the players, see how they feel and take it from there. We will let them have a little bit more rest, then we will talk to them, show them Sheffield Wednesday, walk through set-pieces and take it from there.
"But it is unknown. We don't know whether it is going to be that much of a disadvantage until we get on the pitch on Saturday. I have hardly got a squad so it makes it difficult."
"I am pleased with the performance and pleased with the effort, but disappointed with the result - we gave them a game which was the big thing. When you go into the game against someone who is higher, you have to be positive and committed and I thought we were all that but just, in the end, that little bit of quality showed."


A genuine first: we think that Sammy Ameobi and Shola Ameobi have become the first brothers in the club's history to both score in competitive first team games.

Iron v Magpies - all time scores/crowds:

2011/12 won 2-1 (aet) R.Taylor, Sam Ameobi (4,408)
2009/10 lost 1-2 Nolan (8,921)
1973/74 won 3-0 Macdonald 2, Barrowclough (FAC) (19,028)
1963/64 lost 0-2 (6,433)
1962/63 lost 1-2 Kerray (13,953)
1961/62 lost 2-3 Allchurch, Suddick (13,987)

(pre-2009/10 games played at Scunny's former home of the Old Showground).



Full record v Scunny:

| | | | | | | |
| --- | --- | --- | --- | --- | --- | --- |
| | P | W | D | L | F | A |
| SJP | 4 | 3 | 1 | 0 | 9 | 3 |
| OSG/G | 4 | 0 | 0 | 4 | 4 | 9 |
| League | 8 | 3 | 1 | 4 | 13 | 12 |
Dan Gosling made his first competitive start for United after cameo substitute outings in our last two trips to mackemland (in January and August of this year). He last started a game back in December 2009 when playing for Everton in the Europa League away to AEK Athens.

Sylvain Marveaux made his competitive debut for Newcastle, while Mehdi Abeid was on the bench for the first time as an unused substitute.

The first senior goal of Sammy Ameobi's Magpies career was also our 200th in the competition:

12: Macdonald, 8: Cole, 7: Shola Ameobi, Gowling, Shearer, 5: G.Peacock
4: Beardsley, Bellamy, Burns, Cannell, 3: Cassidy, Dyer, Ferdinand, Lee, N.McDonald, Nattrass, Owen, OG. R.Taylor.
2: Albert, M.Allen, Burton, T.Craig, Cunningham, Keeley, Kelly, McDermott, McGarry, Mirandinha, Nulty, D.Peacock, Rafferty, Robert, K.Robson, P.Robson, Sellars, Shoulder, Solano, Waddle.
1: Allchurch, Sam Ameobi, Anderson, Barrowclough, D.Barton, W.Barton, Bennett, Boam, Bracewell, Brazil, Brock, Caldwell, Cartwright, F.Clark, Clarke, Cordone, Cort, Craig, Dalglish, Davies, Dyson, Fell, Ferris, Fox, J.Gallacher, K.Gallacher, Gascoigne, Geremi, Gibb, Gillespie, Goddard, D.Guthrie, Hale, Hamilton, Hendrie, Hilley, Howey, Hunt, Iley, D.Jackson, Jeffrey, Jenas, Keegan, Kitson, Lovenkrands, Martins, McGhee, McGuigan, Milner, Neale, Nolan, N'Zogbia, O'Brien, Parker, Pearson, Pistone, Ranger, Roeder, Rossi, Rush, Sibierski, Sinclair, Speed, Suddick, Thomas, Thorn, Tomasson, Tudor, Varadi, Watson, Wharton.
Ryan Taylor scored his third League Cup goal, all of which have come in our last four ties and all away from home:

2010/11 Accrington Stanley (a) scored from open play
2010/11 Chelsea (a) scored free kick
2010/11 Arsenal (h) didn't score
2011/12 Scunthorpe (a) scored free kick


Waffle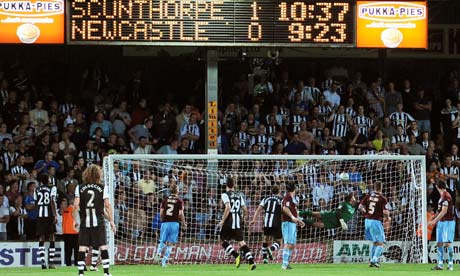 Alan Pardew may have ended the night urging Newcastle fans to toast his team, but for much of this tie it looked as if we'd be drowning our sorrows in similar style to the Stevenage FA Cup exit.

The draw for the Second Round had sent us back to a corner of Lincolnshire that had been the venue for the lowest point of our 2009/10 Championship-winning campaign. That night, a capacity Glanford Park crowd of just under 9,000 saw the Magpies stutter to deserved defeat, as the Iron provided what we deemed "a reality check".

Since then, Scunny have lost their boss and second-tier status, with all but one of their side also moving on. Two-goal Martyn Woolford is now at Bristol City, while Gary Hooper shares a dressing room with Fraser Forster. Gone also was much of the fervour of that night in 2009, as less than 300 more than last week's crowd for the visit of Oldham tore themselves away the from the telly.

Those who made the trip from Tyneside were also in more benign fettle than last time - when the game ended with toon fans fighting among themselves. Aside from a brief chorus of "FCB", most of the evening's soundtrack referred to the previous Saturdays' wearyside conquest, aside from the frequent sighs that accompanied one of the tamest and most inept first halves in living memory.

Admittedly this was a Magpies XI with no experience of playing together, with Marveaux getting his first taste of English football and Gosling enjoying the novelty of being on the field when the referee blew his whistle to start a game. Ba just looked on another planet; Uranus probably.

There were enough players in the side though who had been here before and in this situation before to know that - not to mention the small matter of trying to impress the watching manager ahead of the arrival of new recruits (or not, as the case may be).

As it was though, a skittish display was rightly punished by a 0-1 half time deficit that only Krul's agility stopped from being worse.

United opted to play with a front trio, which in reality meant that Ba wandered across the field in search of space and a pass, while Lovenkrands and Best harmlessly amused themselves somewhere in front of the home defence. The entire right hand side of the team was entrusted to Simpson, while our tactics appeared to be a sequence of sideways passes followed by a howk upfield.

To add to United's woes, Steven Taylor had to come off the bench to replace the stricken Mike Williamson, whose first competitive start ended before half time. Thankfully, Alan Pardew's side came out after the break with some fire in their bellies (and presumably bruising round their ears), creating a flurry of opportunities inside the first 15 minutes.

Once again Best and Lovenkrands wasted some excellent chances but Best looked to have levelled only to be ruled out for offside, although the decision was just as marginal as Dagnall's.

With both Haris Vuckic and Sammy Ameobi introduced to the fray, time looked to be running out for the Magpies, with the home side threatening again and forcing Krul into action. However the nerves were calmed by Ryan Taylor's free kick and the same player looked to have earned a late penalty, although his tumble under challenge was slightly over-dramatic and the referee was unmoved.

Extra-time saw the visitors lose momentum but substitute Sammy Ameobi continued to cause all sorts of problems down the United left. Best almost got on the end of a Vuckic cross but finally Shola's younger brother danced towards the Iron goal before thumping home the winning goal from the edge of the box in fine style - our first goal from open play this season.

As a relieved Alan Pardew said later, what looked like a set of negatives (injury, shooting prowess, lack of creativity) on 45 minutes had matured into a rather more positive situation by the 120 minute mark.

However the vitality and unpredictability of Ameobi junior proved to be our own X factor - something which was simultaneously encouraging (local lad makes good), concerning (he's only on a one year deal and other clubs are sniffing already) and embarrassing (for his more experienced colleagues).

And like the opening day point and victory over the mackems, there's a concern that the final score papers over the cracks that were more than evident for vast tracts of this tie and lulls those in charge of hiring and firing into believing that everything's OK. It isn't.

Biffa