Date: Saturday 20th August 2011, Noon
(not shown on live UK TV)

Venue: stadium of plight

Conditions: Mag-nificent

Admission: £35

Programme: £3





mackems

Newcastle United

0 - 1

Teams
Half time: clowns 0 Newcastle 0

62 mins The forward progress of Jonas Gutierrez was illegally halted by Lee Cattermole down the United left just outside the box. Ryan Taylor's powerfully-hoisted right-footed free kick was enough to elude the badly-placed Mignolet line, with Steven Taylor lurking at the far post as the net bulged but not getting a touch. I fancy Ryan Taylor over the wall, as someone never said - until now. 1-0

Full time: clowns 0 Newcastle 1
Alan Pardew:

"Ryan's right foot can be a superior weapon in those situations. It was a superb strike.

"We are trying to bring in another left-back, but he will have to be a good one to take Ryan out of the team. We've had some great wins but to get your first away win against your biggest rivals it doesn't get much better than that when you start the season, so we are really pleased.

"In the second half we started creating and started causing them problems and got our goal and in all honesty I thought we were worthy winners.

"Sunderland's two strikers were brilliant today - they were really up for it. So Steve and Colo can look back on the game with a lot of satisfaction. They are developing a top-class partnership.

"That decision changed the course of the game to a degree. By the players' reactions you could tell it was a penalty. He has handled the ball and he has to go off. They were two big decisions.

"I knew by the way Howard Webb was looking he hadn't seen it so that was out of the window, and I knew he was relying on the linesman - and he hadn't seen it either. Perhaps he should have been sent off, but we aren't going to bleat about that. Webb is a fantastic referee and he refereed the game really well.

"So we had two blows there and it affected us because we went on to the back foot for about 10 minutes and it was Sunderland's best period of the game. But we stuck with our system, although we changed a couple of things, and it worked for us. We started to create opportunities and we scored from one.

"Monday to Friday, we beat ourselves up at Newcastle, itís tradition. But Saturday is about the game, and you canít argue with the two games. You look at the fixture list we had Ė Arsenal at home, Sunderland away Ė some may have said, ĎIf they get a point out of that, they will have done wellí, a neutral or an expert back in the office.

ďBut to get four points out of those two games is a real tick in the box. The thing we answered today, which I said to the players afterwards, the spirit is still there.

"We were applauded for our spirit last year and quite rightly so. We have got new players, but we havenít lost that spirit, and that was evident today because there were times during the game that we had difficulties and your spirit needs to pull you through them.

"It brings everybody together. My staff are looking forward to going into town on Saturday and sharing that with the fans, and thatís what itís about. I will join them for a couple and I will enjoy it too.

"Football is about that winning mentality and sometimes, you can have that winning mentality and not win, but you can be pushing and pushing, and thatís what we have got to do all season.

"Thatís the type of club we are. Even when we lose, we have got to really be pushing to try to retrieve the situation at the end, and that spirit was evident today. We have got that in the dressing room and that bodes well. When we are 2-1 down away from home or losing at home, we have got to get something out of it. Itís a very important trait for a football team."


High & Mighty's #1 catalogue model disconsolately muttered:

"I'm not getting the best of results (against Newcastle). Lets hope I'm here for a few more years to come and it starts turning it around. "We've been beaten in a derby game again so in a lot of peoples' eyes that is unforgivable and I can associate with that too.

"That's what football is. Like the last time, we have got some making-up to do with the public, but I couldn't be more pleased with the way we played in the first half. We have got to take it on the chin, the abuse that comes our way. It's part and parcel of it and if it creates a pressure, then we have got to be big enough to handle it.
"We are disappointed with the goal. You look at that and I would expect my goalkeeper to save that. I think he was in the wrong position."

It's now just one defeat in our last 15 visits to wearyside. And in nine outings to this particular shed now, only one defeat, with the home side are yet to stop us from scoring at least once on every visit. Goals for: 13 Goals against: 8.

In 19 Premier League meetings home and away, we've collected maximum points nine times, settled for a point on six occasions and lost just three times. We last failed to put at least one in the mackem net either at home or away during the infamous 1989/90 playoff semi-finals - a record now extended to 23 games.

Sylvain Marveaux was named on the bench for the first time but didn't get on for his debut. In addition to the matchday 18, the pre-match warm-up session included both Haris Vuckic and Mehdi Abeid - the latter now wearing squad number 13.

Dan Gosling made a second competitive appearance for United - on the same ground that his first came at, back in January of this year. Introduced as an 89th minute sub last season, he made it on four minutes earlier this time.

Ryan "Cannonball" Taylor registered his seventh competitive goal for Newcastle but the first in the Premier League. His previous six top-flight strikes came for Wigan Athletic - no less than four during games against United.

He becomes the third Taylor to score for us in this fixture, after Ernie (1950) and Colin (1963). Howay Steven man, get your act together....

The Magpies have never previously started a Premier League season with a pair of clean sheets, last achieving that feat back in 1990/91 (2-0 home win over Plymouth Argyle, 1-0 away win at Blackburn Rovers). And in terms of kicking off a top-flight campaign with back to back clean sheets, one has to go back to 1951/52 (6-0 home win over Stoke, 0-0 draw at Bolton).

Days out at the dark place - last 20:

2011/12 won 1-0 R.Taylor
2010/11 drew 1-1 Nolan
2008/09 lost 1-2 Ameobi
2007/08 drew 1-1 Milner
2005/06 won 4-1 Chopra, Shearer(pen), N'Zogbia, Luque
2002/03 won 1-0 Solano
2001/02 won 1-0 Dabizas
2000/01 drew 1-1 A.O'Brien
1999/00 drew 2-2 Domi, Helder
1996/97 won 2-1 Beardsley, Ferdinand
1992/93 won 2-1 og(Owers), L.O'Brien
1991/92 drew 1-1 L.O'Brien
1989/90 drew 0-0 (playoffs)
1989/90 drew 0-0
1984/85 drew 0-0
1979/80 lost 0-1
1979/80 drew 2-2 Davies, Cartwright (LC)
1978/79 drew 1-1 Withe
1976/77 drew 2-2 Cannell, T.Craig
1969/70 drew 1-1 Smith

All Time Tyne-wear stats:

| | | | | | | |
| --- | --- | --- | --- | --- | --- | --- |
| | P | W | D | L | F | A |
| SJP | 66 | 31 | 17 | 18 | 117 | 97 |
| SoS/JP | 67 | 20 | 24 | 23 | 90 | 98 |
| League | 133 | 51 | 41 | 41 | 207 | 195 |
| SJP(PO) | 1 | 0 | 0 | 1 | 0 | 2 |
| JP | 1 | 0 | 1 | 0 | 0 | 0 |
| SJP(FA) | 5 | 1 | 2 | 2 | 5 | 9 |
| NR/JP* | 3 | 1 | 1 | 1 | 3 | 2 |
| SJP(LC) | 1 | 0 | 1 | 0 | 2 | 2 |
| JP | 1 | 0 | 1 | 0 | 2 | 2 |
| Cup/PO | 12 | 2 | 6 | 4 | 12 | 17 |
| Tot | 145 | 53 | 47 | 45 | 219 | 212 |
* We're including the Newcastle East End FA3QR game at Newcastle Road in 1888.
Opening Days - Premier League:
United's first away fixture of the season in the Premier League has resulted eight defeats, five draws and five victories as follows (final league position in brackets):
1993/94 Coventry City lost 1-2 (3rd)
1994/95 Leicester City won 3-1 (6th)
1995/96 Bolton won 3-1 (2nd)
1996/97 Everton lost 0-2 (2nd)
1997/98 West Ham won 1-0 (13th)
1998/99 Chelsea drew 1-1 (13th)
1999/00 Spurs lost 1-3 (11th)
2000/01 Man United lost 0-2 (11th)
2001/02 Chelsea drew 1-1 (4th)
2002/03 Man City lost 0-1 (3rd)
2003/04 Leeds United drew 2-2 (5th)
2004/05 smoggies drew 2-2 (14th)
2005/06 Arsenal lost 0-2 (7th)
2006/07 Aston Villa lost 0-2 (13th)
2007/08 Bolton won 3-1 (12th)
2008/09 Man United drew 1-1 (18th)
2010/11 Man United lost 0-3 (12th)
2011/12 mackems won 1-0 (5th)


Waffle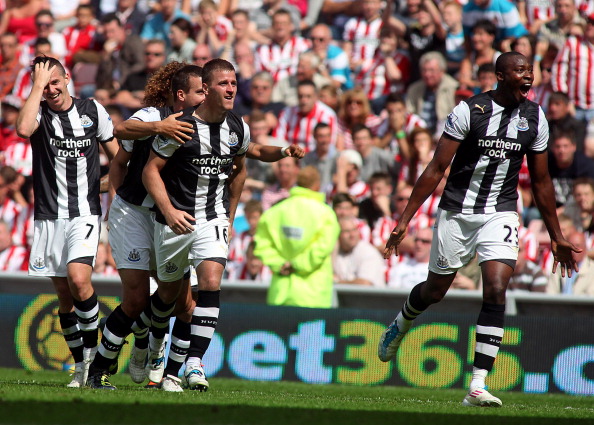 The song remains the same for so-sick Steve, once again tragically denied the opportunity to serenade his increasingly dissenting flock with the platters that matter to him.

And adding insult to injury, the winner came from a player he managed when at Wigan, discarded in haste for Magpie malcontent Charles N'Zogbia. Knowing his onions though (fried, on cheeseburgers), Brucey commented back in 2009 that Ryan Taylor was "a superb striker of the ball". He still is, it's just the running around stuff in between that he doesn't always prosper at....

For Alan Pardew though, the satisfaction of achieving what every man, woman and child with a NE postcode he encountered last week had demanded of him was evident. Under pressure from sceptical punters for his parsimonious transfer dealings, the importance of this success was probably on a par with the home victory over Liverpool that began his SJP reign last December.

The Merseyside influence on this match loomed large, with Kevin Nolan's four derby goals last season removed from the equation. Genuine concerns also remained over Joey Barton's ability to keep himself on the straight and narrow in the face of the expected extreme provocation.

In the event though it was Ryan Taylor who conjured up a belated birthday present for himself, having kept his place in the starting XI due to the absence of a bona fide left back. Had we signed one, would we have actually had someone on the field who could have cracked home the free kick? No matter, he's assured of his place in folklore, along with the likes of Dabizas and the O'Briens.

Clearly fired up for the occasion but looking both disjointed and hesitant, Steve Bruce's reshaped side were on trial despite their opening day point at Anfield and the noise levels from home areas reflected that uncertainty. An early goal would doubtless have done wonders for mackem fans, players and manager but it never really looked likely, Tim Krul making a couple of stops that were noteworthy without being spectacular.

Our main outlet was Shola Ameobi, given the task of chasing down occasional forward punts and trying to wriggle away from one, two or often three defenders. That changed on the quarter hour though when Shola got ahead of Mignolet to head Cabaye's corner goalward and Barton's close -range nod on looked like a certain goal - only for Sebastian Larsson to swipe it clear with his arm.

A penalty award for United and a red-card for the former Birmingham City midfielder looked like the only possible outcome, but Howard Webb refrained from making a decision and consulted with his linesman, who also claimed to have seen nothing. TV pictures later showed that Steven Taylor was blocking the referee's view, but the flagwaver on the far side looked to have a perfect angle.

Halftime was reached with some robust tackling from both sides and Yohan Cabaye finding the target with a powerful effort that was saved. Ameobi placed his header wide of the goal from an offside position, while Gyan grazed the crossbar when he should really have netted. Talk at the break revolved around a second successive 0-0.

Cheick Tiote had a wayward game in midfield and had black-and-white hearts in mouths with what looked like a trip on Kieran Richardson but the mackem man got straight up without complaint and Webb waved away appeals from his team mates - only he will know whether that was a decision made in isolation or some "evening out" following the first half non-decision.

Tempers spilled over at times and there were players from both sides lucky to stay on the pitch but Lee Cattermole and Phil Bardsley could have ended up in jail with some of their assaults, the referee finally losing patience with the latter in the dying minutes and issuing a second yellow.

In truth, it should have been a straight red and with Fabricio Coloccini's foot planted firmly when Bardsley made contact, it's a miracle Colo's leg remained in one piece - handing us a small piece of good fortune that we often seem to lack, given that he's started the season in great form (with fellow countryman Jonas also catching the eye here today in the second half).

Dan Gosling should then have wrapped up the points after just having the 'keeper to beat from close range, but was denied. As the jubilant away fans chanted after the 95th minute final whistle, "We are top of the league" - by virtue of kicking off so early. By Monday night we were seventh.

Alan Pardew is entitled to milk the moment, if for no other reason than it gives him something positive to enthuse about for a change, rather than shoulder the burden of publicly defending decisions that he doesn't always agree with - or even play a significant part in (allegedly).

There's a slight danger though that the preceived importance of the two derby games is over -emphasised and things are over-sold to mythical status, much like the media claptrap of us preferring to lose 2-3 than win 1-0.

In reality, most folks see beyond the "occasion" (at least once they sober up) and grasp that like Arsenal last week, the mackems face some fairly substantial in-house issues. That's a mirror image of us losing here under JFK in the relegation season, when we were using words like "stagnated".

Aside from the result and the points, another pleasing aspect of Saturday was that there looked to be an element of unity among the players - a pertinent factor given worries about the influx of French players and departure/absence of others leading to dressing room cliques appearing. Under- played by the media but also not to be underestimated as a positive factor was the player bonus row that was recently settled - a genuine bone of contention since Pardew's arrival.

There were two public displays of that collective mood on Saturday, beginning with the squad ending their warm-up session by gathering round coach John Carver before approaching the away section en masse and applauding them. If that was calculated though, the repeat performance on full time was more instinctive, with shirts thrown into the celebrating throng and much fist-clenching - hardly the sinking ship Jose Enrique had spoken about last week from the safety of Anfield.

In highlighting these cameos, we're of course running the risk of over-egging this particular pudding and joining other commentators in trotting out the "smells like toon spirit" line yet again. From our own perspective, genuine spirit will be evident when we're playing badly at home, ignore moaners and flouncers in the stands and dig something out to salvage a point or three - like that 4-4 draw.

And of course, whatever else may happen to this squad before the window closes will also be a test of their collective mettle - there wasn't much spirit when we lost at Fulham in February after Carroll left, when Shola promptly smashed his jaw and it all looked a bit too much for us to bear. Three days later though (and at 0-4 down) something stirred....

In our darker moments, the prospect of our first two opponents this season handing out score- settling spankings had been mentioned in terms of a reality check/panic attack in order to unlock transfer funds before the window closed.

Having avoided that with something to spare though, it's as well to recall that a long and punishing season awaits most clubs and in our case, we normally manage to find additional ways of leaving ourselves short-handed (selling without replacing, buying tripe, prison sentences, split fingers etc).

Is a return of four points now enough for our renowned football thinkers to rule that everything in the Gallowgate garden is rosy and we'll get the rest of the points we need to finish 17th with no further outlay? Offering the contents of the training room swear box for Charlton's goalkeeper hardly inspires confidence....

Let's be right about this: if the current squad were a cricket team, it's fair to say we'd have a long tail. And while keeping goals out is a pleasing new habit, scoring them remains a genuine worry.

Not today though, the one we got was priceless. Who put the ball in the mackem net? Oh, Ryan!
Biffa