Date: Saturday 13th August 2011, 5.30pm
Live on ESPN

Venue: St.James' Park

Conditions: warm,cloudy, dry.

Programme: £3






Newcastle United

Arsenal

0 - 0

Teams
Half time: Newcastle 0 Arsenal 0

Full time: Newcastle 0 Arsenal 0
Alan Pardew:

ďJoey is a competitive player and I have played with a lot of competitive players. Look at someone like Paul Ince a lot of incidents happened around him and even Bryan Robson who was the captain of England.
"They are competitive players and there are going to be incidents when they put in full-on tackles or get involved in something they donít like. They have got character. That is why they are great players.
"Joey Barton is a character. He gave me assurances on Friday that he was fully committed to Newcastle and he showed that today because his performance was one of the best performances out there.
"As you can see from his Twitter site he has got a personality and a bit of character. I am not saying he is always perfect but he expresses that on the pitch.

"Me and Joey know what we are doing. He hasnít got a contract for next season, of course, and that is still hanging over him but the assurance I have got from him is that he gives everything for me on a Saturday and pulls for the team.
"He could not have done more today in the dressing room and on the pitch. I think that he will be here beyond the end of August. You can never say anything 100 per cent in football but I think he will be.
"I think the referee made the correct decision because firstly Gervinho dived and I donít think there is any doubt about that. That gets the blood boiling in any footballer, let alone Joey Barton. He just tried to express that to Gervinho in saying what are you doing, diving, and grabbed hold of him.
"Then it turned into a tussle but Joey never raised his hands or anything and the guy has slapped him round the head. You canít do that on a Sunday morning and he ainít gonna get away with it here. He gets involved in things but what has he done today. He has been slapped round the head and stamped on.
"Alex Song is a player I love because he worked for me at Charlton. He is a terrific lad and that is very out of character for him. Hopefully he did it by mistake but it was a stamp. He put his foot on him and Alex will be disappointed when he sees that. There is no point hiding from the truth. Thatís what happened and I will tell him when I see that.
"It was a strange game in a lot of ways because I felt the start of the game went according to what I predicted because I thought that there would be a resolve from the Arsenal dressing room because of the criticism that has come their way saying they are not going to win anything this side and that it would fire them up and it did but we showed tremendous resolve. But our passing and set-plays let us down today.
"Weíre confident weíll have some new players here by next weekend. I donít want to talk about specific players, but Iím confident that by the time we play Sunderland Iíll have a left-back in place Ė and hopefully a striker.

"Ryan (Taylor) deserves a medal He was up against Gervinho, who I think is one of the best players in the Premier League - I know he is, because I tried to sign him. Then he was up against Theo Walcott for the last 15 minutes!
"I hope he (Taylor) doesnít play next week, because I think weíll have a left-back, but if Ryan has to play there, then fine. Itís got to be hats off to him. He has that sort of role at our club Ė centre mid, right-hand side of midfield, right-back or left-back, it doesnít matter, he does an honest job."

Gabriel Obertan:

"I was relieved Ė last season especially was a bit frustrating for me, and it just felt good to be on the pitch for 45 minutes, and to enjoy my football. Itís good Ė Iím lucky that the fans like quick and tricky players, so I hope Iíll do well for them. Iíll give my best on the pitch, and as long as the club gets results, Iíll be happy.
"If I need to be defending more, or whatever, Iíll do it. The integration has been easy. Itís quite easy to fit into the group. Iím just happy that training has gone well, and the atmosphere in the group is good.
"The last season was quite frustrating, so Iím up for anything on the pitch. The most important thing for me was to get my confidence back and make good passes and I created some opportunities, so it was good overall. The only thing missing was the three points, but weíre still happy with the point.
"We could have done better Ė they were down to 10 men. Weíre still happy with one point - itís important to grab something from the big teams.Ē

Yohan Cabaye:

"For me that was perfect. I love the English atmosphere, the English fans. Newcastle fans are brilliant. I am happy to start in the team, in the Premier League, and with the atmosphere. That was fantastic.
"It was a good first game for me and for the team because Arsenal are a good side. I am very tired. It was very tough, but when I play more games I will get better and it will be okay for me. I will work a lot to get fitter.
"We have played one game and got one point - a good point - and now we have to work for Sunderland next week. We have to win there."
Joey Barton's twitter highlights:
"maybe I shouldn't of got involved but diving and trying to win a penalty, is sh*t. Needs stamping out (No pun)."
"What do people want me to do, stand and trade blows with Gervinho. If u raise ur hands to players faces, u should be off. Ref got it right..."
"Imagine if id of stamped on Song, all the numptys would be out calling for a public execution. What cos its on me its alright?"
"If i stayed up or went down its not relevant, raises his hands off. I was merely highlighting he struck me. Song stamped should of been seen."
"Great result and performance from the lads. On a personal note hopefully, today proves my commitment, if it was ever in doubt."

And one which was subsequently deleted:

"bad shirt shoes and views from shearer again sort it out slaphead"

PS: Sunday evening saw Barton appear on BBC Radio 5, where he admitted that:

"I shouldn't have gone over and pulled Gervinho up by his shirt, that's not the correct way to deal with it. I should have let the referee handle it. I shouldn't have done what I did. We sometimes push the boundaries in trying to get an advantage.

"I did go down easily but I felt disappointed by Gervinho trying to win a penalty. I have made a meal of it, I've been pushed harder by people at school but I can't take responsibility for Gervinho's actions. After seeing it on Match of the Day I have to take back calling him a cheat, but I thought it was blatant diving."


Arsene Wenger griped:

"I think I saw two yellows or two reds but not one yellow and one red. There is a link between the incident (and Diabyís dismissal in 2010/11). He (Barton) got away with a yellow card both years.
"I thought we had a solid performance and were in control. Newcastle had last seasonís 4-4 more in their mind than we did. They organised not to concede goals, defended well and it was very difficult for us because we played a team who was highly focused to defend.

"We missed something, the regret is that we missed something in the final third and in the speed of our passing. But, overall, we had a good performance. I canít remember giving Newcastle a chance at goal and, away from home, you have to give credit to our team for that.
"We try to play football and, if you watched today, you will see that. Overall, I feel we have been very harshly punished today. We try to play and sometimes we overreact. We have to take control of that. If we have an area to improve on, then that is it. We will learn from that today.
"If we had conceded a goal I would have been bombarded with questions about why I donít buy a centre back! They have to take credit. I am not against spending money if the players we buy can improve our squad. We have a big squad and if some players leave we will try to bring players in. We request top quality and we are not scared to spend money.
"It is important that there is a love between the fans and the players. The players today have shown a commitment that deserves the support of the fans.

"I like the courage of the player (Barton) Nobody dismisses signing Joey Barton but I don't think we envisage doing that at the moment. He's a good player. Sometimes there's trouble with his temper but he's a great player - maybe the way to sort Barton out is to sign him, maybe that's the solution."
An opening day clean sheet was recorded for the first time in ten attempts - since a 4-0 home humping of West Ham kicked off the 2002/03 campaign.

Opening day results / final placings - Premier League:

1993/94 Spurs (h) lost 0-1 (3rd)
1994/95 Leicester City (a) won 3-1 (6th)
1995/96 Coventry City (h) won 3-0 (2nd)
1996/97 Everton (a) lost 0-2 (2nd)
1997/98 Sheffield Wednesday (h) won 2-1 (13th)
1998/99 Charlton Athletic drew (h) 0-0 (13th)
1999/00 Aston Villa (h) lost 0-1 (11th)
2000/01 Manchester United (a) lost 0-2 (11th)
2001/02 Chelsea (a) drew 1-1 (4th)
2002/03 West Ham (h) won 4-0 (3rd)
2003/04

Leeds United (a) drew 2-2 (5th)


2004/05 smoggies (a) drew 2-2 (14th)
2005/06 Arsenal (a) lost 0-2 (7th)
2006/07 Wigan Athletic

(h)

won 2-1 (13th)
2007/08 Bolton Wanderers (a) won 3-1 (12th)
2008/09 Manchester United (a) drew 1-1 (18th)
2010/11 Manchester United (a) lost 0-3 (12th)
2011/12 Arsenal (h) drew 0-0 (5th)


Total record against Arsenal:
P

W

D

L

F

A

SJP

78

40

19

19

142

89

H/E

77

22

17

38

81

125

League

155

62

36

57

223

214

SJP

(FA)

2

0

2

0

4

4

H/E/W/VG

8

4

0

4

7

12

SJP(LC)
1
0
0
1
0
4

H/E
3
0
0
3
0
8

Cup

14

4

2

8

11

28

Tot

169

66

38

65

234

242
There were three competitive senior debutants, (Cabaye, Ba and Obertan) taking the number of players used in Premier League games to 167, of which no less than 18 have been French-born:

David Ginola, Laurent Charvet, Stephane Guivarc'h, Didier Domi, Louis Saha, Alain Goma, Franck Dumas, Laurent Robert, Sylvain Distin, Olivier Bernard, Charles N'Zogbia, Antoine Sibierski, Habib Beye, Sebastien Bassong, Hatem Ben Arfa, Yohan Cabaye, Demba Ba and Gabriel Obertan. David Terrier and Lionel Perez both failed to appear in competitive first team games during their time at SJP.

And if you're wondering why Jean-Alain Boumsong doesn't appear in that list, it's because he was born in Cameroon but elected to play for France (the opposite to Bassong, who played for Cameroon and Beye, who represented Senegal, as does Ba). Laurent Robert makes it on to the list as he was born on Reunion Island, which is a French Overseas Region.

Premier League game number 655 saw Newcastle earn their 953rd points, while failing to alter the goals for (940) or against (834) tally. Our 328th PL home game saw the Magpies rack up draw number 84, having won 175 and lost 69.
Gunners in Toon - Premiership years:
2011/12: Drew 0-0
2010/11: Drew 4-4 Barton 2, Best, Tiote
2010/11: Lost 0-4 (LC)
2008/09: Lost 1-3 Martins
2007/08: Drew 1-1 S.Taylor
2006/07: Drew 0-0
2005/06: Won 1-0 Solano
2004/05: Lost 0-1
2003/04: Drew 0-0
2002/03: Drew 1-1 Robert
2001/02: Drew 1-1 Robert (FAC)
2001/02: Lost 0-2
2000/01: Drew 0-0
1999/00: Won 4-2 Speed 2, Shearer, Griffin
1998/99: Drew 1-1 Hamann
1997/98: Lost 0-1
1996/97: Lost 1-2 Shearer
1995/96: Won 2-0 Ginola, Ferdinand
1994/95: Won 1-0 Beardsley
1993/94: Won 2-0 Cole, Beardsley

Steve Harper wasn't included in the matchday 18, while also missing were Alan Smith, Sylvain Marveaux, Shane Ferguson, Nile Ranger, Hatem Ben Arfa & Danny Guthrie.

We're now unbeaten against Arsenal in our last three league meetings:

Nov 2010 won 1-0 (a)
Krul, Simpson, Jose Enrique, Coloccini, Williamson, Barton, Tiote,
Nolan, Carroll, Shola Ameobi (Ranger), Gutierrez.

Feb 2011 drew 4-4 (h)
Harper, Simpson, Jose Enrique
, Coloccini,

Williamson, Barton,

Tiote,
Nolan,

Best (Guthrie), Lovenkrands (Ranger

)
,
Gutierrez

.
Aug 2011 drew 0-0 (h)

Krul, Simpson,
Ryan Taylor,

Coloccini, Steven Taylor, Barton, Tiote

,


Cabaye (Lovenkrands),
Ba (Obertan)

,
Shola Ameobi (Best

),

Gutierrez

.


Home game number 12 for Alan Pardew and his side have lost just twice, drawing six and winning four - taking points off Liverpool, Manchester United, Arsenal (twice) and beating Liverpool - not bad for a bloke whose previous employment was with a third-tier team (said Derek).
Waffle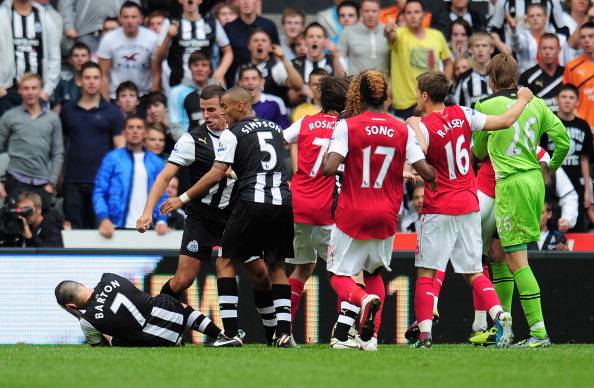 It was almost the same as last season, just minus the eight goals....
This time there was to be no dramatic comeback but like our previous meeting on Tyneside, Joey Barton was involved in red card controversy as the Gunners finished a man short and the points were shared.
Former Toon transfer target, Gervinho, was dismissed for slapping Barton after the two had become embroiled in a scuffle following a dive from the Arsenal man in United's penalty area. Barton needlessly raced over to pick up the forward and did so far too aggressively and in the ensuing melee Gervinho slapped Joey who then dramatically fell to the ground clutching his face.
The whole incident didn't look great from any perspective but the cards shown were probably correct but it was an earlier incident that will also occupy the thoughts of the FA on Monday.
Barton won the ball cleanly from Alex Song but the Arsenal man then stamped on our midfielder's Achilles in full view of the benches, linesman and fourth official but incredibly wasn't seen by any of the officials - despite Joey leaving the field to remonstrate with the latter.
It was another unsavoury incident in a game of scant good football from both sides and a distinct lack of clear-cut chances at either end (a fact borne out by Match of the Day's highlights, which failed to mention Ameobi, Ba, Obertan, Best, Lovenkrands...or Szczesny).
Two sides whose squad makeup remains in a state of flux ahead of the transfer window closing ultimately achieved their main objectives - of not losing or conceding a goal. The visitors could justifiably claim they had more possession but both 'keepers were rarely tested and the few opportunities were hit high or wide of the goals.
A fractured pre-season meant that Alan Pardew's starting XI had never previously played together, with today's midfield quartet split over three continents in pre-season.
Under those circumstances, the new central pairing of Tiote and Cabaye did fairly well - the Ivorian initially pushing further forward but the French international occupying a more advanced role in the second half, coming as near to anyone to testing Szczesny,
And with the rumoured return of James Perch as an emergency left back thankfully not materialising, Ryan Taylor got over a shaky start to emerge with some credit - assisted by some responsible work from Jonas Gutierrez, although to the detriment of his attacking duties (a similar doubling up took place in our Intertoto game in Troyes, when Robbie Elliott came on to buddy with Wayne Quinn - quite why I thought that, never mind wrote it will remain a mystery).

While recruiting a goalscorer remains a necessity, the left back slot occupies the thoughts of yet another Magpies boss - a position where we've frequently failed to have a decent first choice and never enjoyed the luxury of a back-up since peanuts were a tanner a bag.

Whoever comes in to that position though needs to fit in quickly - not just with the rest of the defence but the player in front of him, currently Gutierrez. The occasional absences of Enrique in previous seasons almost always coincided with Jonas making less of an impact on the game, having been deprived of a partner down that flank that he's formed a trust and understanding with.
Up front, debutant Ba endured a muddled 45 minutes before failing to reappear - although a coin toss could have decided whether it was he or Shola Ameobi who came off at half time. Our number 23 frequently toppled to the floor and seemed continually on the verge of getting dog's abuse from the crowd. Given his previous potency against our next opponents though, we'll move on swiftly...
It was left to Ba's replacement Gabriel Obertan to provide some desperately needed life to United's attacking attempts, although Ameobi remained isolated and innocuous. The former Old Trafford fringe player made an instant impact following his half time introduction, demonstrating both pace and trickery on the ball and livening up the crowd.

However neither he nor Leon Best were able to threaten a goal, while the addition of Peter Lovenkrands to the attack following the red card brought no dividend. A word about our set pieces meanwhile - tripe. Good to see that some club traditions at least are still upheld.
Centre back pairing Fabricio Coloccini and Steven Taylor shaded it as joint men of the match, while Tim Krul was rarely troubled, but grateful to Danny Simpson for a goal-line clearance in the first half after the 'keeper lost possession following an aerial challenge with an opponent.

In terms of meaningful conclusions though, that's it - other than to gratefully take receipt of a point from a side who invariably provide us with challenges we seldom face elsewhere, but increasingly find themselves unable to finish the job. To hear Wenger whinging about Arsenal being a feeder club was an early season highlight.

Had Joey Barton not played in this game, we may have lost and had absolutely nothing to write about at all. For all Pardew's soothing words and "peace in our time" sentiments though, our number 7's potential for disruption was evident to anyone - Steve Bruce and his rabble will have taken heed.

As has become the norm in recent seasons, it's only in September and February when a vague sense of reality can intrude into the madness that is top-flight football (and the elastic band is removed from Jim White's todger). Two more weeks remain for arrivals...and departures.

A midweek visit to Fulham last season found us in post-Carroll depression; whether our Monday night game at QPR finds us similarly bereft/downbeat or contemplating credible new occupants in the number 3 and 9 shirts remains to be seen.

By then of course Joey could have signed a new deal, have been banished from Tyneside/England completely - or appointed Home Secretary, given that "robust" is the Downing Street buzz word...

Biffa