In association with NUFC.com

Date: Saturday 24th April 2010, 3pm.

Venue:

St. James' Park



Conditions: Unblemished/glinting




Newcastle United

Ipswich

2 - 2

Teams
26 mins Jose Enrique's short pass out to Wayne Routledge on the Newcastle left saw the winger burn off a defender before sending over a decent centre from close to the byline. Peter Lovenkrands ducked under the ball to allow his striking colleague Andy Carroll to head home powerfully at the Gallowgate End 1-0

42 mins An almighty boot upfield from Republic of Ireland 'keeper Brian Murphy was helped on by Jon Walters and fell to Connor Wickham just inside the United box. He got in between two defenders and shot across Steve Harper for his sixth senior goal, having turned 17 only a month ago. Remember that name. 1-1

Half time: Toon 1 Town 1

84 mins Finding himself in an unfamiliar attacking role, Nicky Butt seized on a loose ball in the Town box and then tempted Leadbitter into an ill-advised tackle. There was some confusion about the penalty taker, with Joey Barton initially picking the ball up and crowd shouts for Butt to mark his farewell outing at SJP.

Shola Ameobi though grabbed possession, set the ball down and blasted home a low, right-footed effort beyond Murphy - who guessed correctly but failed to make contact as he dived to his right. 2-1

90+4mins Wickham turned provider with a ball infield from the left that bisected the retreating United defence. Despite looking yards offside, Jon Walters was allowed raced in on goal and fire in, amid protests from Newcastle players and supporters alike. 2-2

Full time: Toon 2 Town 2
United Manager Chris Hughton said: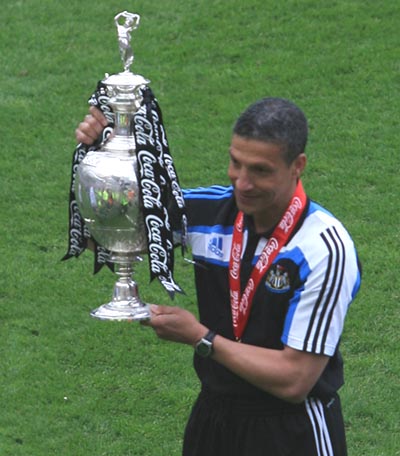 "It is all sinking in. This is what you are in the game for. We set ourselves targets and we achieved them. Of course, I am a bit disappointed we did not win the game, but that disappointment did not last too long. It is a fantastic achievement to go through the whole season and not lose a home game.

"It is a very, very good feeling - days like this are what you are in the game for. You have to enjoy every moment of success and that is what we are going to do tonight. In some ways it, is a bit of a relief after a long, tough season.

"I did feel his (Sir Bobby Robson's) presence – you always do - his death united the club. When you have an individual like Sir Bobby who is so close to his football club, you take it with you - of course you do. I don't think you can be around this club in good moments and not have a feel for the people who have been here before - the big influences.
"It is a special club, a club with a very local support. They hold their own very close and dear to them. It is very, very difficult not to think of those people when you are here, and there is none bigger than Sir Bobby."
Interviewed by the Sunday Mirror, he said:

"Managing in the Premier League isn't something I am fearful of. I have never been afraid of being in charge, whether I have been coach, manager or caretaker. Whatever role I have had on the management side I pride myself on having done my best in the job. I have never shied away from that responsibility. Taking Newcastle back to the Premier League won't be any different for me.

"To have won the Championship title in my first ­season is something I am incredibly proud of. Now I am looking at the next challenge. I worked under a lot of ­top-class managers at Spurs and had to take over as ­caretaker a couple of times when things were not going well. I know what's required.
"I am very much looking forward to being a Premier League manager in my own right and locking horns with the top managers in the game. I didn't set out specifically to be a manager, but once you end up in that role you want to be measured against the best in the profession.
"With that comes the difficulties of winning football matches against very good teams and managers, but that is what you are here for and what you are pushing all your life for. Our aim is to become a permanent fixture in the Premier League, but we know we will be in a better and tougher league and we won't underestimate the task we face.
"It is testament to the owner that he kept a good enough squad for us to be able to compete. He decided he was going to keep a squad that was good enough to get us back up. He put me in charge on a temporary basis to start with and I felt it was the right decision.

"It would have been wrong to bring in someone completely new. It was best to have someone who knew the players and could maintain the continuity. At that stage the players were hoping for a little bit more continuity and the fact I was staying there helped. I was satisfied early on that the foundations the owner had provided were good enough to get us promotion. Slowly but surely we began to feel good about ourselves and the early results gave us a ­momentum we never lost.

"The squad will be better in the Premier League for what they have been through this season. We've earned the right to be there, but we know there are areas that must be improved. Our aim must be to survive and consolidate in the way Birmingham, Wigan and Stoke have done. We must also be mindful more than ever that clubs must live within their means, but as we look forward to our Premier League return I am confident that we are in good shape."

Having confirmed that he will be leaving the club at the end of the season, Nicky Butt said:

"The emotion of it grabbed me – anyone who doesn't get a bit emotional in that situation would be a weirdo. It was a great day and I am happy it has ended this way. To go out there at the end and get the trophy was up there alongside everything else I have done.
"I have enjoyed everything I've done in my career but out there on Saturday, that could have been the Champions' League. You have got to enjoy it. Getting relegated was the lowest point of my career. Last year was really bad and it was always in the back of our minds this season, it was terrible and we wanted to put it right.
"We have got the club where we want it to be – and it is a massive thing for us. This is a club in my heart, it grew that way. It is an amazing city – a tight place where everyone adores the club. It is a one city club and it is almost unique in the way everyone wears the shirts. You come to the ground and see women, kids, the whole family with their shirts on.

"We have see a lot of that this year because we have been winning games. We have been out for meals and got pats on the back and people shaking our hands. I will always look at the results and I've already fixed up my tickets to come back next year. You can't go up thinking top six or top eight – they have to improve on what we have done. But it is important they don't get too carried away."
Royston labradorius molestus Keane offered:


"The Premier League is a long long way above the Championship but Newcastle have a chance because what they have, which they did not have before, is a good team spirit. That gives you a good foundation.
"You need money, every manager tell you that, but Newcastle have a good starting point. They had a great bench against us. Nicky might leave, but the Smiths, the Bartons, all these lads can play. They have vast experience.
"I thought we did well, but obviously we have to look at whether Newcastle were in holiday mode, maybe some of them. I'm not saying all of them, and I'm not being respectful, but it sometimes happens when you win a trophy that you switch off a little bit. I think that was the case today.
"But from our point of view, we didn't want to end the season on a flat note, in terms of last weekend's disappointing home draw and losing the previous weekend at Forest. It was a good point for us today and we want to finish with a victory next week.
"You look at where we were earlier in the season, when Newcastle beat us quite comfortably 4-0 at our place, the signs are that we are making progress, although I know there wasn't the same intensity as in that match.
"I didn't think Newcastle were particularly good, and they were probably thinking – "we'll take 2-1" – because they get used to winning - but if we'd lost the game I would have been properly upset, because I'm disappointed with the draw.
"We had the better of the chances, and we scored two good goals, but we certainly gave a bad second goal away. I thought all the players did well. I've never really once looked at my team and thought that my players have downed tools for me, even when we were very poor at the start.
"We've got that going for us, but we just need one or two new players. The spirit and the work-rate is good, and the goals against is not too bad, but we don't have the goal threat yet, that Newcastle have, which is why this is a very important summer for the football club. We have contract situations to be looked at, and we'll have to tidy that up over the next 14 days."


Newcastle United completed a season-long unbeaten home record consisting of twenty three league fixtures plus one Carling Cup and one FA Cup tie; a total of twenty
five games in all competitions.

To go unbeaten in an entire home league campaign hasn't been achieved by a Magpies side since the 1906/07 season (when their record was played 19, won 18, drew 1). However that season saw them beaten 1-0 at home in the FA Cup (by Crystal Palace), meaning that this 2009/10 feat is unique - if not a record, given that it's mostly the luck of the draw whether a team gets to plays home cup fixtures.

(Similarly, press references to the last second-flight side to go unbeaten in a full season have mentioned the mackems in 1979/80. However they too lost in the FA Cup - beaten at Roker Park by Bolton).

It's now sixteen league games unbeaten, extending a club record was set earlier this season, when our 0-0 draw away to Leicester City equalled the 14 game run between April and September 1950.

Tractor boys in Toon -all-time:


2009/10 drew 2-2 Carroll, Ameobi (pen)
2001/02 drew 2-2 Shearer, Robert
2001/02 won 4-1 Shearer 2, Robert, Ameobi (LC)
2000/01 won 2-1 Shearer 2
1994/95 drew 1-1 Cole
1993/94 won 2-0 Sellars, Cole
1991/92 drew 1-1 Quinn
1990/91 drew 2-2 Stimson, Quinn
1989/90 won 2-1 Quinn 2
1985/86 won 3-1 Beardsley, Whitehurst. Gascoigne
1984/85 lost 1-2 Waddle (LC)
1984/85 won 3-0 OG, Heard, Waddle
1977/78 lost 0-1
1976/77 drew 1-1 Nattrass
1976/77 "won 1-0" Barrowclough*
1975/76 drew 1-1 Nulty
1974/75 won 1-0 Howard
1973/74 won 3-1 Macdonald 2, OG
1972/73 drew 1-1 Macdonald (TC)
1972/73 lost 1-2 Macdonald
1971/72 lost 0-1
1970/71 drew 1-1 Mitchell (FAC)
1970/71 drew 0-0
1969/70 won 4-0 Robson 2, Ford, Dyson
1968/69 won 2-1 Davies 2
1964/65 drew 2-2 Suddick, Anderson

* game called off at HT due to icy pitch (some sources claim fog was also a factor).


Full record v Ipswich:

| | | | | | | |
| --- | --- | --- | --- | --- | --- | --- |
| | P | W | D | L | F | A |
| SJP | 21 | 9 | 9 | 3 | 35 | 21 |
| PR | 21 | 6 | 4 | 11 | 31 | 30 |
| League | 42 | 15 | 13 | 14 | 66 | 51 |
| SJP(FA) | 1 | 0 | 1 | 0 | 1 | 1 |
| PR | 1 | 0 | 0 | 1 | 1 | 2 |
| SJP(LC) | 2 | 1 | 0 | 1 | 5 | 3 |
| PR | 1 | 0 | 1 | 0 | 1 | 1 |
| Cup | 5 | 1 | 2 | 2 | 8 | 7 |
| Tot | 47 | 16 | 15 | 16 | 74 | 58 |
Championship medals were presented to 24 players, with Harper, Krul, Simpson, Ryan Taylor, Steven Taylor, Enrique, Coloccini, Williamson, Hall, Kadar, Nolan, Smith, Butt, Barton, Guthrie, Donaldson, Pancrate, Ameobi, Carroll, Lovenkrands, Gutierrez, Routledge, Ranger and Best all receiving one, plus Hughton, Calderwood and Barron.

That left 9 players who have featured at some stage in the Championship this season without a gong - the now-departed Duff and Geremi, plus expired loanees Harewood, Khizanishvili and Van Aanholt. Xisco Tozer, Vuckic and LuaLua also missed out.

Shola Ameobi extended his record as the current top scorer at SJP, with his 61st senior club strike. Netting today also ensured his best-ever seasonal total, exceeding the 10 he managed back in 2003/04.

2009/10 11 goals
2008/09 4 goals
2007/08 0 goals
2006/07 5 goals
2005/06 9 goals
2004/05 7 goals
2003/04 10 goals
2002/03 8 goals
2001/02 5 goals
2000/01 2 goals

Shola from the spot - 7 pens, 7 goals:

Nov 2004 v Norwich (h) LC (Leazes)
Apr 2006 v West Brom (h) PL (Gallowgate)
Oct 2006 v Bolton (h) PL (Gallowgate)
Jan 2009 v Mackems (h) PL (Gallowgate)
Aug 2009 v Reading (h) CH (Gallowgate)
Sep 2009 v Huddersfield (h) LC (Leazes)
Apr 2010 v Ipswich (h) CH (Leazes)

He also netted in the penalty shootout v Partizan Belgrade (h) in a Champions League Qualifier but didn't play in the Carling Cup tie at Watford that ended in a shootout. In friendlies, he converted in shootouts v Thailand (a) and Hong Kong (a) in July 2004, but missed one v Bray Wanderers (a) in August 2005.

With one game to play, Newcastle have scored 89 goals in the Championship (plus 9 in Cup ties).

Top Scorer 2009/10 (all competitions):

Andy Carroll: 19 (17 in Championship)
Kevin Nolan 18 (17 in Championship)
Peter Lovenkrands 15 (12 in Championship)
Shola Ameobi 11 (10 in Championship)

Home Record - Post-War promotions:

2009/10: Played 23, won 18, drawn 5, lost 0. 56 goals scored, 13 conceded (finished first)
1992/93: Played 23, won 16, drawn 6, lost 1. 58 goals scored, 15 conceded (finished first)
1983/84: Played 21, won 16, drawn 2, lost 3. 51 goals scored, 18 conceded (finished third)
1964/65: Played 21, won 16, drawn 4, lost 1. 50 goals scored, 16 conceded (finished first)
1947/48: Played 21, won 18, drawn 1, lost 2. 46 goals scored, 13 conceded (finished second)

You've been a lovely audience:

The final home game of the season has seen some memorable afternoons at SJP, but things
haven't gone our way of late with just one win in the last seven:

2009/10 Ipswich drew 2-2 (Carroll, Ameobi)
2008/09 Fulham lost 0-1
2007/08 Chelsea lost 0-2
2006/07 Blackburn lost 0-2
2005/06 Chelsea won 1-0 (Bramble)
2004/05 Chelsea drew 1-1 og(Geremi)
2003/04 Wolves drew 1-1 (Bowyer)
2002/03 Birmingham City won 1-0 (Viana)
2001/02 West Ham won 3-1 (Shearer, LuaLua, Robert)
2000/01 Aston Villa won 3-0 (Glass Cort, Delaney og)
1999/00 Arsenal won 4-2 (Speed 2, Shearer, Griffin)
1998/99 Blackburn drew 1-1 (Hamann)
1997/98 Chelsea won 3-1 (Dabizas, Lee, Speed)
1996/97 Nottingham Forest won 5-0 (Ferdinand 2, Asprilla, Shearer, Elliott)
1995/96 Spurs drew 1-1 (Ferdinand)
1994/95 Crystal Palace won 3-2 (Fox, Lee, Gillespie)
1993/94 Arsenal won 2-0 (Cole, Beardsley)
1992/93 Leicester won 7-1 (Kelly 3, Cole 3, Lee)
1991/92 Portsmouth 1-0 (Kelly)
1990/91 Hull lost 1-2 (Clark)

PS: A quartet of Newcastle players were selected by the Professional Footballer's Association in their Championship team of the season. Jose Enrique, Fabricio Coloccini, Andy Carroll and Kevin Nolan all made it in, while there was also a place for old boy Michael Chopra.


Waffle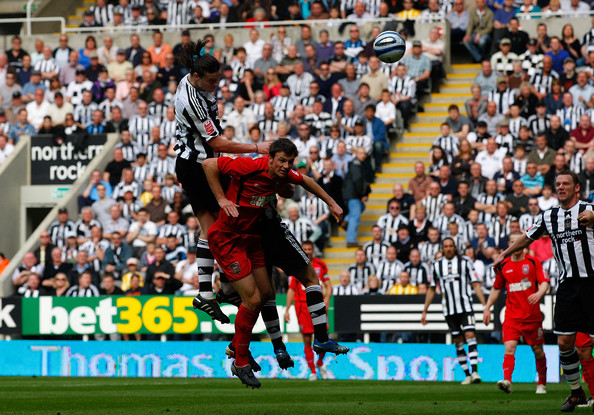 United closed out their unbeaten home campaign on Saturday and then staged a Championship celebration party at SJP, despite having been denied the victory that would have completed a century of points by a late and ludicrously offside goal from the Tractor Boys.

After the title was secured at Plymouth on the previous Monday, Saturday was all about the occasion of seeing the trophy handed over and SJP was accordingly packed with black and whites from both near and far. But if anyone came expecting a classic exposition of the round ball game or a rerun of 1993's 7-1 Championship party towsing of Leicester, then they were in for something of a disappointment.

The combined effects of a hectic fixture programme played out on some questionable pitches and the inevitable post-Home Park knees up reduced much of this game to the level of a friendly kickabout in the sunshine. Despite having nothing really to play for, Town were doubtless anxious to avoid both a collective repeat of the 0-4 humiliation at Portman Road and the individual "consequences" of annoying their manager.

The tightly-knit and well-organised visitors managed to stifle an increasingly lethargic United, aside from a moment of inspiration and pace when Routledge set up Carroll for what is becoming almost a trademark power-headed finish.

That was barely deserved though and achieved with seemingly zero effort, rousing the crowd only briefly before they resumed their collective slumbers. An Ipswich leveller was deserved and duly arrived, but after the break both sides seemed content with their lot and with only crowd-pleasing substitutions to enliven things, a stalemate looked inevitable.

A draw was to be the final score, but achieved after a burst of activity in the closing minutes saw both Nicky Butt and Shola Ameobi make their mark, events that were appropriate in different ways.

For the midfielder who won the spot kick it was a happy ending to a varied career on Tyneside that saw him seek refuge at Birmingham City once upon a time, only to return to SJP when his permanent move was shelved following their relegation. And had his dallying on the ball here a year ago not started the move that led to Fulham's winner, then his Magpie farewell would surely have come in May 2009 as we remained in the top-flight.

And the striker who came off the bench to grab another goal can reflect that only his long-standing fitness problems left him remaining a Magpie, helping Stoke City gain promotion in 2008 but failing to see that
loan move turn into a permanent transfer. Ironically, Shola then looked set to join Ipswich, until concerns over hamstring injuries were highlighted by medical tests and he returned to SJP.

With SJP celebrating what appeared to be a slightly unwarranted home victory, there was just time for a combination of defensive and refereeing sloppiness to hand the visitors a late leveller. Almost before the game had restarted though, the positive encouragement of the crowd had kicked in again and adding that unbeaten home record to the twin achievements of promotion and the title were enough to ensure a great ovation at full time - and a stadium full of people stick around for the subsequent salutes.

On a day when memories of Sir Bobby Robson were conjured up by various fans and football personnel, that latter fact wouldn't have been lost on the former manager of both sides, six years on from the home draw against Wolves that contributed to his subsequent dismissal.

Taking their leave from the pitch while the inevitable podium and paper-scattering guns were moved into place, Chris Hughton was the first to reappear and took a deserved ovation from the crowd before being joined by Colin Calderwood and Paul Barron.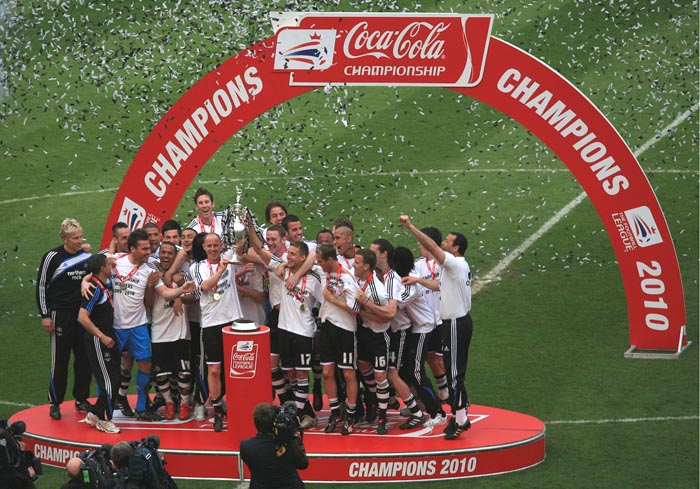 The United players then returned down the tunnel in pairs, to be introduced to the crowd and take their place on said podium followed individual medal presentations. Steven Taylor did show his face, but wasn't paired with Andy Carroll - although they were side by side in the celebrating throng (below) after Nicky Butt and Alan Smith lifted the trophy.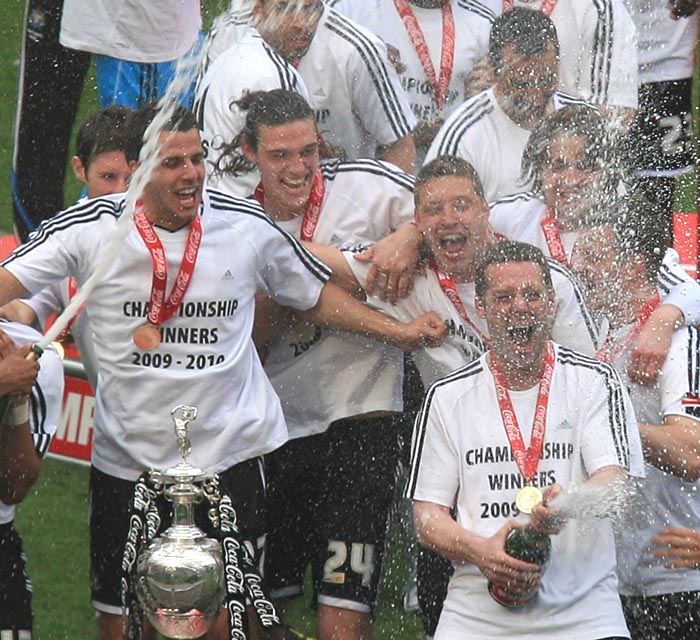 Drenched in champagne and in the company of assorted sizes of children, the squad then embarked upon a lap of honour, accompanied by music selected by the players and including 2009/10 dressing room anthem "Dignity" by Deacon Blue plus the inevitable blast of Queen's "We are the Champions" (presumably the Macarena was included to honour our "Three Amigos"....)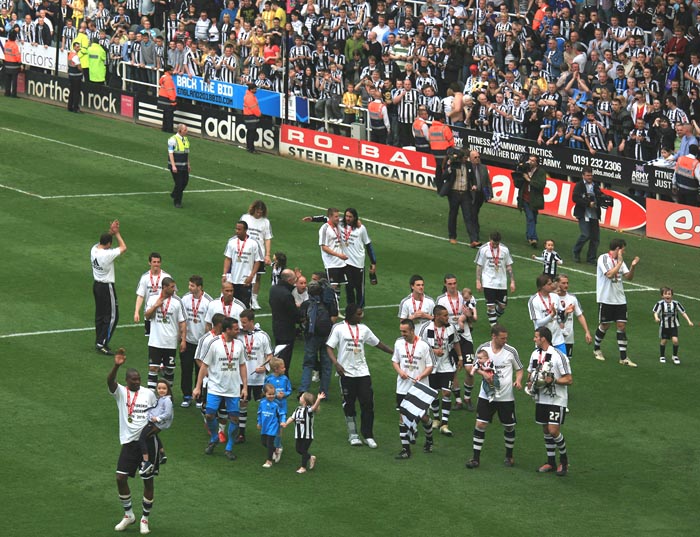 The crowd meanwhile stayed in the stands to play their part and cheer the squad on their clockwise trek round the pitch - aside from a couple of stray invaders, who were soon dealt with by police and stewards.

As expected, the owner and MD were present but remained in low profile mode and didn't appear on the field to join in with the players' celebrations or make any public attempt to claim credit, refusing interviews.

And so ends this fairytale of a season, aside from one final outing to the big city.

Forgive us if we don't plough into listing our worries and concerns for 2010/11 just yet - we'll stay in lala land for just a little longer. Reality will intervene soon enough, and possibly even on Thursday, when our top scorer is due in court....

PS: Magpies exile Jim Thompson was at the game and saw the trophy presentation, before rushing back to his local in Yorkshire for some celebratory slurps. On arriving at The Slaters Arms in Bradley though, it was a case of deja vu all over again for him and his lass Elaine - thanks to the creative efforts of his mates: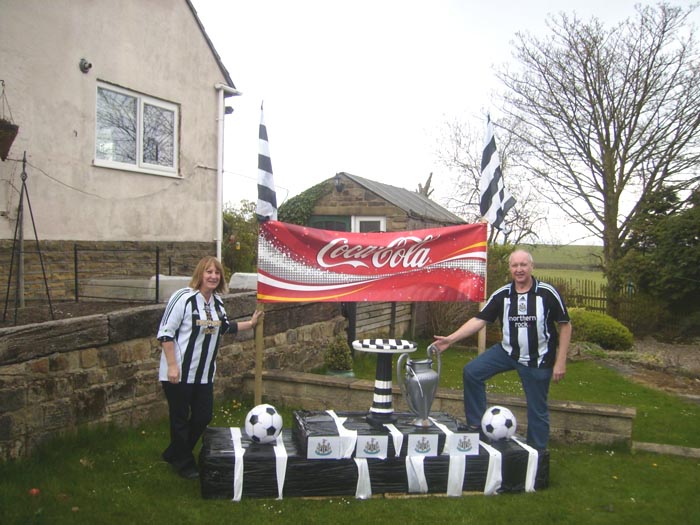 Biffa