Not in association
with NUFC.com...



Date: Monday 19th April, 7.45pm
Live on Sky

Venue: Home Park

Conditions: balmy/barmy

Admission: £24

Programme: £3




Plymouth Argyle

Newcastle United

0 - 2

Teams
20 mins As Danny Guthrie swung over a corner kick, Argyle's Onismor Bhasera wandered off the line to leave the far post unguarded. That allowed Andy Carroll to convert with a towering header 1-0

28 mins Joey Barton's pass sent Wayne Routledge scampering on goal and he took the ball past David Stockdale in the home goal, squeezing the ball inside the post as he struggled to keep his feet, in what was a virtual rerun of David Kelly's title-clinching effort at Blundell Park in 1993. 2-0

Half time: Pilgrims 0 Magpies 2

Full time: Pilgrims 0 Magpies 2
Newcastle manager Chris Hughton said:

"This almost means as much as going up. It has been a long and tough season. We only had one blip in the season when we had two losses and two draws, but we very quickly put that right.

"We wanted to win it at the first opportunity and we are now looking forward to a full house at home. Hopefully we can keep our home record and reach the 100-point mark.
"We got to the stage where we couldn't shout about it from the roof tops but we were comfortable that we would go up, so for a while it has been about winning the title.
"We have been the team to beat all season, but we have kept on winning. I can't be more proud of the players than I am now. We have been able to go to difficult places and grind out results. We have not been the prettiest at times but we have still got the results that we needed.
"The lads set their stall out from day one and have kept to it. People were looking to see what our reaction would be and whether we wanted to play in this league and I think we have proved we did.

"We have fantastic support that made every stadium that we have gone to a big occasion. We have been able to go to difficult places and grind out results."

Steve Harper added:

"I had a couple of tablets before the game in the dressing room because I didn't feel too good. Nobby was being sick on the pitch and Fitz Hall was talking to the big white telephone at half-time as well.

"There were a couple of them being sick, but it shows the spirit and character of the lads that, even though they were throwing up, they wanted to go out there and do it for their team-mates. It would have been easy for them to cry off, but they stayed out there and got the job done.

"Having been here a long time it was a special night. I remember the team in 1993 and how they gained 96 points, but we have collected more than they did now. People say we are not this, or that or the other – but this is a very tough league and to get out of it with six games to go and be promoted as champions with two games left is brilliant.
"I hope the management, staff and players are given the credit they deserve - this is a very tough league and there are good players here. If you had have seen the scenes in the dressing room at the end you would have seen how much it meant. It has been very hard work, and this has been a fantastic achievement.
"Chris (Hughton) deserves all the credit he gets and I hope he receives the credit he deserves. People say Newcastle should go back up after they are relegated, but you still have to do it on the pitch. The boss has had to unite the players and manage them. He has had the expectations of fans to win 23 home games and had 23 cup finals. It is not easy.
"So Chris, Colin Calderwood, Paul Barron and all of the staff deserve the utmost credit, as do people in that dressing room – not just who were there at Plymouth, but the lads like Coloccini and Stevie Taylor and Nicky Butt. They have been big for us through the season.
"It was a special night and one we enjoyed. There are plenty of lows in football and you cannot afford to become carried away by them, but you should not be carried away by the highs either. Last season we were relegated, but this season we have only had positive thoughts and experiences.
"I had one save early on and a few throughout the game. It was a very difficult pitch and the lads deserve credit for getting the ball down and playing.
"They were fantastic hosts. I saw the girls holding up the banner that said 'Congratulations from the Green Army' and I thought it was very good of them to do that. They played their part and it was just a fantastic place to be at the end of the game.
"I'm sure John Carver, who's here and is an excellent coach, had something to do with that because his connections to Newcastle are well documented. He's a fantastic coach and I hope he gets some success because he deserves it. I'm sure all of Newcastle will wish Plymouth well for next season.
"We're under no illusions how tough it will be ahead, but we must cross that bridge when we come to it. We still have a job in hand in the next two games, and then we can enjoy the summer. We then come back in July and enjoy pre-season.

"It has been a marathon, but we knew it was going to be. It was well documented in pre-season that we had a meeting which was basically 'who's in and who's out'. "It was good that you could look people in the eye and think, 'if he's up for the challenge, then so am I'. We've had to have a right go.

"Away from home, everybody has been wanting to have a crack at Newcastle United in front of a full house. The Championship has its knockers, and people say that it was only right that we should bounce back, but this is a very tough league – mentally and physically.

"We've been resolute, and we've been expected to win at home, which we've also done. It's been tough, but questions were asked from everybody at this football club, from top to bottom last summer, and we've answered them. It's a very happy dressing room, but it has been a very long season.

"I was here last time (when promotion was won in 1993) and played youth and reserve team football, and I remember it all. "I remember the "Pavel is a Geordie" T-shirt, and it was a cracking side that got promoted. We lost eight games then, and we've lost just four this season. That was a good team that established itself in the Premier League, and we'll be hoping to do the same."

Joey Barton commented:

"We're in a much better position this time around to go into the Premier League. We've got some real, real strong characters, a real togetherness as a team. It's probably the first time in my career I can look around and say I'm really happy to be in the trenches with every single one of them in the dressing room.
"There is not a set of lads like them. Even with all the shenanigans and things that have been bandied about in recent weeks, people trying to stick spanners in the works – the lads have stayed together.
"I think it's showed. We were up against a team fighting for their lives in Plymouth. They don't just roll over and die, you've got to win the physical battle and we've been prepared to do that all season. We've done that all season.
"Obviously we've got to do it with a bit more quality next season, but let's just enjoy this one first, and look forward to all the big boys coming back to St James' Park next season, all the prestige games and the buzz coming back.

"I am not going anywhere. I love everything about this football club, every player here. I'd be hard pushed to find a group of lads like it, a group of lads that I'd want to have a go with. This is them.
"I've had a lot of chances here, it's been said before, but I just want to prove it by getting out there and playing football now. Obviously, injuries have hindered that a bit, but it's part and parcel of the game. I'm humbled to be part of this achievement and humbled to be part of everything that is going to happen to this football club in the very near future.
"Without raking up too much old ground first and foremost, I think if key players had stayed fit or available – myself included and I obviously didn't help anyone by getting sent off at Liverpool – I think it would have made a big difference between us dropping down the league and staying up. What's gone is gone, we're back in the Premier League and the achievement is an amazing one.
"The lads have been magnificent. The way they've gone about their business this season, they've done it with a bit of class. All right, they've not been the great entertainers everyone wants to see, but who cares? We were out to win the league."
Pilgrims boss Paul Mariner said:

"I feel terrible. We haven't lost a family member but it feels a bit like that. I have been associated with going down at Portsmouth, and I wasn't too pleased about that. This is something which is a bitter pill to swallow, but work has already started to rebuild the team and get it back where it belongs.
"They (the fans) have been absolutely fantastic to us. It's the team on the field that gets the reaction from the crowd, and we couldn't have asked for any more. The fanbase at Plymouth Argyle is extremely strong. I know they will come back if we can produce a winning team, and an attractive team."
"We will get the new field (aka a relaid pitch), and we will be able to get the ball down a little bit. We have got players that like to get the ball at their feet and go at people.

"I thought we started extremely well. We asked the players for a reaction after the Watford game, and I thought the reaction was absolutely fantastic.

"Getting the captain (Fletcher) back was a massive bonus for us. He was driving us forward all night. I thought (Damien) Johnson and Fletcher were again spectacular in the centre of midfield, but the difference between the two teams was the finishing.
"I would tend to agree that Andy Carroll's looping header should have been stopped by somebody on the post. The second goal was a fantastic through ball and a tremendous finish. The lads have worked extremely hard on the training ground, on their set pieces. We do make a lot of chances for ourselves from set pieces. Our movement is fantastic.
"We do get numerous opportunities in and around that penalty spot – the second six-yard box as they call it – and we are just not clinical. My hat goes off to the lads for getting in there, but when you get in there you have got to finish.
"You can see when we get the ball down we play some decent stuff, and that's with a team that was absolutely clinging on to hope. It was an extremely high pressure environment for those lads. I know we have gone down and it's very disappointing, but I'm pleased with the way they played."

Mags @ Argyle - all time:

2009/10 won 2-0 Carroll, Routledge
2009/10 drew 0-0 (FAC)
1991/92 lost 0-2
1990/91 won 1-0 G.Peacock
1989/90 drew 1-1 McGhee
1979/80 won 3-0 Martin, Shoulder, Withe (FR)
1964/65 lost 1-2 McGarry
1963/64 won 4-3 Thomas 3, Taylor
1962/63 won 2-0 Thomas, McGarry
1961/62 drew 1-1 Allchurch
1957/58 won 6-1 White 3, Eastham 2, Mitchell (FAC)
1954/55 won 1-0 Keeble (FAC)
1954/55 lost 2-3 Milburn, White (FR)
1947/48 lost 0-3
1946/47 won 1-0 Shackleton
1938/39 won 1-0 Mooney
1937/38 lost 1-2 Pearson
1936/37 drew 1-1 Imrie
1935/36 lost 0-1
1934/35 won 3-1 Boyd, Leach, Smith
1904/05 drew 1-1 Gosnell (FAC)


Full record v Argyle:

P
W
D
L
F
A
SJP
15
11
3
1
39
15
HP
15
7
3
5
19
17
League
30
18
6
6
58
32
SJP(FA)
3
2
1
0
6
1
HP
4
2
2
0
8
2
SJP(LC)
0
0
0
0
0
0
HP
0
0
0
0
0
0
Cup
7
4
3
0
14
3
Tot
37
22
9
6
72
35
Newcastle recorded their eleventh away win of the season in the league, Plymouth the latest addition to a list that includes: Crystal Palace, Cardiff City, Ipswich Town, Sheffield United, Preston North End, Coventry City, Watford, Doncaster Rovers Peterborough United and Plymouth.

This was our tenth double of the season, after beating Crystal Palace, Cardiff City, Coventry City, Preston North End, Watford, Doncaster Rovers, Peterborough United, Sheffield United, Reading and now Plymouth Argyle both home and away.

This was our twenty first clean sheet of the season, extending a club record.

Away Record - Post-War promotions:

1992/93: Played 23, won 13, drawn 3, lost 7. 34 goals scored, 23 conceded (finished first)
1983/84: Played 21, won 8, drawn 6, lost 7. 34 goals scored, 35 conceded (finished third)
1964/65: Played 21, won 8, drawn 5, lost 8. 31 goals scored, 29 conceded (finished first)
1947/48: Played 21, won 6, drawn 7, lost 8. 26 goals scored, 28 conceded (finished second)

This season so far:
2009/10: Played 22, won 11, drawn 7, lost 4. 33 goals scored, 22 conceded (finished first)

1992/93 & 2009/10 comparisons - with 2 to play:

1992/93 - 46 games: Won 29, Lost 8, Drawn 9.
92 goals scored, 38 conceded, 96 points, 1st place.

2009/10 - 44 games: Won 29, Lost 4, Drawn 11.
87 goals scored, 33 conceded, 98 points, 1st place.

Top Scorer 2009/10 (all competitions):

Kevin Nolan 18 (17 in Championship)
Andy Carroll: 18 (16 in Championship)
Peter Lovenkrands 15 (12 in Championship)
Shola Ameobi 10 (9 in Championship)


Waffle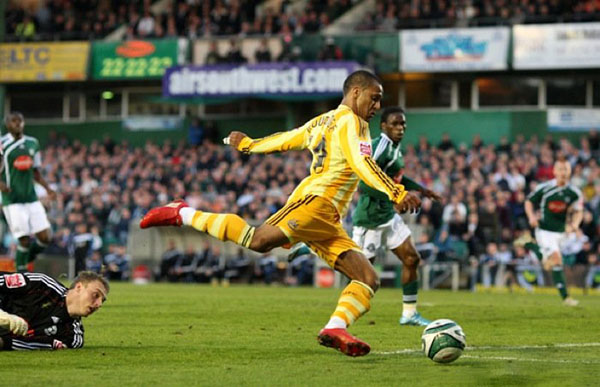 Not even volcanic ash could prevent United from completing their title conquest in Devon, although the grounding of planes saw some hasty re-jigging of travel plans already disrupted by the decision to play this game on a Monday night for the goggle box.

The team were forced to complete the 410 mile trek from Tyneside by bus, while fans resorted to combinations of bus, train, car and taxi to complete their journey, anxious to be present at the moment when the title was won. Those fans unable to get to Home Park had a flavour of the celebrations from TV, but common sense prevailed and no trophy presentation took place.

First half goals from Andy Carroll and Wayne Routledge should have been the platform for a sizeable victory, but Argyle never threw in the towel and kept pushing for a goal right to the end – despite knowing that their relegation fate was both inevitable and imminent.

The game itself followed the pattern of recent away fixtures, with United containing an enthusiastic home side before breaking away and scoring. Plymouth threatened Steve Harper's goal
early on and could have deviated from the script by scoring, before Andy Carroll got the party underway.

Argyle continued to threaten on a pitch that was improved from January's FA Cup tie - less allotment, more public park - but couldn't damage a United side who in some cases were clearly ailing; Fitz Hall less than fit and the Kevin Nolan having his first half technicolour yawn inadvertantly beamed out live across the planet.

Further Newcastle goals could have come in the closing stages, when Chris Hughton sent on Shola Ameobi and Leon Best in place of Carroll and Kevin Nolan. However, Best was unable to seal the win by breaking his Magpies duck, striking the crossbar with one effort before blasting another over.


Jose Enrique cleared a late effort off the line from substitute Joe Mason to preserve a clean sheet, before the final whistle sparked scenes of great celebration from Newcastle fans and players, as the point required to confirm the title was collected - along with another two, of course.

Having shouted about going "on the pitch" since the pre-season game at Darlington, United fans finally carried through their threat and staged a good-natured invasion following the final whistle.

A thin line of stewards easily breached and fans joined players on the pitch to celebrate.

For Argyle, the prospect of life in a lower division is as unappealing as it was to us a year ago. Losing home and away to the likes of Watford and Sheffield Wednesday contributed more to their demise than handing six points to us did though - as was the case for Newcastle in 2008/09.

But if there's any silver lining in the (ash) cloud, then it's the upturn in mood among Toon players and fans after a season of goals and victories against inferior opposition. Argyle can only hope that they find their level in League One and reverse a worrying downward attendance trend. Quietly forgetting about that World Cup host city bid might also be a timely action.

As for the upwardly mobile Magpies, avoiding defeat against Ipswich would complete a full season without a home loss, while victory would smash the 100 points barrier – significant achievements for fragmented team without a permanent manager who were anything but title favourites last August.

The presentation of the Championship trophy is an occasion to be savoured and the chance for fans and players to acknowledge each other's efforts turning round the Tyneside Titanic. Genuine doubts about our direction next season remain, but now's the time to shout it out....United are back.

Biffa