In association
with NUFC.com

Date: Tuesday 13th April, 8pm

Venue: Madejski Stadium

Conditions: mild

Admission: £26.50 (£22.50 advance)

Programme: £3





Reading

Newcastle United

1 - 2

Teams
11 mins Steve Harper's upfield ball was helped on by Shola Ameobi to Kevin Nolan, who promptly turned and shot beyond Adam Federici at the far end of the ground 1-0

45 mins Goal number 18 of the season for Kevin Nolan arrived when a swift counter attack saw Danny Guthrie and Wayne Routledge combine well to set him up for a neat finish from close in 2-0

Half time: Royals 0 Magpies 2

48 mins The home side reduced the deficit in bizarre circumstances, when Jose Enrique's attempted goal-line clearance cannoned off the unwitting Danny Simpson and looped back past Harper 2-1

Full time: Royals 1 Magpies 2
Newcastle manager Chris Hughton said:

"We are very close now and we can sew it up on Monday now. Whichever way it happens we'll be delighted - there are no celebrations tonight, it is business as normal but we have put ourselves in a great position.
"You could see why Reading have been on a great run but we went about the game the right way and got the goals at the right time. You saw what we are about. Reading were better than us for periods but we saw it out. The players battled it out for the full 97 minutes but we have won another game and they have earned that.
"The players are the ones that went through 97 minutes. When you're on the side, you go through all of the emotions. After a game you get quite emotionally drained, but these lads get emotionally and physically drained. It's a real hard stint they did, and they deserved it all.

"It was nice, and it's always nice, but it's the players that have put in the 97 minutes. There are a few sore bodies. They put in a lot of blocks, particularly in the last period, and they deserved it all.

"By Kevin's (Nolan's) standards, he should have scored a hat-trick - he's been magnificent for us this season. We're able to play him in midfield, or away from home off the front and what he has done on most occasions is deliver a performance and goals.
"If there's an area I'm able to freshen things up, it's up front. Shola's come back from injury and scored goals of late, and so has Peter I'd made up my mind coming here because I knew it would be a tough game. In effect we played one up front, with Kevin that little bit behind. Fortunately for us, it came off.

"As per normal these talks are ongoing with the chairman and the owner but we know they are different times these days. I think certainly the days of the sums of big transfers and the big transfer kitties – not only for Newcastle but for everybody – they are a thing of the past. I think you have to spend and look to improve but you have to do it wisely.
"What I am conscious of is that we have a real competitive squad that has generated a really good momentum this season and what we have had is players who have also developed this season and there is a group of lads and a squad that I have that deserve an opportunity.
"The fans have been brilliant from day one. First and foremost they support their team and a side that went down a division could possibly have expected a tail-off of support but we have had an average support of over 43, 44, 45,000.
"That is outstanding for the division we are in and for the times we are in. They want to see a team that is trying to win matches and is winning. They have been right behind us particularly away from home. Plymouth will be the longest trek for them but I am sure you will see a similar level of support to wherever we have travelled.
"We know it is going to be tough next season but what you want to be able to do is go into a tough season with good momentum from the last season which is why it is important for us to go on right through to that last game. The important thing for us is that we have, of course, secured that promotion place but it is about competition for places and keeping momentum going through to the end of the season.
"We have other targets which are appropriate for this group of lads and what they have achieved this season. What you have in a season is that you will have problems that you have to deal with. that is the norm and that will be the norm in any season you have. Unfortunately some of the problems get out and some of them don't. That would be the norm at every club.
"The ideal way is to keep everything in-house. Sometimes that is not possible. But also you know that when things are going well you can ride things easier than when things are not going so well. We have been fortunate that things have gone well for us for most of the season."
Shola Ameobi said:

"I'm a local lad, so I know what the city will be like if we get the trophy at home. I remember all those years ago back in 1993, when I was about ten or 11. I can remember what Newcastle was like that day when the trophy was presented and we beat Leicester 7-1. It was incredible, and it would be nice to think that a week on Saturday could be anything like that.
"I wasn't actually at the game, but I didn't live far from the stadium and I remember standing outside my house just to hear the noise. It just seemed like it was cheering for hour after hour after hour. It was something I've remembered all my life, and it's amazing to think I might be part of something similar all these years down the line.
"It will be fantastic to have the trophy presented at St James', and that's our aim now. It will be lovely for the home fans to be able to see us lift that trophy and celebrate with us. Hopefully, we can go down to Plymouth and do what we've done all season – grind things out and come away with a good result.
"We've got good quality in this squad, but nobody has a God-given right to just walk through this league. It doesn't work like that. We've had to earn that and work really hard. We did that again on Tuesday, and that's pleasing.
"We've coped with whatever people have thrown at us all season, and our quality has shown through in the end. We have a lot of players who can score goals, and they've generally got the job done for us. Now, we just have one more point to go.
"The target at the start of the season was to get this club back to where I feel it belongs. We didn't deserve to be there this season – that's why we've been playing in the Championship with no cause for complaint about being in this division. But we've fully deserved to go back up as champions, and hopefully we'll wrap that up in the next week."

Before the game the same player had commented that:
"We said all season it's about bringing a winning mentality to the club, and hopefully we can take that, and the confidence we've gained, into next season. We can bring it on and build on it. There's no substitute for winning. You're out there to win games, and in recent seasons we haven't done that as much as we'd have liked.
"Everyone wants to be around the place and playing, and that's been lacking in recent seasons*. Long may it continue. All the credit goes down to Chris Hughton for the way he's dealt with us as players. From the word go he's brought us together as a team, and you can see that on a day-to-day basis on the training ground.

(*missing words from that sentence - Michael, Mark and Oba)
"Promotion came first, but a close second was winning the league. We've got a chance to do that now. We've got another hard game at Reading, who are flying high at home. It'll be tough, but all season we've been prepared mentally and physically, and we'll be going there looking for three points. It was great to score the treble last time out, and of course you'd want to repeat that.
"And it was a special day because of Sir Bobby Robson. It was a great start to the season for us, and if we could reproduce the form we had that day, I think we'll be capable of getting all three points.
"We've got everyone fit now**. There's a lot of competition for places at the moment, so when you get your chance, you've got to take it. You've got to make sure you give a performance"

(**have we really? what about Steven Taylor?)


Royals boss Brian McDermott inexplicably failed to reply when asked the question "what are the scores, George Dawes?", but did say that:

"I thought we had a go from minute one and I cannot fault our effort. We didn't get enough shots off in the first half, but for the first half an hour I thought we played at a good tempo and put them under a lot of pressure.
"Their keeper didn't make a save and then they got their two goals. The first was from nothing really, just a long ball and the second was the same so it's disappointing from our point of view to go in 2-0 down.
"You can see the spirit, not just on the pitch but off it as well. You have seen that growing during the last three months and we have got that back and that is really important as far as I am concerned."
Magpies @ Royals - all-time:

2009/10 won 2-1 Nolan 2
2007/08 lost 1-2 og(Duberry)
2006/07 lost 0-1
1999/00 drew 2-2 Coppinger, Robinson (FR)
1989/90 drew 3-3 McGhee 2, Quinn (FAC)*
1989/90 lost 1-3 Gallacher (LC)*
1956/57 won 3-2 Curry, Eastham, White (FR)*
1953/54 drew 2-2 Milburn, Davies (FR)*

*At Elm Park - all other games at the Madejski Stadium.


Full record v Reading:
| | | | | | | |
| --- | --- | --- | --- | --- | --- | --- |
| | P | W | D | L | F | A |
| SJP | 3 | 3 | 0 | 0 | 9 | 2 |
| MS | 3 | 1 | 0 | 2 | 3 | 4 |
| League | 6 | 4 | 0 | 2 | 12 | 6 |
For Reading, defender Zurab Khizanishvili was absent with a knee injury - denying him the chance to play against the side he made seven appearances for earlier in the campaign.

Newcastle recorded their tenth away win of the season in the league, Reading the latest addition to a list that includes: Crystal Palace, Cardiff City, Ipswich Town, Sheffield United, Preston North End, Coventry City, Watford, Doncaster Rovers and Peterborough United.


This was our ninth double of the season, after beating Crystal Palace, Cardiff City, Coventry City, Preston North End, Watford, Doncaster Rovers, Peterborough United, Sheffield United and now Reading both home and away.



Away

Record - Post-War promotions:

1992/93: Played 23, won 13, drawn 3, lost 7. 34 goals scored, 23 conceded (finished first)
1983/84: Played 21, won 8, drawn 6, lost 7. 34 goals scored, 35 conceded (finished third)
1964/65: Played 21, won 8, drawn 5, lost 8. 31 goals scored, 29 conceded (finished first)
1947/48: Played 21, won 6, drawn 7, lost 8. 26 goals scored, 28 conceded (finished second)

This season so far:
2009/10: Played 21, won 10, drawn 7, lost 4. 31 goals scored, 22 conceded (finished tbc)

1992/93 & 2009/10 comparisons - with 3 to play:

1992/93 - 46 games: Won 29, Lost 8, Drawn 9.
92 goals scored, 38 conceded, 96 points, 1st place.

2009/10 - 43 games: Won 28, Lost 4, Drawn 11.
85 goals scored, 33 conceded, 95 points, 1st place.

Top Scorer 2009/10 (all competitions):

Kevin Nolan 18 (17 in Championship)
Andy Carroll: 17 (15 in Championship)
Peter Lovenkrands 15 (12 in Championship)
Shola Ameobi 10 (9 in Championship)

With three games still to play, we have scored 85 goals in the Championship (plus 9 in Cup ties).

Waffle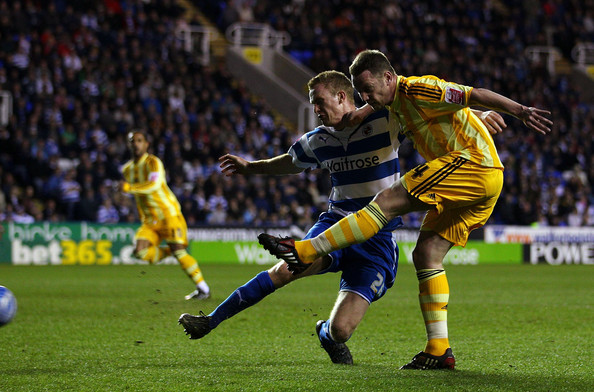 United's first-ever competitive away victory over the Royals virtually assured them of the Championship crown, as the league's player of the year netted for the successive fourth game to make it six victories in a row and fourteen games without defeat for his side.

Those were the headlines and soundbites after this rescheduled game on Tuesday night, but for those present at the Madejski Stadium things weren't quite so clear-cut. This was our fourth visit here and it's fair to say that the previous three had hardly enhanced the careers of the person with the job title "Newcastle United Manager".

Beginning with a pre-season kickabout back in July 1999, such was the concern of Ruud Gullit at the poorness of his team's performance that he himself took to the field for the second half. That cameo appearance didn't do him much good however - and he relinquished his role within a month.

Fast forward on to a Monday night in April 2007, when the return of Michael Owen (and Shola Ameobi) from long-term injury may have hogged the headlines, but a 1-0 defeat left Glenn Roeder's toon tenure hanging by a thread and he was gone within a week.

Our third and final visit here came in October 2007, when a meek 2-1 submission marked the start of a long goodbye for Roeder's successor Sam Allardyce - although it took until the following January for owner Mike Ashley to act on the fan grumbles first aired in this part of Berkshire that Saturday.

What next then for the latest incumbent, Chris Hughton? He briefly appeared on the pitch at the end of tonight's game to applaud the away supporters, after some cajoling to do so. For much of the game though, his side misfired, winning as much by Reading's failings as their own endeavours.

Beginning with Jose Enrique on the bench, he was then deemed fit enough to appear for the second half when Fabricio Coloccini tweaked his groin to join the lengthening list of defensive casualties. Meanwhile, "jack of all trades" Danny Simpson had been dragged from left back to central defence in partnership with Mike Williamson, while Ryan Taylor remained in his starting position of right back.

In our world, the fewer positional changes one can make the better - and restoring Simpson to his usual right back slot to put the taller Taylor in the centre would have made more sense to us, but it's a matter of opinion. What is less justifiable though were the pair of seemingly random replacements that saw Routledge and Guthrie removed in favour of Barton and Carroll.

That was despite both Smith and Ameobi being virtually static by that time - and the latter on a booking. That had come for another offence, some time after escaping punishment for kicking an opponent up the arse (not quite as comedic as Mirandinha's howk on Dave Beasant back in 1988, but certainly more deserving of a card rather than the lecture it produced).

On a pitch clearly suffering from the effects of a season hosting both football and rugby, another sluggish opening from the league leaders was reminiscent of the Peterborough away game. However on this occasion, the home side weren't able to shake us out of our torpor by taking the lead.

United scored from their first genuine attack and then did so again just before half time, to apparently end the game as a contest. And with Reading completely losing their way in the early stages of the second half, a repeat of the Portman Road landslide looked on the cards for a while.

However Newcastle failed to administer further killer blows; Kevin Nolan seeing his close-range header rebound back off the post with the 'keeper beaten and a hat trick apparently completed. Other chances came and went, but the visitors gradually faded as an attacking force and became more and more withdrawn, as Reading belatedly started to rediscover their passing game.

A no-nonsense approach from old boy Andy Griffin when confronted with Jonas Gutierrez was to be expected - and only the thinnest of reruns of his famous FA Cup semi-final job on David Ginola - but Griff's defensive competence and calm head were more illustrative of what the winger will encounter next season than ham-fisted attempts at shackling him this time round.

United were left to endure a unnecessarily nervy conclusion to the game, after some comic cuts ended with a slapstick OG to give home fans something to shout about. A lengthy stoppage for a injury caused an unprecedented seven minutes of added time to be signalled, but that break in play was enough to disrupt the Royal's efforts and leave them a man short, Bryn Gunnarsson stretchered off after all three home subs had been deployed.

The Icelandic midfielder departed on a golf buggy with a broken nose; said buggy then reversing round the pitch while the game restarted. That was slightly odd, but one the most bizarre incidents of the season then followed as the buggy approached its starting point in a corner exit of the stadium, still trundling backwards.

Reading's mascot Kingsley the Lion then took it upon himself to direct the buggy - and promptly waved it into the wall, adding another entry to his roll of dishonour in this fixture (the April 2007 staging of this game saw match referee Mike Riley send him off, after struggling to differentiate between home players and a man in an oversized lion suit gyrating along the touchline.)

This late nonsense - and the Reading keeper's suicidal upfield charges - all added to the farcical nature of this. And in some ways this encapsulated our season; moments of brilliance interspersed with persistent mediocrity and game after game when we were almost effortlessly the better side, or the least worst one, as has been said a few times.

After seeing Blackpool post a disappointing performance last weekend, we'd wondered whether the Reading could be the team to unsettle us. In the event though, their draw at Cardiff left them with too much ground to make up for a playoff place and it ultimately showed on the field.

After a season where games have tended to follow a similar script, it's easy to become a little blasé and look no further than the final score when assessing the performance. However there are now just three games of this footballing Nirvana to go - before Chris Hughton will actually mean it when he talks about playing good teams.

A winning mentality and team spirit are both laudable, but there has to be a realism here when considering the elevated requirements top-flight football brings - fitness, vision, pace, mental strength etc. A significant concern for - along with funding and unrealistic fan expectations - is that anyone, be they player, manager or owner believes that they'll continue to get away with some of the sloppiness that has characterized this campaign next time round.

Having won our game in hand we now stand nine points ahead of West Bromwich Albion, with three to play for both sides. A superior goal difference of 13 means that although we still need one point to be mathematically certain of lifting the title, only a nightmarish final week can deny us now.

And our trophy success could even be confirmed ahead of Monday's televised fixture at Plymouth, if the smoggies can avoid defeat at the Hawthorns in the BBC's live Saturday teatime game. Like achieving promotion in the pub thanks to the Forest result on Easter Monday, another "where we you" moment could beckon for our title capture, at around 7.15pm.
That would be a curiously appropriate conclusion to our "gap year".

Biffa