In association with NUFC.com

Date: Saturday 10th April 2010, 3pm.

Venue:

St. James' Park



Conditions: Turned out nice again





Newcastle United

Blackpool

4 - 1

Teams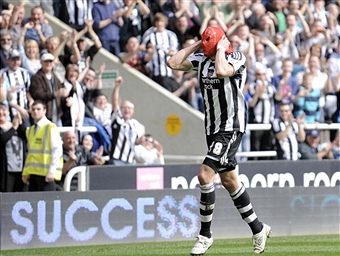 12 mins Winger Jonas Gutierrez evaded the attentions of two defenders and cut in from the left flank at the Leazes End. Moving in on goal, his low cross across the six yard box was deflected in by Ian Evett, with its intended recipient Andy Carroll lurking at the far post. The Spiderman mask came out again as Jonas celebrated down by the North East corner. 1-0

36 mins Danny Guthrie won a free kick near the edge of the box down the United left and his flighted delivery was headed on by Andy Carroll to double the lead. 2-0

Half time: Toon 2 'Pool 0

62 mins The visiting defence parted to allow Kevin Nolan to seize on a Gutierrez through ball, stroll through and stroke home from close range at the Gallowgate End. 3-0

77 mins Shola Ameobi came off the bench and instantly played a part in our fourth, Wayne Routledge scampering into the area and firing a right-footer beyond the 'keeper. 4-0

85 mins Steve Harper blocking a Stephen Dobie effort, only for Brett Ormerod to blast home the rebound as the Magpies 'keeper vainly appealed for an offside 4-1

Full time: Toon 4 Pool 1
United Manager Chris Hughton said:

"I never felt for one moment the players might relax. The target they have set and we have set them is to win this division. We have been on top of this division for most of the season and it would be a real disappointment if we werenít able to go on and win it.
"Yes, we are aware that a win on Tuesday night makes it almost there, but what I would like to see is this group of lads go right through to the end of the season. And, irrespective of what happens on Tuesday, I am quite sure I wonít see a group of lads looking to tail off towards the end of the season.

"I am mindful that we are doing it in a lesser division than we will be doing it in next season, when we will be up against, no disrespect to Blackpool, teams of really high quality with quality players, proven Premier League players, and it is a different level.

"But what we have done is enjoy this season so far . . . and we have been the best team this season so far. Next season, of course though, there are different obstacles."
Blackpool boss Stanley Holloway ooh-aarred:


"We looked like a sparring partner that was scared to hit the champ. We were poncing about but it was shadow boxing. Any chance of some punches, because that is what we normally do to people?

"We might have been one of the few teams to beat Newcastle this season but we didn't ever look doing it again. They put some leather on us and we hit the deck four times - we didn't even get up with any sort of anger until the last 10 minutes.

"We have taken three points out of six off them this season but ufortunately we weren't good enough to take four, or even six."

"
There are no bombs going off, are there? Our boys in Afghanistan have got real fears, havenít they? These boys havenít. They are lucky to be playing here and doing things like that.

"We just caught a very good team in a very good moment. I didnít recognise us as the team we have looked all season and unfortunately, we were well beaten."
Tangerines in Toon -Post War:

2009/10 won 4-1 Gutierrez, Carroll, Nolan, Routledge
1987/88 won 4-1 (LC) Goddard, Mirandinha, D.Jackson, Gascoigne.
1972/73 lost 0-3 (LC)
1970/71 lost 1-2 Hindson
1966/67 won 2-1 Robson 2
1965/66 won 2-0 Robson 2
1960/61 won 4-3 Neale 2, White 2
1959/60 drew 1-1 Mitten
1958/59 won 1-0 White
1957/58 lost 1-2 OG
1956/57 won 2-1 Davies, Milburn
1955/56 lost 1-2 Milburn
1954/55 drew 1-1 Broadis
1953/54 won 2-1 Milburn 2
1952/53 lost 0-1
1951/52 lost 1-3 Foulkes
1950/51 won 4-2 Robledo 3, Milburn
1949/50 won 3-0 Milburn 2, Taylor
1948/49 won 3-1 Milburn 2, Robledo


Full record v Blackpool:

P
W
D
L
F
A
SJP
25
14
3
8
48
32
BR
25
7
4
14
33
60
League
50
21
7
22
81
92
SJP(FA)
3
3
0
0
8
1
BR
2
1
1
0
3
1
SJP(LC)
2
1
0
1
4
4
BR
2
0
0
2
0
4
Cup
9
5
1
3
15
10
Tot
59
26
8
25
96
102
Newcastle's season-long unbeaten home record now extends to twenty four games in all competitions.

It's thirteen games unbeaten now for Chris Hughton's side and just one league defeat since October's loss at Scunthorpe - the Derby County reverse - that's just one defeat in twenty nine outings.

Top Scorer 2009/10 (all competitions):

Andy Carroll: 17 (15 in Championship)
Kevin Nolan 16 (15 in Championship)
Peter Lovenkrands 15 (12 in Championship)
Shola Ameobi 10 (9 in Championship)

With four games still to play, Newcastle have scored 83 goals in the Championship (plus 9 in Cup ties).

Brett Ormerod became the first player to score against Newcastle both home and away this season. Only Watson (QPR) and Duguid (Plymouth) can emulate him in our remaining games.

Waffle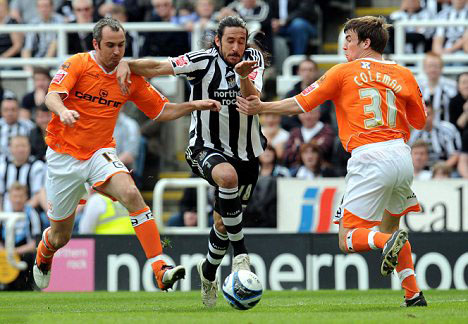 The final scoreline may have matched that of the last meeting of these two sides here, but the atmosphere was more in keeping with a previous age.

Maybe it was the military band serenading both teams on to the field with "The Blaydon Races" or the novelty of seeing those Tangerine strips at SJP for the first time in the league for almost 40 years, but it wasn't just the DJ who was in a nostalgic mood (Club a GoGo by the Animals - a top stomper).

For some, Blackpool's return to SJP recalled an era when both sides were in the top flight and the likes of Tony Green and Alan Suddick were eulogised by both sets of fans. That black and white newsreel footage of Wor Jackie in the 1951 FA Cup Final against these lot has a timeless magic, but imagine it in colour?

Like us, Blackpool are prone to regional stereotyping, with constant tower/illuminations/donkeys mentions, much as we suffer from Tyne Bridge/Bigg Market/fat slags references. We of course unashamedly fell into that trap with our George Formbyesque headline "Turned Out Nice Again...."

Like many other sides playing here this season for the first time in a generation, this was a big weekend out and an eagerly-awaited trip for some occasional travellers, who snapped up the available tickets and left those who missed out to sit among home fans.

The presence of some of their number in fancy dress and with balloons to release on Level Seven hardly endeared them either to some of the Blackpool hard-liners, who disliked this novelty element. Better to be like that than wannabe Football Factory extras, although one can see how "big game hunters" getting giddy at the prospect of playing us would grate.

Nonetheless the trippers seemed to enjoy their weekend apart from the 90 minutes - although why some punters chose Whitley Bay for their carousing is a bit odd; surely they'd fancy something different to another night out supping in a fading seaside town?
And at least they got a Saturday fixture. Nasty Newcastle fans couldn't be trusted to behave themselves on the West Coast and saw their trips to both Blackpool and Preston shunted into midweek night slots.

As we've mentioned before, that "big ground" syndrome seemed to affect both visiting players and fans, who were still at the "shock and awe" stage when we made an early breakthrough. They'll doubtless have some nice photos to remember us by, and probably felt at home seeing St.Mary's lighthouse from their lofty perch.
Back to the game though and in shirt sleeve weather, United avenged their defeat at Bloomfield Road earlier in the season, against a side who came looking for a fifth successive win to boost their playoff hopes.

Their fans may have been handing out sticks of rock pre-match, but on the field Ian Holloway's side were also in generous mood. Ahead through Gutierrez though, United struggled to press home their advantage though and Blackpool gradually adjusted to the unfamiliar surroundings, forcing a couple of corners.

A somewhat undeserved second goal came after we'd done very little to deserve on and at that point Chris Hughton opted to rearrange his side. Off went Tamas Kadar - who had come in for virus victim Jose Enrique, but who himself looked a bit off colour. Ryan Taylor appeared and went to right back, while Danny Simpson made one of his periodic migrations across the field to fill in at left back.

Guthrie himself came close to adding a third before the interval but placed his header wide of the post, Mike Williamson and Peter Lovenkrands then just missing the target as Newcastle began to dominate proceedings.
The Dane then conducted a personal offensive against the Blackpool goal after the restart, twice being denied by visiting goalie Matt Gilks and seeing another effort hit the woodwork, all within a ten minute spell.

Gutierrez and Substitute Ryan Taylor - who had replaced the injured Tamas Kadar in the first half - both also tested Gilks he was finally beaten for the third time in the match just after the hour mark. Both Carroll and Lovenkrands then had several more goal efforts before Routledge claimed a fourth.

With thirteen minutes still to play, more goals looked likely for Newcastle but in the event some slackening off allowed Blackpool to give their support a late goal to cheer, although some of their fans had begun the long descent back to terra firma by then.

The Tangerines continued to press forward in the closing stages, with Harper seeing DJ Campbell fail to connect properly with one cross, before the United 'keeper rushed out to block a Barry Bannan shot.

There were signs of the midfield industry that has brought them reward this season, but like so many other sides in this league, Blackpool suffer from a lack of striking power. We by contrast are comparatively blessed in that department, but while much attention is being directed at United's transfer budget and talk of new signings, one of the most significant decisions to be taken concerns our forward options for next season.

The competing claims of messrs Carroll, Ameobi, Lovenkrands, Best and Ranger make this a particularly tricky area to call, with as many positive as negatives - be they off-field issues, a questionable fitness record or lack of form. And while we can understand the link with Marlon Harewood on the grounds that recruiting a Bosman free allows for funds to be spent elsewhere on the team, that prospect hardly fills us with delight.

It remains to be seen who, if any becomes the 2010 equivalent of David Kelly - deemed unsuitable for top- flight football and jettisoned after helping us gain promotion, or just jettisoned.

West Brom's 3-2 win at Doncaster confirmed their Premier League return at the first attempt ,but regardless of what the Baggies do in their last three fixtures, the Magpies will lift the Championship by registering a win and a draw in their four remaining games. Given that we enjoy a superior goal difference over Albion of 12, our first ever victory at the Madejski Stadium on Tuesday night would secure silverware.

Whether there or at Plymouth the following Monday though, only Roy Keane's Ipswich Town stand between us and a season-long unbeaten run on what promises to be a day of celebration at SJP.

Biffa