In association with NUFC.com

Date: Monday 5th April 2010, 7.45pm.

Live on Sky



Venue:

St. James' Park



Conditions: Ultimately triumphant





Newcastle United

Sheffield United

2 - 1

Teams
22 mins Danny Simpson conceded a flag kick at the Strawberry corner that was flighted over by James Harper. Richard Cresswell managed to get a back header on the ball from four yards to beat Harper - it wasn't clear whether Mike Willamson or Fabricio Coloccini had been assigned to mark the scorer - but the latter failed to jump 0-1

45 mins A ridiculous foul from Chris Morgan on Andy Carroll left the referee shaking his head in bewilderment as he pointed to the spot at the Leazes End. Peter Lovenkrands obliged with power and precision. Blades coach and toon old boy Gary Speed complained about the penalty award to such a degree that the referee sent him to the stand. 1-1

Half time: Toon 1 Blades 1

73 mins After a Newcastle attack was half-cleared, Danny Simpson looped a high ball back into the box from a central position. It was nodded on by Lovenkrands to Kevin Nolan, who thumped a spectacular scissors -kick beyond Blades 'keeper Steve Simonsen at the Gallowgate End. 2-1

Full time: Toon 2 Blades 1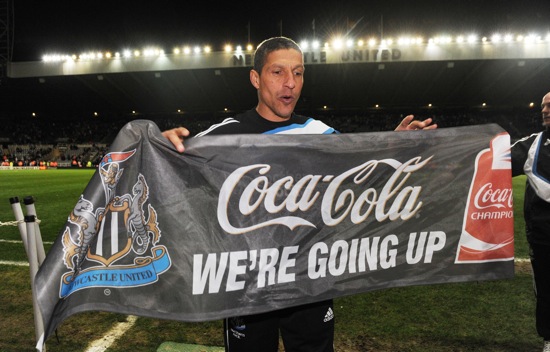 United Manager Chris Hughton said:

"It's an incredible feeling, especially to do it here. We said all along that we'd take it whenever it is, but to do it here with these supporters....(pauses)

"I might have something a little stronger than a cup of coffee! I might be the manager but it is the team which has won promotion.

"We kept a lot of players from last season and those players made the decision that their best chance of returning to the Premier League was by taking this team back.
"This is right up there, I must admit. To be standing there on the pitch at the end as manager of this great football club was a very, very proud moment.

"You have achievements as a player which you will always remember and I have been involved as a coach in my time at Tottenham where we have won things.

"But, in a managerial position, this is my first achievement and it's one of the proudest moments of my career without doubt. It is a fantastic feeling and one I will cherish for a long, long time.

"Ever since we came back in during the summer this set of players have been first class. They have shown a real desire to get back in the Premier League and atone for what happened last season. Their application, attitude and enthusiasm has been outstanding and has made my job a lot easier. We have always been building towards promotion and to achieve that with six games to spare is credit to the effort that has gone in.

"Yes, there have been a couple of lows along the way, but our response to those periods has been to go on long, unbeaten runs and answer any critics that may have come our way. There are a lot of people to thank for their part in this promotion, but number one has to be the players and I'm delighted for them - they deserve it.

"Mike (Ashley) and Derek (Llambias) came in (to the dressing room) and it was hectic. It was chaotic, but we had a brief chat, and he said congratulations, and told us to enjoy it.

"This is what we're all in the game for. We deserve to be in the Premier League, we didn't last season but we've earned the right to be back there. We've five games left, we've been top so long it would be a real disappointment if we didn't (finish top)."

Fabricio Coloccini:

"This season we have had to battle and scrap for every point – it has been difficult but at last we have achieved our objective. For me as a footballer, playing in the Premier League is where I want to be and why I signed for this great club and to be playing in the best league in the world means so much.

"Yes, I want to go to the World Cup finals with my country, but I know that if I want to be selected in the future, playing at the top level is where I need to be. This club belongs in the top half of the Premier League and that's where we aim to go now.

"We wanted to win even though we knew it was already confirmed that we were promoted. The fans were brilliant and we couldn't go out there and let them down – we had to win the game against Sheffield as well.

They want us to be in the Premier League next season. Now we have delivered that. They are possibly the best fans in the world and I have a lot of affection for them - to hear them sing my name is amazing.

"It just makes you want to win every game for them, every tackle and get every pass right. My aim is to stay at the club and help us climb up the Premier League next season, even if there are a going to be some tough battles ahead."
Jonas Gutierrez:
"The most important thing was getting back to the Premier League. The second aim is to finish top – this is a big club and we have the opportunity to win something and we'd like to fight and win the Championship.
"It is a long season. Did we have any doubts? No, never, never, never. It was difficult when we started but the team and the club were all together and that was important for us. We were all going the same way and all the team had to do was play football.

"Diego (Maradona) helped to calm me down when Newcastle slipped into the second division last season. He said he didn't care which division I was playing in as the most important thing to him is to have players playing well.
"That was very important to me because I knew Newcastle weren't going to let me join another team. Now I can relax, at least a little bit.
"We needed to finish in first or second place to get automatic promotion and that is what we have done. If we had finished between third and sixth we would have had to go into the play-offs and my season would have ended very close to the World Cup.
"Now I have time to charge my batteries for the World Cup and that is what I have always wanted and needed."
Steve Harper:

"We owed it to ourselves to get promoted, there was a lot of pressure on everyone at this football club to get out this season, but if you win it with six games left, that's a massive achievement. We've had a belief, were a very resolute side and you can see that in the results.

"It's a tough place for the opposition to come, but we've got three tough away games and we want to finish it off.

"A lot of questions were asked about everybody at this football club back in the summer, and as a group of players and staff we've got together and achieved what we set out at the start of the season."
Peter Lovenkrands:

"My father would have been proud. I hope that he is looking down on us and is happy. It has been a tough season for me and I am just pleased to end it in such a good way.
"It helps a lot to bring a smile back knowing we are going back to the Premier League. It has been a great achievement and we are delighted. Of course this does help make amends for relegation.
"A lot of people probably didn't expect us to bounce back straight away but we've shown that we can just that. Since we went down it means so much to the fans to get back up there in the first season. It's congratulations to everybody for a great job done.
"I'm pleased on a personal level but it isn't achieved on your own. You need a team behind you to help get the goals. They have been supporting me with a lot of great passes and that has helped me to get the goals."

Kevin Nolan:

"I like scoring goals when they matter and this one mattered. We're chuffed to bits – it's been a long 10 months but we always believed that we could do it. We've got through it but we've got through it as a team and a group.
"Now we want to win all of our games and finish the season in real style. We are after that unbeaten home record and of course we want the title.
"It's unbelievable to win the game after going 1-0 down, that felt like an anticlimax, but you just have to look at what it means to the fans and what it means to the lads.
"Not only do we want promotion, we want to go and win it the title now and that's the main thing for us. The way they've turned out and they've turned up all season - we can't thank them enough."

Danny Simpson:

"I got a promotion in this league before, but it didn't feel like this. It is a lot better. You can't compare - I was there as a loan player, and I only played half the games.

"I came at the start of the season as a loan player and signed and I am now a Newcastle player, and to play 30-35 games with the lads who are here has been a lot better. I was only at Sunderland for 14 games, and to come here as a loan and then permanent player and be back in the Premier is emotional.

It's where you want to be. It's been like that all season, we've come off after a lot of the games this season saying it's been hard, but we've pulled through it, and that's the main thing.

"It's been hard all through the season, but in the last two games we've all showed our character and shown what the season's been based on – togetherness. We didn't start too great but we pulled through and got that win. It was a nice feeling."

Blades Boss Kevin Blackwell:

"Anyone who turned up here, in this situation, were in danger of becoming patsie. We were determined that wasn't going to happen to us and it didn't. I asked the boys to go out there and be professional and they certainly did that.

"When you come to a ground like this you need to get the decisions. It's difficult to say anything about refereeing decisions because you end up on a charge, but what I will say is that we were disappointed with it (the penalty). If you are going to give them for that then you'll be giving 400 or so a season.

"They have shown real character and desire to get back in the Premier League. They kept a core of good players- they kept players with bollocks who showed a collective strength. It takes courage to get a big club promoted and Newcastle's players have shown balls.

"The fans, the stadium, everything about the club deserves Premier League football. So, to Chris Hughton and Colin Calderwood, I've got to say congratulations."

(12 years to the day that he appeared for Newcastle in an FA Cup Semi Final victory over Sheffield United) Blades Gary Speed added:

"I was desperately disappointed with the way we lost the game – it was hard to take – but the shining light is that it's Newcastle that have gone up, and I'm absolutely delighted. We wanted to win the game, and I thought we did enough to do that, although Newcastle pressed iin the second half, which was always going to happen.

"The way we conceded the first goal was the sickener – it leaves a bad taste in your mouth. We read it before the corner was taken – we said 'he'll give a penalty here', and he did. We knew it was coming, and that makes it harder to take.

"I played for Newcastle for seven years, and you get some decisions, so I don't suppose I'm the right man to complain! And they're back where they belong, which is very important. The longer you stay down, the harder it is to get up. They're back where they and the fans belong, and it's fantastic.

"In hindsight, what happened last season will be a good learning curve, in the sense that they'll go up, and be stronger for it. I'm delighted they're back up at the first time of asking. They seem to have a fantastic team spirit, and that counts for a lot, and if they can carry that into the Premier League, and if the off-the-field stuff is in order, which I'm sure it will be, it's an opportunity for Newcastle, which is brilliant.

"Chris (Hughton) is an inspiration to me, especially with me being a coach now. He was a coach for a long time. He did his apprenticeship, and it's obviously stood him in good stead. It's a difficult job – make no bones about it – but he's done it exceptionally well, and thoroughly deserves what he's got."

"It was always nip and tuck with Shay and Harps – everyone knew that. Harps has proved this season what a good player and good keeper he is. I'm not sure whether it's too late for him, but England could do a lot worse than look at Harps."

Blades in Toon - last 20:

2009/10 won 2-1 Lovenkrands, Nolan
2006/07 lost 0-1
1999/00 won 4-1 Shearer, Dabizas, Ferguson, Gallacher (FAC)
1993/94 won 4-0 Beardsley 2, OG, Cole
1989/90 won 2-0 Gallacher, Quinn
1988/89 won 2-0 Hendrie, Mirandinha (LC)
1985/86 drew 1-1 Cunningham (FR)
1978/79 lost 1-3 Shoulder
1976/77 won 3-1 T.Craig, Burns, McCaffery (FAC)
1975/76 drew 1-1 Macdonald
1974/75 drew 2-2 Macdonald, Burns
1973/74 won 1-0 Tudor
1972/73 won 4-1 Macdonald, Tudor, Nattrass, Craig
1971/72 lost 1-2 Hibbitt
1967/68 won 1-0 Davies
1966/67 won 1-0 OG
1965/66 lost 0-2
1961/62 lost 0-2 (LC)
1960/61 lost 1-3 McGuigan (FAC)
1955/56 won 4-2 Davies 2, Hannah, Keeble


Full record v Sheff Utd:

P
W
D
L
F
A
SJP
54
31
13
10
109
55
BL
54
8
13
33
51
99
League
108
39
26
43
160
154
SJP(FA)
6
3
1
2
11
11
BL
4
2
1
1
4
2
SJP(LC)
2
1
0
1
2
2
BL
3
0
1
2
2
7
Cup
15
6
3
6
19
22
Tot
123
45
29
49
179
176
Newcastle's unbeaten record at SJP now extends to twenty three games without loss in all competitions this season and following Luton's victory at Stevenage Borough on Saturday, we are the only club in the top five English divisions not to have lost a home game.

This was United's eighth league double of the season, after beating Crystal Palace, Cardiff City, Coventry City, Preston North End, Watford, Doncaster Rovers, Peterborough United and now Sheffield United both home and away.

It's twelve games unbeaten now for Chris Hughton's side and just one league defeat since October's loss at Scunthorpe - the Derby County reverse - that's just one defeat in twenty eight outings.

After having done so on Saturday and Peterborough, this was the fourth time we've come from behind to win a league game this season (Doncaster home, Coventry home, Peterborough away, Sheffield Utd home).

We've also come from behind to take a point on seven occasions (West Brom away, QPR home, Sheffield Wednesday away, West Brom home, Swansea away, Boro away, Bristol City away).

Top Scorer 2009/10 (all competitions):

Andy Carroll: 16 (14 in Championship)
Kevin Nolan 15 (14 in Championship)
Peter Lovenkrands 15 (12 in Championship)
Shola Ameobi 10 (9 in Championship)

With five games still to play, Newcastle have scored 79 goals in the Championship (plus 9 in Cup ties).


Waffle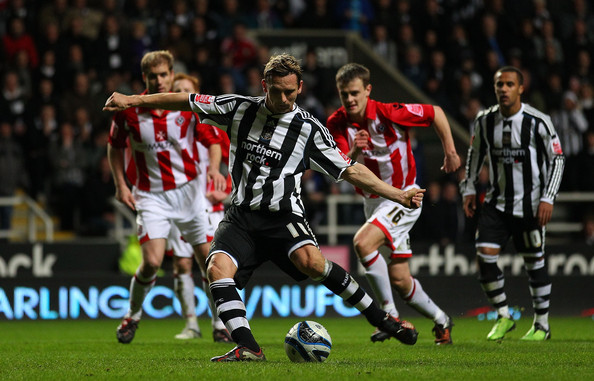 1948? White Hart Lane. 1965? St.James' Park. 1984? Leeds Road. 1993? Blundell Park.

2010? The Hotspur perhaps, St James Metro maybe, or queuing in the chip shop.

Recalling the "where were you" moment of our latest promotion in years to come will be an individual experience, in stark contrast to those collective celebrations of previous seasons. And there's something appropriate about that, as there was certainly nothing "United" about our relegation last May.

While record books will record the final whistle sounding on a 0-0 draw between Nottingham Forest and Cardiff City at around 7.10pm today as the precise time of our ascension, others will have their own, more eccentric view: be it coming from behind to take a point on the opening day of the season at West Brom or Shola Ameobi's hat trick against Reading - after which frankly, anything seemed possible in this league.

For the players, the away dressing room at Brisbane Road on a Saturday teatime in July is portrayed their personal tipping point. Those who stayed righted the wrongs of the previous season, while those who went at least reduced the wage bill sufficiently to keep others, who went on to show their worth at this level.

Back to the present and victories against Forest and Peterborough in the previous week had left our Easter Rising achieved in all but the minds of mathematicians and ultra-pessimists. Bank Holiday Monday's fixture programme once again saw title challengers West Brom staring down the barrels of defeat after a goal from Tynesider Danny Graham, only to conjure up a late goal that for once didn't come from the penalty spot.

Albion's failure to take three points from Vicarage Road though put further daylight between us and them, assuming Sheffield United didn't upset things, as they had on their last visit here in 2006. Before that though, there was the crunch match at the City Ground, where Forest needed to rack up a thirteenth successive home win in order to maintain a notional chance of automatic promotion for a few more hours.

In the event it didn't happen - with Michael Chopra never getting a sniff of a chance to ensure a top-flight return for his hometown team. Forest were similarly unable find to a goal and left contemplating a playoff campaign. Maybe that will attract the section of their support who opted to stay at home and watch this one on the telly....

Watching the Forest game in a Tyneside bar was curiously uninvolving, with full time seeing cheers, raised glasses and a chorus of two of the "Blaydon Races", but hardly the Toon/Broon/over the moon partying that was claimed by various news outlets. Relief rather than celebration was the over-riding emotion.

And in a curious piece of symmetry, at the precise moment of promotion in both 1993 and 2010, the same person was pictured on camera - David Kelly. Exultant then after scoring the goal that sent us up, crestfallen now as he commiserated with fellow Forest coaches.


That result meant that the result at SJP was immaterial in a promotion sense, but no less important in terms of maintaining our title tilt and season-long unbeaten home record. An anti-climatic first half though saw Newcastle struggle to make any impact, with an obviously unfit Andy Carroll reluctant to get forward and support Peter Lovenkrands. Jonas Gutierrez meanwhile was having a bit off an off night.

The party atmosphere was duly dampened when the visitors went ahead and as half time approached, the snappers behind the Leazes goal had only shots of a shirtless, tattooed toon fan to send to their desks rather than celebrations. But all that changed after one of the most brainless passages of play imaginable, which gift-wrapped the Magpies an equaliser and gave them a foothold back in the game.

Having totally failed to notice the continual fouling of mackem reject Nyron Nosworthy, referee Andy Hall intervened before a Newcastle corner to warn Chris Morgan about holding. The Blades defender unwittingly notched an OG at Bramall Lane to give us the win via a deflection, but this assist was all his own work - impeding Carroll with a bear hug right in view of the referee as the corner came over.

Lovenkrands then beat South-Shields born Steve Simonsen from the penalty spot and normal service was resumed, sort of. The gatecrashers then reverted to type and became well-behaved guests (Nosworthy apart, who isn't even Championship standard - perhaps he'll move on to the third-tier club at Griffin Park and be referred to as Brentford Nyrons.....)

A second - and winning - Newcastle goal seemed inevitable and Lovenkrands blasted a couple over, while Jonas saw his shot turned onto a post. Then came Kevin Nolan's super strike - the pick of the 15 goals he's netted this season and a fitting winner, also bringing up a half century of SJP league goals for us.

Danny Guthrie should have made it three after Jose Enrique had played him in, but was denied by Simonsen. Substitute Shola Ameobi then thought he'd made it three goals in as many comeback games in added time, only for his close-range effort from a rebound to be correctly ruled out for offside.

Players and officials then made their way to the centre circle after the final whistle to salute the crowd, with an emotional Chris Hughton acknowledging praise from all four corners of the ground. Rather than the scenes of mass jubilation reported though, our take on proceedings was more one of quiet satisfaction - partly due to mathematical confirmation of promotion coming earlier, but also in the sense of a wrong righted.

For now though, the celebrations were just about pitched right; deserved acknowledgement of and appreciation for an achievement, but also a work in progress, a job only partly completed.

Meaningless though it may be in the depths of next season, it would be nice to see something with ribbons on at SJP, if only for those who haven't seen silverware before. But please, no open top bus parade, let's preserve some sense of proportion - and remember that the blow we've recovered from was self-inflicted.


Biffa