In association with NUFC.com

Date: Monday 29th March 2010, 7.45pm.

Live on Sky



Venue:

St. James' Park



Conditions: It was a dark & stormy night - as someone once wrote...




Newcastle United

Nottingham Forest

2 - 0

Teams
Half time: United 0 Forest 0

71 mins Having arrived from the bench early in the second half, Shola Ameobi marked his return from injury by taking a pass from Kevin Nolan on the edge of the Forest area and turning to crack home a left-footed grass cutter at the Leazes End that went in off the far post for a ninth this season and first of 2010. 1-0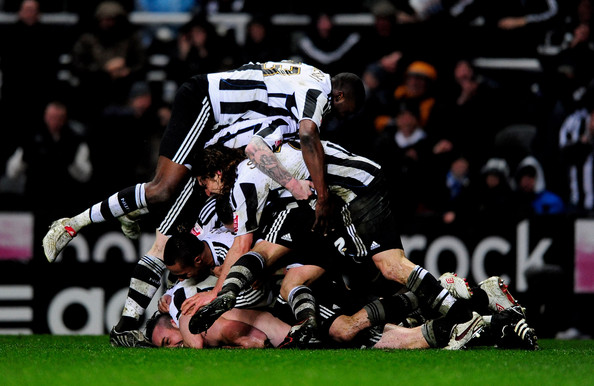 pile on - if you love the toon
91 mins Ameobi turned provider, playing a one-two with Jose Enrique and back-heeling the ball into the path of the defender, who broke his scoring duck by shooting home via the 'keeper before being submerged under a sea of bodies, with Nolan arriving last to splash down with a credible impression of Big Daddy. Jose belatedly emerged shirtless and was shown a yellow card after he trotted back to his own half 2-0

Full time: United 2 Forest 0
United Manager Chris Hughton said:

"It's that close. We are where we are and we thoroughly deserve to be where we are and if it happens on Saturday, then no one will be more delighted than me, but the most important thing is we have to win first.
"Because of the timing - we are so close to the end of the season - and it's against a side who have pushed us for a large chunk of this season, it's a big win for us.

"It was a very important win at this stage of the season and we were desperate for these three points against a team who have been pushing us so hard all season.
"But we won't be taking any champagne down to Peterborough. The training ground will be a happy place this week but when you start to count your chickens in this game you usually end up losing - and we have to guard against that.
"It's an away game on Saturday which we have to make sure we prepare correctly for. If we are able to take a spare chunk of what we had tonight into that game then we have got a good chance of coming away with a victory."

Jose Enrique commented:

"That is the best three points of the season. We are not there yet, but almost. The goal was very special – it is for my wife. I am very happy. Jonas put some grass on my teeth! And I asked him what he was doing, I had six people on my back. I couldn't believe it."

moving on to speak about his manager:

"He has had a long career as a coach but this is the first time he has had the opportunity to be the boss and I think he has proved what a good one he is. Before, he was always a number two or number three but now he is in charge 100 per cent and I don't have to say how good he is because the league table tells you that. For me, my personal opinion is that this is my third season at Newcastle and he is the best manager I have had here.
"I cannot believe how hard he works. He seems to spend 24 hours every day at the club. He is so dedicated to the job and gives his all. He is thinking about the games all the time, watches the videos and is so thorough in his preparations. The players respect him so much. The other managers were famous names, but it is not always about that. He is the man to take charge of us in the Premier League."
Forest boss Billy Davies said:


"I'd like to congratulate Chris, his staff and players and everybody at this football club. I'd like to wish them all the very best in their challenge in the Premier League.

"All season they've been very resilient - they've showed a lot of good experience and they've done very well and obviously we would like to congratulate them. There's no doubt they have been very worthy winners in my opinion.

"That doesn't mean I'm giving up on promotion because I think with six games left we are still in a real fight for second place with West Brom, but I firmly believe Newcastle will finish the job.

"They have the players, the experience, the momentum and the infrastructure in place. They know how to win when they are not at their best. My young players haven't got the experience and the know-how to do that yet - but we are still in there fighting."
Tricky Trees in Toon - last 20:

2009/10 won 2-0 Ameobi, Enrique
1998/99 won 2-0 Shearer 2
1996/97 won 5-0 Asprilla, Ferdinand 2, Shearer, Elliott
1996/97 lost 1-2 (FAC) Ferdinand
1995/96 won 3-1 Lee 2, Ginola
1994/95 won 2-1 Fox, Lee
1990/91 drew 2-2 (FAC) Quinn, McGhee
1988/89 lost 0-1
1987/88 lost 0-1
1986/87 won 3-2 Wharton, A.Thomas, Beardsley
1985/86 lost 0-3
1984/85 lost 1-3 (FAC) Waddle
1984/85 drew 1-1 Wharton
1977/78 lost 0-2
1974/75 won 3-0 (LC) Macdonald, Burns, Keeley
1973/74 won 4-3* (FAC) Tudor, McDermott, Craig, Moncur
1971/72 won 2-1 Macdonald 2
1970/71 drew 1-1 McNamee
1969/70 won 3-1 Dyson, Craig, OG
1968/69 drew 1-1 Robson


Full record v Forest:

P
W
D
L
F
A
SJP
44
25
9
10
88
47
CG/ML
44
17
11
16
48
52
League
88
42
20
26
136
99
SJP(FA)*
9
4
3
2
19
13
CG
7
2
3
2
5
9
SJP(LC)
1
1
0
0
3
0
CG
1
0
1
0
1
1
CG(ZDS)
1
0
0
1
1
2
Cup
18
7
7
4
28
23
Tot
106
49
27
30
164
122
* Includes the 1973/74 FA Cup game, ordered to be replayed.

Our unbeaten record at SJP now extends to twenty two games without loss in all competitions and following Everton's victory at Manchester City last week, Newcastle are the only club in the top four divisions not to have lost a home game (Conference leaders Stevenage Borough are also unbeaten).

Newcastle recorded their twentieth clean sheet of the season, a club record.

Jose Enrique scored his first Newcastle goal on the occasion of his 88th appearance (81st start).

That made him the sixteenth Newcastle player to net for us in the Championship this season:
(in order: Duff, Ameobi, Nolan, R.Taylor, Guthrie, Coloccini, Carroll, S.Taylor, Harewood, Gutierrez, Simpson, Lovenkrands, Pancrate, Ranger, Routledge, Enrique).

A further fourteen outfield players have appeared at some point this season without scoring (Barton, Best, Butt, Donaldson, Hall, Kadar, LuaLua, Smith, Tozer, Vuckic, Williamson and Xisco plus loan duo Khizanishvili and Van Aanholt).


Waffle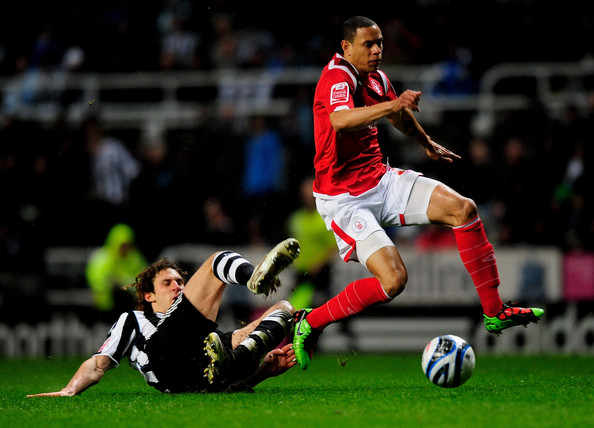 Newcastle preserved their unbeaten home record amid driving rain and swirling wind on Monday, thanks to second half strikes from an unlikely pair of scorers. However, the thirteen point gap opened up over the visitors as a consequence was the really vital statistic of the evening.

Chris Hughton's side had failed to record a victory in four previous league and cup fixtures this season against closest rivals Forest and Albion, but goals here from a fit-again Shola Ameobi and a long-overdue conversion from Jose Enrique left United on the verge of promotion.

Victory against the side in third place now means that a win at Peterborough on Saturday coupled with defeat for Forest at Bristol City will confirm our top-flight return at the first attempt. And you wouldn't rule out that happening, given that Newcastle have lost just once in 26 games and this was Forest's seventh successive loss away from the City Ground.

The first half was a tight affair with Newcastle looking increasingly dominant, seeing an Andy Carrroll volley blocked by Lee Camp and a penalty claim from Peter Lovenkrands waved away by referee Alan Wiley. Some stout defending from a back four that included the returning Mike Williamson kept the visitors at bay and was to form the basis for a victory that was ground out by willpower and persistence as much as footballing skill.

Similarities with the 2-2 draw against West Brom here earlier this year were evident in midfield, with the visitors finding space when they came out of defence and Kevin Nolan again bypassed. An over-reliance on the Jonas/Jose left flank combination didn't really produce much in the way of decent crosses and forced Routledge to come infield from the opposite flank in search of the ball. That did at least provide Guthrie with some assistance. Meanwhile, Peter Lovenkrands unselfishly chased lost causes all night and some over -elaboration from Carroll saw a couple of half-chances come and go without him getting a shot off.

Carroll played on after treatment in the first half but was replaced shortly after the restart by Ameobi, out injured since our last defeat, at Derby back in early February. The number 23 returned to displace Nile Ranger from bench (a further indication of how Darsley's Dizzy Rascal is viewed here) and Shola was then brought on in preference to the match-fit Leon Best -another decision that was soon to be thoroughly justified.

Newcastle's failure to make a breakthrough was just starting to become a worry, with every home game seeing them score by the 70th minute - or not score at all, in the case of the draws against Bristol City and Derby County. But Shola basically took up where he left off, giving another deceptively languid display but causing untold problems to the visiting defence and making the vital breakthrough.

Nolan then forced Camp into a block before Shola set up Enrique's magic moment. That just about brought the house down, suitable reward for a player who had failed to find the net while with Celta Vigo and Villarreal but has shown an appetite for the fight this season, when a departure seemed inevitable.

His manager jigged along the touchline, the club owner and MD embraced in the Directors Box and the fans cheered the players off the pitch, before exiting SJP in full cry soon afterwards. It's all very different to a year ago, when Hughton was relieved of his duties as interim manager and reduced to handing out bibs as the Shearer-led team took over.

Having then taken another turn at the controls and made this beast fly at the third attempt, he's entitled to be satisfied at the job done by his side. Even the malcontents seem to have suspended grumbling recently in favouring of enjoying the final weeks of this brief return to the Football League. It may be some considerable time before we score this many goals, keep this many clean sheets and win this many games....

Having said that, raising a glass in front of the telly and giving money to NUFC remain mutually exclusive things for some. The attendance figure on Monday will be interesting, as will the season ticket take-up at the current discount rate - It's certainly not a given that the latter will be bought unconditionally.

Once people sober up in the coming weeks, questions over ownership, management, investment, recruitment and discipline will come to the fore. And it remains to be seen whether the experience of our wearside rivals will be replicated; where the missing bums on seats failed to renew the season tickets they jettisoned upon relegation and became more picky about which top flight matches they turned out for.

For the moment though, the enjoyment of a job (almost) well done is deserved. And while those who have experienced several promotions - and therefore also several relegations - will take it all in their stride, the new generation are entitled to pogo if they love the toon. Let's get this right, if you're waiting for something proper to celebrate, you'll be thirsty. Just one thing though, drink your beer - don't chuck it around (even if Wayne Routledge does look like Lewis Hamilton....)

Will the Bigg Market equivalent of that Christmas Day kickabout in the trenches take place, with the powers- that-be risking celebrating outside SJP? If you do spot a phalanx of security men in toon sometime soon, it's not a politician on the campaign trail - just the owner popping out for a (non-alcoholic) pint of fizzy.

Within a week we should be back where we came from - before we were so rudely interrupted. The next immediate task for the club as a whole is managing expectation of what happens when we get back there.


Biffa