In association
with NUFC.com

Date: Tuesday 23rd March 2010, 7.45pm.

Venue: Keepmoat Stadium

Conditions: constant light rain

Admission: £23

Programme: £3





Doncaster Rovers

Newcastle United

0 - 1

Teams
Half time: Rovers 0 Magpies 0

59 mins A misdirected pass from a Rovers defender fell to Wayne Routledge on halfway and he brought the ball forward down the United right and pushed the ball into the path of the onrushing Andy Carroll. He withstood the attentions of his marker before flicking the ball past 'keeper Neil Sullivan from seven yards and celebrating with his team mates in front of the away supporters congregated behind that goal 1-0

Full time: Rovers 0 Magpies 1
Newcastle manager Chris Hughton said:

"The team have been focused all season. Everybody is aware of things. We have carried the pressure of being top all season and the pressures that go with that. This team is very focused.
"Andy Carroll is a player in very good goalscoring form at the moment. He's one that we've continually said had to add goals to his game and he's certainly providing that for us. Andy was part of the XI. We're always working on selection, but he's a player on very good form. He's a vital player for us.
"It was a very tough game as expected. This (Rovers) side is a wonderful footballing side, coping far better with this division. They keep possession and use the space very well. They gave us a real test."
Rovers boss Sean O'Driscoll said:

"It was a tight game. We were excellent off the ball and stopped them getting any rhythm, which was important. They had to fight for everything and we had to be brave on the ball and I thought we were. We mixed it up really well, I'm just disappointed we didn't get a result."
About the offside "goal":

"He (the referee) was right, by a smidgen. It was just offside and to be fair the linesman was alert and got it right."
Magpies @ Rovers - All-Time Record:
2009/10 won 1-0 Carroll*
1947/48 won 3-0 Milburn 2, Harvey
1936/37 won 2-1 Imrie, McMenemy
1935/36 drew 2-2 Pearson, J.Smith

(all games played at Belle Vue except *at Keepmoat Stadium)
Full record v Rovers:
| | | | | | | |
| --- | --- | --- | --- | --- | --- | --- |
| | P | W | D | L | F | A |
| SJP | 4 | 4 | 0 | 0 | 13 | 2 |
| BV/KS | 4 | 3 | 1 | 0 | 8 | 3 |
| League | 8 | 7 | 1 | 0 | 21 | 5 |
This was our league debut at the Keepmoat Stadium but The Magpies have visited this venue twice since it opened in 2007 - losing 1-0 in a pre-season kickabout in July 2008. More recently, our U18s began a run to the FA Youth Cup Semi-Finals with a 3-0 win here in December 2009.

Newcastle recorded a nineteenth clean sheet of the season, one better than the previous club record, set during our last promotion season of 1992/93.

Sixteenth goal of the season for Andy Carroll, who has netted twelve in fourteen games. He also maintained his record of scoring away from home, doing so for the fifth successive league game.

This was our sixth double of the season, after beating Crystal Palace, Cardiff City, Coventry City, Preston North End, Watford and now Doncaster both home and away.



Away Record - Post-War promotions:

1992/93: Played 23, won 13, drawn 3, lost 7. 34 goals scored, 23 conceded (finished first)
1983/84: Played 21, won 8, drawn 6, lost 7. 34 goals scored, 35 conceded (finished third)
1964/65: Played 21, won 8, drawn 5, lost 8. 31 goals scored, 29 conceded (finished first)
1947/48: Played 21, won 6, drawn 7, lost 8. 26 goals scored, 28 conceded (finished first)

This season so far:

2009/10: Played 19, won 8, drawn 7, lost 4. 26 goals scored, 19 conceded (finished tbc)



Waffle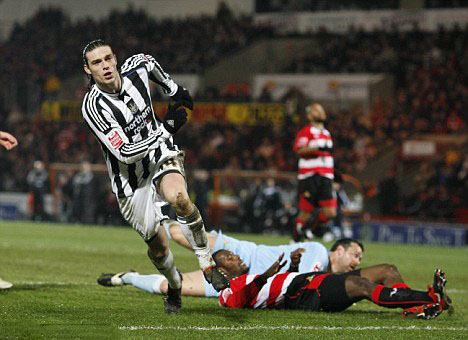 After 48 hours during which Newcastle regained their title of everyone's favourite crisis club and the exploits of their players once again became front page news, this game had all the ingredients of a banana skin for Chris Hughton's table-topping side.

Never mind the fact we'd come to grief further down the M18 at Scunny in similar circumstances some months back, were confronted with a pudding of a pitch at this shared egg chaser venue or arrived with numerous selection dilemmas, attention was centred on our number 24.

In the event, the only headlines that were written concerned the striking prowess of Andy Carroll on the field, as the in-form forward converted our only genuine chance of the game to maintain his fine recent run - even if uncharacteristically wearing gloves, something which caused speculation as to what was underneath them.

For anyone reading this in years to come - or who has been off the map - the story in a nutshell is this: Andy Carroll and Steven Taylor had a falling-out at the training ground on Sunday. The latter ended up in hospital with a broken jaw, thus delaying his comeback from injury and making it unlikely that he'll play again this season. After not travelling with the squad to Doncaster, Carroll was then subsequently transported there and picked in the starting XI for this game.

(we've only been able to muster "The Braining at the Training" to describe this pugilistic encounter - hardly "The Rumble in the Jungle", but Darsley is a tough word to rhyme. Meanwhile, the half time presentation at the Keepmoat of a local boxing champion raised a wry smile or two.)

Before Sunday, the script for this game was the latest comeback of Joey Barton - whose last visit to Doncaster saw him substituted after an ill-advised tackle during a Manchester City v Rovers game. threatened to spark a mass brawl. Oh yes, that game was a pre-season friendly....

As it was, the appearance of Barton from the bench in the closing stages of this game provoked far more of a crowd reaction than Carroll's appearance - the midfielder being booed by home fans and having his named chanted by the away support. In contrast, the striker's presence brought no strong demonstration of positive or negative feelings from either set of supporters.

A small pocket of travelling fans attempted to barrack him during the warm-up, but were silenced by some home truths from a fellow player - bringing applause from other fans. That doubtless came as a great disappointment to the media types who had rolled up, keen to exploit the circus element that threatened to return to our club.

Given that Carroll is currently awaiting trial for an alleged assault, stepping out of line in any way is obviously ill-judged and leaves the current ownership with an unenviable decision to make regarding their stance on disciplinary breaches - and achieving consistency in treatment of all transgressors.

Despite the many and various club "sources" supposedly spilling the beans, at the time of writing this there's no unquestionable version of what did happen in the run-up to Taylor's assault. On that basis it's easy to repeat hearsay without knowing fact - and come up with an emotional response.

Regardless of whatever justification gets trotted subsequently though, our overwhelming feeling will remain that of sadness mixed with frustration. Why us, again? Why does a player no sooner show signs of fulfilling their potential in a black and white shirt than it all turns to dust? (the sadness bit we refer to comes from a wider exasperation about the society we live in - not something we can really pin on one footballer....)

Whether he made the final decision or not, Chris Hughton has our support for fielding Carroll. Taking the moral high ground in what is an utterly immoral business masquerading as sport would only hurt us - our signings of Bowyer and Barton prove that someone, somewhere is always willing to take on "damaged goods" if the price is right (even Sir Bobby Robson, in the case of Bowyer).

And as for the "think of the children" role model argument, it no longer seems applicable in a country where politicians are on the fiddle and violence is glamourised - and in some cases, rewarded with the national team captaincy.

Worries that recent events will result in dressing room division at SJP and a dilution of our much- vaunted "collective spirit" remain. Despite a goal celebration here that was conspicuously communal - a contrast to the "leper" treatment of a post-goal Craig Bellamy six years ago - the feelings of the squad as a whole remain unclear.

Quite how popular Steven Taylor really is among his peers may now become apparent - certainly the media picture painted of the clean-living hero being the idol of the fans doesn't quite tally with our own observations.
In the face of all this self-inflicted attention - and with a defence where a right footed right back was shoehorned into left back and a midfielder into right back - his presence on the field proved to be vital, although it's debatable how much of a factor the non-availability of Peter Lovenkrands was in the decision to play Carroll.

Chosen to lead the attack though, Hughton opted to bolster his side in the centre of the park by benching Leon Best, allowing Kevin Nolan to reprise his supporting striker role and recalling Nicky Butt. That certainly seemed to be an admission of the problems we created for ourselves in midfield on Saturday, when Nolan pushed forward without anyone watching his back and filling in behind him.

An unremarkable first 45 minutes passed with nothing more than a couple of poor corners from United and one poor shot from Rovers that failed to test Steve Harper. The game's crucial moment came just before the hour though, when Routledge was able to create something from his right wing position - having struggled in the first half by having to occupy the most treacley part of the pitch.

The home side looked to have grabbed a lightning equaliser, only for the linesman's flag to deny Billy Sharp after he had tucked in a rebound following Harper's initial block. Our efforts to score a clinching second goal weren't greatly convincing, with Gutierrez pressing less down the left as the night wore on - the delaying of our next game by a couple of days may be of most benefit to him.

A succession of long balls played into our box and various long throws and corners did keep the interest levels high until the end of the four minutes of added time, but United held firm to the relief of the side, manager and supporters and collected the victory that maintains our promotion push.

Whatever happens to Carroll in the future, he at least made a positive contribution tonight, that wouldn't have been possible were he suspended. For that be grateful - we could have easily been three points worse off, with all of this avoidable off-field crap still to contend with.

Biffa