In association
with NUFC.com


Date: Saturday 20th March 2010, 5.20pm.


Live on Sky



Venue: Ashton Gate

Conditions: heavy rain showers

Admission: £25

Programme: £3





Bristol City

Newcastle United

2 - 2

Teams
10 mins An elongated free kick routine outside the United area ended with a low shot from Nicky Maynard reaching Steve Harper, who dived to block but couldn't hold the ball. He then watched as one-time mackem loanee, Lewin Nayatanga nipped into to poke home from close range. 0-1

44 mins Having scored twice in midweek when City lost 3-2 at Plymouth, Nicky Maynard then doubled City's advantage, brushing past a back-pedalling Simpson before shooting beyond Harper and in off the far post 0-2

Half time: Robins 2 Magpies 0

71 mins Home goalkeeper Dean Gerken had been City's hero in the 0-0 draw at SJP earlier in the season, but turned villain here with a shoddy throw out to dawdling defender Cole Skuse. He was promptly robbed by Jonas Gutierrez, who showed some unexpected composure to round Gerken and slotting home. 1-2

75 mins Moving forward at speed down the United left, Enrique and Routledge worked an opening for Andy Carroll to arrive in the box and sweep the ball home to level amid further scenes of great jubilation in the Wedlock Stand behind the goal. Note to the three loons on to the pitch near the corner flag, slip on shoes and muddy surfaces just don't mix - like cross-ply and radials* 2-2

Full time: Robins 2 Magpies 2

* if this comment means nothing to you, then the world of TV public information films and mentions of "a nice little dinjy", "Reginald Molehusband" and "SPLINK" are similarly wasted. Enlightenment however is at hand here and here.
Newcastle manager Chris Hughton said:

"We would have been favourites with most people going into the match, but didn't get the win we wanted. There is no question of setting a points target for reaching the Premier League. We focus on each game individually because they are all tough, as City proved today
I knew it would be tough because City had beaten West Bromwich Albion here and were under a new caretaker-manager. I thought in the end we had the chances to take all three points, but from 2-0 down at half time you are always happy with a point. There has never been any question about the spirit in our squad and we had to demonstrate it again.

At this moment, I think the feeling is we probably won't be bringing someone in (on loan to compensate for defensive injuries), but I'll be assessing it.

"Mike Williamson's very close to being back – closer than what we thought - that's a plus. He'll play with a small cast, similar to that which Nicky Butt wore and what lots of other players have had. We've had it passed, so that's not a problem. We're probably more looking at Forest, but we don't want to rule anything out.

"Tamas (Kadar) came on and did very well. He's a young player and he's developing. We always said he'd get opportunities, and he could possibly get another opportunity soon."

In-form striker Andy Carroll added:
"I didn't know the other scores - to be honest I don't really look at other scores but probably some of the other lads do. Everyone's got promotion in the back of their minds but you just take every game as it comes really. Three points is all that is on our minds.

"We were disappointed in the first half. At 2-0 down at half-time we had to show everybody what we were made of and that's what we did. We pulled back for the draw and I thought it was well deserved in the second half.
"They played really well in the first half, put the pressure on us, and we didn't expect it to be honest, but I think we did well to come back and get the point I thought we deserved.

"We've got to believe that if we go down 2-0 we can come back. We've done it a few times in different games and showed at Bristol what we've got in the team. We weren't going for the one point, we were always going for the three and that's all we were looking at for the whole game."
Following the dismissal of Gary Johnson earlier in the week, his former assistant Keith Millen was appointed caretaker boss of City for the second time and said:

"It's been a difficult week and I'm emotionally drained. I enjoyed leading the team out in front of a full-house crowd and the television cameras and I enjoyed walking off at half-time leading two-nil.

"When we came under pressure late in the game, I half expected Gary to phone me and give me some advice! I'm not sure if he was watching but, if he was, I expect it would have been very difficult for him.
"If you had offered me that (result) at the start of the day, I would have snapped your hand off. I'm proud of the lads and I'm proud of the fans. They created a great atmosphere and the players responded. I thought the lads showed a terrific spirit and they did it for themselves and for the club.
"They know they have been inconsistent and they know they have let people down at times. Unfortunately, it cost Gary his job. But they showed great commitment in this game. There are some very tired legs and the injuries have left us short in defence. I need to put out a side which can play with the same energy we showed in the first half against Newcastle and that will mean making some changes. My job for the next day or two will be to assess which players are fittest.
"To be two-nil up at half time was a dream start, but you know Newcastle are top of the league for a reason and they are a class side. We knew they were going to come at us. Dean (Gerken) apologised afterwards, but no one is blaming him. It was an honest mistake and he made some great saves to keep us in the game.
"I've been asked to do the job for now and that's what I'm doing. I can honestly say, all I'm thinking about right now is Tuesday and getting the team ready for a game against Barnsley. Of course, if we go and win the next two or three games, everyone is going to think I'm great. If we don't win the next couple of games, then people will say I'm not up to the job. That's how fickle football is.
"But it's not about me. I have to concentrate on the players and what they are doing. We still need to win a couple of games to be safe and that's what I am focusing on. I know the names that have been put forward for the job and I know they are the ones with experience. But I don't think you need to have managed at the top level.

"There are a lot of managers who have not managed in the Premier League who have taken clubs up from the Championship. I've not been asked what I think and I don't really have an opinion at the moment. If I'm asked for my opinion, then I will sit down and discuss it with him (the Chairman).
(Millen is no stranger to Magpies boss Chris Hughton - the pair were team mates at Brentford during the 1992/93 season and played in the Bees side beaten by United at Griffin Park en route to our last successful promotion).
Magpies @ Robins - All-Time Record:
2009/10 drew 2-2 Gutierrez, Carroll
1995/96 won 5-0 D.Peacock, Sellars, Ferdinand, Gillespie, Lee (LC)
1992/93 won 2-1 Kelly, Scott
1991/92 drew 1-1 Clark
1990/91 lost 0-1
1980/81 lost 0-2
1977/78 lost 1-3 Barrowclough
1976/77 drew 1-1 Burns
1910/11 lost 0-1
1909/10 won 3-0 Randall, Stewart 2
1908/09 drew 3-3 Higgins, Veitch 2
1907/08 drew 1-1 Orr
1906/07 lost 1-2 Brown

(All games played @ Ashton Gate)
Full record v City:

P
W
D
L
F
A
SJP
12
6
5
1
19
4
AG
12
2
5
5
15
18
League
24
8
10
6
34
22
SJP(FA)
0
0
0
0
0
0

AG
0
0
0
0
0
0
SJP(LC)
1
1
0
0
3
1

AG
1
1
0
0
5
0
Cup
2
2
0
0
8
1
Tot
26
10
10
6
42
23
Andy Carroll scored his fifteenth goal of the season for Newcastle and the eighteenth of his senior career as a Magpie. Since ending an eight match scoreless streak with two against West Bromwich Albion in the FA Cup, he's netted eleven times in thirteen games.



Tamas Kadar became our 100th substitute in the league this season when he replaced the hamstrung Fitz Hall.

We last recovered from a two-goal deficit to take a point back in October 2008 at Everton.

Proof of the randomness of our away game strip selection this season, against teams clad in red:

Leyton Orient (a) yellow shirts
Forest (a) black and blue shirts
Barnsley (a) black and white shirts
Boro (a) black and white shirts
Bristol City (a) yellow shirts

Waffle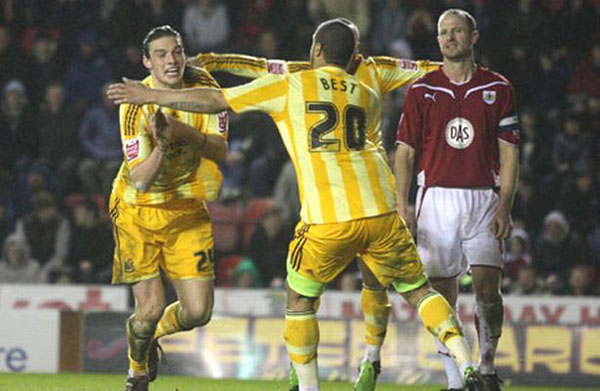 After a week when several rank outsiders upset the odds at nearby Cheltenham, Newcastle avoided becoming fall guys after a late revival spearheaded by their own pair of ponytailed thoroughbreds.

There's an ancient piece of football lore that says beware of managerless sides (see also rookie goalkeepers playing blinders/ballboy's smart returns leading to goals) and this was no exception.

Talk of dressing room spats and on-pitch disputes amid supporter discontent gave way to a show of unity from home fans and players alike under their caretaker boss - even if former Toon man Bradley Orr had to be restrained at one point in the second half after berating a team mate.

This Magpie migration brought thousands of Robins followers back to Ashton Gate and despite taking every opportunity to ridicule their illustrious guests, the City fans betrayed a grasp of our recent history (most of their Championship counterparts have avoided mention of Alan Shearer's time in charge, while it's been a long time since "cry on the telly" had an airing.....)

Two behind at the break, Newcastle had chances of their own in the first half, with Kevin Nolan heading straight at the keeper and Danny Guthrie seeing his effort cleared off the line. Other than that though the league leaders looked distinctly uncomfortable, apparently intent on providing live TV viewers with an unscheduled Saturday night horror movie.

Without Peter Lovenkrands due to a calf strain, Chris Hughton opted to retain a 4-4-2 formation with Leon Best making his fourth start for the club, alongside Andy Carroll. Unfortunately the ploy of playing two wingers away from home left Guthrie to cover an awful lot of ground in the centre of midfield - as Nolan opted to sit in an advanced role, opening up a sizeable gap behind him.

The United boss resisted an Avon culling at half time and sent the same side out to right the wrongs of the first - despite shouts for the more popular Ranger to replace Best. A further change was quickly forced upon him though, when Fitz Hall pulled a hamstring and Tamas Kadar replaced him in central defence - although both Danny Simpson and Jose Enrique hardly looked to be 100%.

The Hungarian defender then began our fightback with a low, long-range effort that was blocked by City 'keeper Dean Gerken - although there was nobody in a yellow shirt close enough to challenge for this rebound. That was followed by a series of United corners that saw the home defence stand firm and Wayne Routledge bring ironic cheers when he launched a shot out of the ground.

City had earlier been forced into a defensive change of their own, with Jamie McAllister failing to reappear for the second half. That placed further pressure on a City defence for whom youngster Christian Ribeiro was making his Championship debut.

Despite superior possession though, United were badly in need of some attacking inspiration. That was to come from Jonas Gutierrez, who hadn't made much headway against Bradley Orr, but took the game by the scruff of the neck once United were attacking their own fans.

His accurate volley from another corner was straight at the 'keeper but offered encouragement to the travelling support behind the goal. And within seconds the Argentinean had his third goal for the club, after some poor work from City gave United a foothold in the game.

There was no time for masks or other celebrations though, as Jonas & Co. seized the initiative and City looked like reverting to their past tendency of losing points by conceding late goals. And within four minutes, United had worked an equaliser reminiscent of an Andy Cole effort against Birmingham City in our last promotion campaign.

Like Carroll's latest supersaver, that 1993 strike brought us back on level terms after we trailed 0-2 at the break. That game also ended 2-2 as a rejuvenated Newcastle dominated the closing stages but couldn't quite find the vital shot or pass to grab a third.

The 2010 vintage Magpies came close through a Leon Best header and a couple of Gutierrez efforts after some mazy dribbles, but City held on for their second draw of the season against United - a result which was broadly satisfactory for both parties.

Once again United were indebted to the broad shoulders of Andy Carroll, who scored for the fourth consecutive away game and as he had at both Swansea and the smoggies, made a crucial late intervention to secure a point from a game where our unbeaten run looked like going west.

While it can be argued that both Coloccini and Enrique have flourished by playing a second season in England out of the top flight, the most visible signs of progress have come from Carroll - who has improved steadily since beginning the campaign as part of a freakish pairing with Shola Ameobi.

Carroll's all-round effort today was unquestionable, with his major contribution to the side before scoring to make a series of powerful headed challenges out of his own penalty area.

As expected, both West Brom and Forest had recorded home wins before we kicked off, but with games running out, our two and ten point gaps respectively, look ever healthier and we still have an extra game to play. We can now finish no lower than eighth and only a strange set of results in midweek would see us fail to guarantee a top six finish and at least a place in the playoffs. Winning our four remaining home games will secure a return to the top flight at the first attempt.

Games continue to come thick and fast, with another potentially tricky away trip to Doncaster on Tuesday, followed by a gap until the following Monday's summit meeting at SJP against Nottingham Forest.

Injuries are starting to take their toll on the side, but another point added to the total maintains morale and the effort and commitment remains unquestionable - even if the quality isn't always there away from Barrack Road.

Biffa