In association with NUFC.com

Date: Wednesday 17th March 2010, 7.45pm.

Venue:

St. James' Park



Conditions: routine






Newcastle United

Scunthorpe

3 - 0

Teams
10 mins A Danny Guthrie flag kick from the North East corner resulted in another eye-catching header from Andy Carroll, with the striker rising to plant a thunderous header into the Leazes net 1-0

22 mins The returning Wayne Routledge jinked forward before laying a slide-rule pass through to Peter Lovenkrands, who had made his way into the Scunny box and registered his 14th goal of the season with a precise left-footed strike beyond the goalkeeper. 2-0

Half time: Toon 2 Iron 0

55 mins yet another Danny Guthrie assist - this time a searching long forward pass - set Andy Carroll away and he made it six goals in his last seven games as he confidently beat Murphy with a perfect angled chip, before running into the crowd at the Gallowgate End - and being booked for his celebration. 3-0

Full time: Toon 3 Iron 0
United Manager Chris Hughton said:

"The aim of this football club is to get back into the Premier League. However we manage to do that, whether it's automatically or through the play-offs, that was always the aim and objective and nothing's changed from that.
"It's a wonderful position that we have worked hard to put ourselves into. We always knew the most important gap was between first and third, and we have worked hard to be able to do that.
"With the staff we have got and the playing staff we have got, I don't see that being a difficulty, bringing them back down to earth. It's probably understandable that people outside the club and maybe supporters will think that, but it won't be a difficult job with this group of lads.

"Itís a very healthy battle (for top scorer). It doesnít matter who scores, but it does matter to them and the team as a whole are benefiting. The important thing is that we continue to win and Iím delighted with our lead.Ē

Jose Enrique made the following comments, which the Daily Mirror ran under the ludicrous headline "Enrique: Newcastle are scared still of doing a Devon Loch." Our Spanish defender didn't use those words, probably due to the fact he doesn't know that Devon Loch was a racehorse - and may also be grappling with the concept of Devon....and Lochs:
"It's hard not to think about playing in the Premier League again because we think about next season and being back up there. But you never know what will happen in football and there are lot of games still to play.
"We're driven on by the fear of messing things up. We don't want that, and it'd be very hard to miss out on promotion now because we're playing the best football since I came here, some of it has been superb to watch.
"We've got two away games to focus on before we host Forest. If we win those three, we'll be almost there and it'll be a big relief. I love it here, I don't even mind the terrible weather. I'd like to stay for the rest of my career and I'm in no hurry to go back to Spain."
Iron boss Nigel Adkins said:


"It was a tough evening - but only what we expected. I've watched them a couple of times and Newcastle are a top side, a Premier League side, the champions in waiting. We knew coming here was going to be a massive challenge for everybody. and our supporters will probably never ever see this as a league fixture again in their lifetime.

"The players have been able to see how hard they've got to work, in and out of possession. That's the bench mark in Newcastle and it's been good for some of the younger ones to see how much they have got to keep improving and not think they have made it.

"To be 2-0 down after 20 minutes you would have probably thought Newcastle would have run away with it, but credit to the players, they've only gone and lost the second half 1-0."


Iron on Tyne - all-time:

2009/10 won 3-0 Carroll 2, Lovenkrands
1973/74 drew 1-1 McDermott (FAC)
1963/64 won 3-1 Suddick, Penman, Thomas
1962/63 drew 1-1 Hale
1961/62 won 2-1 Thomas, Day
1961/62 won 2-0 Hale, Allchurch (LC)
1957/58 lost 1-3 Paterson (FAC)



Full record v Scunny:

P
W
D
L
F
A
SJP
4
3
1
0
9
3
OSG/G
4
0
0
4
4
9
League
8
3
1
4
13
12
SJP(FA)
2
0
1
1
2
4
H/HP
1
1
0
0
3
0
SJP(LC)
1
1
0
0
2
0
H
0
0
0
0
0
0
Cup
4
2
1
1
7
4
Tot
12
5
2
5
20
16
Newcastle recorded an eighteenth clean sheet of the season, equaling the total attained in our last promotion season of 1992/93. They've now got ten games to get one more and set a new record.



Our

unbeaten record at SJP now extends to
twenty one
games
without loss in all competitions, with Nottingham Forest, Sheffield United, Blackpool and Ipswich Town still to come - it's fairly safe to assume there won't be a playoff match staged here.

We've now scored three or more goals in our last five home games (5,4,3,6,3) and this was a sixth consecutive home victory - our best of the season to date and matching the run at the start of 1992/93 that was ended by Grimsby.

Home Record - Post-War promotions:

2009/10: Played 19, won 15, drawn 4, lost 0. 46 goals scored, 9 conceded (finished tbc)
1992/93: Played 23, won 16, drawn 6, lost 1. 58 goals scored, 15 conceded (finished first)
1983/84: Played 21, won 16, drawn 2, lost 3. 51 goals scored, 18 conceded (finished third)
1964/65: Played 21, won 16, drawn 4, lost 1. 50 goals scored, 16 conceded (finished first)
1947/48: Played 21, won 18, drawn 1, lost 2. 46 goals scored, 13 conceded (finished first)

Where and when those promotions were mathematically assured:

2009/10: ?????
1992/93: Grimsby Town (a) won 2-0 7th May 1993
1983/84: Huddersfield Town (a) drew 2-2 7th May 1984
1964/65: Bolton Wanderers (h) won 2-0 April 16th 1965
1947/48:
Tottenham Hotspur (a) drew 1-1 April 24th 1948

Waffle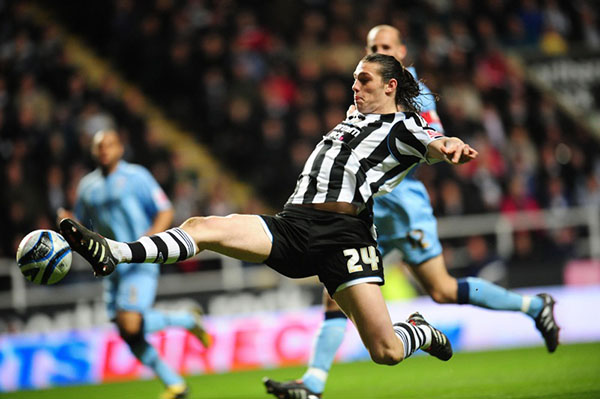 The Newcastle mascots may have been clad in Sport Relief clobber as they applauded the two sides on to the field before this game, but visitors had precious little charity shown to them once the first whistle blew.

Scunthorpe came into this game on the back of four away defeats and ahead of games against the two sides beneath them in the table, Plymouth and Peterborough. With club captain/former mackem defender Cliff Byrne suspended, Iron boss erred on the side of caution by omitting top scorer Gary Hooper and leaving Martyn Woolford on the bench - the player who had scored twice against Newcastle at Glanford Park.

As expected, the side with the most porous defence in the division away from home had their backs against the wall from the off and conceded their first corner within 30 seconds, as we set about adding to our tally of 18 goals scored in our last four home games.

A fine opener from Andy Carroll after ten minutes looekd to have opened the floodgate, with Kevin Nolan soon finishing off a Danny Guthrie free kick soon after only to be dubiously ruled offside. Peter Lovenkrands then looked a certain scorer, only smashed his shot off the underside of the bar from barely six yards.

Iron 'keeper Murphy then denied Carroll as Newcastle searched for a second but It wasn't long in coming, as his Danish strike partner wasn't to be denied and for the second time in five days our, front pair were both on the scoresheet.

Grimsby Town had been the last side to win here in the Championship way back in 1992, but there was never any chance of their Lincolnshire rivals staging a repeat and preventing our season-long unbeaten home run reaching 21 games in all competitions.

The home side continued to pour forward in search of further goals and Murphy made a fine block to deny Lovenkrands from close range, before Fabricio Coloccini saw his shot deflected away from near the goal line.
Only then did a stunned Scunny side make a few forays upfield, winning a handful of second balls and forcing a corner before the break that was easily dealt with.

An unchanged Newcastle side never quite got back into the same free-flowing groove after the break, but made it three without reply within ten minutes of the restart. However, the opportunity for Carroll to bag a hat-trick goal never really presented itself and he left to a deserved ovation after hitting his third brace of 2010 - but again failing to go on and claim the match ball.

Jonas Gutierrez did find the net - only for another flag to deny a repeat Spider-Man celebration - and Leon Best appeared but failed to get a clear sight of goal, as the Republic of Ireland international looked in vain to mark St.Patrick's Day with a first Magpie goal.

The visitors had their best period of the game in the closing stages as Newcastle lost some of their earlier fluency, but there was to be no repeat of the defensive dallying that cost Steve Harper a clean sheet here against Barnsley.

Carroll took the sponsor's man of the match award, but a tidy display from Fitz Hall was also worthy of note on a night when Chris Hughton welcomed back Wayne Routledge, Jose Enrique and Coloccini from injury.

Coming 24 hours after a late West Brom win at Swansea (featuring yet another dubious penalty award) and Forest's loss at Barnsley (their sixth successive away defeat in the league - next away game is at SJP), this one-sided success brought us significantly nearer to concluding the business at hand this season.

The Magpies have a game in hand on both Forest and the second-placed Baggies and five more wins from our remaining ten games should guarantee promotion, with the lead over third-placed Forest now 12 points.

However we will surely never have more pliant opposition to overcome in a league meeting again - which begs the question, what the hell were they playing at in Lincolnshire? It can't all have been bloody Geremi's fault - or that unpronounceable Georgian we borrowed from Sam Allardyce...

For all the dressing room huffiness that media and fan reaction to that defeat provoked, the stats show that losing at Glanford Park proved to be a pivotal point in our season - never mind the friendly defeat at Leyton Orient that has been trotted out as our wake up call. Like the mackem monsoon game, it happened for a reason - and was decidedly drier and less painful....

The only question now seems to be when the deed is done - promotion not silverware - and this season's tipping point is reached to add to the list of previous top-flight returns, with three of our four post-war successes being mathematically assured away from SJP.

We can get then on with the business of worrying just how to become the fourth-worst team among next season's elite - anyone who believed that tonight's victory was in some way relevant to that feat is not to be trusted.


Biffa