In association
with NUFC.com

Date: Saturday 13th March 2010, 3pm.

Venue: Riverside Stadium

Conditions: cloudless

Admission: £26

Programme: £3





smoggies

Newcastle United

2 - 2

Teams
16 mins Attacking the end where the majority of the Newcastle fans were housed, Kevin Nolan fed a through to Jonas Gutierrez, who dallied briefly before clipping through a perfect ball for Peter Lovenkrands to run onto shoot beyond Coyne into the corner of the net from 10 yards. The goal led to a solo pitch invasion from an away fan and several more being escorted from other parts of the ground after giving themselves away 1-0

36 mins Former Celtic midfielder Barry Robson played a one-two with Scott McDonald before hitting a fine left-footed shot from the edge of the box that curled away from Steve Harper. The thought police at the Riverside long ago decreed that home fans are incapable of celebrating without musical accompaniment, meaning that a snatch of "Chelsea Dagger" by the Fratellis was inflicted on the populace. Long may this gimmick remain banned at SJP. 1-1

Half time: smogs 1 Magpies 1

74 mins The home side made their pressure pay when Barry Robson swung over a deep free kick from the right. Killeen beat Hall to head back across goal from the far post, to where Scott McDonald swivelled to net his first Boro goal from point-blank range. 1-2

82 mins Having by his own admission contributed little else, Andy Carroll was in the right place to control a looping right wing centre from Ryan Taylor and fire the ball home left-footed from ten yards out 2-2

Full time: smogs 2 Magpies 2
Newcastle manager Chris Hughton said:

"The fact we were away from home, had gone 2-1 down and had defensive problems means we have to be delighted to have pulled it back to 2-2. Middlesbrough had very good periods during the first half and the second half, but we came on strong late in the game and might have nicked it.
"Mike Williamson has a broken bone in his hand and will be out for three to four weeks. It was an unusual accident. He was doing some fitness work at home, slipped and caught what is the handís equivalent of the metatarsal bone on the foot.
"Fabricio had a dead leg. They get more painful as times goes on. Heís a tough lad, so for him to have to come off when he did shows how much pain he must have been in. With dead legs, you just have to wait and see, so weíll have to assess him for Wednesday.
"Theyíre a good side, and we caught them on the ascendancy. But we have a real desire not to lose games. And Forest losing is a bonus. What we have always had this season is we are never out of a game. I can think of games where we have lost - at Blackpool, where we were very much still in the game towards the end; Scunthorpe was a game we lost that we were still very much in at the end and had the better chances.
"That's one thing we have in this group of lads, a real desire not to give up, and you just hope among all that, you have a bit of fortune in front of goal.
"What you saw in Andy (Carroll) today was a player who is in good goalscoring form. By our admission and his own, it wasn't one of his better games today and the chance he had was very much a half-chance. But this is a lad who is in good goalscoring form and when you are in that type of form, they are the type of goals you score."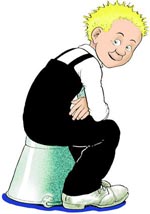 Prevented from sitting on his bucket by an over-zealous fourth official (or possibly PC Murdoch), Strachan said:

"I think our players would feel they did enough to have won the game, especially after they created as much, worked as hard, attacked the top team in the league and pushed them to their limit.
"We did not take the three points because we have lost two goals through naivety, but thatís what you get with young defenders. Defending is an exact science. It tales a bit longer for young defenders to become the finished product than it does for young players up front.
ďBut fair play to Newcastle. They worked very hard, they kept digging in there and they got something from the game. Newcastle didnít want to get beat but we helped them in that. But it was a good game. It was one of the best games I have seen since I came here.
"The players worked hard and they worked for their team-mates. Once you get that, then you have a good team spirit and thatís important in any club. We should have had a penalty in the first two minutes, and the referee just to make it up, allowed us to get away with a free-kick 30 seconds after it.

"If you are going to make a decision, referee, donít try to even it up. Itís not right, we donít want that. Be brave and stand by your decisions."

Mags on Smogside - Riverside record:
2009/10: Drew 2-2
2008/09: Drew 0-0
2007/08: Drew 2-2 N'Zogbia, Viduka
2006/07: Lost 0-1
2005/06: Won 2-1 og(Boateng), Ameobi
2004/05: Drew 2-2 Bellamy, Shearer
2003/04: Won 1-0 Ameobi
2002/03: Lost 0-1
2001/02: Won 4-1 Shearer 2, Dabizas, Robert
2000/01: Won 3-1 Shearer, Goma, Dyer
1999/00: Drew 2-2 Speed, Pistone
1998/99: Drew 2-2 Charvet, Dabizas
1996/97: Won 1-0 Ferdinand
1996/97: Lost 1-3 Shearer (LC)
1995/96: Won 2-1 Watson, Ferdinand


We last lost to this lot in October 2006, since when Newcastle have won two and drawn the other five of our seven meetings home and away. Since the last meeting outside of the top flight, the smoggies have won four of the twenty nine games played both home and away - Newcastle have won fourteen.

Six games unbeaten now for Chris Hughton's side and one league defeat since October's loss at Scunthorpe - the Derby County reverse - that's just one loss in twenty two outings.

Peter Lovenkrands scored his 13th goal of the season (10th in the league). The previous 12 all came at SJP. That equals the second-highest seasonal total of his club career - his most prolific ever campaign being for Rangers in 2005/06 when he netted 18 times in all competitions.

NUFC League goalscorers 1992/92 and 2009/10 (to date):

| | |
| --- | --- |
| 1992/93 scorers (46 games) | 2009/10 scorers (35 games) |
| David Kelly 24 | Kevin Nolan 12 |
| Andy Cole 12 | Andy Carroll 10 |
| Gavin Peacock 12 | Peter Lovenkrands 10 |
| Rob Lee 10 | Shola Ameobi 7 |
| Lee Clark 9 | Danny Guthrie 4 |
| Liam O'Brien 6 | Marlon Harewood 5 |
| Kevin Sheedy 3 | Ryan Taylor 4 |
| Paul Bracewell 2 | Fabricio Coloccini 2 |
| Steve Howey 2 | Jonas Gutierrez 2 |
| Mick Quinn 2 | Nile Ranger 2 |
| Kevin Scott 2 | Steven Taylor 1 |
| Scott Sellars 2 | Damien Duff 1 |
| John Beresford 1 | Fabrice Pancrate 1 |
| Kevin Brock 1 | Wayne Routledge 1 |
| Franz Carr 1 | Danny Simpson 1 |
| Own Goals 3 | Own Goals 3 |
| Total: 92 | Total: 66 |



Full record against Boro:
P

W

D

L

F

A

SJP

58

31

16

11

99

57

AP/R

58

14

20

24

69

84

League

116

45

36

35

168

141

SJP

(FA)*

2

1

0

1

6

4

AP*

2

1

0

1

3

3

SJP(LC)
2
1
1
0
1
0

AP/R
3
1
0
2
4
6
AP(ZDS)
1
0
0
1
0
1

Cup

9

4

1

4

14

13

Tot

125

49

37

39

182

154
* includes FA Cup qualifying games in 1896 & 1898


Waffle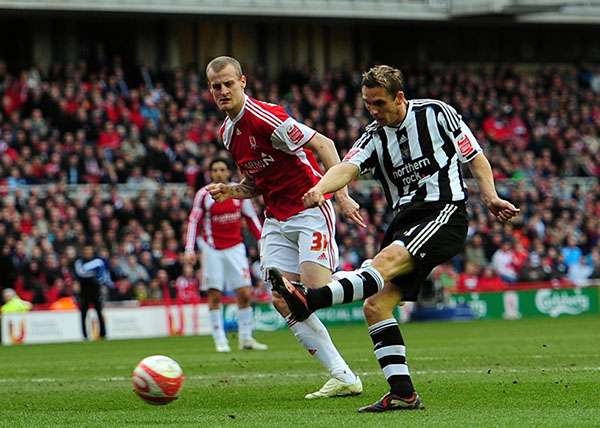 Our third successive smogside stalemate had a distinctly tartan tinge to it, with Scottish representation in both dugouts and all four goalscorers having some connection to the land of heather and Buckfast; albeit tenuous in at least one case....

That loose affiliation is Andy Carroll (via a grandparent), with Scotland manager Craig Levein harbouring hopes of a kilted conversion and the lad not quite ruling it out. Slightly more authentically though, Lovenkrands (Danish, but with a Glaswegian accent), McDonald (Aussie with a Scots name) and Robson (an actual Aberdonian) have all played and scored in Old Firm derbies.

This ended up as more of an infirm derby though, at least as far as the Newcastle defence was concerned. Problems began before the game when Mike Williamson's run in the side ended thanks to a broken bone in his hand, resulting in the return of Fitz Hall after a five game absence.

With Danny Simpson carrying a knock from a heavy first half challenge, United then lost Fabricio Coloccini just five minutes into the second half, forced off with a dead leg. Despite Jose Enrique's presence on the bench, the Spaniard remained warming up on the sidelines as "super sub" Ryan Taylor came on at right back, Simpson switching flanks and Tamas Kadar going into the centre.

That sort of reshuffle was enough to make a point on this ground a decent return despite having taken the lead from only our second noteworthy attack - and first effort on target. The home side were much steadier than they'd looked at SJP in December and unlike that game, took the conceding of an early goal in their stride rather than fading away.

However that's not to say that Newcastle's display was totally convincing, with goalkeeper Danny Coyne not seeing enough of the ball to prove that he was any less flappable than Brad Jones had been on Tyneside last time round.

Our reservations about Pancrate remain - especially when playing in the starting XI rather than coming off the bench to twist his way round tiring defenders - and some slightly more considered defending than in the SJP meeting dampened the impact of Jonas Gutierrez, without conceding free kicks in dangerous positions. The return of Routledge is eagerly awaited.

The replacement of Lovenkrands for Nicky Butt in the second half attracted some vocal criticism from the away end but the Dane did look to be tiring and Hughton opted to try and hold out at 1-1. That ploy didn't last long, but at least he had one replacement remaining - promptly bringing on Best. Negativity/dithering in some eyes, flexibility in others.

Just when our second league reverse of 2010 looked like becoming a reality though, up popped the otherwise low-impact Andy Carroll to earn a priceless point as he had done at Swansea City.

This equaliser seemed no more likely than it had that lunchtime at the Liberty Stadium, but a knack of getting late goals is a nice trick to have for a striker. Andy has now scored in three consecutive away league games - the last person to do that? Alan Shearer*.
Newcastle will know that they can play a lot better than this, whereas this may have been the best performance Jimmy Krankie has coaxed from his Celtic rejects to date. Aside from the avoidable daftness on leaving the ground, the news from elsewhere made for a fairly satisfactory day's work after all - with West Brom just sneaking past Blackpool and Forest continuing their rotten away run at Preston (it's now five away league losses on the bounce for them).

Now for some unfinished business against Scunthorpe...
Biffa


(* Kevin Nolan did it in three consecutive appearances this season but not in consecutive games).