In association
with NUFC.com

Date: Saturday 27th February 2010, 3pm.

Venue: Vicarage Road

Conditions: Quattro Stagioni

Admission: £23

Programme: £3





Watford

Newcastle United




1 - 2


(white shorts and socks)

Teams
4 mins Jonas Gutierrez won a free-kick that Danny Guthrie swung over from the left, Fabricio Coloccini finishing off some head tennis from Kevin Nolan and Andy Carroll by nodding in from close range at the Rookery/Allotment End, 1-0

Half time: Hornets 0 Magpies 1

50 mins The departing Patrick van Aanholt foraged down the Newcastle left and won a corner for his troubles. Danny Guthrie then claimed another assist as his flag kick picked out the unmarked Andy Carroll towards the near post. His comfortable header then doubled our advantage. 2-0

91 mins Mike Williamson's header out of defence dropped to an opponent, whose goalbound shot deflected off Coloccini into the path of a suspiciously-offside Will Hoskins. He then had a simple finish to beat the helpless Harper 2-1

Full time: Hornets 1 Magpies 2

Newcastle manager Chris Hughton said:

"Weíve put ourselves in a very good position, but will still know we are only three defeats away from that position changing. Thatís something we have had to cope with all season, but itís still a very, very competitive league and I expect it to be that way until the end of the season.

"But having said that, while we have a very good home record, we do look back at games like Preston away, Sheffield United away and here today, where weíve managed to pick up points and play well, and think that we are pushing on as a team. We certainly feel weíve got a good mix in the team. We have quality but have enough character in the side to be able to mix it away from home, and we saw that today.

"This is a difficult place to come, it was a difficult pitch and these are a good side with a lot of energy. The first goal set us off on the right track, and there were long periods in the second half when we were very comfortable. The only disappointment was in conceding their goal when we did.

"Andy (Carroll) is in very good form at the moment - weíve asked him to add goals to his game, and heís certainly done that. The goals heís getting will give him any confidence he might need, but what heís also given us in games like today is an extra presence in our own box."

Speaking about the Smith/Williamson spat:

"They're not always like that! You don't like these moments although they have to be done in the right way and for the right reason. The reason was that we were disappointed to concede a goal. But we have a good group of lads that get on very well together and it's been part of the reason why we've done well this season. Minutes later in the changing rooms, they were all hugging each other."

Former Hornet Mike Williamson said:

"It was a good result for us and as far as the reception was concerned it was all good! ďThatís what football is like and I expected it. I enjoyed my time at Watford and loved the place. The manager and the boys were all really good with me. It was nice to come back here and get a result.

"We did well as a team and defended very well. The conditions were very tricky and the pitch was difficult. Watford are a very good team at home so we knew it wouldnít be easy, itís a great result for us.

"Once Iíd been booked I knew I had to be careful, it was innocuous, it was bit of a shove. The crowd were going to get on to everything and I got booked but thatís part of football. Itís always nice to go back there and do well and we just want to get as many points on the board as we can now.Ē

Alan Smith added:

"Emotions run high Ė everyone wants to see a team that wants to win, we were having a laugh about it afterwards. Itís just one of those things Ė emotions run high. Kevin Nolan and Danny Guthrie were also having an argument. We didnít want to throw away those points we had worked so hard for.

"I think it was a good performance Ė it was a total opposite to Swansea. The pitch didnít help us, but the early goal settled us down, and we looked in control, and a team at the top of the league. We played with that air of confidence, and Coloccini was magnificent alongside Mike. It looked like we had another gear if we needed it.

"In the last four minutes we put ourselves under pressure with a sloppy goal, but it was a good team performance. Weíve been waiting for an away win for a while and not just an away win Ė but a good away performance.

"That was one of our most comfortable performances all season. We had that air of confidence, which we didnít show against Swansea. We played some decent stuff at times on a difficult surface. Watford are a good team at home.Ē

Kevin Nolan weighed in to say:

"It is probably one of the worst pitches we have played on. It doesn't do Watford justice really because they are a good passing side. If they had a pitch like ours they would be higher in the league. It is taking a lot away from them but I know the financial situation they are in".

"There was a bit of handbags at the end but you are going to get that. Willo has headed the ball down and it has gone right to one of their players and no-one was around him. Alan has had a pop but he didn't realise that we were marking the other seven behind him. It was handbags and we just got on with it. We always have one of them - I think it is nice and healthy to make sure everyone knows their jobs and we don't put a foot wrong.

"We canít afford to look at gaps. West Brom are a fantastic side, Forest are a good side. There are a lot of good sides around. We have to make sure we are doing at the end of the season what we have done at the start and in the middle.

"We have a tough 13 game period coming up Ė seven away and six at home. We have still got to play Forest again and a few tough sides at home and away, so it is not going to be easy. We know whatever the gap, they are going to push us all the way so hopefully we will be ready for the fight and we will win the fight.

"I think we would have buckled last season when Watford came at us. It is not Premier League opposition but there was a lot of character shown and that is probably something we didnít have in abundance last year, but having it now has certainly helped us. This year we have stuck together and worked so hard to get where we are.

"For the type of striker he is and the chances we create, the lad should score 15. We have to support him but he doesn't need too much because he has broad shoulders. Whatever comes of it (his assault charge), comes of it, but hopefully it will turn out right and he can continue to play football and good football at that."

Goalscoring defender Fabricio Coloccini told The Chronicle:

"The most important thing for me is playing well and winning with Newcastle. Iím only thinking about Newcastle now because Iím not in the squad for the Germany game (on Wednesday), but always I want to go to the World Cup, and I have to work hard for that dream - Iíd love to be representing both Argentina and Newcastle United at the World Cup in South Africa.

"It was my second goal for Newcastle United, and it made me very happy. The fans came away on a long journey, and for them it was good. I thought the team played well. We can play good football, but the pitch was not good.

"When we needed to be strong, the team was strong, and I thought we did our work well. It was frustrating to concede the goal, but we won, and thatís the most important thing.

"At home we are strong, but it is also important we take points away.Ē

The departing Patrick van Aanholt commented:

"They (Newcastle) have the capabilities to win this league and if they keep winning like this, then thatís what will happen. ďItís a great team, and I hope they win the league. Of course Iíll be watching the results Ė Iíll be keeping in touch with all the players - Iím sure everything will be fine.

"I enjoyed my time in Newcastle, Iíve had a great time, but Chelseaís my club, so I have no choice but to go back.

"The (full time) ovation meant a lot to me. They like me, I think. Iíve enjoyed my time, and the fans have been important to me. Everyone wants to play for a club like Newcastle, especially me.
"Itís been a great experience to play with Fabricio. Heís an unbelievable player. Heís an Argentina international, and itís been a pleasure to play with him and the whole team.Ē



Hornets boss Malky Mackay waffled on unconvincingly:

"I think it would be generous to say they deserved to win. If the players continue to give performances like that over the next few weeks, they are going to win more games than they lose. We were playing against a team who are first in the league and we have pressed them and had the ball for long spells, and if they do that, we will be OK.

"I think we coped well with the fact they decided to go long. We won a lot of ball back off that and I thought we kept possession well and dominated play at times.

ďWhen youíre looking out there at the pitch, at times it looks awful and we didnít just resort to getting it and kicking it. I think there were areas of the pitch where we exposed them and we managed to get into forward areas, still in good possession of the ball after four, five, six passes and that gave us good position.Ē

"I said to the team in the dressing room, you look at the both games and, yes, we have been beaten in both. But in the first game at St James' Park we created a hell of a lot of chances and we deserved something from that game. I think most neutrals would say that."



Magpies @ Vicarage Road - all-time:

2009/10 Won 2-1 Coloccini, Carroll
2006/07 Drew 1-1 Dyer
2006/07 Drew 2-2 (won 5-4 pens) Sibierski, Parker (LC)
1999/00 Drew 1-1 Dabizas
1992/93 Lost 0-1
1991/92 Drew 2-2 Kelly, Hunt
1990/91 Won 2-1 Anderson, Quinn
1989/90 Drew 0-0
1988/89 Lost 0-1 (FAC)
1988/89 Drew 2-2 Brock, Mirandinha (FAC)
1988/89 Lost 1-2 McDonald (FMC)
1987/88 Drew 1-1 Anderson
1986/87 Lost 0-1
1985/86 Lost 1-4 OG
1984/85 Drew 3-3 Beardsley, Wharton, McDonald
1981/82 Won 3-2 Varadi, Todd 2
1980/81 Drew 0-0
1979/80 Lost 0-2
1978/79 Lost 1-2 Pearson (FLC)
1923/24 Won 1-0 Seymour (FAC)

Andy Carroll scored his eleventh goal of the season in all competitions and for the first time, netted in a Newcastle away win (having failed to do so when scoring at Manchester City and Stoke City last season and at Blackpool, West Brom (FA Cup) and Swansea this time round.

This was our fifth double of the season, after beating Crystal Palace, Cardiff City, Coventry City, Preston North End and now Watford both home and away.

Second-Tier Goals F & A: Post War

With thirteen more scheduled league fixtures, we have scored 58 goals and conceded 23.

That compares with our previous seasons out of the top flight as follows:

1992/93: Scored 92, Conceded 38 (46 games)
1991/92: Scored 56, Conceded 84 (46 games)
1990/91: Scored 49, Conceded 56 (46 games)
1989/90: Scored 80, Conceded 55 (46 games)
1983/84: Scored 85, Conceded 53 (42 games)
1982/83: Scored 75, Conceded 53 (42 games)
1981/82: Scored 52, Conceded 50 (42 games)
1980/81: Scored 30, Conceded 45 (42 games)
1979/80: Scored 53, Conceded 49 (42 games)
1978/79: Scored 51, Conceded 55 (42 games)
1964/65: Scored 81, Conceded 45 (42 games)
1963/64: Scored 74, Conceded 69 (42 games)
1962/63: Scored 79, Conceded 59 (42 games)
1961/62: Scored 64, Conceded 58 (42 games)
1947/48: Scored 72, Conceded 41 (42 games)
1946/47: Scored 95, Conceded 62 (42 games)

This was the first game in which we've had five players booked since a 1-1 draw at Arsenal back in November 2006.



Full record v Watford:
| | | | | | | |
| --- | --- | --- | --- | --- | --- | --- |
| | P | W | D | L | F | A |
| SJP | 14 | 9 | 3 | 2 | 23 | 12 |
| VR | 14 | 3 | 7 | 4 | 16 | 20 |
| League | 28 | 12 | 10 | 6 | 39 | 32 |
| SJP(FA) | 3 | 1 | 2 | 0 | 5 | 0 |
| VR | 3 | 1 | 1 | 1 | 3 | 3 |
| SJP(LC) | 0 | 0 | 0 | 0 | 0 | 0 |
| VR | 2 | 0 | 1 | 1 | 3 | 4 |
| Cup | 8 | 2 | 4 | 2 | 11 | 7 |
| Tot | 36 | 14 | 14 | 8 | 50 | 39 |
Waffle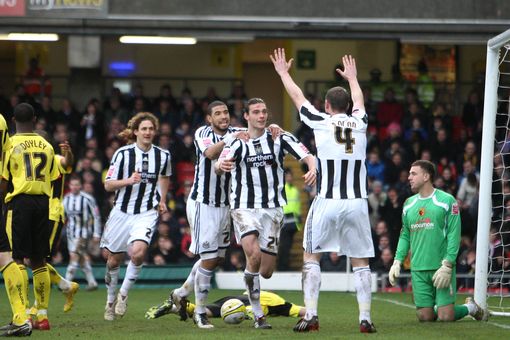 Having lost that winning feeling on our travels and with only a late, unexpected intervention from Andy Carroll preventing consecutive away losses, it's fair to say that we needed this victory.

Although our recent pair of home wins had calmed some discontent and even gained vocal approval from the singing corner, life away from Barrack Road has been less than wonderful since late 2009. Exiting Oakwell, Hillsborough and the Walkers and Liberty Stadiums, the general mood was hardly positive - even though each preceding 90 minutes had seen our points tally go up a notch.

As efficient a job as we've done this season away from SJP was achieved in Hertfordshire though, thanks to an early goal in each half and a no-nonsense, focused approach from front to back. Our cohesive display even managed to overcome appearing in those dreaded white shorts....

A Vicarage Road pitch regularly churned up by egg chasers and soon to host Reg Dwight's stack heel boots proved to be Watford's undoing. The surface had looked OK at kickoff began to take on the consistency of mushy peas when moisture was added - Wayne Routledge's little legs would probably have stuck in the churned-up goo....

Having been routinely criticised all season for an absence of pace and creativity in the centre, the conditions perhaps hindered Newcastle less, as they were able to make progress down the left flank and benefit from some set piece plays.
When desperation drove the Hornets into a more direct approach ie hoofing the ball towards Steve Harper's goal, they started to ask more questions of United in much the same way as they had done without reward at SJP against ten men last December.

But on a good day for the United defence, the Hornets lacked either guile (in the absence of suspended Cleverley) or presence, with Gateshead-born Danny Graham a poor man's Andy Carroll. The match-up between World Cup hopeful Coloccini and former Northern League player Graham was something of an unequal contest.

Pleasingly, there was no opportunity for Cramlington-born Martin Taylor to celebrate, after the former Blackburn defender and alleged Toon fan spurned the opportunity to become a Magpie in January, apparently preferring the comfort of a longer contract with the Hornets rather than the chance to make an impression at SJP.

Instead it was Mike Williamson who left Vicarage Road in good heart, having begun the season in the home dressing room here and inevitably received some stick on his first return, via Portsmouth. He and Smith visibly clashed on the field in added time after a disagreement over the Watford goal, but according to all parties it was a case of friends reunited shortly after full time.

And also departing in good form and fettle was left back loanee Patrick Van Aanholt, who made a worthwhile contribution during his seven game stint as Enrique's stand-in. Having found his feet in this division previously with Coventry proved to be a bonus as he hit the ground running - and tackling - within a few minutes of his Magpies debut at Leicester.

Along with Williamson and Routledge, that deal looks like a positive for Hughton and evidence of progression in the transfer market this year after the Pancrate deal that looked like little more than doing a deal to get one on the board. We'll abstain on the Leon Best question; when we talked about an Ameobi replacement we didn't mean it like that...

Newcastle made a trio of replacements in the closing stages, with Ryan Taylor and Fabrice Pancrate arriving as they had done in the previous two games - although they weren't able to conjure up a goal on this occasion. Nile Ranger also appeared for the first time in six matches.

Any victory at this stage of the season is prized and to have achieved it with a better display than at Swansea was something of a relief, given the steadily increasing number of absentees. That didn't in the end include Kevin Nolan, despite widespread claims that he was set to miss out with an Achilles problem.

His possible absence and the inevitable Smith suspension could see our next selection issue come in central midfield, but Danny Guthrie can probably cope with that, with no sign yet of Barton returning to action - or being any more in Hughton's plans than as a source of summer transfer capital.

The usual caveats about concerns for the future remain, but we're another three points nearer to a happy ending and starting to allay fears of our own personal nemesis - the playoffs. Back on track.

Biffa