In association with NUFC.com

Date: Saturday 20th February 2010, 3pm.

Venue:

St.James' Park



Conditions: untroubled




Newcastle United

Preston North End

3 - 0

Teams
3 mins Having been played in by the returning Alan Smith, Peter Lovenkrands netted with a chip from an acute angle at the Leazes End that dropped over the goalkeeper. Whether slightly fortunate or beautifully measured, the Dane's seventh league goal of the season (all at home) was reminiscent of Peter Beardsley's 1995 effort at Hillsborough - although the goal celebration suggested it may not have been intentional. 1-0

Half time: NUFC 1 PNE 0

55 mins Kevin Nolan had proved to be difference between the two sides when they met at Deepdale back in November and his first goal in nine league outings arrived when he threaded a pass into the box and then ran on to Smith's return before supplying a routine finish from close range. 2-0

90+1 mins The late introduction of Fabrice Pancrate saw him register a second assist in as many games, with a cross from the right flank that fellow substitute Ryan Taylor dispatched with ease - a virtual rerun of his added time conversion against Coventry in midweek. 3-0

Full time: NUFC 3 PNE 0
United Manager Chris Hughton said:

"I think keeping everything in perspective is the most important thing. We can't be complacent - we know we are only one or two losses away - and the two other clubs we speak about, West Brom and Forest, are one or two wins away - from being a lot closer to us or being above us so we can't afford to (lose focus).

"Our preparation has to be the same and our mental attitude going into every game has to be the same every time, because the league is too good to just sit back.

"We are on the back of a couple of real free-flowing performances here and it is difficult to achieve that every time you play.
"There are going to be the games where you are not going to get everything your own way, you are going to get games where they are tighter affairs and I thought for a decent chunk of this game it was very tight.
"It was outstanding (Harper's save from Jon Parkin at 1-0). It was at a period of the game when we started very well then had a dip and Preston were able to affect the game. At that point, that arguably was the save that allowed us to go on and win the game.
"It's always nice to hear supporters chanting your name but it's not important. The important thing is that they're still turning out in numbers to support the team."

Making his second trip to SJP this season (having previously managed Peterborough here) PNE boss Darren Ferguson said:

"If they keep getting refs like that, then they have a big chance of going up." (that is waffle of the highest order and worthy of his dad, the one-eyed king of Old Trafford with a broken watch).

"That was never a 3-0 game, I can't believe it finished that score. They scored a really freaky goal for the first one, the lad went to cross it and the ball ended up in the back of the net. Our response was magnificent and we were the better side if the first half, we had the better chances.

"In the second half Newcastle came at us a little bit more, but 3-0 flattered them massively because we have given them a really good game. Maybe once or twice in the last third we picked the wrong option, just at the moment we don't seem to be getting the breaks. If we produce that level of performance in the future we will be fine.

"If a manager takes you up he deserves a chance to stay in charge. Chris came in at an extremely difficult time with all of the goings-on at Newcastle, but he has brought stability to the club. It's not an easy league to get out of but it looks like they have a really good chance of promotion. Chris has done a great job. The players have to keep it going but you can tell they are playing for him with the effort they are putting in."


PNE @ NUFC - last ten:


2009/10 won 3-0 Lovenkrands, Nolan, R.Taylor
1986/87
won 2-0 Roeder, Goddard (FAC)
1980/81 won 2-0 Harford 2
1979/80 drew 0-0
1978/79 won 4-3 Connolly, Withe, Shoulder, Barton
1964/65 won 5-2 McGarry 2, Cummings, Hilley, OG
1963/64 lost 2-4 Kirkman, Burton
1962/63 drew 2-2 Suddick, Hughes
1961/62 lost 0-2
1960/61 drew 0-0
Newcastle recorded their seventeenth clean sheet of the campaign from thirty two games played (that compares to eighteen from forty six games in our last promotion season of 1992/93).

This was our fourth double of the season, after beating Crystal Palace, Cardiff City, Coventry City and now Preston North End both home and away.

Goal number 12 of the season for Kevin Nolan (11 in Championship), 10 for Peter Lovenkrands (7 in Championship) and 4 for Ryan Taylor (all in Championship)

Comparisons with our last promotion campaign (1992/93) at this point (32 games played):

Home:

1992/93: Won 10, Lost 1, Drawn 4. 29 goals scored, 8 conceded.
2009/10: Won 13, Lost 0, Drawn 4. 37 goals scored, 8 conceded.

Away:

1992/93: Won 10, Lost 4, Drawn 3. 26 goals scored, 18 conceded.
2009/10: Won 6, Lost 4, Drawn 5. 19 goals scored, 14 conceded.

Combined:

1992/93: Won 20, Lost 5, Drawn 7. 55 goals scored, 26 conceded, 67 points, 1st place.
2009/10: Won 19, Lost 4, Drawn 9. 56 goals scored, 22 conceded, 66 points, 1st place.

Final total:

1992/93: Won 29, Lost 8, Drawn 9. 92 goals scored, 38 conceded, 96 points, 1st place.
2009/10: ???


Full record v Preston:

| | | | | | | |
| --- | --- | --- | --- | --- | --- | --- |
| | P | W | D | L | F | A |
| SJP | 37 | 21 | 7 | 9 | 75 | 52 |
| D | 37 | 12 | 5 | 20 | 44 | 64 |
| League | 74 | 33 | 12 | 29 | 119 | 116 |
| SJP(FA) | 2 | 1 | 0 | 1 | 3 | 2 |
| D | 3 | 1 | 0 | 2 | 3 | 6 |
| SJP(LC) | 1 | 1 | 0 | 0 | 3 | 0 |
| D | 0 | 0 | 0 | 0 | 0 | 0 |
| Cup | 6 | 3 | 0 | 3 | 9 | 8 |
| Tot | 80 | 36 | 12 | 32 | 128 | 124 |
Waffle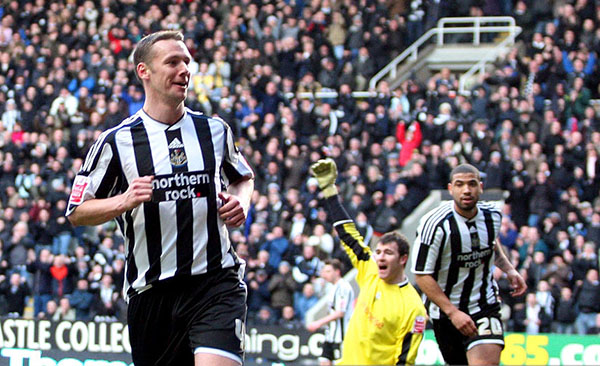 "You have seen the team that will win the league".

Those were the comments of Darren Ferguson after his very poor Posh team had shipped three goals at Gallowgate back in November. And although he was rather less effusive this time round as his equally shabby Preston side (flabby in some cases) came second by some distance, his claim was rather more believable than in the aftermath of our recent poor showings at Pride Park and the Liberty Stadium.

After recent tricky tests both home and away against vaguely competent sides such as Derby, Swansea and West Brom, today was a second reminder in four days of just how average the vast majority of this league really is. Kevin Nolan finding the net added to the revivalist feeling round these parts, returning us back to the time earlier in the season when teams came here and went a goal down while their fans were still taking photographs of each other and arguing about how many flights of stairs they'd climbed.

Normal service has been resumed round these parts, with some added goals to gloss over our stylistic shortcomings. League victory number 13 at SJP was in the offing after just 133 seconds, but the expected goal feast failed to materialise, as United failed to turn possession into anything tangible.

The loss of Lovenkrands early on with what looked like a hamstring pull didn't help though, with Wayne Routledge already absent due to a calf problem sustained against Coventry. The visitors were allowed to get back into the contest, with Steve Harper making an instinctive stop from close range to deny John Parkin, before the same player wastefully volleyed wide when well-placed. In the closing stages of the first half Newcastle did apply some more meaningful pressure and Alan Smith went close with a deflected shot before Mike Williamson's header was well saved by Andy Lonergan in the North End goal.

A second did arrive shortly after the break though, extinguishing any hopes Preston had of avoiding a third successive away loss. After that though with Gutierrez withdrawn, a lack of creativity on the field meant that further goals against a still-pressing Preston side looked unlikely, before our extra time shuffle down the right bore fruit.

Perhaps a more significant moment (and referenced by many reporters as a seminal point in our recent history) came at 4.38pm, when a second attempt at getting Chris Hughton to "give us a wave" proved to be successful; the Newcastle boss venturing a slightly hesitant wave of acknowledgement.

That proved to be the signal for a rendition of "there's only one Chris Hughton" that while not taken up by the rest of the stadium, seemed to be delivered with no apparent irony. The inevitable "get of our club" chants had earlier echoed around Level Seven, followed by the latest ditty /dirge from the singing section (along the lines of "I don't care about Ashley, he don't care about me, all we care about...is NUFC").

That latter line that is more telling than the Hughton call & response episode. While only sung by a small percentage of those present, the sentiment seems to fit in with a generally-held pragmatism hereabouts that the dream ticket of fan-led ownership is neither realistic or actually desired by many folk, who really want to keep it simple - turn up, cheer/boo, go home. Nowt else.

Watching the current death throes of Portsmouth brings us no pleasure (although we'll shed no tears for that fecker with the bell & wig if they do go belly up) but there remains a sense of there but for the grace of a sports retailer, go us. Being run by a rotund southerner of questionable parentage seems preferable to fake sheiks, some skint Scandinavians or dildo salesmen. In reality, we don't actually have that choice to make, but the owner seems similarly hamstrung when looking for someone to buy him out. Stuck in a marriage of convenience?

While Newcastle added to the squad in January and have maintained their forward motion despite losing increasing numbers of first-choice players, West Brom's defeat at Bristol City on Sunday could arguably be accounted for by a combination of fatigue, injury and suspensions. Time will tell whether the FA Cup campaign that was kick-started by beating us is a blessing or a hindrance for Di Matteo's side, but we're not envious...

Looking closer to home, what Hughton and Co. are serving up here may not to be everyone's taste - and thoughts of next season are still not something that we care to dwell on. But while we may reminisce fondly about the 1993 promotion side over a pint or four, the stats above show that the 2010 incarnation remain on track to achieve their first objective of getting back to where we were.

For all the perceived perestroika regarding the manager though, the acid test of people's mood will come when season tickets are sold for next season (and the one after, following the expiration of three year lock-ins). As ever, it's deeds and cash - not words - that matter.


Biffa